Quantitatively studying how the rate of a chemical reaction is affected by a reactant's atomic-scale environment is extremely challenging. This has now been achieved at the single-molecule level using scanning tunnelling microscopy to monitor tautomerization in an atomically well-defined environment.
Access options
Subscribe to Journal
Get full journal access for 1 year
$160.00
only $13.33 per issue
All prices are NET prices.
VAT will be added later in the checkout.
Rent or Buy article
Get time limited or full article access on ReadCube.
from$8.99
All prices are NET prices.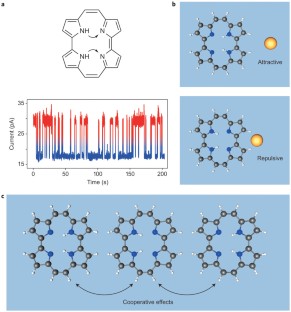 References
1

Kumagai, T. et al. Nature Chem. 6, 41–46 (2014).

2

Liljeroth, P., Repp, J. & Meyer, G. Science 317, 1203–1206 (2007).

3

Auwärter, W. et al. Nature Nanotech. 7, 41–46 (2012).

4

Heinrich, A. J., Lutz, C. P., Gupta, J. A. & Eigler, D. M. Science 298, 1381–1387 (2002).

5

Wintterlin, J., Völkening, S., Janssens, T. V. W., Zambelli, T. & Ertl, G. Science 278, 1931–1934 (1997).
About this article
Cite this article
Liljeroth, P. Knowing your neighbours. Nature Chem 6, 8–10 (2014) doi:10.1038/nchem.1823
Further reading
Johannes A. Menges

,

Anne Clasen

,

Matthias Jourdain

,

Julian Beckmann

,

Caroline Hoffmann

,

Julien König

&

Gregor Jung

Langmuir (2019)

Surface Science Reports (2015)