Accurately representing molecules with many coupled unpaired electrons is currently impossible using conventional electronic-structure theories. Now, using a recently developed approach, the near-exact quantum wavefunction of the highly complex Mn4CaO5 cluster of photosystem II has been calculated.
Access options
Subscribe to Journal
Get full journal access for 1 year
$169.00
only $14.08 per issue
All prices are NET prices.
VAT will be added later in the checkout.
Rent or Buy article
Get time limited or full article access on ReadCube.
from$8.99
All prices are NET prices.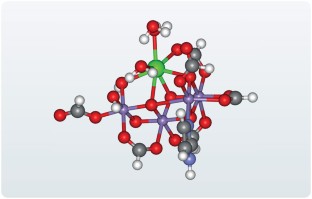 References
1

Umena, Y., Kawakami, K., Shen, J.-R. & Kamiya, N. Nature 473, 55–60 (2011).

2

Siegbahn, P. E. M. Chem. Eur. J. 14, 8290–8302 (2008).

3

Brena, B., Siegbahn, P. E. M. & Ågren, H. J. Am. Chem. Soc. 134, 17157–17167 (2012).

4

Kurashige, Y., Chan, G. K. L. & Yanai, T. Nature Chem. 5, 660–666 10.1038/nchem.1677(2013).

5

Adler, T. B. & Werner, H.-J. J. Chem. Phys. 130, 241101 (2009).

6

Tsui, E. Y., Tran, R., Yano, J. & Agapie, T. Nature Chem. 5, 293–299 (2013).
About this article
Cite this article
Harvey, J. A multitude of spins. Nature Chem 5, 643–644 (2013). https://doi.org/10.1038/nchem.1719
Further reading
Andrea Darù

,

Xile Hu

&

Jeremy N. Harvey

ACS Omega (2020)

Yu Guo

,

Hui Li

,

Lan-Lan He

,

Dong-Xia Zhao

,

Li-Dong Gong

&

Zhong-Zhi Yang

Physical Chemistry Chemical Physics (2017)

Althea S.-K. Tsang

,

Italo A. Sanhueza

&

Franziska Schoenebeck

Chemistry - A European Journal (2014)