Abstract
The energy-efficient separation of chemical feedstocks is a major sustainability challenge. Porous extended frameworks such as zeolites or metal–organic frameworks are one potential solution to this problem. Here, we show that organic molecules, rather than frameworks, can separate other organic molecules by size and shape. A molecular organic cage is shown to separate a common aromatic feedstock (mesitylene) from its structural isomer (4-ethyltoluene) with an unprecedented perfect specificity for the latter. This specificity stems from the structure of the intrinsically porous cage molecule, which is itself synthesized from a derivative of mesitylene. In other words, crystalline organic molecules are used to separate other organic molecules. The specificity is defined by the cage structure alone, so this solid-state 'shape sorting' is, uniquely, mirrored for cage molecules in solution. The behaviour can be understood from a combination of atomistic simulations for individual cage molecules and solid-state molecular dynamics simulations.
Your institute does not have access to this article
Relevant articles
Open Access articles citing this article.
Qingju Wang

,

Jianbo Hu

…

Huabin Xing

Nature Communications Open Access 26 May 2022

Xili Cui

,

Zheng Niu

…

Huabin Xing

Nature Communications Open Access 28 October 2020

Gen-Feng Feng

,

Jiao Geng

…

Wei Huang

Scientific Reports Open Access 13 March 2020
Access options
Subscribe to Journal
Get full journal access for 1 year
$119.00
only $9.92 per issue
All prices are NET prices.
VAT will be added later in the checkout.
Tax calculation will be finalised during checkout.
Buy article
Get time limited or full article access on ReadCube.
$32.00
All prices are NET prices.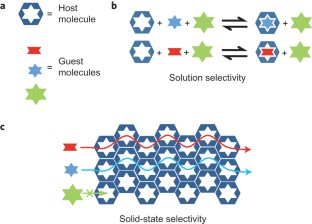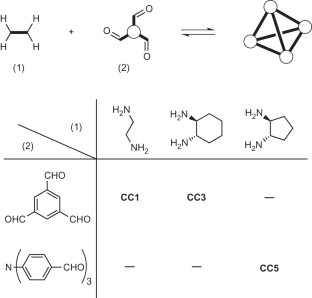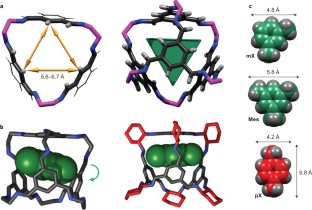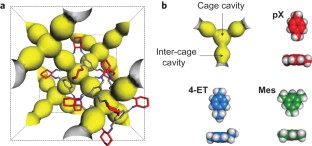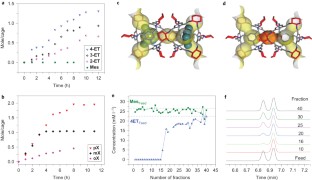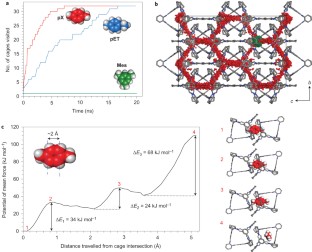 References
Bloch, E. D. et al. Hydrocarbon separations in a metal–organic framework with open iron(II) coordination sites. Science 335, 1606–1610 (2012).

Alaerts, L. et al. Selective adsorption and separation of ortho-substituted alkylaromatics with the microporous aluminum terephthalate MIL-53. J. Am. Chem. Soc. 130, 14170–14178 (2008).

Alaerts, L. et al. Selective adsorption and separation of xylene isomers and ethylbenzene with the microporous vanadium(IV) terephthalate MIL-47. Angew. Chem. Int. Ed. 46, 4293–4297 (2007).

Alaerts, L., Maes, M., van der Veen, M. A., Jacobs, P. A. & De Vos, D. E. Metal–organic frameworks as high-potential adsorbents for liquid-phase separations of olefins, aklylnaphthalenes and dichlorobenzenes. Phys. Chem. Chem. Phys. 11, 2903–2911 (2009).

Maes, M. et al. Separation of C5-hydrocarbons on microporous materials: complementary performance of MOFs and zeolites. J. Am. Chem. Soc. 132, 2284–2292 (2010).

Vaidhyanathan, R. et al. A family of nanoporous materials based on an amino acid backbone. Angew. Chem. Int. Ed. 45, 6495–6499 (2006).

Nuzhdin, A. L., Dybtsev, D. N., Bryliakov, K. P., Talsi, E. P. & Fedin, V. P. Enantioselective chromatographic resolution and one-pot synthesis of enantiomerically pure sulfoxides over a homochiral Zn–organic framework. J. Am. Chem. Soc. 129, 12958–12959 (2007).

Kulprathipanja, S. & James, R. B. in Zeolites in Industrial Separation and Catalysis (ed. Kulprathipanja, S.) 173–202 (Wiley-VCH, 2010).

Li, J-R., Sculley, J. & Zhou, H. C. Metal–organic frameworks for separations. Chem. Rev. 112, 869–932 (2011).

Pedersen, C. J. The discovery of crown ethers. Angew. Chem. Int. Ed. Engl. 27, 1021–1027 (1988).

Tashiro, S., Kubota, R. & Shionoya, M. Metal–macrocycle framework (MMF): supramolecular nano-channel surfaces with shape sorting capability. J. Am. Chem. Soc. 134, 2461–2464 (2011).

Mastalerz, M. Shape-persistent organic cage compounds by dynamic covalent bond formation. Angew. Chem. Int. Ed. 49, 5042–5053 (2010).

Dube, H. & Rebek, J. Selective guest exchange in encapsulation complexes using light of different wavelengths. Angew. Chem. Int. Ed. 51, 3207–3210 (2012).

Tozawa, T. et al. Porous organic cages. Nature Mater. 8, 973–978 (2009).

Hasell, T. et al. Triply interlocked covalent organic cages. Nature Chem. 2, 750–755 (2010).

Ro, S., Rowan, S. J., Pease, A. R., Cram, D. J. & Stoddart, J. F. Dynamic hemicarcerands and hemicarceplexes Org. Lett. 2, 2411–2414 (2000).

Hasell, T., Schmidtmann, M., Stone, C. A., Smith, M. W. & Cooper, A. I. Reversible water uptake by a stable imine-based porous organic cage. Chem. Commun. 48, 4689–4691 (2012).

Jones, J. T. A. et al. Modular and predictable assembly of porous organic molecular crystals. Nature 474, 367–371 (2011).

Smith, W., Yong, C. W. & Rodger, P. W. DL_POLY: application to molecular simulation. Mol. Simul. 28, 385–471 (2002).

Brutschy, M., Schneider, M. W., Mastalerz, M. & Waldvogel, S. R. Porous organic cage compounds as highly potent affinity materials for sensing by quartz crystal microbalances. Adv. Mater. 24, 6049–6052 (2012).

Lydon, D. P., Campbell, N. L., Adams, D. J. & Cooper, A. I. Scalable synthesis for porous organic cages. Synth. Commun. 41, 2146–2151 (2011).

Mastalerz, M., Schneider, M. W., Oppel, I. M. & Presly, O. A salicylbisimine cage compound with high surface area and selective CO2/CH4 adsorption. Angew. Chem. Int. Ed. 50, 1046–1051 (2010).

Hasell, T., Chong, S. Y., Jelfs, K. E., Adams, D. J. & Cooper, A. I. Porous organic cage nanocrystals by solution mixing. J. Am. Chem. Soc. 134, 588–598 (2012).

Bushell, A. F. et al. Nanoporous organic polymer/cage composite membranes, Angew. Chem. Int. Ed. doi: http:dx.doi.org/10.1002/anie.20120633910.1002/anie.201206339 (2012).

Holden, D. et al. Bespoke force field for simulating the molecular dynamics of porous organic cages. J. Phys. Chem. C 116, 16639–16651 (2012).

Hoover, W. G. Canonical dynamics – equilibrium phase-space distributions. Phys. Rev. A 31, 1695–1697 (1985).

Forester, T. R. & Smith, W. SHAKE, rattle, and roll: efficient constraint algorithms for linked rigid bodies. J. Comput. Chem. 19, 102–111 (1998).
Acknowledgements
The authors acknowledge funding from the EPSRC (EP/H000925/1) and the Leverhulme Trust (F/00025/Al). A.C. is a Royal Society Wolfson award holder. The authors thank J.T.A. Jones for assistance with NMR measurements.
Ethics declarations
Competing interests
The authors declare no competing financial interests.
Supplementary information
About this article
Cite this article
Mitra, T., Jelfs, K., Schmidtmann, M. et al. Molecular shape sorting using molecular organic cages. Nature Chem 5, 276–281 (2013). https://doi.org/10.1038/nchem.1550
Received:

Accepted:

Published:

Issue Date:

DOI: https://doi.org/10.1038/nchem.1550