The combination of addressable synthetic macromolecules with proteins of precise structure and function often leads to materials with unique properties, as is now shown by the efficient multi-site initiation of polymer growth inside the cavity of a virus capsid.
Access options
Subscribe to Journal
Get full journal access for 1 year
$119.00
only $9.92 per issue
All prices are NET prices.
VAT will be added later in the checkout.
Tax calculation will be finalised during checkout.
Buy article
Get time limited or full article access on ReadCube.
$32.00
All prices are NET prices.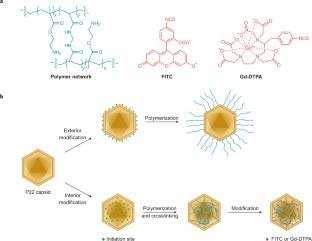 References
Klok, H.-A. Macromolecules 42, 7990–8000 (2009).

Douglas, T. & Young, M. Science 312, 873–875 (2006).

De la Escosura, A., Nolte, R. J. M. & Cornelissen, J. J. L. M. J. Mater. Chem. 19, 2274–2278 (2009).

Lucon, J. et al. Nature Chem. 4, 781–788 10.1038/nchem.1442(2012).

Poborski, J. K., Breitenkamp, K., Liepold, L. O., Qazi, S. & Finn, M. G. J. Am. Chem. Soc. 133, 9242–9245 (2011).

Yildiz, I., Shukla, S. & Steinmetz N. F. Curr. Opin. Biotech. 22, 901–912 (2011).

Kostiainen, M. A., Kasyutich, O., Cornelissen, J. J. L. M. & Nolte, R. J. M. Nature Chem. 2, 394–399 (2010).

Wörsdörfer, B., Woycechowsky, K. J. & Hilvert, D. Science 331, 589–592 (2011).
About this article
Cite this article
Cornelissen, J. Packing polymers in protein cages. Nature Chem 4, 775–777 (2012). https://doi.org/10.1038/nchem.1462
Published:

Issue Date:

DOI: https://doi.org/10.1038/nchem.1462