Abstract
Synthetic polymers are widely used materials, as attested by a production of more than 200 millions of tons per year, and are typically composed of linear repeat units. They may also be branched or irregularly crosslinked. Here, we introduce a two-dimensional polymer with internal periodicity composed of areal repeat units. This is an extension of Staudinger's polymerization concept (to form macromolecules by covalently linking repeat units together), but in two dimensions. A well-known example of such a two-dimensional polymer is graphene, but its thermolytic synthesis precludes molecular design on demand. Here, we have rationally synthesized an ordered, non-equilibrium two-dimensional polymer far beyond molecular dimensions. The procedure includes the crystallization of a specifically designed photoreactive monomer into a layered structure, a photo-polymerization step within the crystal and a solvent-induced delamination step that isolates individual two-dimensional polymers as free-standing, monolayered molecular sheets.
Relevant articles
Open Access articles citing this article.
Weiwei Zhang

,

Linjiang Chen

…

Andrew I. Cooper

Nature Open Access 06 April 2022

Christopher L. Anderson

,

He Li

…

Yi Liu

Nature Communications Open Access 24 November 2021

Nobuhiko Hosono

,

Shuto Mochizuki

…

Takashi Uemura

Nature Communications Open Access 17 July 2020
Access options
Subscribe to Journal
Get full journal access for 1 year
$119.00
only $9.92 per issue
All prices are NET prices.
VAT will be added later in the checkout.
Tax calculation will be finalised during checkout.
Buy article
Get time limited or full article access on ReadCube.
$32.00
All prices are NET prices.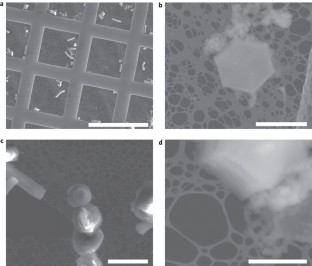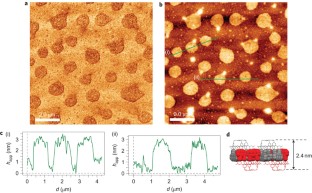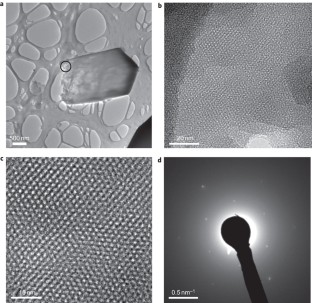 References
Meyer, J. C. et al. The structure of suspended graphene sheets. Nature 446, 60–63 (2007).

Novoselov, K. S. et al. Two-dimensional atomic crystals. Proc. Natl Acad. Sci. USA 102, 10451–10453 (2005).

Sakamoto, J., van Heijst, J., Lukin, O. & Schlüter, A. D. Two-dimensional polymers: just a dream of synthetic chemists? Angew. Chem. Int. Ed. 48, 1030–1069 (2009).

Staudinger, H. Über Polymerisation. Ber. Dtsch. Chem. Ges. 53B, 1073–1085 (1920).

Geim, A. K. Graphene: status and prospects. Science 324, 1530–1534 (2009).

Diederich, F. Carbon scaffolding: building acetylenic all-carbon and carbon-rich compounds. Nature 369, 199–207 (1994).

Spitler, E. L., Johnson, C. A. II & Haley, M. M. Renaissance of annulene chemistry. Chem. Rev. 106, 5344–5386 (2006).

Ma, R. & Sasaki, T. Nanosheets of oxides and hydroxides: charge-bearing functional crystallites. Adv. Mater. 22, 5082–5104 (2010).

Mas-Ballesté, R. M., Gómez-Navarro, C., Gómez-Herrero, J. & Zamora, F. 2D materials: to graphene and beyond. Nanoscale 3, 20–30 (2011).

Gee, G. & Rideal, E. K. Reactions in monolayers of drying oils. I. The oxidation of the maleic anhydride compound of β-elaeostearin. Proc. R. Soc. Lond. A 153, 116–128 (1935).

Blumstein, A. Polymerization in preoriented media. Adv. Macromol. Chem. 2, 123–146 (1970).

Eck, W., Küller, A., Grunze, M., Völkel, B. & Gölzhäuser, A. Free-standing nanosheets from crosslinked biphenyl self-assembled monolayers. Adv. Mater. 17, 2583–2587 (2005).

Schultz, M. J. et al. Synthesis of linked carbon monolayers: films, balloons, tubes, and pleated sheets. Proc. Natl Acad. Sci. USA 105, 7353–7358 (2008).

Bresler, S., Judin, M. & Talmud, D. Mechanical properties of monolayers obtained by two-dimensional polymerization and condensation. Acta Phys. Chim. URSS XIV, 71–84 (1941).

Stupp, S. I., Son, S., Lin, H. C. & Li, L. S. Synthesis of two-dimensional polymers. Science 259, 59–63 (1993).

Lefevre, D. et al. Chemical reactivity in organized medium: building up a two-dimensional polymer. Langmuir 9, 150–161 (1993).

Budd, P. M. Putting order into polymer networks. Science 316, 210–211 (2007).

Grave, C. & Schlüter, A. D. Shape-persistent, nanosized macrocycles. Eur. J. Org. Chem. 2002, 3075–3098 (2002).

Côte, A. P. et al. Porous, crystalline, covalent organic frameworks. Science 310, 1166–1170 (2005).

Zwaneveld, N. A. A. et al. Organized formation of 2D extended covalent organic frameworks at surfaces. J. Am. Chem. Soc. 130, 6678–6679 (2008).

Berlanga, I. et al. Delamination of layered covalent organic frameworks. Small 7, 1207–1211 (2011).

Tranchemontagne, D. J., Mendoza-Cortés, J. L., O'Keeffe, M. & Yaghi, O. M. Secondary building units, nets and bonding in the chemistry of metal–organic frameworks. Chem. Soc. Rev. 38, 1257–1283 (2009).

Amo-Ochoa, P. et al. Single layers of a multifunctional laminar Cu(I,II) coordination polymer. Chem. Commun. 46, 3262–3264 (2010).

Bauer, T. et al. Synthesis of free-standing, monolayered organometallic sheets at the air/water interface. Angew. Chem. Int. Ed. 50, 7879–7884 (2011).

Barth, J. V., Costantini, G. & Kern, K. Engineering atomic and molecular nanostructures at surfaces. Nature 437, 671–679 (2005).

Takami, T. et al. Periodic structure of a single sheet of a clothlike macromolecule (atomic cloth) studied by scanning tunnelling microscopy. Angew. Chem. Int. Ed. Engl. 36, 2755–2757 (1997).

Miura, A. et al. Light- and STM-tip-induced formation of one-dimensional and two-dimensional organic nanostructures. Langmuir 19, 6474–6482 (2003).

Perepichka, D. F. & Rosei, F. Extending polymer conjugation into the second dimension. Science 323, 216–217 (2009).

Grill, L. et al. Nano-architectures by covalent assembly of molecular building blocks. Nature Nanotech. 2, 687–691 (2007).

Bieri, M. et al. Porous graphenes: two-dimensional polymer synthesis with atomic precision. Chem. Commun. 2009, 6919–6921 (2009).

Abel, M., Clair, S., Ourdjini, O., Mossoyan, M. & Porte, L. Single layer of polymeric Fe-phthalocyanine: an organometallic sheet on metal and thin insulating film. J. Am. Chem. Soc. 133, 1203–1205 (2011).

Cohen, M. D. & Schmidt, G. M. J. Topochemistry. Part I. A survey. J. Chem. Soc. 1964, 1996–2000 (1964).

Wegner, G. Topochemical reactions of monomers with conjugated triple bonds. Z. Naturforschg. 24b, 824–832 (1969).

Kissel, P., Schlüter, A. D. & Sakamoto, J. Rational monomer design towards 2D polymers: synthesis of a macrocycle with three 1,8-anthrylene units. Chem. Eur. J. 15, 8955–8960 (2009).

Kissel, P. et al. Macrocyclic amphiphiles with 1,8-anthrylene fluorophores: synthesis and attempts towards two-dimensional organization. Org. Lett. 12, 2778–2781 (2010).

Toyota, S. Rotational isomerism involving acetylene carbon. Chem. Rev. 110, 5398–5424 (2010).

Nakadaira, Y., Sato, R. & Sakurai, H. Stereochemistry of thermal [2+2] cycloaddition of disilene with acetylene. Chem. Lett. 14, 643–646 (1985).

Becker, H-D., Andersson, K. & Sandros, K. Photochemistry of the anthracene chromophore: the dimerization of trans-1-(9-anthryl)-2-phenylethylene. J. Org. Chem. 50, 3913–3916 (1985).

Kaupp, G. Cyclovinylogous [2π →2σ] photoadditions. Angew. Chem. Int. Ed. 11, 313–314 (1972).
Acknowledgements
The authors thank G. Wegner (MPI-P, Mainz) for useful advice, A. Renn (ETHZ), V. Sandoghdar (MPI-PL, Erlangen) and A. Grotzky (ETHZ) for help with solid-state UV/vis and fluorescence spectroscopy, J. Rabl (ETHZ), M. Solar (ETHZ), T. Weber (ETHZ) and T. Tomizaki (PSI, Villigen) for help with the X-ray crystallographic analyses, A. Eyssler (EMPA) and M. B. Willeke (ETHZ) for help with Raman measurements, M. Kory (ETHZ) and R. Hafner (ETHZ) for help with the model compound synthesis, and K. Feldman (ETHZ) and P. Smith (ETHZ) for providing access to their optical microscopy. This work was supported by ETH Zurich (TH-05 07-1 and ETH-26 10-2) and the Swiss National Science Foundation (200021-129660).
Ethics declarations
Competing interests
The authors declare no competing financial interests.
Supplementary information
Supplementary information (PDF 9158 kb)
Crystallographic data for compound A. (CIF 25 kb)
Crystallographic data for compound B. (CIF 64 kb)
About this article
Cite this article
Kissel, P., Erni, R., Schweizer, W. et al. A two-dimensional polymer prepared by organic synthesis. Nature Chem 4, 287–291 (2012). https://doi.org/10.1038/nchem.1265
Received:

Accepted:

Published:

Issue Date:

DOI: https://doi.org/10.1038/nchem.1265