A reversible covalent reaction in which two oxygen-insensitive radicals combine to form a carbon–carbon bond provides the mechanism by which a polymer gel can self-heal at room temperature without the need for any external stimulus.
Access options
Subscribe to Journal
Get full journal access for 1 year
$169.00
only $14.08 per issue
All prices are NET prices.
VAT will be added later in the checkout.
Rent or Buy article
Get time limited or full article access on ReadCube.
from$8.99
All prices are NET prices.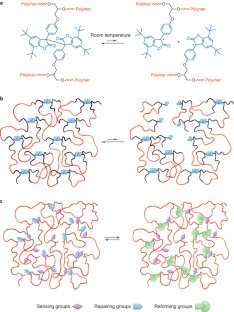 References
1

Imato, K. et al. Angew. Chem. Int. Ed. http://dx.doi.org/10.1002/anie.201104069 (2011).

2

Ghosh, B. & Urban, M. W. Science 323, 1458–1460 (2009).

3

Kawasaki, T. & Iwamoto, T. US patent 6,890,978 (2005).

4

Lehn, J.-M. (ed.) Comprehensive Supramolecular Chemistry (Pergamon, 1996).

5

Cordier, P., Tournilhac, F., Soulié- Ziakovic, C. & Leibler, L. Nature 451, 977–980 (2008).

6

Chen, X. et al. Science 295, 1698–1702 (2002).

7

Ghosh, B., Chellappan, K. V. & Urban, M. W. J. Mater. Chem. 21, 14473–14486 (2011).

8

Ramachandran, D., Liu, F. & Urban, M. W. RSC Adv. 2, 135–143 (2012).
About this article
Cite this article
Urban, M. The chemistry of self-healing. Nature Chem 4, 80–82 (2012). https://doi.org/10.1038/nchem.1249