Abstract
Diffusion-mediated cellular processes, such as metabolism, signalling and transport, depend on the hydrodynamic properties of the intracellular matrix. Photodynamic therapy, used in the treatment of cancer, relies on the generation of short-lived cytotoxic agents within a cell on irradiation of a drug. The efficacy of this treatment depends on the viscosity of the medium through which the cytotoxic agent must diffuse. Here, spectrally resolved fluorescence measurements of a porphyrin-dimer-based molecular rotor are used to quantify intracellular viscosity changes in single cells. We show that there is a dramatic increase in the viscosity of the immediate environment of the rotor on photoinduced cell death. The effect of this viscosity increase is observed directly in the diffusion-dependent kinetics of the photosensitized formation and decay of a key cytotoxic agent, singlet molecular oxygen. Using these tools, we provide insight into the dynamics of diffusion in cells, which is pertinent to drug delivery, cell signalling and intracellular mass transport.
Relevant articles
Open Access articles citing this article.
Pietro Delcanale

,

Stefania Abbruzzetti

&

Cristiano Viappiani

La Rivista del Nuovo Cimento Open Access 15 March 2022

Jingming Zhang

,

Anastasia Rakhimbekova

…

Xing Yang

Nature Communications Open Access 15 September 2021

Chenxu Yan

,

Zhiqian Guo

…

Wei-Hong Zhu

Nature Communications Open Access 23 June 2021
Access options
Subscribe to Journal
Get full journal access for 1 year
$119.00
only $9.92 per issue
All prices are NET prices.
VAT will be added later in the checkout.
Tax calculation will be finalised during checkout.
Buy article
Get time limited or full article access on ReadCube.
$32.00
All prices are NET prices.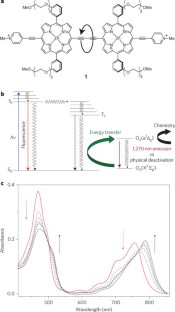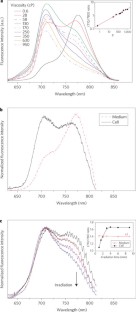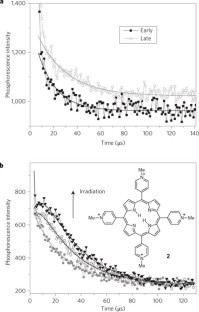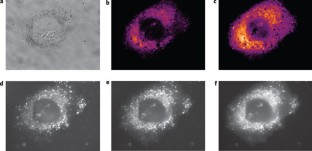 References
Kao, H. P., Abney, J. R. & Verkman, A. S. Determinants of the translational mobility of a small solute in cell cytoplasm. J. Cell Biol. 120, 175–184 (1993).

Jones, D. P. Effect of mitochondrial clustering in O2 supply in hepatocytes. Am. J. Physiol. 247, C83–C89 (1984).

O'Loughlin, M. A., Whillans, D. W. & Hunt, J. W. A fluorescence approach to testing the diffusion of oxygen into mammalian cells. Radiat. Res. 84, 477–495 (1980).

Uchida, K., Matsuyama, K., Tanaka, K. & Doi, K. Diffusion coefficient for O2 in plasma and mitochondrial membranes of rat cardiomyocytes. Respir. Physiol. 90, 351–362 (1992).

Hatz, S., Poulsen, L. & Ogilby, P. R. Time-resolved singlet oxygen phosphorescence measurements from photosensitized experiments in single cells: the effect of oxygen diffusion and oxygen concentration. Photochem. Photobiol. 84, 1284–1290 (2008).

Wojcieszyn, J. W., Schlegel, R. A., Wu, E. S. & Jacobson, K. A. Diffusion of injected macromolecules within the cytoplasm of living cells. Proc. Natl Acad. Sci. USA 78, 4407–4410 (1981).

Seksek, O., Biwersi, J. & Verkman, A. S. Translational diffusion of macromolecule-sized solutes in cytoplasm and nucleus. J. Cell Biol. 138, 131–142 (1997).

Kuimova, M. K., Yahioglu, G., Levitt, J. A. & Suhling, K. Molecular rotor measures viscosity via fluorescence lifetime imaging. J. Am. Chem. Soc. 130, 6672–6673 (2008).

Dix, J. A. & Verkman, A. S. Mapping of fluorescence anisotropy in living cells by ratio imaging—Application to cytoplasmic viscosity. Biophys. J. 57, 231–240 (1990).

Luby-Phelps, K. et al. A novel fluorescence ratiometric method confirms the low solvent viscosity of the cytoplasm. Biophys. J. 65, 236–242 (1993).

Suhling, K. et al. Time-resolved fluorescence anisotropy imaging applied to live cells. Opt. Lett. 29, 584–586 (2004).

Kuimova, M. K., Yahioglu, G. & Ogilby, P. R. Singlet oxygen in a cell: Spatially-dependent lifetimes and quenching rate constants. J. Am. Chem. Soc. 131, 332–340 (2009).

Haidekker, M. A. & Theodorakis, E. A. Molecular rotors—Fluorescent biosensors for viscosity and flow. Org. Biomol. Chem. 5, 1669–1678 (2007).

Haidekker, M. A., Brady, T. P., Lichlyter, D. & Theodorakis, E. A. A ratiometric fluorescent viscosity sensor. J. Am. Chem. Soc. 128, 398–399 (2006).

Perrin, F. La fluorescence des solutions: induction moléculaire. Polarisation et durée d'emission. Photochimie. Ann. Phys. (Paris) 12, 169–275 (1929).

Shinitzky, M., Dianoux, A. C., Gitler, C. & Weber, G. Microviscosity and order in the hydrocarbon region of micelles and membranes determined with fluorescent probes. I. Synthetic micelles. Biochemistry 10, 2106–2113 (1971).

Collins, H. A. et al. Blood vessel closure using photosensitisers engeneered for two-photon excitation. Nature Photon. 2, 420–424 (2008).

Balaz, M., Collins, H. A., Dahlstedt, E. & Anderson, H. L. Synthesis of biocompatible conjugated porphyrin dimers for one-photon and two-photon excited photodynamic therapy at NIR wavelengths. Org. Biomol. Chem. 7, 874–888, doi:10.1039/b814789b (2009).

Kuimova, M. K. et al. Photophysical properties and intracellular imaging of water-soluble porphyrin dimers for two-photon excited photodynamic therapy. Org. Biomol. Chem. 7, 889–896, doi:10.1039/b814791d (2009).

Dahlstedt, E. et al. One- and two-photon activated phototoxicity of conjugated porphyrin dimers with high two-photon absorption cross-sections. Org. Biomol. Chem. 7, 897–904, doi:10.1039/b814792b (2009).

Bonnett, R. Chemical Aspects of Photodynamic Therapy (Gordon and Breach, 2000).

Winters, M. U. et al. Photophysics of a butadiyne-linked porphyrin dimer: Influence of conformational flexibility in the ground and first singlet excited state. J. Phys. Chem. C 111, 7192–7199 (2007).

Förster, T. & Hoffmann, G. Viscosity dependence of fluorescent quantum yields of some dye systems. Z. Phys. Chem. 75, 63–76 (1971).

Borissevitch, I. E., Tominaga, T. T. & Schmitt, C. C. Photophysical studies on the interaction of two water-soluble porphyrins with bovine serum albumin. Effects upon the porphyrin triplet state characteristics. J. Photochem. Photobiol. A 114, 201–207 (1998).

Lang, K., Mosinger, J. & Wagnerova, D. M. Photophysical properties of porphyrinoid sensitizers non-covalently bound to host molecules; models for photodynamic therapy. Coord. Chem. Rev. 248, 321–350 (2004).

Zunszain, P. A., Ghuman, J., Komatsu, T., Tsuchida, E. & Curry, S. Crystal structural analysis of human serum albumin complexed with hemin and fatty acid. BMC Struct. Biol. 3: 6 (2003).

Goosey, J. D., Zigler, J. S. & Kinoshita, J. H. Cross-linking of lens crystallins in a photodynamic system—A process mediated by singlet oxygen. Science 208, 1278–1280 (1980).

Dubbelman, T., Degoeij, A. & Vansteveninck, J. Photodynamic effects of protoporphyrin on human erythrocytes—A nature of cross-linking of membrane proteins. Biochim. Biophys. Acta 511, 141–151 (1978).

Verweij, H., Dubbelman, T. & Vansteveninck, J. Photodynamic protein cross-linking. Biochim. Biophys. Acta 647, 87–94 (1981).

Basu, S., Rodionov, V., Terasaki, M. & Campagnola, P. J. Multiphoton-excited microfabrication in live cells via Rose Bengal cross-linking of cytoplasmic proteins. Opt. Lett. 30, 159–161 (2005).

Hatz, S., Lambert, J. D. C. & Ogilby, P. R. Measuring the lifetime of singlet oxygen in a single cell: Addressing the issue of cell viability. Photochem. Photobiol. Sci. 6, 1106–1116 (2007).

Snyder, J. W., Skovsen, E., Lambert, J. D. C. & Ogilby, P. R. Subcellular, time-resolved studies of singlet oxygen in single cells. J. Am. Chem. Soc. 127, 14558–14559 (2005).

Battino, R. (ed.) Oxygen and Ozone. Solubility Data Series 7 (Pergamon, 1981).
Acknowledgements
M.K.K. is grateful to the EPSRC Life Sciences Interface programme for a personal fellowship. We thank STFC for funding access to the Central Laser Facility. This work was supported in part by the Danish National Research Foundation under a block grant for the Center for Oxygen Microscopy and Imaging.
Supplementary information
About this article
Cite this article
Kuimova, M., Botchway, S., Parker, A. et al. Imaging intracellular viscosity of a single cell during photoinduced cell death. Nature Chem 1, 69–73 (2009). https://doi.org/10.1038/nchem.120
Received:

Accepted:

Published:

Issue Date:

DOI: https://doi.org/10.1038/nchem.120