Two constitutional isomers with exceptionally similar structures have had very different impacts in chemistry and beyond. With this example, Bruce Gibb highlights just how difficult it is to predict how much a particular compound or piece of chemical research will contribute to society, especially in the short term.
Access options
Subscribe to Journal
Get full journal access for 1 year
$119.00
only $9.92 per issue
All prices are NET prices.
VAT will be added later in the checkout.
Tax calculation will be finalised during checkout.
Buy article
Get time limited or full article access on ReadCube.
$32.00
All prices are NET prices.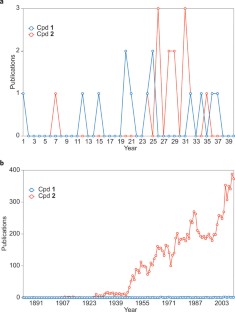 References
Robinson, R. A. J. Am. Chem. Soc. 69, 1944–1945 (1947).

Fischer, O. Method of preparing oxyquinoline. US patent 270045 (1883).

Fox, J. J. P. Chem. Soc. London 26, 134 (1910).

Hahn, F. L. & Vieweg, K. Z. Anal. Chem. Freseniu. 71, 122–130 (1927).

Albrecht, M., Fiege, M. & Osetska, O. Coordin. Chem. Rev. 252, 812–824 (2008).

Tang, C. W. & VanSlyke, S. A. Appl. Phys. Lett. 51, 913–915 (1987).

Morrissey, S. R. Chem. Eng. News 89, 24–26 (2011).

Thomas, P., Albert, M. B., Hicks, D. & Kroll, P. The Council for Chemical Research (Washington DC, 2005).
About this article
Cite this article
Gibb, B. A tale of two compounds. Nature Chem 3, 749–750 (2011). https://doi.org/10.1038/nchem.1152
Published:

Issue Date:

DOI: https://doi.org/10.1038/nchem.1152