Abstract
We report the spontaneous and rapid growth of micrometre-scale tubes from crystals of a metal oxide-based inorganic solid when they are immersed in an aqueous solution containing a low concentration of an organic cation. A membrane immediately forms around the crystal, and this membrane then forms micrometre-scale tubes that grow with vast aspect ratios at controllable rates along the surface on which the crystal is placed. The tubes are composed of an amorphous mixture of polyoxometalate-based anions and organic cations. It is possible for liquid to flow through the tubes, and for the direction of growth and the overall tube diameter to be controlled. We demonstrate that tube growth is driven by osmotic pressure within the membrane sack around the crystal, which ruptures to release the pressure. These robust, self-growing, micrometre-scale tubes offer opportunities in many areas, including the growth of microfluidic devices and the self-assembly of metal oxide-based semipermeable membranes for diverse applications.
Relevant articles
Open Access articles citing this article.
Yuanhao Wu

,

Babatunde O. Okesola

…

Alvaro Mata

Nature Communications Open Access 04 March 2020

Ahmed H. Abdelmohsen

,

Waleed M. A. El Rouby

…

Ahmed A. Farghali

Scientific Reports Open Access 19 July 2017

Agnieszka Dyonizy

,

Vitaliy Kaminker

…

Jerzy Maselko

Journal of Systems Chemistry Open Access 06 March 2015
Access options
Subscribe to Journal
Get full journal access for 1 year
$119.00
only $9.92 per issue
All prices are NET prices.
VAT will be added later in the checkout.
Tax calculation will be finalised during checkout.
Buy article
Get time limited or full article access on ReadCube.
$32.00
All prices are NET prices.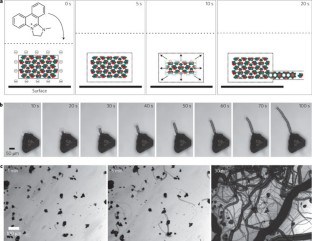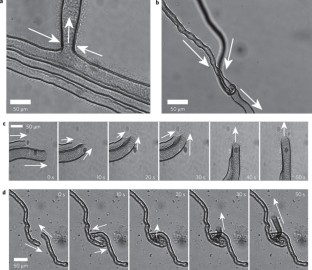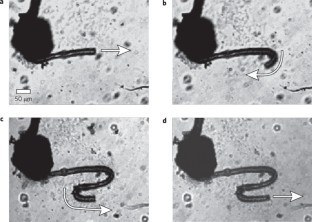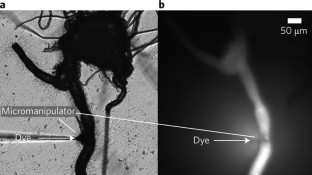 References
Cölfen, H. & Mann, S. Higher-order organization by mesoscale self-assembly and transformation of hybrid nanostructures. Angew. Chem. Int. Ed. 42, 2350–2365 (2003).

Mann, S. Life as a nanoscale phenomenon. Angew. Chem. Int. Ed. 47, 5306–5320 (2008).

Banfield, J. F., Welch, S. A., Zhang, H., Ebert, T. T. & Penn, R. L. Aggregation-based crystal growth and microstructure development in natural iron oxyhydroxide biomineralization products. Science 289, 751–754 (2000).

Liu, T. B., Diemann, E., Li, H. L., Dress, A. W. M. & Müller, A. Self-assembly in aqueous solution of wheel-shaped Mo154 oxide clusters into vesicles. Nature 426, 59–62 (2003).

Capito, R. M., Azeveo, H. S., Velichko, Y. S., Mata, A. & Stupp, S. L. Self-assembly of large and small molecules into hierarchically ordered sacs and membranes. Science 319, 1812–1816 (2008).

Zhang, J., Song, Y. S., Cronin, L. & Liu, T. B. Self-assembly of organic–inorganic hybrid amphiphilic surfactants with large polyoxometalates as polar head groups. J. Am. Chem. Soc. 130, 14408–14409 (2008).

Chichak, K. S. et al. Molecular Borromean rings. Science 304, 1308–1312 (2004).

Maselko, J. & Strizhak, P. Spontaneous formation of cellular chemical system that sustains itself far from thermodynamic equilibrium. J. Phys. Chem. B 108, 4937–4939 (2004).

Cairns-Smith, A.-G. Chemistry and the missing era of evolution. Chem. Eur. J. 14, 3830–3839 (2008).

Yang, L. F., Dolnik, M., Zhabotinsky, A. M. & Epstein, I. R. Oscillatory clusters in a model of the photosensitive Belousov–Zhabotinsky reaction system with global feedback. Phys. Rev. E 62, 6414–6420 (2000).

Collins, C., Zhou, W., Mackay, A. K. & Klinowski, J. The 'silica garden': a hierarcharical nanostructure. Chem. Phys. Lett. 286, 88–92 (1998).

Cartwright, J. H. E., Garcí-Ruiz, J. M., Novella, M. L., & Otálora, F. Formation of chemical gardens. J. Colloid Interface Sci. 256, 351–359 (2002).

Thouvenel-Romans, S. & Steinbock, O. Oscillatory growth of silica tubes in chemical gardens. J. Am. Chem. Soc. 125, 4338–4341 (2003).

Ritchie, C. et al. Reversible redox reactions in an extended polyoxometalate framework solid. Angew. Chem. Int. Ed. 47, 6881–6884 (2008).

Parenty, A. D. C., Smith, L. V., Pickering, A. L., Long, D.-L. & Cronin, L. General one-pot, three-step methodology leading to an extended class of N-heterocyclic cations: spontaneous nucleophilic addition, cyclization, and hydride loss. J. Org. Chem. 69, 5934–5946 (2004).

Parenty, A. D. C. et al. Discovery of an imidazo-phenanthridine synthon produced in a five-step one-pot reaction leading to a new family of heterocycles with novel physical properties. Chem. Commun. 1194–1196 (2006).

Long, D.-L., Burkholder, E. & Cronin, L. Polyoxometalate clusters, nanostructures and materials: from self assembly to designer materials and devices. Chem. Soc. Rev. 36, 105–121 (2007).

Müller, A., Shah, S. Q. N., Bögge, H. & Schmidtmann, M. Molecular growth from a Mo176 to a Mo248 cluster. Nature 397, 48–50 (1999).

Long, D.-L., Abbas, H., Kögerler, P. & Cronin, L. Confined electron-transfer reactions within a molecular metal oxide 'Trojan Horse'. Angew. Chem. Int. Ed. 44, 3415–3419 (2005).

Rhule, J. T., Neiwert, W. A., Hardcastle, K. I., Do, B. T. & Hill, C. L. Ag5PV2Mo10O40, a heterogeneous catalyst for air-based selective oxidation at ambient temperature. J. Am. Chem. Soc. 123, 12101–12102 (2001).

Long, D.-L. & Cronin, L. Towards polyoxometalate-integrated nano systems. Chem. Eur. J. 12, 3698–3706 (2006).

Song, Y.-F. et al. Design of hydrophobic polyoxometalate hybrid assemblies beyond surfactant encapsulation. Chem. Eur. J. 14, 2349–2354 (2008).

Long, D.-L., Streb, C., Song, Y.-F., Mitchell, S. G. & Cronin, L. Unravelling the complexities of polyoxometalates in solution using mass spectrometry: protonation versus heteroatom inclusion. J. Am. Chem. Soc. 130, 1830–1832 (2008).

Song, Y.-F. et al. From polyoxometalate building blocks to polymers and materials: the silver connection. J. Mater Chem. 17, 1903–1908 (2007).

Song, Y.-F., Long, D.-L. & Cronin, L. Non covalently connected frameworks with nanoscale channels assembled from a tethered polyoxometalate–pyrene hybrid. Angew. Chem. Int. Ed. 46, 3900–3904 (2007).

Xin, Z. et al. Keggin POM microtubes: a coincident product of crystal growth and species transformation. Inorg. Chem. 45, 8856–8858 (2006).
Acknowledgements
The authors would like to thank the Leverhulme Trust (London), the Royal Society, the University of Glasgow, WestCHEM and the EPSRC for funding.
Supplementary information
About this article
Cite this article
Ritchie, C., Cooper, G., Song, YF. et al. Spontaneous assembly and real-time growth of micrometre-scale tubular structures from polyoxometalate-based inorganic solids. Nature Chem 1, 47–52 (2009). https://doi.org/10.1038/nchem.113
Received:

Accepted:

Published:

Issue Date:

DOI: https://doi.org/10.1038/nchem.113