Abstract
Inhibitor of apoptosis (IAP) proteins suppress apoptosis and inhibit caspases. Several IAPs also function as ubiquitin-protein ligases. Regulators of IAP auto-ubiquitination, and thus IAP levels, have yet to be identified. Here we show that Head involution defective (Hid), Reaper (Rpr) and Grim downregulate Drosophila melanogaster IAP1 (DIAP) protein levels. Hid stimulates DIAP1 polyubiquitination and degradation. In contrast to Hid, Rpr and Grim can downregulate DIAP1 through mechanisms that do not require DIAP1 function as a ubiquitin-protein ligase. Observations with Grim suggest that one mechanism by which these proteins produce a relative decrease in DIAP1 levels is to promote a general suppression of protein translation. These observations define two mechanisms through which DIAP1 ubiquitination controls cell death: first, increased ubiquitination promotes degradation directly; second, a decrease in global protein synthesis results in a differential loss of short-lived proteins such as DIAP1. Because loss of DIAP1 is sufficient to promote caspase activation, these mechanisms should promote apoptosis.
Relevant articles
Open Access articles citing this article.
Bin Liu

,

Yan Ding

…

Meixiao Zhan

Cell Death Discovery Open Access 24 September 2021

Gavin Fullstone

,

Cristiano Guttà

…

Markus Rehm

npj Systems Biology and Applications Open Access 20 April 2020

Orkhon Tsogtbaatar

,

Jong-Hoon Won

…

Kyung-Ok Cho

Scientific Reports Open Access 04 February 2019
Access options
Subscribe to Journal
Get full journal access for 1 year
$99.00
only $8.25 per issue
All prices are NET prices.
VAT will be added later in the checkout.
Tax calculation will be finalised during checkout.
Buy article
Get time limited or full article access on ReadCube.
$32.00
All prices are NET prices.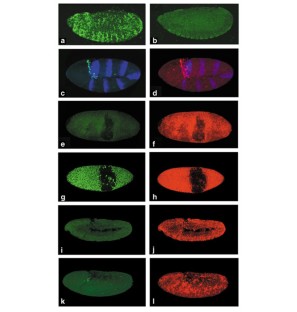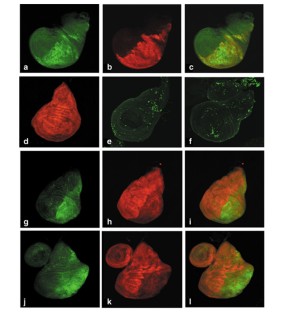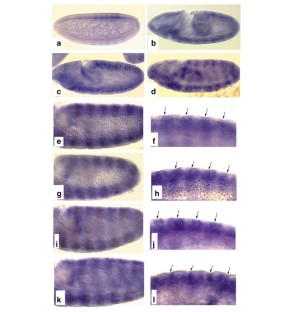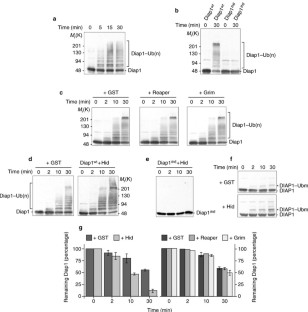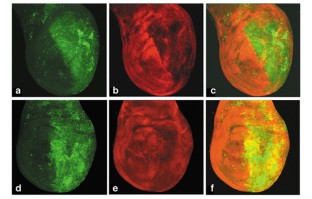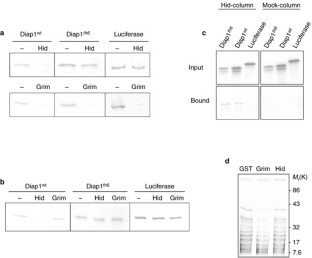 References
Wyllie, A. H., Kerr, J. F. & Currie, A. R. Cell death: the significance of apoptosis. Int. Rev. Cytol. 68, 251–306 (1980).

Raff, M. C. Social controls on cell survival and cell death. Nature 356, 397–400 (1992).

Alnemri, E. S. et al. Human ICE/CED-3 protease nomenclature. Cell 87, 171 (1996).

Thornberry, N. A. & Lazebnik, Y. Caspases: enemies within. Science 281, 1312–1316 (1998).

Weil, M. et al. Constitutive expression of the machinery for programmed cell death. J. Cell Biol. 133, 1053–1059 (1996).

Miller, L. K. An exegesis of IAPs: salvation and surprises from BIR motifs. Trends Cell Biol. 9, 323–328 (1999).

Hay, B. A. Understanding IAP function and regulation: a view from Drosophila. Cell Death Differ. 7, 1045–1056 (2000).

Pickart, C. M. Mechanisms underlying ubiquitination. Annu. Rev. Biochem. 70, 503–533 (2001).

Yang, Y., Fang, S., Jensen, J. P., Weissman, A. M. & Ashwell, J. D. Ubiquitin protein ligase activity of IAPs and their degradation in proteasomes in response to apoptotic stimuli. Science 288, 874–877 (2000).

Huang, H. et al. The inhibitor of apoptosis, cIAP2, functions as a ubiquitin-protein ligase and promotes in vitro monoubiquitination of caspases 3 and 7. J. Biol. Chem. 275, 26661–26664 (2000).

Suzuki, Y., Nakabayashi, Y. & Takahashi, R. Ubiquitin-protein ligase activity of X-linked inhibitor of apoptosis protein promotes proteasomal degradation of caspase-3 and enhances its anti-apoptotic effect in Fas-induced cell death. Proc. Natl Acad. Sci. USA 98, 8662–8667 (2001).

Hay, B. A., Wassarman, D. A. & Rubin, G. M. Drosophila homologs of baculovirus inhibitor of apoptosis proteins function to block cell death. Cell 83, 1253–1262 (1995).

Lisi, S., Mazzon, I. & White, K. Diverse domains of THREAD/DIAP1 are required to inhibit apoptosis induced by REAPER and HID in Drosophila. Genetics 154, 669–678 (2000).

Fraser, A. G. & Evan, G. I. Identification of a Drosophila melanogaster ICE/CED-3-related protease, drICE. EMBO J. 16, 2805–2813 (1997).

White, K. et al. Genetic control of programmed cell death in Drosophila. Science 264, 677–683 (1994).

Hay, B. A., Wolff, T. & Rubin, G. M. Expression of baculovirus P35 prevents cell death in Drosophila. Development 120, 2121–2129 (1994).

Yokoyama, H. et al. A novel activation mechanism of caspase-activated DNase from Drosophila melanogaster. J. Biol. Chem. 275, 12978–12986 (2000).

Hawkins, C. J., Wang, S. L. & Hay, B. A. A cloning method to identify caspases and their regulators in yeast: identification of Drosophila IAP1 as an inhibitor of the Drosophila caspase DCP-1. Proc. Natl Acad. Sci. USA 96, 2885–2890 (1999).

Wang, S. L., Hawkins, C. J., Yoo, S. J., Muller, H. A. & Hay, B. A. The Drosophila caspase inhibitor DIAP1 is essential for cell survival and is negatively regulated by HID. Cell 98, 453–463 (1999).

Meier, P., Silke, J., Leevers, S. J. & Evan, G. I. The Drosophila caspase DRONC is regulated by DIAP1. EMBO J. 19, 598–611 (2000).

Hawkins, C. J. et al. The Drosophila caspase DRONC cleaves following glutamate or aspartate and is regulated by DIAP1, HID, and GRIM. J. Biol. Chem. 275, 27084–27093 (2000).

Goyal, L., McCall, K., Agapite, J., Hartwieg, E. & Steller, H. Induction of apoptosis by Drosophila reaper, hid and grim through inhibition of IAP function. EMBO J. 19, 589–597 (2000).

Moore, L. A., Broihier, H. T., Van Doren, M., Lunsford, L. B. & Lehmann, R. Identification of genes controlling germ cell migration and embryonic gonad formation in Drosophila. Development 125, 667–678 (1998).

Quinn, L. M. et al. An essential role for the caspase dronc in developmentally programmed cell death in Drosophila. J. Biol. Chem. 275, 40416–40424 (2000).

Dorstyn, L., Colussi, P. A., Quinn, L. M., Richardson, H. & Kumar, S. DRONC, an ecdysone-inducible Drosophila caspase. Proc. Natl Acad. Sci. USA 96, 4307–4312 (1999).

Vernooy, S. Y. et al. Cell death regulation in Drosophila: conservation of mechanism and unique insights. J. Cell Biol. 150, F69–F76 (2000).

Wu, J. W., Cocina, A. E., Chai, J., Hay, B. A. & Shi, Y. Structural analysis of a functional DIAP1 fragment bound to grim and hid peptides. Mol. Cell 8, 95–104 (2001).

Vucic, D., Kaiser, W. J. & Miller, L. K. Inhibitor of apoptosis proteins physically interact with and block apoptosis induced by Drosophila proteins HID and GRIM. Mol. Cell. Biol. 18, 3300–3309 (1998).

Wright, C. W. & Clem, R. J. Sequence requirements for hid binding and apoptosis regulation in the anti-apoptotic baculovirus inhibitor of apoptosis Op-IAP: Hid binds Op-IAP in a manner similar to Smac binding of XIAP. J. Biol. Chem. 277, 2454–2462 (2002).

Chen, P., Lee, P., Otto, L. & Abrams, J. Apoptotic activity of REAPER is distinct from signaling by the tumor necrosis factor receptor 1 death domain. J. Biol. Chem. 271, 25735–25737 (1996).

Wing, J. P., Zhou, L., Schwartz, L. M. & Nambu, J. R. Distinct cell killing properties of the Drosophila reaper, head involution defective, and grim genes. Cell Death Differ. 5, 930–939 (1998).

Wing, J. P., Schwartz, L. M. & Nambu, J. R. The RHG motifs of Drosophila Reaper and Grim are important for their distinct cell death-inducing abilities. Mech. Dev. 102, 193–203 (2001).

Hershko, A. & Heller, H. Occurrence of a polyubiquitin structure in ubiquitin–protein conjugates. Biochem. Biophys. Res. Commun. 128, 1079–1086 (1985).

Fulda, S., Meyer, E. & Debatin, K. M. Metabolic inhibitors sensitize for CD95 (APO-1/Fas)-induced apoptosis by down-regulating Fas-associated death domain-like interleukin 1- converting enzyme inhibitory protein expression. Cancer Res. 60, 3947–3956 (2000).

Tuschl, T., Zamore, P. D., Lehmann, R., Bartel, D. P. & Sharp, P. A. Targeted mRNA degradation by double-stranded RNA in vitro. Genes Dev 13, 3191–3197 (1999).

Clemens, M. J., Bushell, M., Jeffrey, I. W., Pain, V. M. & Morley, S. J. Translation initiation factor modifications and the regulation of protein synthesis in apoptotic cells. Cell Death Differ. 7, 603–615 (2000).

Han, K. & Manley, J. L. Functional domains of the Drosophila Engrailed protein. EMBO J. 12, 2723–2733 (1993).

Muller, H. A. & Wieschaus, E. armadillo, bazooka, and stardust are critical for early stages in formation of the zonula adherens and maintenance of the polarized blastoderm epithelium in Drosophila. J. Cell Biol. 134, 149–163 (1996).

Tautz, D. & Pfeifle, C. A non-radioactive in situ hybridization method for the localization of specific RNAs in Drosophila embryos reveals translational control of the segmentation gene hunchback. Chromosoma 98, 81–85 (1989).

Holley, C. L., Olson, R. R., Colon-Ramos, D. A., & Kornbluth, S. Reaper-mediated elimination of IAP proteins through stimulated IAP degradation and generalized translational inhibition. Nature Cell Biol. DOI: 10.1038/ncb798.

Ryoo, H.D., Bergmann, A., Gonen, H., Ciechanover, A. & Steller, H. Regulation of Drosophila IAP1 degradation and apoptosis by reaper and ubcD1. Nature Cell Biol. DOI: 10.1038/ncb795.

Hays, R., Wickline, L. & Cagan, R. Morgue mediates apoptosis in the Drosophila retina by promoting degradation of DIAP1. Nature Cell Biol. DOI: 10.1038/ncb794.

Wing, J.P. et al. Drosophila Morgue is a novel F Box/ubiquitin conjugase domain protein important in grim-reaper mediated programmed cell death. Nature Cell Biol. DOI: 10.1038/ncb800.

Bergmann, A., Agapite, J., McCall, K. & Steller, H. The Drosphila gene hid is a direct molecular target of Ras-dependent survival signalling. Cell 95, 331–341 (1998).
Acknowledgements
We thank members of the Deshaies lab for their assistance with initial ubiquitination assays and S. Kornbluth for providing the Rpr peptide, and for sharing unpublished observations. We also thank P.D. Zamore and members of his lab for providing the Drosophila embryo translation extract and translation protocols. We also thank G.M. Rubin and E. Kwan for the production of the anti-DIAP1 monoclonal antibody and K. White for th6 flies. This work was supported in part by a grant from the Deutsche Forschungsgemeinschaft (MU1168/4-1) to H.-A.J.M. and grants from the Burroughs Wellcome Fund (New Investigator awards in the Pharmacological Sciences), the Ellison Medical Foundation, and a National Institutes of Health grant GM057422-01 to B.A.H. S.J.Y. was supported by a Jane Coffin Childs Postdoctoral fellowship.
Ethics declarations
Competing interests
The authors declare no competing financial interests.
Supplementary information
About this article
Cite this article
Yoo, S., Huh, J., Muro, I. et al. Hid, Rpr and Grim negatively regulate DIAP1 levels through distinct mechanisms. Nat Cell Biol 4, 416–424 (2002). https://doi.org/10.1038/ncb793
Received:

Revised:

Accepted:

Published:

Issue Date:

DOI: https://doi.org/10.1038/ncb793