Abstract
Metabolic reprogramming is a hallmark of cancer. Herein we discover that the key glycolytic enzyme pyruvate kinase M2 isoform (PKM2), but not the related isoform PKM1, is methylated by co-activator-associated arginine methyltransferase 1 (CARM1). PKM2 methylation reversibly shifts the balance of metabolism from oxidative phosphorylation to aerobic glycolysis in breast cancer cells. Oxidative phosphorylation depends on mitochondrial calcium concentration, which becomes critical for cancer cell survival when PKM2 methylation is blocked. By interacting with and suppressing the expression of inositol-1,4,5-trisphosphate receptors (InsP3Rs), methylated PKM2 inhibits the influx of calcium from the endoplasmic reticulum to mitochondria. Inhibiting PKM2 methylation with a competitive peptide delivered by nanoparticles perturbs the metabolic energy balance in cancer cells, leading to a decrease in cell proliferation, migration and metastasis. Collectively, the CARM1–PKM2 axis serves as a metabolic reprogramming mechanism in tumorigenesis, and inhibiting PKM2 methylation generates metabolic vulnerability to InsP3R-dependent mitochondrial functions.
Access options
Subscribe to Journal
Get full journal access for 1 year
$59.00
only $4.92 per issue
All prices are NET prices.
VAT will be added later in the checkout.
Tax calculation will be finalised during checkout.
Rent or Buy article
Get time limited or full article access on ReadCube.
from$8.99
All prices are NET prices.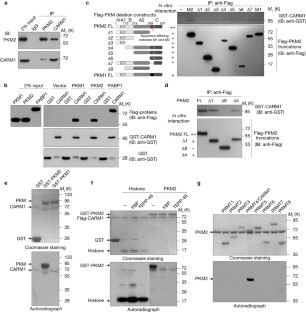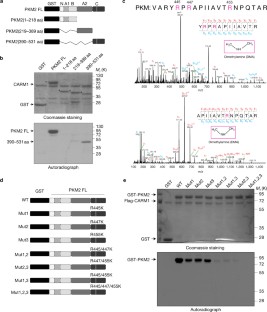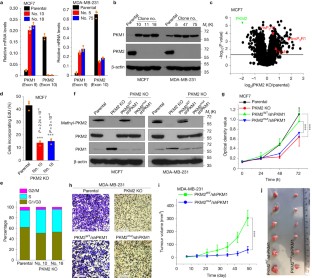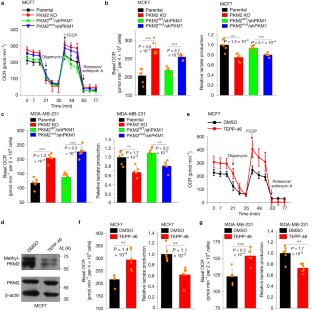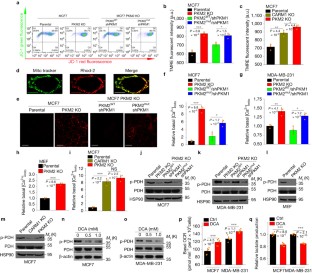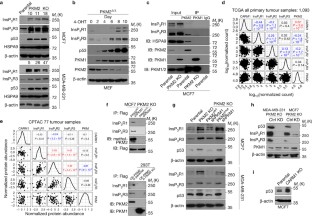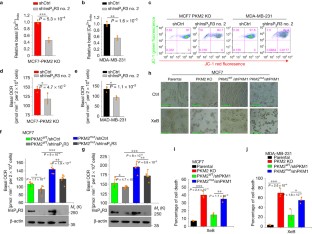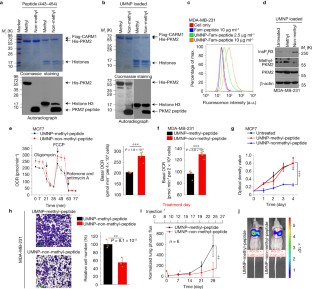 References
1

Cairns, R. A., Harris, I. S. & Mak, T. W. Regulation of cancer cell metabolism. Nat. Rev. Cancer 11, 85–95 (2011).

2

Vander Heiden, M. G., Cantley, L. C. & Thompson, C. B. Understanding the Warburg effect: the metabolic requirements of cell proliferation. Science 324, 1029–1033 (2009).

3

Warburg, O. On the origin of cancer cells. Science 123, 309–314 (1956).

4

Lunt, S. Y. & Vander Heiden, M. G. Aerobic glycolysis: meeting the metabolic requirements of cell proliferation. Annu. Rev. Cell Dev. Biol. 27, 441–464 (2011).

5

Guo, J. Y. et al. Activated Ras requires autophagy to maintain oxidative metabolism and tumorigenesis. Genes Dev. 25, 460–470 (2011).

6

Weinberg, F. et al. Mitochondrial metabolism and ROS generation are essential for Kras-mediated tumorigenicity. Proc. Natl Acad. Sci. USA 107, 8788–8793 (2010).

7

Fogal, V. et al. Mitochondrial p32 protein is a critical regulator of tumor metabolism via maintenance of oxidative phosphorylation. Mol. Cell. Biol. 30, 1303–1318 (2010).

8

Weinberg, S. E. & Chandel, N. S. Targeting mitochondria metabolism for cancer therapy. Nat. Chem. Biol. 11, 9–15 (2015).

9

Noguchi, T., Inoue, H. & Tanaka, T. The M1- and M2-type isozymes of rat pyruvate kinase are produced from the same gene by alternative RNA splicing. J. Biol. Chem. 261, 13807–13812 (1986).

10

Christofk, H. R., Vander Heiden, M. G., Wu, N., Asara, J. M. & Cantley, L. C. Pyruvate kinase M2 is a phosphotyrosine-binding protein. Nature 452, 181–186 (2008).

11

Tamada, M., Suematsu, M. & Saya, H. Pyruvate kinase M2: multiple faces for conferring benefits on cancer cells. Clin. Cancer Res. 18, 5554–5561 (2012).

12

Keller, K. E., Tan, I. S. & Lee, Y. S. SAICAR stimulates pyruvate kinase isoform M2 and promotes cancer cell survival in glucose-limited conditions. Science 338, 1069–1072 (2012).

13

Li, Z., Yang, P. & Li, Z. The multifaceted regulation and functions of PKM2 in tumor progression. Biochim. Biophys. Acta 1846, 285–296 (2014).

14

Christofk, H. R. et al. The M2 splice isoform of pyruvate kinase is important for cancer metabolism and tumour growth. Nature 452, 230–233 (2008).

15

Xie, J., Dai, C. & Hu, X. Evidence that does not support pyruvate kinase M2 (PKM2)-catalyzed reaction as a rate-limiting step in cancer cell glycolysis. J. Biol. Chem. 291, 8987–8999 (2016).

16

Hosios, A. M., Fiske, B. P., Gui, D. Y. & Vander Heiden, M. G. Lack of evidence for PKM2 protein kinase activity. Mol. Cell 59, 850–857 (2015).

17

Yang, Y. & Bedford, M. T. Protein arginine methyltransferases and cancer. Nat. Rev. Cancer 13, 37–50 (2013).

18

Kawabe, Y., Wang, Y. X., McKinnell, I. W., Bedford, M. T. & Rudnicki, M. A. Carm1 regulates Pax7 transcriptional activity through MLL1/2 recruitment during asymmetric satellite stem cell divisions. Cell Stem Cell 11, 333–345 (2012).

19

Hein, K. et al. Site-specific methylation of Notch1 controls the amplitude and duration of the Notch1 response. Sci. Signal. 8, ra30 (2015).

20

Shishkova, E. et al. Global mapping of CARM1 substrates defines enzyme specificity and substrate recognition. Nat. Commun. 8, 15571 (2017).

21

Frietze, S., Lupien, M., Silver, P. A. & Brown, M. CARM1 regulates estrogen-stimulated breast cancer growth through up-regulation of E2F1. Cancer Res. 68, 301–306 (2008).

22

Cheng, H. et al. Overexpression of CARM1 in breast cancer is correlated with poorly characterized clinicopathologic parameters and molecular subtypes. Diagn. Pathol. 8, 129 (2013).

23

Wang, L. et al. CARM1 methylates chromatin remodeling factor BAF155 to enhance tumor progression and metastasis. Cancer Cell 25, 21–36 (2014).

24

Cárdenas, C. et al. Essential regulation of cell bioenergetics by constitutive InsP3 receptor Ca2+ transfer to mitochondria. Cell 142, 270–283 (2010).

25

Lee, J. & Bedford, M. T. PABP1 identified as an arginine methyltransferase substrate using high-density protein arrays. EMBO Rep. 3, 268–273 (2002).

26

Anastasiou, D. et al. Pyruvate kinase M2 activators promote tetramer formation and suppress tumorigenesis. Nat. Chem. Biol. 8, 839–847 (2012).

27

Lunt, S. Y. et al. Pyruvate kinase isoform expression alters nucleotide synthesis to impact cell proliferation. Mol. Cell 57, 95–107 (2015).

28

Patra, K. C. & Hay, N. The pentose phosphate pathway and cancer. Trends Biochem. Sci. 39, 347–354 (2014).

29

Rizzuto, R., De Stefani, D., Raffaello, A. & Mammucari, C. Mitochondria as sensors and regulators of calcium signalling. Nat. Rev. Mol. Cell Biol. 13, 566–578 (2012).

30

Patel, M. S. & Korotchkina, L. G. Regulation of the pyruvate dehydrogenase complex. Biochem. Soc. Trans. 34, 217–222 (2006).

31

Qattan, A. T., Radulovic, M., Crawford, M. & Godovac-Zimmermann, J. Spatial distribution of cellular function: the partitioning of proteins between mitochondria and the nucleus in MCF7 breast cancer cells. J. Proteome Res. 11, 6080–6101 (2012).

32

Koboldt, D. C. et al. Comprehensive molecular portraits of human breast tumours. Nature 490, 61–70 (2012).

33

Mertins, P. et al. Proteogenomics connects somatic mutations to signalling in breast cancer. Nature 534, 55–62 (2016).

34

Sanchez, Y. et al. Genome-wide analysis of the human p53 transcriptional network unveils a lncRNA tumour suppressor signature. Nat. Commun. 5, 5812 (2014).

35

Thundimadathil, J. Cancer treatment using peptides: current therapies and future prospects. J. Amino Acids 2012, 967347 (2012).

36

Minn, A. J. et al. Genes that mediate breast cancer metastasis to lung. Nature 436, 518–524 (2005).

37

Hitosugi, T. et al. Tyrosine phosphorylation inhibits PKM2 to promote the Warburg effect and tumor growth. Sci. Signal 2, ra73 (2009).

38

Anastasiou, D. et al. Inhibition of pyruvate kinase M2 by reactive oxygen species contributes to cellular antioxidant responses. Science 334, 1278–1283 (2011).

39

Territo, P. R., Mootha, V. K., French, S. A. & Balaban, R. S. Ca2+ activation of heart mitochondrial oxidative phosphorylation: role of the F0/F1-ATPase. Am. J. Physiol. Cell Physiol. 278, C423–C435 (2000).

40

Foskett, J. K., White, C., Cheung, K. H. & Mak, D. O. Inositol trisphosphate receptor Ca2 + release channels. Physiol. Rev. 87, 593–658 (2007).

41

Cardenas, C. et al. Selective vulnerability of cancer cells by inhibition of Ca(2 +) transfer from endoplasmic reticulum to mitochondria. Cell Rep. 14, 2313–2324 (2016).

42

Christofk, H. R. et al. The M2 splice isoform of pyruvate kinase is important for cancer metabolism and tumour growth. Nature 452, 230–233 (2008).

43

Clayton, D. A. & Shadel, G. S. Isolation of mitochondria from tissue culture cells. Cold Spring Harb. Protoc. 2014, pdb.prot080002 (2014).

44

Kanaan, Y. M. et al. Metabolic profile of triple-negative breast cancer in African-American women reveals potential biomarkers of aggressive disease. Cancer Genom. Proteom. 11, 279–294 (2014).

45

Bai, R. K. & Wong, L. J. Simultaneous detection and quantification of mitochondrial DNA deletion(s), depletion, and over-replication in patients with mitochondrial disease. J. Mol. Diagn. 7, 613–622 (2005).

46

Prabaharan, M., Grailer, J. J., Pilla, S., Steeber, D. A. & Gong, S. Amphiphilic multi-arm-block copolymer conjugated with doxorubicin via pH-sensitive hydrazone bond for tumor-targeted drug delivery. Biomaterials 30, 5757–5766 (2009).

47

Chen, G., Wang, Y., Xie, R. & Gong, S. Tumor-targeted pH/redox dual-sensitive unimolecular nanoparticles for efficient siRNA delivery. J. Control. Release 259, 105–114 (2017).

48

Lee, Y. et al. Charge-conversion ternary polyplex with endosome disruption moiety: a technique for efficient and safe gene delivery. Angew. Chem. 120, 5241–5244 (2008).

49

Pittella, F. et al. Enhanced endosomal escape of siRNA-incorporating hybrid nanoparticles from calcium phosphate and PEG-block charge-conversional polymer for efficient gene knockdown with negligible cytotoxicity. Biomaterials 32, 3106–3114 (2011).

50

Chang, K.-L., Higuchi, Y., Kawakami, S., Yamashita, F. & Hashida, M. Efficient gene transfection by histidine-modified chitosan through enhancement of endosomal escape. Bioconjug. Chem. 21, 1087–1095 (2010).

51

Ziegler, A., Nervi, P., Durrenberger, M. & Seelig, J. The cationic cell-penetrating peptide CPP(TAT) derived from the HIV-1 protein TAT is rapidly transported into living fibroblasts: optical, biophysical, and metabolic evidence. Biochemistry 44, 138–148 (2005).

52

Vizcaino, J. A. et al. 2016 update of the PRIDE database and its related tools. Nucleic Acids Res. 44, D447–D456 (2016).

53

Haug, K. et al. MetaboLights–an open-access general-purpose repository for metabolomics studies and associated meta-data. Nucleic Acids Res. 41, D781–D786 (2013).
Acknowledgements
We thank M. G. Vander Heiden for kindly providing the immortalized MEF (PKM2fl/fl, Cre-oestrogen receptor) cells, J. Massagué for kindly providing the LM2 cells, N. Sherer for fluorescence microscopy, C. Coriano and J. Fan for comments, and P. Ahlquist for editing. This project is supported by NCI RO1 CA213293 to W.X. and R21 CA196653 to W.X. and S.G., and supported in part by the NIH/NCI P30CA014520 -UW Carbone Cancer Center Grant, and NIH R01 DK071801 to L.L., S10RR029531 and P41GM108538.
Ethics declarations
Competing interests
The authors declare no competing financial interests.
Integrated supplementary information
Supplementary information
About this article
Cite this article
Liu, F., Ma, F., Wang, Y. et al. PKM2 methylation by CARM1 activates aerobic glycolysis to promote tumorigenesis. Nat Cell Biol 19, 1358–1370 (2017). https://doi.org/10.1038/ncb3630
Received:

Accepted:

Published:

Issue Date: