Abstract
Apoptosis represents a key anti-cancer therapeutic effector mechanism. During apoptosis, mitochondrial outer membrane permeabilization (MOMP) typically kills cells even in the absence of caspase activity. Caspase activity can also have a variety of unwanted consequences that include DNA damage. We therefore investigated whether MOMP-induced caspase-independent cell death (CICD) might be a better way to kill cancer cells. We find that cells undergoing CICD display potent pro-inflammatory effects relative to apoptosis. Underlying this, MOMP was found to stimulate NF-κB activity through the downregulation of inhibitor of apoptosis proteins. Strikingly, engagement of CICD displays potent anti-tumorigenic effects, often promoting complete tumour regression in a manner dependent on intact immunity. Our data demonstrate that by activating NF-κB, MOMP can exert additional signalling functions besides triggering cell death. Moreover, they support a rationale for engaging caspase-independent cell death in cell-killing anti-cancer therapies.
Relevant articles
Open Access articles citing this article.
Chiara Giacomini

,

Cecilia Granéli

…

Francesco Dazzi

Cellular & Molecular Immunology Open Access 25 April 2023

Lisheng Fu

,

Xiaoyan Wang

…

XingZhong Wu

Cell Death & Disease Open Access 20 April 2023

Davide Di Fusco

,

Antonio Di Grazia

…

Ivan Monteleone

Cell Death & Disease Open Access 06 April 2023
Access options
Access Nature and 54 other Nature Portfolio journals
Get Nature+, our best-value online-access subscription
$29.99 / 30 days
cancel any time
Subscribe to this journal
Receive 12 print issues and online access
$209.00 per year
only $17.42 per issue
Rent or buy this article
Prices vary by article type
from$1.95
to$39.95
Prices may be subject to local taxes which are calculated during checkout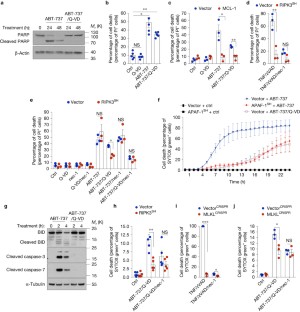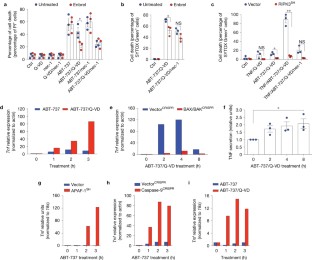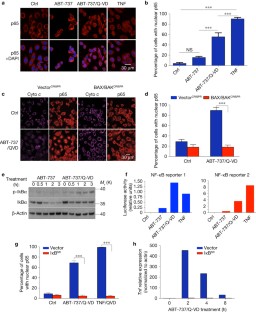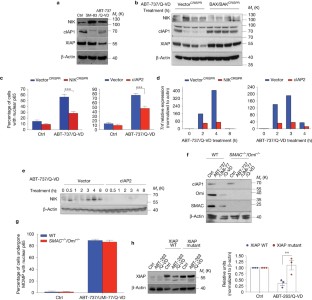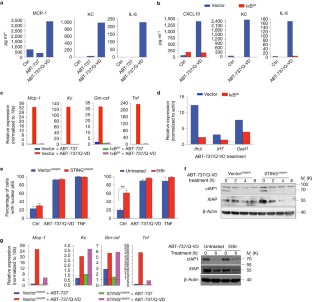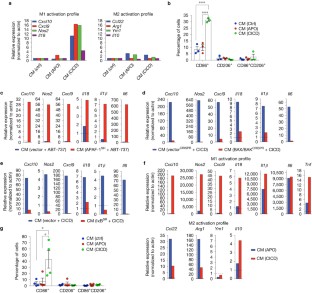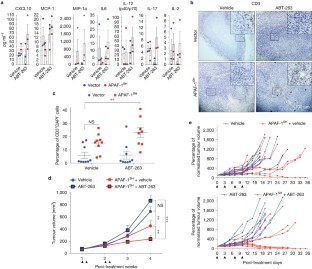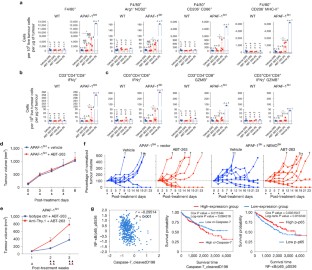 References
Tait, S. W. & Green, D. R. Mitochondria and cell death: outer membrane permeabilization and beyond. Nat. Rev. Mol. Cell Biol. 11, 621–632 (2010).

Tait, S. W., Ichim, G. & Green, D. R. Die another way—non-apoptotic mechanisms of cell death. J. Cell Sci. 127, 2135–2144 (2014).

Lopez, J. & Tait, S. W. Mitochondrial apoptosis: killing cancer using the enemy within. Br. J. Cancer 112, 957–962 (2015).

Ichim, G. & Tait, S. W. A fate worse than death: apoptosis as an oncogenic process. Nat. Rev. Cancer 16, 539–548 (2016).

Labi, V. & Erlacher, M. How cell death shapes cancer. Cell Death Dis. 6, e1675 (2015).

Ichim, G. et al. Limited mitochondrial permeabilization causes DNA damage and genomic instability in the absence of cell death. Mol. Cell 57, 860–872 (2015).

Lovric, M. M. & Hawkins, C. J. TRAIL treatment provokes mutations in surviving cells. Oncogene 29, 5048–5060 (2010).

Liu, X. et al. Caspase-3 promotes genetic instability and carcinogenesis. Mol. Cell 58, 284–296 (2015).

Tait, S. W. et al. Widespread mitochondrial depletion via mitophagy does not compromise necroptosis. Cell Rep. 5, 878–885 (2013).

Oltersdorf, T. et al. An inhibitor of Bcl-2 family proteins induces regression of solid tumours. Nature 435, 677–681 (2005).

Wallach, D., Kang, T. B., Dillon, C. P. & Green, D. R. Programmed necrosis in inflammation: toward identification of the effector molecules. Science 352, aaf2154 (2016).

Lopez, J. et al. Mito-priming as a method to engineer Bcl-2 addiction. Nat. Commun. 7, 10538 (2016).

Kim, K. W. et al. Caspase cleavage product lacking amino-terminus of IκBα sensitizes resistant cells to TNF-α and TRAIL-induced apoptosis. J. Cell. Biochem. 85, 334–345 (2002).

Van Antwerp, D. J., Martin, S. J., Kafri, T., Green, D. R. & Verma, I. M. Suppression of TNF-α-induced apoptosis by NF-κB. Science 274, 787–789 (1996).

Varfolomeev, E. et al. IAP antagonists induce autoubiquitination of c-IAPs, NF-κB activation, and TNFα-dependent apoptosis. Cell 131, 669–681 (2007).

Vince, J. E. et al. IAP antagonists target cIAP1 to induce TNFα-dependent apoptosis. Cell 131, 682–693 (2007).

Martins, L. M. et al. Neuroprotective role of the Reaper-related serine protease HtrA2/Omi revealed by targeted deletion in mice. Mol. Cell. Biol. 24, 9848–9862 (2004).

Abulwerdi, F. et al. A novel small-molecule inhibitor of mcl-1 blocks pancreatic cancer growth in vitro and in vivo. Mol. Cancer Ther. 13, 565–575 (2014).

Verhagen, A. M. et al. Identification of mammalian mitochondrial proteins that interact with IAPs via N-terminal IAP binding motifs. Cell Death Differ. 14, 348–357 (2007).

Zhuang, M., Guan, S., Wang, H., Burlingame, A. L. & Wells, J. A. Substrates of IAP ubiquitin ligases identified with a designed orthogonal E3 ligase, the NEDDylator. Mol. Cell 49, 273–282 (2013).

Silke, J. et al. The anti-apoptotic activity of XIAP is retained upon mutation of both the caspase 3- and caspase 9-interacting sites. J. Cell Biol. 157, 115–124 (2002).

Rongvaux, A. et al. Apoptotic caspases prevent the induction of type I interferons by mitochondrial DNA. Cell 159, 1563–1577 (2014).

White, M. J. et al. Apoptotic caspases suppress mtDNA-induced STING-mediated type I IFN production. Cell 159, 1549–1562 (2014).

Biswas, S. K. & Mantovani, A. Macrophage plasticity and interaction with lymphocyte subsets: cancer as a paradigm. Nat. Immunol. 11, 889–896 (2010).

Aaes, T. L. et al. Vaccination with necroptotic cancer cells induces efficient anti-tumor immunity. Cell Rep. 15, 274–287 (2016).

Li, J. et al. TCPA: a resource for cancer functional proteomics data. Nat. Methods 10, 1046–1047 (2013).

Lartigue, L. et al. Caspase-independent mitochondrial cell death results from loss of respiration, not cytotoxic protein release. Mol. Biol. Cell 20, 4871–4884 (2009).

Hayden, M. S. & Ghosh, S. NF-κB, the first quarter-century: remarkable progress and outstanding questions. Genes Dev. 26, 203–234 (2012).

Dondelinger, Y. et al. NF-κB-independent role of IKKα/IKKβ in preventing RIPK1 kinase-dependent apoptotic and necroptotic cell death during TNF signaling. Mol. Cell 60, 63–76 (2015).

Ramakrishnan, P., Wang, W. & Wallach, D. Receptor-specific signaling for both the alternative and the canonical NF-κB activation pathways by NF-κB-inducing kinase. Immunity 21, 477–489 (2004).

Zarnegar, B., Yamazaki, S., He, J. Q. & Cheng, G. Control of canonical NF-κB activation through the NIK-IKK complex pathway. Proc. Natl Acad. Sci. USA 105, 3503–3508 (2008).

Demchenko, Y. N. et al. Classical and/or alternative NF-κB pathway activation in multiple myeloma. Blood 115, 3541–3552 (2010).

Cheung, H. H. et al. SMG1 and NIK regulate apoptosis induced by Smac mimetic compounds. Cell Death Dis. 2, e146 (2011).

Kim, K. W., Moretti, L. & Lu, B. M867, a novel selective inhibitor of caspase-3 enhances cell death and extends tumor growth delay in irradiated lung cancer models. PLoS ONE 3, e2275 (2008).

Werthmoller, N., Frey, B., Wunderlich, R., Fietkau, R. & Gaipl, U. S. Modulation of radiochemoimmunotherapy-induced B16 melanoma cell death by the pan-caspase inhibitor zVAD-fmk induces anti-tumor immunity in a HMGB1-, nucleotide- and T-cell-dependent manner. Cell Death Dis. 6, e1761 (2015).

Yatim, N. et al. RIPK1 and NF-κB signaling in dying cells determines cross-priming of CD8(+) T cells. Science 350, 328–334 (2015).

Koo, G. B. et al. Methylation-dependent loss of RIP3 expression in cancer represses programmed necrosis in response to chemotherapeutics. Cell Res. 25, 707–725 (2015).

Lecis, D. et al. Dimeric Smac mimetics/IAP inhibitors as in vivo-active pro-apoptotic agents. Part II: Structural and biological characterization. Bioorg. Med. Chem. 20, 6709–6723 (2012).

Shalem, O. et al. Genome-scale CRISPR-Cas9 knockout screening in human cells. Science 343, 84–87 (2014).

Sanjana, N. E., Shalem, O. & Zhang, F. Improved vectors and genome-wide libraries for CRISPR screening. Nat. Methods 11, 783–784 (2014).

Graczyk, D., White, R. J. & Ryan, K. M. Involvement of RNA polymerase III in immune responses. Mol. Cell. Biol. 35, 1848–1859 (2015).

Peltzer, N. et al. HOIP deficiency causes embryonic lethality by aberrant TNFR1-mediated endothelial cell death. Cell Rep. 9, 153–165 (2014).

Werner, A. B., de Vries, E., Tait, S. W., Bontjer, I. & Borst, J. Bcl-2 family member Bfl-1/A1 sequesters truncated bid to inhibit is collaboration with pro-apoptotic Bak or Bax. J. Biol. Chem. 277, 22781–22788 (2002).
Acknowledgements
This work was supported by a Cancer Research UK Programme Foundation award (C40872/A20145) (S.W.G.T.) and a Cancer Research UK studentship. J.L. was supported, in part, by the University of Lyon and by fellowships from Fondation ARC pour la Recherche sur le Cancer and Hospices Civils de Lyon. G.I. was supported by an EMBO long-term postdoctoral fellowship (ALTF 55–2013).C.R.-P. was supported by the Fondation ARC pour la Recherche sur le Cancer and the Agence Nationale de la Recherche (LABEX SIGNALIFE ANR-11-LABX-0028-01). We thank J. Silke (Walter and Eliza Hall Institute), M. Martins (MRC Toxicology Unit), F. Zhang (Massachusetts Institute of Technology), D. Murphy (Beatson Institute) and D. Graczyk (Polish Academy of Sciences) for reagents, A. Keith, B. Clark, T. Gilbey, M. O'Prey (Beatson Institute, UK), D. Vaughan, L. Lapienyte, V. Imbert (Université de Nice-Sophia-Antipolis), M. Hou and C. Thompson (University of Glasgow) for technical assistance. We acknowledge support from Cancer Research UK Glasgow Centre (C596/A18076), the Histology and BSU facilities at the Cancer Research UK Beatson Institute (C596/A17196) and Centre Méditerranéen de Médecine Moléculaire animal facility. Finally, we thank C. Winchester (Beatson Institute) and members of the Tait laboratory for reviewing the manuscript.
Ethics declarations
Competing interests
The authors declare no competing financial interests.
Integrated supplementary information
Supplementary information
About this article
Cite this article
Giampazolias, E., Zunino, B., Dhayade, S. et al. Mitochondrial permeabilization engages NF-κB-dependent anti-tumour activity under caspase deficiency. Nat Cell Biol 19, 1116–1129 (2017). https://doi.org/10.1038/ncb3596
Received:

Accepted:

Published:

Issue Date:

DOI: https://doi.org/10.1038/ncb3596