The lung undergoes a striking repair process in response to severe injuries such as influenza infection. A study now demonstrates that associated stem/progenitor cells are heterogeneous in nature and comprise subpopulations dominated by hypoxia/Notch or Wnt signalling. Modulation of this heterogeneity in favour of functional repair may have therapeutic value.
Access options
Subscribe to Journal
Get full journal access for 1 year
$225.00
only $18.75 per issue
All prices are NET prices.
VAT will be added later in the checkout.
Rent or Buy article
Get time limited or full article access on ReadCube.
from$8.99
All prices are NET prices.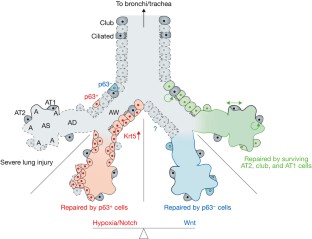 References
1

Hogan, B. L. et al. Cell Stem Cell 15, 123–138 (2014).

2

Kumar, P. A. et al. Cell 147, 525–538 (2011).

3

Vaughan, A. E. et al. Nature 517, 621–625 (2015).

4

Xi, Y. et al. Nat. Cell Biol. 19, 904–914 (2017).

5

Zuo, W. et al. Nature 517, 616–620 (2014).

6

Ray, S. et al. Stem Cell Rep. 7, 817–825 (2016).

7

Kanegai, C. M. et al. Am. J. Respir. Cell Mol. Biol. 55, 613–615 (2016).

8

Yang, J. et al. Development 143, 54–65 (2016).
Ethics declarations
Competing interests
The author declares no competing financial interests.
About this article
Cite this article
Chen, J. Origin and regulation of a lung repair kit. Nat Cell Biol 19, 885–886 (2017). https://doi.org/10.1038/ncb3585
Further reading
Jaymin J. Kathiriya

,

Alexis N. Brumwell

,

Julia R. Jackson

,

Xiaodan Tang

&

Harold A. Chapman

Cell Stem Cell (2020)

Maria C. Basil

,

Jeremy Katzen

,

Anna E. Engler

,

Minzhe Guo

,

Michael J. Herriges

,

Jaymin J. Kathiriya

,

Rebecca Windmueller

,

Alexandra B. Ysasi

,

William J. Zacharias

,

Hal A. Chapman

,

Darrell N. Kotton

,

Jason R. Rock

,

Hans-Willem Snoeck

,

Gordana Vunjak-Novakovic

,

Jeffrey A. Whitsett

&

Edward E. Morrisey

Cell Stem Cell (2020)