Abstract
Although normally dormant, hair follicle stem cells (HFSCs) quickly become activated to divide during a new hair cycle. The quiescence of HFSCs is known to be regulated by a number of intrinsic and extrinsic mechanisms. Here we provide several lines of evidence to demonstrate that HFSCs utilize glycolytic metabolism and produce significantly more lactate than other cells in the epidermis. Furthermore, lactate generation appears to be critical for the activation of HFSCs as deletion of lactate dehydrogenase (Ldha) prevented their activation. Conversely, genetically promoting lactate production in HFSCs through mitochondrial pyruvate carrier 1 (Mpc1) deletion accelerated their activation and the hair cycle. Finally, we identify small molecules that increase lactate production by stimulating Myc levels or inhibiting Mpc1 carrier activity and can topically induce the hair cycle. These data suggest that HFSCs maintain a metabolic state that allows them to remain dormant and yet quickly respond to appropriate proliferative stimuli.
Relevant articles
Open Access articles citing this article.
Xiaoyu Li

,

Ou Jiang

&

Songlin Wang

International Journal of Oral Science Open Access 01 December 2023

Haojie Du

,

Tao Zhang

…

Yang Sun

Chinese Medicine Open Access 15 July 2023

Nozomu Takata

,

Jason M. Miska

…

Guillermo Oliver

Nature Communications Open Access 14 July 2023
Access options
Access Nature and 54 other Nature Portfolio journals
Get Nature+, our best-value online-access subscription
$29.99 / 30 days
cancel any time
Subscribe to this journal
Receive 12 print issues and online access
$209.00 per year
only $17.42 per issue
Rent or buy this article
Prices vary by article type
from$1.95
to$39.95
Prices may be subject to local taxes which are calculated during checkout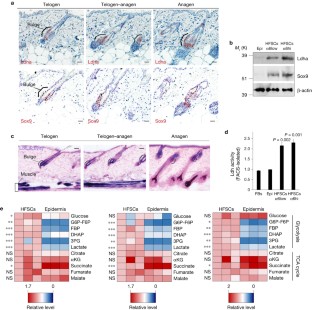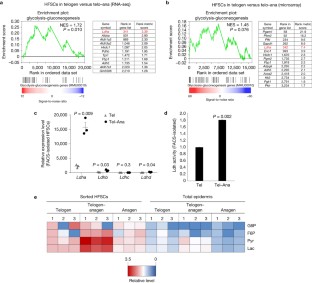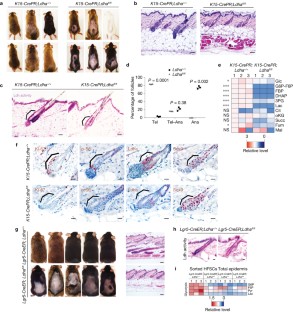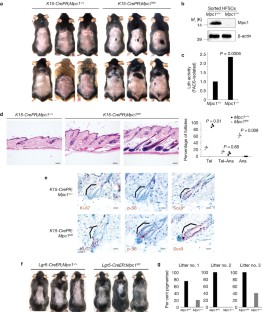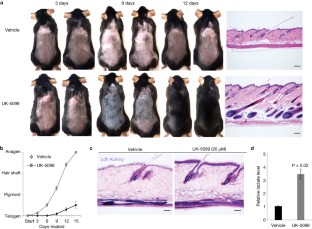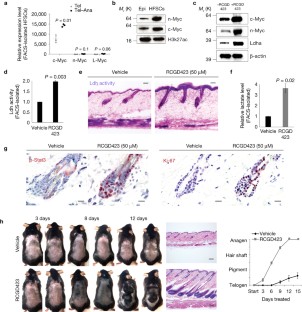 References
Hsu, Y. C., Pasolli, H. A. & Fuchs, E. Dynamics between stem cells, niche, and progeny in the hair follicle. Cell 144, 92–105 (2011).

Morris, R. J. & Potten, C. S. Highly persistent label-retaining cells in the hair follicles of mice and their fate following induction of anagen. J. Invest. Dermatol. 112, 470–475 (1999).

Fuchs, E. The tortoise and the hair: slow-cycling cells in the stem cell race. Cell 137, 811–819 (2009).

Fuchs, E., Merrill, B. J., Jamora, C. & DasGupta, R. At the roots of a never-ending cycle. Dev. Cell 1, 13–25 (2001).

Kloepper, J. E. et al. Mitochondrial function in murine skin epithelium is crucial for hair follicle morphogenesis and epithelial-mesenchymal interactions. J. Invest. Dermatol. 135, 679–689 (2015).

Hamanaka, R. B. & Chandel, N. S. Mitochondrial metabolism as a regulator of keratinocyte differentiation. Cell. Logist. 3, e25456 (2013).

Hamanaka, R. B. et al. Mitochondrial reactive oxygen species promote epidermal differentiation and hair follicle development. Sci. Signal. 6, ra8 (2013).

Baris, O. R. et al. The mitochondrial electron transport chain is dispensable for proliferation and differentiation of epidermal progenitor cells. Stem Cells 29, 1459–1468 (2011).

Blanpain, C., Lowry, W. E., Geoghegan, A., Polak, L. & Fuchs, E. Self-renewal, multipotency, and the existence of two cell populations within an epithelial stem cell niche. Cell 118, 635–648 (2004).

Tumbar, T. et al. Defining the epithelial stem cell niche in skin. Science 303, 359–363 (2004).

Morris, R. J. et al. Capturing and profiling adult hair follicle stem cells. Nat. Biotech. 22, 411–417 (2004).

Trempus, C. S. et al. Enrichment for living murine keratinocytes from the hair follicle bulge with the cell surface marker CD34. J. Invest. Dermatol. 120, 501–511 (2003).

Nguyen, H., Rendl, M. & Fuchs, E. Tcf3 governs stem cell features and represses cell fate determination in skin. Cell 127, 171–183 (2006).

Fromm, H. J. The nature of pyruvate involved in the enzymic formation of L-lactate in the rabbit-muscle lactate dehydrogenase reaction. Biochim. Biophys. Acta 99, 540–542 (1965).

Paus, R., Muller-Rover, S. & Botchkarev, V. A. Chronobiology of the hair follicle: hunting the 'hair cycle clock'. J. Invest. Dermatol. Symp. Proc. 4, 338–345 (1999).

Chan, F. K., Moriwaki, K. & De Rosa, M. J. Detection of necrosis by release of lactate dehydrogenase activity. Methods Mol. Biol. 979, 65–70 (2013).

Xie, H. et al. Targeting lactate dehydrogenase-a inhibits tumorigenesis and tumor progression in mouse models of lung cancer and impacts tumor-initiating cells. Cell Metab. 19, 795–809 (2014).

White, A. C. et al. Defining the origins of Ras/p53-mediated squamous cell carcinoma. Proc. Natl Acad. Sci. USA 108, 7425–7430 (2011).

Jaks, V. et al. Lgr5 marks cycling, yet long-lived, hair follicle stem cells. Nat. Genet. 40, 1291–1299 (2008).

Kellenberger, A. J. & Tauchi, M. Mammalian target of rapamycin complex 1 (mTORC1) may modulate the timing of anagen entry in mouse hair follicles. Exp. Dermatol. 22, 77–80 (2013).

Bricker, D. K. et al. A mitochondrial pyruvate carrier required for pyruvate uptake in yeast, Drosophila, and humans. Science 337, 96–100 (2012).

Schell, J. C. et al. A role for the mitochondrial pyruvate carrier as a repressor of the Warburg effect and colon cancer cell growth. Mol. Cell 56, 400–413 (2014).

Snippert, H. J. et al. Lgr6 marks stem cells in the hair follicle that generate all cell lineages of the skin. Science 327, 1385–1389 (2010).

Patterson, J. N. et al. Mitochondrial metabolism of pyruvate is essential for regulating glucose-stimulated insulin secretion. J. Biol. Chem. 289, 13335–13346 (2014).

Wang, N. et al. The expression and role of c-Myc in mouse hair follicle morphogenesis and cycling. Acta Histochem. 114, 199–206 (2012).

Bull, J. J. et al. Ectopic expression of c-Myc in the skin affects the hair growth cycle and causes an enlargement of the sebaceous gland. Br. J. Dermatol. 152, 1125–1133 (2005).

Zanet, J. et al. Endogenous Myc controls mammalian epidermal cell size, hyperproliferation, endoreplication and stem cell amplification. J. Cell Sci. 118, 1693–1704 (2005).

Schell, J. C. et al. Control of intestinal stem cell function and proliferation by mitochondrial pyruvate metabolism. Nat. Cell Biol. http://dx.doi.org/10.1038/ncb3593 (2017).

Hsu, P. & Qu, C. K. Metabolic plasticity and hematopoietic stem cell biology. Curr. Opin. Hematol. 20, 289–294 (2013).

Harris, J. M. et al. Glucose metabolism impacts the spatiotemporal onset and magnitude of HSC induction in vivo. Blood 121, 2483–2493 (2013).

Takubo, K. et al. Regulation of glycolysis by Pdk functions as a metabolic checkpoint for cell cycle quiescence in hematopoietic stem cells. Cell Stem Cell 12, 49–61 (2013).

Simsek, T. et al. The distinct metabolic profile of hematopoietic stem cells reflects their location in a hypoxic niche. Cell Stem Cell 7, 380–390 (2010).

Shin, J. et al. Single-cell RNA-Seq with waterfall reveals molecular cascades underlying adult neurogenesis. Cell Stem Cell 17, 360–372 (2015).

Ito, M. et al. Stem cells in the hair follicle bulge contribute to wound repair but not to homeostasis of the epidermis. Nat. Med. 11, 1351–1354 (2005).

Wang, L., Siegenthaler, J. A., Dowell, R. D. & Yi, R. Foxc1 reinforces quiescence in self-renewing hair follicle stem cells. Science 351, 613–617 (2016).

White, A. C. et al. Stem cell quiescence acts as a tumour suppressor in squamous tumours. Nat. Cell Biol. 16, 99–107 (2014).
Acknowledgements
We would like to acknowledge the significant technical support of M. Neebe, J. Cinkornpumin and A. Liu on this project. We are also particularly grateful to members of the Banerjee laboratory for guidance and development of the Ldh activity assay. A.F. and A.C.W. were supported by a fellowship from the Eli and Edythe Broad Center for Regenerative Medicine at UCLA. A.C.W. and M.G. were supported by a fellowship from the Tumor Cell Biology programme at UCLA (NIH). A.C.W. was also supported by a training grant from CIRM. D.J. was supported by awards from a New Idea Award from the Leukemia Lymphoma Society, the Jonsson Comprehensive Cancer Center, the UCLA Clinical Translational Science Institute UL1TR000124, the Prostate Cancer SPORE at UCLA P50 CA092131, and the Eli & Edythe Broad Center for Regenerative Medicine & Stem Cell Research. N.A.G. is a postdoctoral trainee supported by the UCLA Scholars in Oncologic Molecular Imagining program (NCI/NIH grant R25T CA098010). A.S.K. was supported by a UCLA Dissertation Year Fellowship. H.A.C. was supported by National Institute of General Medical Sciences R01-GM081686 and R01-GM0866465. J.R. was supported by NIH (RO1GM094232). H.R.C. was supported by a Research Scholar Grant, RSG-16-111-01-MPC, from the American Cancer Society and the Eli & Edythe Broad Center of Regenerative Medicine and Stem Cell Research at UCLA and Rose Hills Foundation Research Award. W.E.L. was supported by NIH-NIAMS (5R01AR57409), an Impact award from CTSI and the Jonsson Comprehensive Cancer Foundation, and The Gaba Fund through the Eli & Edythe Broad Center of Regenerative Medicine at UCLA.
Ethics declarations
Competing interests
The use of RCGD423 to promote hair growth is covered by a provisional patent application filed by UC Regents and this technology has been licensed by Carthronix LLC. W.E.L. is a member of the board of advisers and a shareholder of Carthronix LLC. None of the work in this study was supported by Carthronix. The use of UK-5099 to promote hair growth is covered by a separate provisional patent filed by UC Regents with W.E.L. and H.R.C. as inventors.
Integrated supplementary information
Supplementary information
Supplementary Information (PDF 6518 kb)
Life Sciences Reporting Summary
Supplementary Information
About this article
Cite this article
Flores, A., Schell, J., Krall, A. et al. Lactate dehydrogenase activity drives hair follicle stem cell activation. Nat Cell Biol 19, 1017–1026 (2017). https://doi.org/10.1038/ncb3575
Received:

Accepted:

Published:

Issue Date:

DOI: https://doi.org/10.1038/ncb3575