Abstract
Understanding the roles of splicing factors and splicing events during tumorigenesis would open new avenues for targeted therapies. Here we identify an oncofetal splicing factor, MBNL3, which promotes tumorigenesis and indicates poor prognosis of hepatocellular carcinoma patients. MBNL3 knockdown almost completely abolishes hepatocellular carcinoma tumorigenesis. Transcriptomic analysis revealed that MBNL3 induces lncRNA-PXN-AS1 exon 4 inclusion. The transcript lacking exon 4 binds to coding sequences of PXN mRNA, causes dissociation of translation elongation factors from PXN mRNA, and thereby inhibits PXN mRNA translation. In contrast, the transcript containing exon 4 preferentially binds to the 3′ untranslated region of PXN mRNA, protects PXN mRNA from microRNA-24–AGO2 complex-induced degradation, and thereby increases PXN expression. Through inducing exon 4 inclusion, MBNL3 upregulates PXN, which mediates the pro-tumorigenic roles of MBNL3. Collectively, these data demonstrate detailed mechanistic links between an oncofetal splicing factor, a splicing event and tumorigenesis, and establish splicing factors and splicing events as potential therapeutic targets.
Access options
Subscribe to Journal
Get full journal access for 1 year
$99.00
only $8.25 per issue
All prices are NET prices.
VAT will be added later in the checkout.
Tax calculation will be finalised during checkout.
Rent or Buy article
Get time limited or full article access on ReadCube.
from$8.99
All prices are NET prices.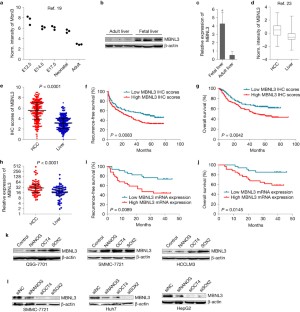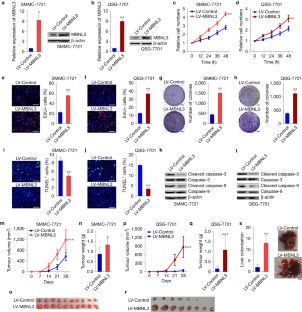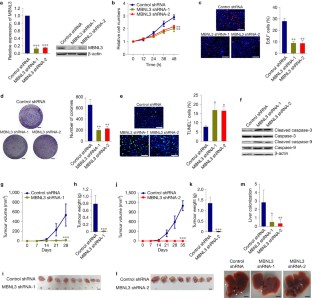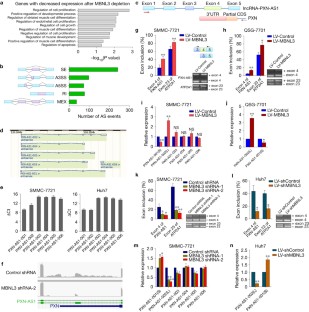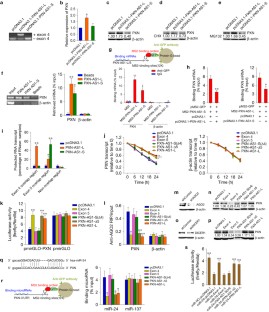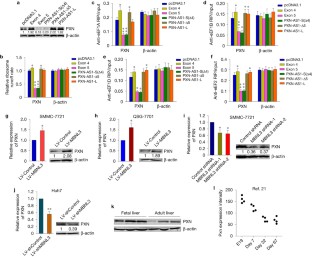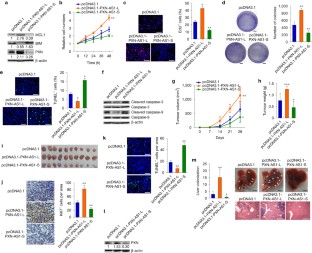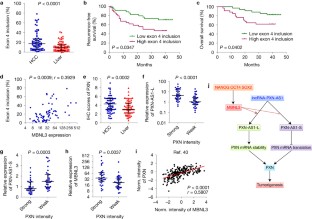 References
1

Torre, L. A. et al. Global cancer statistics, 2012. CA Cancer J. Clin. 65, 87–108 (2015).

2

Lee, J. S. et al. A novel prognostic subtype of human hepatocellular carcinoma derived from hepatic progenitor cells. Nat. Med. 12, 410–416 (2006).

3

Becker, D. et al. Genetic signatures shared in embryonic liver development and liver cancer define prognostically relevant subgroups in HCC. Mol. Cancer 11, 55 (2012).

4

Yong, K. J. et al. Oncofetal gene SALL4 in aggressive hepatocellular carcinoma. N. Engl. J. Med. 368, 2266–2276 (2013).

5

Bechara, E. G., Sebestyen, E., Bernardis, I., Eyras, E. & Valcarcel, J. RBM5, 6, and 10 differentially regulate NUMB alternative splicing to control cancer cell proliferation. Mol. Cell 52, 720–733 (2013).

6

Zhang, J. & Manley, J. L. Misregulation of pre-mRNA alternative splicing in cancer. Cancer Discov. 3, 1228–1237 (2013).

7

Oltean, S. & Bates, D. O. Hallmarks of alternative splicing in cancer. Oncogene 33, 5311–5318 (2014).

8

Kornblihtt, A. R. et al. Alternative splicing: a pivotal step between eukaryotic transcription and translation. Nat. Rev. Mol. Cell Biol. 14, 153–165 (2013).

9

Lee, Y. & Rio, D. C. Mechanisms and regulation of alternative pre-mRNA splicing. Annu. Rev. Biochem. 84, 291–323 (2015).

10

Wang, Y. et al. The splicing factor RBM4 controls apoptosis, proliferation, and migration to suppress tumor progression. Cancer Cell 26, 374–389 (2014).

11

Zhou, X. et al. BCLAF1 and its splicing regulator SRSF10 regulate the tumorigenic potential of colon cancer cells. Nat. Commun. 5, 4581 (2014).

12

Salton, M. et al. Inhibition of vemurafenib-resistant melanoma by interference with pre-mRNA splicing. Nat. Commun. 6, 7103 (2015).

13

Lu, Z. X. et al. Transcriptome-wide landscape of pre-mRNA alternative splicing associated with metastatic colonization. Mol. Cancer Res. 13, 305–318 (2015).

14

Holoch, D. & Moazed, D. RNA-mediated epigenetic regulation of gene expression. Nat. Rev. Genet. 16, 71–84 (2015).

15

Fatica, A. & Bozzoni, I. Long non-coding RNAs: new players in cell differentiation and development. Nat. Rev. Genet. 15, 7–21 (2014).

16

Yuan, J. H. et al. A long noncoding RNA activated by TGF-β promotes the invasion-metastasis cascade in hepatocellular carcinoma. Cancer Cell 25, 666–681 (2014).

17

Wang, Y. et al. The long noncoding RNA lncTCF7 promotes self-renewal of human liver cancer stem cells through activation of Wnt signaling. Cell Stem Cell 16, 413–425 (2015).

18

McHugh, C. A. et al. The Xist lncRNA interacts directly with SHARP to silence transcription through HDAC3. Nature 521, 232–236 (2015).

19

Wang, F. et al. Oncofetal long noncoding RNA PVT1 promotes proliferation and stem cell-like property of hepatocellular carcinoma cells by stabilizing NOP2. Hepatology 60, 1278–1290 (2014).

20

Li, T. et al. Multi-stage analysis of gene expression and transcription regulation in C57/B6 mouse liver development. Genomics 93, 235–242 (2009).

21

Lee, J. S. et al. Transcriptional ontogeny of the developing liver. BMC Genomics 13, 33 (2012).

22

Roessler, S. et al. A unique metastasis gene signature enables prediction of tumor relapse in early-stage hepatocellular carcinoma patients. Cancer Res. 70, 10202–10212 (2010).

23

Chen, X. et al. Gene expression patterns in human liver cancers. Mol. Biol. Cell 13, 1929–1939 (2002).

24

Tung, E. K. et al. Clinicopathological and prognostic significance of serum and tissue Dickkopf-1 levels in human hepatocellular carcinoma. Liver Int. 31, 1494–1504 (2011).

25

Zhu, P. et al. ZIC2-dependent OCT4 activation drives self-renewal of human liver cancer stem cells. J. Clin. Invest. 125, 3795–3808 (2015).

26

Lee, T. K. et al. CD24+ liver tumor-initiating cells drive self-renewal and tumor initiation through STAT3-mediated NANOG regulation. Cell Stem Cell 9, 50–63 (2011).

27

Shan, J. et al. Nanog regulates self-renewal of cancer stem cells through the insulin-like growth factor pathway in human hepatocellular carcinoma. Hepatology 56, 1004–1014 (2012).

28

Han, H. et al. PBX3 is targeted by multiple miRNAs and is essential for liver tumour-initiating cells. Nat. Commun. 6, 8271 (2015).

29

Hoshida, Y. et al. Prognostic gene expression signature for patients with hepatitis C-related early-stage cirrhosis. Gastroenterology 144, 1024–1030 (2013).

30

Sznajder, L. J. et al. Mechanistic determinants of MBNL activity. Nucleic Acids Res. 44, 10326–10342 (2016).

31

Orengo, J. P., Bundman, D. & Cooper, T. A. A bichromatic fluorescent reporter for cell-based screens of alternative splicing. Nucleic Acids Res. 34, e148 (2006).

32

Poulos, M. G. et al. Progressive impairment of muscle regeneration in muscleblind-like 3 isoform knockout mice. Hum. Mol. Genet. 22, 3547–3558 (2013).

33

Sen, A. et al. Paxillin mediates extranuclear and intranuclear signaling in prostate cancer proliferation. J. Clin. Invest. 122, 2469–2481 (2012).

34

Hu, C. T., Cheng, C. C., Wu, J. R., Pan, S. M. & Wu, W. S. PKCɛ-mediated c-Met endosomal processing directs fluctuant c-Met-JNK-paxillin signaling for tumor progression of HepG2. Cell Signal 27, 1544–1555 (2015).

35

Marasek, P. et al. Paxillin-dependent regulation of IGF2 and H19 gene cluster expression. J. Cell Sci. 128, 3106–3116 (2015).

36

Chen, D. L. et al. Overexpression of paxillin induced by miR-137 suppression promotes tumor progression and metastasis in colorectal cancer. Carcinogenesis 34, 803–811 (2013).

37

Kato, H. et al. Length-dependent recognition of double-stranded ribonucleic acids by retinoic acid-inducible gene-I and melanoma differentiation-associated gene 5. J. Exp. Med. 205, 1601–1610 (2008).

38

Gantier, M. P. & Williams, B. R. The response of mammalian cells to double-stranded RNA. Cytokine Growth Factor Rev. 18, 363–371 (2007).

39

Wu, D. W., Chen, C. Y., Chu, C. L. & Lee, H. Paxillin confers resistance to tyrosine kinase inhibitors in EGFR-mutant lung cancers via modulating BIM and Mcl-1 protein stability. Oncogene 35, 621–630 (2016).

40

Jia, H. L. et al. Gene expression profiling reveals potential biomarkers of human hepatocellular carcinoma. Clin. Cancer Res. 13, 1133–1139 (2007).

41

Kalsotra, A. et al. A postnatal switch of CELF and MBNL proteins reprograms alternative splicing in the developing heart. Proc. Natl Acad. Sci. USA 105, 20333–20338 (2008).

42

Pascual, M., Vicente, M., Monferrer, L. & Artero, R. The Muscleblind family of proteins: an emerging class of regulators of developmentally programmed alternative splicing. Differentiation 74, 65–80 (2006).

43

Wang, E. T. Transcriptome-wide regulation of pre-mRNA splicing and mRNA localization by muscleblind proteins. Cell 150, 710–724 (2012).

44

Han, H. et al. MBNL proteins repress ES-cell-specific alternative splicing and reprogramming. Nature 498, 241–245 (2013).

45

Kanadia, R. N. et al. Developmental expression of mouse muscleblind genes Mbnl1, Mbnl2 and Mbnl3. Gene Expr. Patterns 3, 459–462 (2003).

46

Zhao, W. et al. 1B50-1, a mAb raised against recurrent tumor cells, targets liver tumor-initiating cells by binding to the calcium channel α2delta1 subunit. Cancer Cell 23, 541–556 (2013).

47

Faghihi, M. A. et al. Expression of a noncoding RNA is elevated in Alzheimer's disease and drives rapid feed-forward regulation of β-secretase. Nat. Med. 14, 723–730 (2008).

48

Yoon, J. H. et al. LincRNA-p21 suppresses target mRNA translation. Mol. Cell 47, 648–655 (2012).

49

Carrieri, C. et al. Long non-coding antisense RNA controls Uchl1 translation through an embedded SINEB2 repeat. Nature 491, 454–457 (2012).

50

Wu, D. W. et al. Paxillin promotes tumor progression and predicts survival and relapse in oral cavity squamous cell carcinoma by microRNA-218 targeting. Carcinogenesis 35, 1823–1829 (2014).

51

Zhao, C. J., Du, S. K., Dang, X. B. & Gong, M. Expression of paxillin is correlated with clinical prognosis in colorectal cancer patients. Med. Sci. Monit. 21, 1989–1995 (2015).

52

Alisi, A. et al. Focal adhesion kinase (FAK) mediates the induction of pro-oncogenic and fibrogenic phenotypes in hepatitis C virus (HCV)-infected cells. PLoS ONE 7, e44147 (2012).

53

Wang, R. Y. et al. MUC15 inhibits dimerization of EGFR and PI3K-AKT signaling and is associated with aggressive hepatocellular carcinomas in patients. Gastroenterology 145, 1436–1448.e12 (2013).

54

Trapnell, C. et al. Transcript assembly and quantification by RNA-Seq reveals unannotated transcripts and isoform switching during cell differentiation. Nat. Biotechnol. 28, 511–515 (2010).

55

Subramanian, A. et al. Gene set enrichment analysis: a knowledge-based approach for interpreting genome-wide expression profiles. Proc. Natl Acad. Sci. USA 102, 15545–15550 (2005).

56

Sharma, E., Sterne-Weiler, T., O'Hanlon, D. & Blencowe, B. J. Global mapping of human RNA–RNA interactions. Mol. Cell 62, 618–626 (2016).

57

El-Naggar, A. M. et al. Translational activation of HIF1α by YB-1 promotes sarcoma metastasis. Cancer Cell 27, 682–697 (2015).

58

Faller, W. J. et al. mTORC1-mediated translational elongation limits intestinal tumour initiation and growth. Nature 517, 497–500 (2015).
Acknowledgements
We thank T. A. Cooper from Baylor College of Medicine, USA, for the gift of the RG6 minigene. This work was supported by grants from the National Key Basic Research Program (973 project) (2015CB554004) from the Ministry of Science and Technology of China, the National Natural Science Foundation of China (Grant No. 81572792, 81330037, 81372240, and 81171937), the Shanghai Sailing Program (15YF1400100), and the Natural Science Foundation of Shanghai (15XD1504500 and 14JC1407800).
Ethics declarations
Competing interests
The authors declare no competing financial interests.
Integrated supplementary information
Supplementary information
About this article
Cite this article
Yuan, Jh., Liu, Xn., Wang, Tt. et al. The MBNL3 splicing factor promotes hepatocellular carcinoma by increasing PXN expression through the alternative splicing of lncRNA-PXN-AS1. Nat Cell Biol 19, 820–832 (2017). https://doi.org/10.1038/ncb3538
Received:

Accepted:

Published:

Issue Date: