Abstract
The epidermis is maintained by multiple stem cell populations whose progeny differentiate along diverse, and spatially distinct, lineages. Here we show that the transcription factor Gata6 controls the identity of the previously uncharacterized sebaceous duct (SD) lineage and identify the Gata6 downstream transcription factor network that specifies a lineage switch between sebocytes and SD cells. During wound healing differentiated Gata6+ cells migrate from the SD into the interfollicular epidermis and dedifferentiate, acquiring the ability to undergo long-term self-renewal and differentiate into a much wider range of epidermal lineages than in undamaged tissue. Our data not only demonstrate that the structural and functional complexity of the junctional zone is regulated by Gata6, but also reveal that dedifferentiation is a previously unrecognized property of post-mitotic, terminally differentiated cells that have lost contact with the basement membrane. This resolves the long-standing debate about the contribution of terminally differentiated cells to epidermal wound repair.
Relevant articles
Open Access articles citing this article.
Margo Montandon

,

Tynhinane Hamidouche

…

Marina Shkreli

npj Regenerative Medicine Open Access 11 February 2022

Jingru Wang

,

Jia He

…

Xiaodong Chen

Stem Cell Reviews and Reports Open Access 10 February 2022

Lidan Zhang

,

Ying Cen

…

Junjie Chen

BioMedical Engineering OnLine Open Access 17 February 2021
Access options
Access Nature and 54 other Nature Portfolio journals
Get Nature+, our best-value online-access subscription
$29.99 per month
cancel any time
Subscribe to this journal
Receive 12 print issues and online access
$209.00 per year
only $17.42 per issue
Rent or buy this article
Get just this article for as long as you need it
$39.95
Prices may be subject to local taxes which are calculated during checkout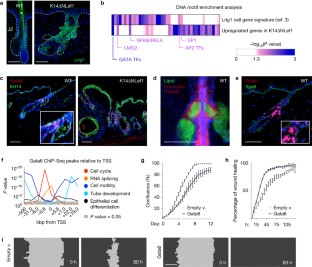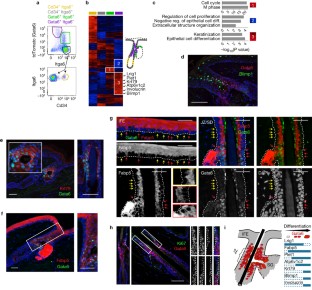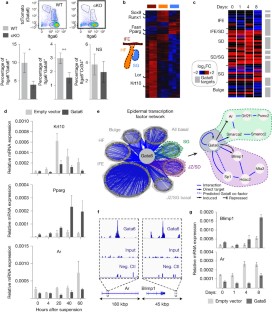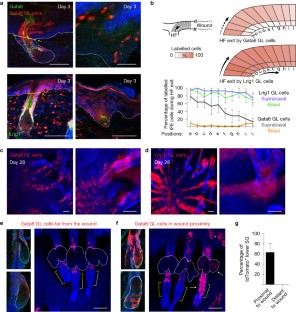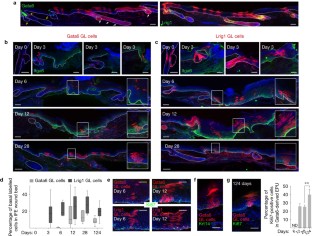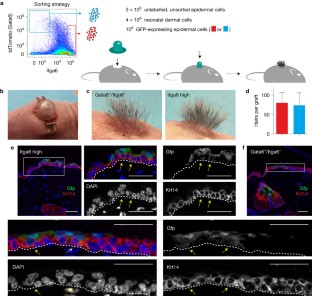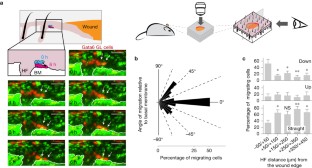 References
Tata, P. R. et al. Dedifferentiation of committed epithelial cells into stem cells in vivo. Nature 503, 218–223 (2013).

van Es, J. H. et al. Dll1+ secretory progenitor cells revert to stem cells upon crypt damage. Nat. Cell Biol. 14, 1099–1104 (2012).

Page, M. E., Lombard, P., Ng, F., Gottgens, B. & Jensen, K. B. The epidermis comprises autonomous compartments maintained by distinct stem cell populations. Cell Stem Cell 13, 471–482 (2013).

Donati, G. & Watt, F. M. Stem cell heterogeneity and plasticity in epithelia. Cell Stem Cell 16, 465–476 (2015).

Tetteh, P. W., Farin, H. F. & Clevers, H. Plasticity within stem cell hierarchies in mammalian epithelia. Trends Cell Biol. 25, 100–108 (2015).

Blanpain, C. & Fuchs, E. Stem cell plasticity. Plasticity of epithelial stem cells in tissue regeneration. Science 344, 1242281 (2014).

Ito, M. et al. Stem cells in the hair follicle bulge contribute to wound repair but not to homeostasis of the epidermis. Nat. Med. 11, 1351–1354 (2005).

Jensen, K. B. et al. Lrig1 expression defines a distinct multipotent stem cell population in mammalian epidermis. Cell Stem Cell 4, 427–439 (2009).

Watt, F. M. Mammalian skin cell biology: at the interface between laboratory and clinic. Science 346, 937–940 (2014).

Park, S. et al. Tissue-scale coordination of cellular behaviour promotes epidermal wound repair in live mice. Nat. Cell Biol. 19, 155–163 (2017).

Aragona, M. et al. Defining stem cell dynamics and migration during wound healing in mouse skin epidermis. Nat. Commun. 8, 14684 (2017).

Hsu, Y. C., Pasolli, H. A. & Fuchs, E. Dynamics between stem cells, niche, and progeny in the hair follicle. Cell 144, 92–105 (2011).

Niemann, C., Owens, D. M., Hulsken, J., Birchmeier, W. & Watt, F. M. Expression of ΔNLef1 in mouse epidermis results in differentiation of hair follicles into squamous epidermal cysts and formation of skin tumours. Development 129, 95–109 (2002).

Donati, G. et al. Epidermal Wnt/β-catenin signaling regulates adipocyte differentiation via secretion of adipogenic factors. Proc. Natl Acad. Sci. USA 111, E1501–E1509 (2014).

Cheung, W. K. et al. Control of alveolar differentiation by the lineage transcription factors GATA6 and HOPX inhibits lung adenocarcinoma metastasis. Cancer Cell 23, 725–738 (2013).

Kaufman, C. K. et al. GATA-3: an unexpected regulator of cell lineage determination in skin. Genes Dev. 17, 2108–2122 (2003).

Campbell, K., Whissell, G., Franch-Marro, X., Batlle, E. & Casanova, J. Specific GATA factors act as conserved inducers of an endodermal-EMT. Dev. Cell 21, 1051–1061 (2011).

Wang, A. B., Zhang, Y. V. & Tumbar, T. Gata6 promotes hair follicle progenitor cell renewal by genome maintenance during proliferation. EMBO J. 36, 61–78 (2016).

Joost, S. et al. Single-cell transcriptomics reveals that differentiation and spatial signatures shape epidermal and hair follicle heterogeneity. Cell Syst. 3, 221–237.e9 (2016).

Fullgrabe, A. et al. Dynamics of Lgr6+ progenitor cells in the hair follicle, sebaceous gland, and interfollicular epidermis. Stem Cell Rep. 5, 843–855 (2015).

Snippert, H. J. et al. Lgr6 marks stem cells in the hair follicle that generate all cell lineages of the skin. Science 327, 1385–1389 (2010).

Nguyen, H., Rendl, M. & Fuchs, E. Tcf3 governs stem cell features and represses cell fate determination in skin. Cell 127, 171–183 (2006).

Nowak, J. A., Polak, L., Pasolli, H. A. & Fuchs, E. Hair follicle stem cells are specified and function in early skin morphogenesis. Cell Stem Cell 3, 33–43 (2008).

Takaoka, K., Yamamoto, M. & Hamada, H. Origin and role of distal visceral endoderm, a group of cells that determines anterior-posterior polarity of the mouse embryo. Nat. Cell Biol. 13, 743–752 (2011).

Veniaminova, N. A. et al. Keratin 79 identifies a novel population of migratory epithelial cells that initiates hair canal morphogenesis and regeneration. Development 140, 4870–4880 (2013).

Kretzschmar, K. et al. BLIMP1 is required for postnatal epidermal homeostasis but does not define a sebaceous gland progenitor under steady-state conditions. Stem Cell Rep. 3, 620–633 (2014).

Sodhi, C. P., Li, J. & Duncan, S. A. Generation of mice harbouring a conditional loss-of-function allele of Gata6. BMC Dev. Biol. 6, 19 (2006).

Cottle, D. L. et al. c-MYC-induced sebaceous gland differentiation is controlled by an androgen receptor/p53 axis. Cell Rep. 3, 427–441 (2013).

Magnusdottir, E. et al. Epidermal terminal differentiation depends on B lymphocyte-induced maturation protein-1. Proc. Natl Acad. Sci. USA 104, 14988–14993 (2007).

Driskell, R. R. et al. Distinct fibroblast lineages determine dermal architecture in skin development and repair. Nature 504, 277–281 (2013).

Watt, F. M. & Green, H. Involucrin synthesis is correlated with cell size in human epidermal cultures. J. Cell Biol. 90, 738–742 (1981).

Jones, P. H. & Watt, F. M. Separation of human epidermal stem cells from transit amplifying cells on the basis of differences in integrin function and expression. Cell 73, 713–724 (1993).

Gomez, C. et al. The interfollicular epidermis of adult mouse tail comprises two distinct cell lineages that are differentially regulated by Wnt, Edaradd, and Lrig1. Stem Cell Rep. 1, 19–27 (2013).

Kretzschmar, K. & Watt, F. M. Markers of epidermal stem cell subpopulations in adult mammalian skin. Cold Spring Harbor Perspect. Med. 4, a013631 (2014).

Zaret, K. S. & Carroll, J. S. Pioneer transcription factors: establishing competence for gene expression. Genes Dev. 25, 2227–2241 (2011).

Krawczyk, W. S. A pattern of epidermal cell migration during wound healing. J. Cell Biol. 49, 247–263 (1971).

Paladini, R. D., Takahashi, K., Bravo, N. S. & Coulombe, P. A. Onset of re-epithelialization after skin injury correlates with a reorganization of keratin filaments in wound edge keratinocytes: defining a potential role for keratin 16. J. Cell Biol. 132, 381–397 (1996).

Radice, G. P. The spreading of epithelial cells during wound closure in Xenopus larvae. Dev. Biol. 76, 26–46 (1980).

Woodley, D. T. et al. in Reepithelialization. The Molecular and Cellular Biology of Wound Repair 2nd edn (ed. Clark, R. A. F.) 339–354 (Plenum, 1996).

Safferling, K. et al. Wound healing revised: a novel reepithelialization mechanism revealed by in vitro and in silico models. J. Cell Biol. 203, 691–709 (2013).

Collins, C. A. & Watt, F. M. Dynamic regulation of retinoic acid-binding proteins in developing, adult and neoplastic skin reveals roles for beta-catenin and Notch signalling. Dev. Biol. 324, 55–67 (2008).

Ramirez, A. et al. A keratin K5Cre transgenic line appropriate for tissue-specific or generalized Cre-mediated recombination. Genesis 39, 52–57 (2004).

Madisen, L. et al. A robust and high-throughput Cre reporting and characterization system for the whole mouse brain. Nat. Neurosci. 13, 133–140 (2010).

Ohinata, Y. et al. Blimp1 is a critical determinant of the germ cell lineage in mice. Nature 436, 207–213 (2005).

Okabe, M., Ikawa, M., Kominami, K., Nakanishi, T. & Nishimune, Y. 'Green mice' as a source of ubiquitous green cells. FEBS Lett. 407, 313–319 (1997).

Kawamoto, S. et al. A novel reporter mouse strain that expresses enhanced green fluorescent protein upon Cre-mediated recombination. FEBS Lett. 470, 263–268 (2000).

Kretzschmar, K., Weber, C., Driskell, R., Calonje, E. & Watt, F. M. Compartmentalised epidermal activation of β-catenin differentially affects lineage reprogramming and underlies tumour heterogeneity. Cell Rep. 14, 269–281 (2016).

Hoste, E. et al. Innate sensing of microbial products promotes wound-induced skin cancer. Nat. Commun. 6, 5932 (2015).

Fujiwara, H. et al. The basement membrane of hair follicle stem cells is a muscle cell niche. Cell 144, 577–589 (2011).

Sada, A. et al. Defining the cellular lineage hierarchy in the interfollicular epidermis of adult skin. Nat. Cell Biol. 18, 619–631 (2016).

Hiratsuka, T. et al. Intercellular propagation of extracellular signal-regulated kinase activation revealed by in vivo imaging of mouse skin. eLife 4, e05178 (2015).

Watt, F. M., Jordan, P. W. & O'Neill, C. H. Cell shape controls terminal differentiation of human epidermal keratinocytes. Proc. Natl Acad. Sci. USA 85, 5576–5580 (1988).

Mulder, K. W. et al. Diverse epigenetic strategies interact to control epidermal differentiation. Nat. Cell Biol. 14, 753–763 (2012).

Schmidt, D. et al. ChIP-seq: using high-throughput sequencing to discover protein-DNA interactions. Methods 48, 240–248 (2009).

Heinz, S. et al. Simple combinations of lineage-determining transcription factors prime cis-regulatory elements required for macrophage and B cell identities. Mol. Cell 38, 576–589 (2010).

Buczacki, S. J. et al. Intestinal label-retaining cells are secretory precursors expressing Lgr5. Nature 495, 65–69 (2013).

Huang da, W., Sherman, B. T. & Lempicki, R. A. Systematic and integrative analysis of large gene lists using DAVID bioinformatics resources. Nat. Protoc. 4, 44–57 (2009).

Zambelli, F., Pesole, G. & Pavesi, G. Pscan: finding over-represented transcription factor binding site motifs in sequences from co-regulated or co-expressed genes. Nucleic Acids Res. 37, W247–W252 (2009).

Wilson, D., Charoensawan, V., Kummerfeld, S. K. & Teichmann, S. A. DBD–taxonomically broad transcription factor predictions: new content and functionality. Nucleic Acids Res. 36, D88–D92 (2008).

Fulton, D. L. et al. TFCat: the curated catalog of mouse and human transcription factors. Genome Biol. 10, R29 (2009).

Zhang, H. M. et al. AnimalTFDB: a comprehensive animal transcription factor database. Nucleic Acids Res. 40, D144–D149 (2012).

Bailey, T. L. et al. MEME SUITE: tools for motif discovery and searching. Nucleic Acids Res. 37, W202–W208 (2009).

Franceschini, A. et al. STRING v9.1: protein-protein interaction networks, with increased coverage and integration. Nucleic Acids Res. 41, D808–D815 (2013).

Shannon, P. et al. Cytoscape: a software environment for integrated models of biomolecular interaction networks. Genome Res. 13, 2498–2504 (2003).
Acknowledgements
We thank H. Fujiwara, S. Woodhouse, B. M. Lichtenberger, A. Mishra, V. Proserpio, M. Cereda and all the members of the Watt laboratory for helpful discussions and for excellent suggestions; X. Zou (CR-UK Cambridge Research Institute, Cambridge, UK) and the Mary Lyon Centre at MRC Harwell MRC for assistance in generating the Gata6 KI mouse model; D. Cottle and C. Collins for access to animal samples; the core facilities of CRI and KCL and the NIHR GSTT/KCL Biomedical Research Centre for superb technical assistance; the Paterson Institute Microarray Facility for performing arrays; H. Hamada (Graduate School of Frontier Biosciences, Osaka University, Osaka, Japan) for kindly sharing the Gata6 reporter mouse; B. Rosen and F. Amaral (Wellcome Trust Sanger Institute, Cambridge, UK) for the eGFPCreERT2 cassette. This work was funded by the UK Medical Research Council, the Wellcome Trust and the European Union FP7 programme. K.K. was the recipient of an MRC UK PhD studentship; T.H. is the recipient of a EU Marie Curie Fellowship; E.R. is the recipient of an EMBO long-term fellowship (ALTF594-2014).
Ethics declarations
Competing interests
The authors declare no competing financial interests.
Integrated supplementary information
Supplementary information
About this article
Cite this article
Donati, G., Rognoni, E., Hiratsuka, T. et al. Wounding induces dedifferentiation of epidermal Gata6+ cells and acquisition of stem cell properties. Nat Cell Biol 19, 603–613 (2017). https://doi.org/10.1038/ncb3532
Received:

Accepted:

Published:

Issue Date:

DOI: https://doi.org/10.1038/ncb3532