Abstract
In humans, the endometrium, the uterine mucosal lining, undergoes dynamic changes throughout the menstrual cycle and pregnancy. Despite the importance of the endometrium as the site of implantation and nutritional support for the conceptus, there are no long-term culture systems that recapitulate endometrial function in vitro. We adapted conditions used to establish human adult stem-cell-derived organoid cultures to generate three-dimensional cultures of normal and decidualized human endometrium. These organoids expand long-term, are genetically stable and differentiate following treatment with reproductive hormones. Single cells from both endometrium and decidua can generate a fully functional organoid. Transcript analysis confirmed great similarity between organoids and the primary tissue of origin. On exposure to pregnancy signals, endometrial organoids develop characteristics of early pregnancy. We also derived organoids from malignant endometrium, and so provide a foundation to study common diseases, such as endometriosis and endometrial cancer, as well as the physiology of early gestation.
Access options
Subscribe to Journal
Get full journal access for 1 year
$99.00
only $8.25 per issue
All prices are NET prices.
VAT will be added later in the checkout.
Tax calculation will be finalised during checkout.
Rent or Buy article
Get time limited or full article access on ReadCube.
from$8.99
All prices are NET prices.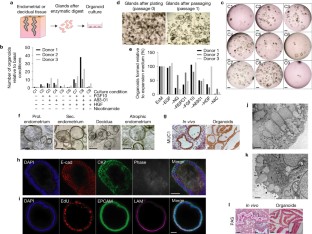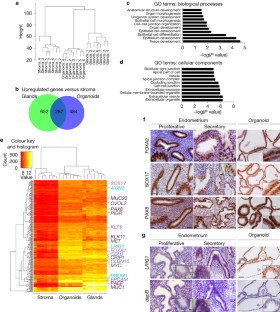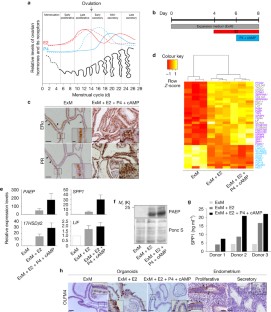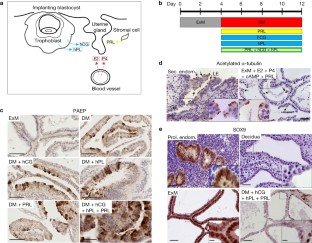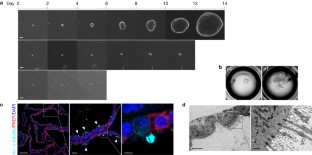 References
1

Burton, G. J., Watson, A. L., Hempstock, J., Skepper, J. N. & Jauniaux, E. Uterine glands provide histiotrophic nutrition for the human fetus during the first trimester of pregnancy. J. Clin. Endocrinol. Metab. 87, 2954–2959 (2002).

2

Hempstock, J., Cindrova-Davies, T., Jauniaux, E. & Burton, G. J. Endometrial glands as a source of nutrients, growth factors and cytokines during the first trimester of human pregnancy: a morphological and immunohistochemical study. Reprod. Biol. Endocrinol. 2, 58 (2004).

3

Gray, C. A., Burghardt, R. C., Johnson, G. A., Bazer, F. W. & Spencer, T. E. Evidence that absence of endometrial gland secretions in uterine gland knockout ewes compromises conceptus survival and elongation. Reproduction 124, 289–300 (2002).

4

Filant, J. & Spencer, T. E. Endometrial glands are essential for blastocyst implantation and decidualization in the mouse uterus. Biol. Reprod. 88, 93 (2013).

5

Zhang, S. et al. Physiological and molecular determinants of embryo implantation. Mol. Aspects Med. 34, 939–980 (2013).

6

Burton, G. J., Jauniaux, E. & Charnock-Jones, D. S. Human early placental development: potential roles of the endometrial glands. Placenta 28 (suppl A), S64–S69 (2007).

7

Gargett, C. E., Schwab, K. E. & Deane, J. A. Endometrial stem/progenitor cells: the first 10 years. Hum. Reprod. Update 22, 137–163 (2016).

8

Kaitu'u-Lino, T. J., Ye, L. & Gargett, C. E. Reepithelialization of the uterine surface arises from endometrial glands: evidence from a functional mouse model of breakdown and repair. Endocrinology 151, 3386–3395 (2010).

9

Padykula, H. A. et al. The basalis of the primate endometrium: a bifunctional germinal compartment. Biol. Reprod. 40, 681–690 (1989).

10

Ferenczy, A. Studies on the cytodynamics of human endometrial regeneration. I. Scanning electron microscopy. Am. J. Obstet. Gynecol. 124, 64–74 (1976).

11

Valentijn, A. J. et al. SSEA-1 isolates human endometrial basal glandular epithelial cells: phenotypic and functional characterization and implications in the pathogenesis of endometriosis. Hum. Reprod. 28, 2695–2708 (2013).

12

Chan, R. W., Schwab, K. E. & Gargett, C. E. Clonogenicity of human endometrial epithelial and stromal cells. Biol. Reprod. 70, 1738–1750 (2004).

13

Bentin-Ley, U. et al. Isolation and culture of human endometrial cells in a three-dimensional culture system. J. Reprod. Fertil. 101, 327–332 (1994).

14

Blauer, M., Heinonen, P. K., Martikainen, P. M., Tomas, E. & Ylikomi, T. A novel organotypic culture model for normal human endometrium: regulation of epithelial cell proliferation by estradiol and medroxyprogesterone acetate. Hum. Reprod. 20, 864–871 (2005).

15

Shahbazi, M. N. et al. Self-organization of the human embryo in the absence of maternal tissues. Nat. Cell Biol. 18, 700–708 (2016).

16

Deglincerti, A. et al. Self-organization of the in vitro attached human embryo. Nature 533, 251–254 (2016).

17

Huch, M. et al. Long-term culture of genome-stable bipotent stem cells from adult human liver. Cell 160, 299–312 (2015).

18

Sato, T. et al. Long-term expansion of epithelial organoids from human colon, adenoma, adenocarcinoma, and Barrett's epithelium. Gastroenterology 141, 1762–1772 (2011).

19

Huch, M. et al. Unlimited in vitro expansion of adult bi-potent pancreas progenitors through the Lgr5/R-spondin axis. EMBO J. 32, 2708–2721 (2013).

20

Karthaus, W. R. Identification of multipotent luminal progenitor cells in human prostate organoid cultures. Cell 159, 163–175 (2014).

21

Kessler, M. et al. The Notch and Wnt pathways regulate stemness and differentiation in human fallopian tube organoids. Nat. Commun. 6, 8989 (2015).

22

Chen, C., Spencer, T. E. & Bazer, F. W. Fibroblast growth factor-10: a stromal mediator of epithelial function in the ovine uterus. Biol. Reprod. 63, 959–966 (2000).

23

Sugawara, J., Fukaya, T., Murakami, T., Yoshida, H. & Yajima, A. Increased secretion of hepatocyte growth factor by eutopic endometrial stromal cells in women with endometriosis. Fertil. Steril. 68, 468–472 (1997).

24

Chung, D., Gao, F., Jegga, A. G. & Das, S. K. Estrogen mediated epithelial proliferation in the uterus is directed by stromal Fgf10 and Bmp8a. Mol. Cell. Endocrinol. 400, 48–60 (2015).

25

Barnea, E. R., Kirk, D. & Paidas, M. J. Preimplantation factor (PIF) promoting role in embryo implantation: increases endometrial integrin-α2β3, amphiregulin and epiregulin while reducing betacellulin expression via MAPK in decidua. Reprod. Biol. Endocrinol. 10, 50 (2012).

26

Bartfeld, S. et al. In vitro expansion of human gastric epithelial stem cells and their responses to bacterial infection. Gastroenterology 148, 126–136.e6 (2015).

27

Bartosch, C., Lopes, J. M., Beires, J. & Sousa, M. Human endometrium ultrastructure during the implantation window: a new perspective of the epithelium cell types. Reprod. Sci. 18, 525–539 (2011).

28

Jeong, J. W. et al. Foxa2 is essential for mouse endometrial gland development and fertility. Biol. Reprod. 83, 396–403 (2010).

29

Sun, X. et al. Kruppel-like factor 5 (KLF5) is critical for conferring uterine receptivity to implantation. Proc. Natl Acad. Sci. USA 109, 1145–1150 (2012).

30

Guimaraes-Young, A., Neff, T., Dupuy, A. J. & Goodheart, M. J. Conditional deletion of Sox17 reveals complex effects on uterine adenogenesis and function. Dev. Biol. 414, 219–227 (2016).

31

Hirate, Y. et al. Mouse Sox17 haploinsufficiency leads to female subfertility due to impaired implantation. Sci. Rep. 6, 24171 (2016).

32

Wong, V. W. et al. Lrig1 controls intestinal stem-cell homeostasis by negative regulation of ErbB signalling. Nat. Cell Biol. 14, 401–408 (2012).

33

Lim, X. et al. Interfollicular epidermal stem cells self-renew via autocrine Wnt signaling. Science 342, 1226–1230 (2013).

34

Gargett, C. E., Schwab, K. E., Zillwood, R. M., Nguyen, H. P. & Wu, D. Isolation and culture of epithelial progenitors and mesenchymal stem cells from human endometrium. Biol. Reprod. 80, 1136–1145 (2009).

35

Parra-Herran, C. E., Yuan, L., Nucci, M. R. & Quade, B. J. Targeted development of specific biomarkers of endometrial stromal cell differentiation using bioinformatics: the IFITM1 model. Mod. Pathol. 27, 569–579 (2014).

36

Critchley, H. O., Bailey, D. A., Au, C. L., Affandi, B. & Rogers, P. A. Immunohistochemical sex steroid receptor distribution in endometrium from long-term subdermal levonorgestrel users and during the normal menstrual cycle. Hum. Reprod. 8, 1632–1639 (1993).

37

Snijders, M. P. et al. Immunocytochemical analysis of oestrogen receptors and progesterone receptors in the human uterus throughout the menstrual cycle and after the menopause. J. Reprod. Fertil. 94, 363–371 (1992).

38

Lessey, B. A. et al. Immunohistochemical analysis of human uterine estrogen and progesterone receptors throughout the menstrual cycle. J. Clin. Endocrinol. Metab. 67, 334–340 (1988).

39

Yang, S. et al. Stromal PRs mediate induction of 17β-hydroxysteroid dehydrogenase type 2 expression in human endometrial epithelium: a paracrine mechanism for inactivation of E2. Mol. Endocrinol. 15, 2093–2105 (2001).

40

Maentausta, O. et al. Immunohistochemical localization of 17β-hydroxysteroid dehydrogenase in the human endometrium during the menstrual cycle. Lab. Invest. 65, 582–587 (1991).

41

Bell, S. C. Secretory endometrial/decidual proteins and their function in early pregnancy. J. Reprod. Fertil. 36 (suppl.), 109–125 (1988).

42

Seppala, M. et al. Structural studies, localization in tissue and clinical aspects of human endometrial proteins. J. Reprod. Fertil. 36 (suppl.), 127–141 (1988).

43

Brar, A. K., Frank, G. R., Kessler, C. A., Cedars, M. I. & Handwerger, S. Progesterone-dependent decidualization of the human endometrium is mediated by cAMP. Endocrine 6, 301–307 (1997).

44

van der Flier, L. G., Haegebarth, A., Stange, D. E., van de Wetering, M. & Clevers, H. OLFM4 is a robust marker for stem cells in human intestine and marks a subset of colorectal cancer cells. Gastroenterology 137, 15–17 (2009).

45

Spencer, T. E. Biological roles of uterine glands in pregnancy. Semin. Reprod. Med. 32, 346–357 (2014).

46

Stewart, M. D. et al. Prolactin receptor and uterine milk protein expression in the ovine endometrium during the estrous cycle and pregnancy. Biol. Reprod. 62, 1779–1789 (2000).

47

Yang, H., Lei, C. X. & Zhang, W. Human chorionic gonadotropin (hCG) regulation of galectin-3 expression in endometrial epithelial cells and endometrial stromal cells. Acta Histochem. 115, 3–7 (2013).

48

Saegusa, M., Hashimura, M., Suzuki, E., Yoshida, T. & Kuwata, T. Transcriptional up-regulation of Sox9 by NF-κB in endometrial carcinoma cells, modulating cell proliferation through alteration in the p14(ARF)/p53/p21(WAF1) pathway. Am. J. Pathol. 181, 684–692 (2012).

49

Furuyama, K. et al. Continuous cell supply from a Sox9-expressing progenitor zone in adult liver, exocrine pancreas and intestine. Nat. Genet. 43, 34–41 (2011).

50

Huch, M. et al. In vitro expansion of single Lgr5+ liver stem cells induced by Wnt-driven regeneration. Nature 494, 247–250 (2013).

51

Huch, M. & Koo, B. K. Modeling mouse and human development using organoid cultures. Development 142, 3113–3125 (2015).

52

Gjorevski, N. et al. Designer matrices for intestinal stem cell and organoid culture. Nature 539, 560–564 (2016).

53

Emera, D. & Wagner, G. P. Transformation of a transposon into a derived prolactin promoter with function during human pregnancy. Proc. Natl Acad. Sci. USA 109, 11246–11251 (2012).

54

Seppala, M., Bohn, H. & Tatarinov, Y. Glycodelins. Tumour Biol. 19, 213–220 (1998).

55

Arias-Stella, J. The Arias-Stella reaction: facts and fancies four decades after. Adv. Anat. Pathol. 9, 12–23 (2002).

56

Morice, P., Leary, A., Creutzberg, C., Abu-Rustum, N. & Darai, E. Endometrial cancer. Lancet 387, 1094–1108 (2016).

57

van de Wetering, M. et al. Prospective derivation of a living organoid biobank of colorectal cancer patients. Cell 161, 933–945 (2015).

58

Turco, M. Y., Gardner, L., Koo, B. K., Moffett, A. & Burton, G. J. Derivation and long-term expansion of human endometrial and decidual organoids. Protoc. Exch. http://dx.doi.org/10.1038/protex.2017.030 (2017).

59

Yung, H. W., Korolchuk, S., Tolkovsky, A. M., Charnock-Jones, D. S. & Burton, G. J. Endoplasmic reticulum stress exacerbates ischemia-reperfusion-induced apoptosis through attenuation of Akt protein synthesis in human choriocarcinoma cells. FASEB J. 21, 872–884 (2007).
Acknowledgements
The authors are grateful to patients for donating tissue for research. We thank D. Moore, R. Remadevi, M. Baumgarten, M. Jimenez-Linan, D. S. Charnock-Jones, Department of Obstetrics and Gynaecology and NHS Tissue Bank staff at Addenbrooke's Hospital, Cambridge; H. Skelton for her invaluable histological services and technical advice; I. Pshenichnaya, K. Bird and A. Starling at the Stem Cell Institute for their histological services; J. Bauer and Cambridge Genomic Services for microarray analysis; I. Simonic at Medical Genetics Laboratory, Cambridge University Hospital for CGH analysis; J. N. Skepper for electron microscopic analysis; N. Miller for flow cytometry sorting; H. W. Yung and A. Sharkey for technical help and advice; J. Cross and Y. W. Loke provided much helpful discussion and all members of the Moffett laboratory were supportive throughout. This work was supported by the Medical Research Council (MR/L020041/1), the Centre for Trophoblast Research, University of Cambridge and the Wellcome Trust (RG60992). M.Y.T. has received funding from the E.U. 7th Framework Programme for research, technological development and demonstration under grant agreement no PIEF-GA-2013-629785. J.H. was supported by a Wellcome Trust vacation scholarship. B.-K.K. is supported by a Sir Henry Dale Fellowship from the Wellcome Trust and the Royal Society (101241/Z/13/Z) and receives a core support grant from the Wellcome Trust and MRC to the WT-MRC Cambridge Stem Cell Institute.
Ethics declarations
Competing interests
The authors declare no competing financial interests.
Integrated supplementary information
Supplementary information
About this article
Cite this article
Turco, M., Gardner, L., Hughes, J. et al. Long-term, hormone-responsive organoid cultures of human endometrium in a chemically defined medium. Nat Cell Biol 19, 568–577 (2017). https://doi.org/10.1038/ncb3516
Received:

Accepted:

Published:

Issue Date: