Abstract
Dozens of proteins capture, polymerize and reshape the clathrin lattice during clathrin-mediated endocytosis (CME). How or if this ensemble of proteins is organized in relation to the clathrin coat is unknown. Here, we map key molecules involved in CME at the nanoscale using correlative super-resolution light and transmission electron microscopy. We localize 19 different endocytic proteins (amphiphysin1, AP2, β2-arrestin, CALM, clathrin, DAB2, dynamin2, EPS15, epsin1, epsin2, FCHO2, HIP1R, intersectin, NECAP, SNX9, stonin2, syndapin2, transferrin receptor, VAMP2) on thousands of individual clathrin structures, generating a comprehensive molecular architecture of endocytosis with nanoscale precision. We discover that endocytic proteins distribute into distinct spatial zones in relation to the edge of the clathrin lattice. The presence or concentrations of proteins within these zones vary at distinct stages of organelle development. We propose that endocytosis is driven by the recruitment, reorganization and loss of proteins within these partitioned nanoscale zones.
Relevant articles
Open Access articles citing this article.
Kazuki Obashi

,

Kem A. Sochacki

…

Justin W. Taraska

Nature Communications Open Access 09 February 2023

Claudia Matthaeus

,

Kem A. Sochacki

…

Justin W. Taraska

Nature Communications Open Access 24 November 2022

Changsong Yang

,

Patricia Colosi

…

Tatyana Svitkina

Nature Communications Open Access 17 October 2022
Access options
Access Nature and 54 other Nature Portfolio journals
Get Nature+, our best-value online-access subscription
$29.99 / 30 days
cancel any time
Subscribe to this journal
Receive 12 print issues and online access
$209.00 per year
only $17.42 per issue
Rent or buy this article
Get just this article for as long as you need it
$39.95
Prices may be subject to local taxes which are calculated during checkout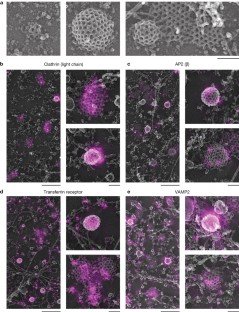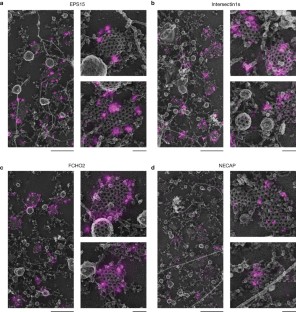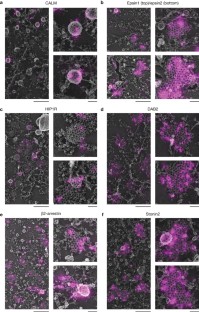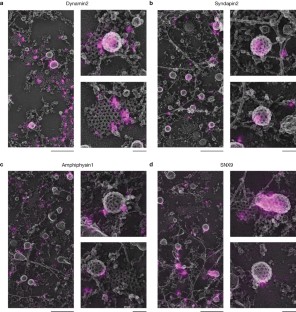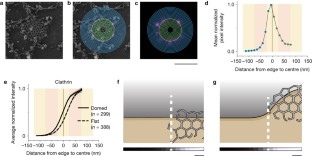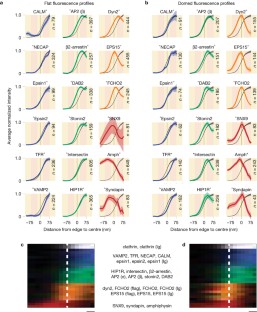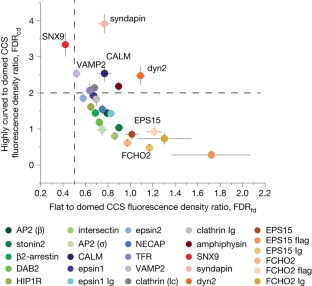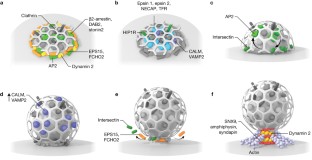 References
McMahon, H. T. & Boucrot, E. Molecular mechanism and physiological functions of clathrin-mediated endocytosis. Nat. Rev. Mol. Cell Biol. 12, 517–533 (2011).

Tebar, F., Sorkina, T., Sorkin, A., Ericsson, M. & Kirchhausen, T. Eps15 is a component of clathrin-coated pits and vesicles and is located at the rim of coated pits. J. Biol. Chem. 271, 28727–28730 (1996).

Ritter, B. et al. NECAP 1 regulates AP-2 interactions to control vesicle size, number, and cargo during clathrin-mediated endocytosis. PLoS Biol. 11, e1001670 (2013).

Daumke, O., Roux, A. & Haucke, V. BAR domain scaffolds in dynamin-mediated membrane fission. Cell 156, 882–892 (2014).

Ma, L. et al. Transient Fcho1/2 ⋅ Eps15/R ⋅ AP-2 nanoclusters prime the AP-2 clathrin adaptor for cargo binding. Dev. Cell 37, 428–443 (2016).

Saffarian, S. & Kirchhausen, T. Differential evanescence nanometry: live-cell fluorescence measurements with 10-nm axial resolution on the plasma membrane. Biophys. J. 94, 2333–2342 (2008).

Heuser, J. Quick-freeze, deep-etch preparation of samples for 3-D electron microscopy. Trends Biochem. Sci. 6, 64–68 (1981).

Collins, A., Warrington, A., Taylor, K. A. & Svitkina, T. Structural organization of the actin cytoskeleton at sites of clathrin-mediated endocytosis. Curr. Biol. 21, 1167–1175 (2011).

Sochacki, K. A., Shtengel, G., van Engelenburg, S. B., Hess, H. F. & Taraska, J. W. Correlative super-resolution fluorescence and metal-replica transmission electron microscopy. Nat. Methods 11, 305–308 (2014).

Rothbauer, U. et al. A versatile nanotrap for biochemical and functional studies with fluorescent fusion proteins. Mol. Cell Proteomics 7, 282–289 (2008).

Collins, B. M., McCoy, A. J., Kent, H. M., Evans, P. R. & Owen, D. J. Molecular architecture and functional model of the endocytic AP2 complex. Cell 109, 523–535 (2002).

Traub, L. M. Sorting it out AP-2 and alternate clathrin adaptors in endocytic cargo selection. J. Cell Biol. 163, 203–208 (2003).

Miller, K., Shipman, M., Trowbridge, I. & Hopkins, C. R. Transferrin receptors promote the formation of clathrin lattices. Cell 65, 621–632 (1991).

Harel, A., Wu, F., Mattson, M. P., Morris, C. M. & Yao, P. J. Evidence for CALM in directing VAMP2 trafficking. Traffic 9, 417–429 (2008).

Benmerah, A., Bayrou, M., Cerf-Bensussan, N. & Dautry-Varsat, A. Inhibition of clathrin-coated pit assembly by an Eps15 mutant. J. Cell Sci. 112, 1303–1311 (1999).

Henne, W. M. et al. FCHo proteins are nucleators of clathrin-mediated endocytosis. Science 328, 1281–1284 (2010).

Umasankar, P. et al. Distinct and separable activities of the endocytic clathrin-coat components Fcho1/2 and AP-2 in developmental patterning. Nat. Cell Biol. 14, 488–501 (2012).

Pechstein, A. et al. Regulation of synaptic vesicle recycling by complex formation between intersectin 1 and the clathrin adaptor complex AP2. Proc. Natl Acad. Sci. USA 107, 4206–4211 (2010).

Tebar, F., Bohlander, S. K. & Sorkin, A. Clathrin assembly lymphoid myeloid leukemia (CALM) protein: localization in endocytic-coated pits, interactions with clathrin, and the impact of overexpression on clathrin-mediated traffic. Mol. Biol. Cell 10, 2687–2702 (1999).

Chen, H. et al. Epsin is an EH-domain-binding protein implicated in clathrin-mediated endocytosis. Nature 394, 793–797 (1998).

Mishra, S. K. et al. Disabled-2 exhibits the properties of a cargo-selective endocytic clathrin adaptor. EMBO J. 21, 4915–4926 (2002).

Goodman Jr, O. B., Krupnick, J. G., Santini, F. & Gurevich, V. V. β-arrestin acts as a clathrin adaptor in endocytosis of the β2-adrenergic receptor. Nature 383, 447 (1996).

Willox, A. K. & Royle, S. J. Stonin 2 is a major adaptor protein for clathrin-mediated synaptic vesicle retrieval. Curr. Biol. 22, 1435–1439 (2012).

Engqvist-Goldstein, Å. E. et al. The actin-binding protein Hip1R associates with clathrin during early stages of endocytosis and promotes clathrin assembly in vitro. J. Cell Biol. 154, 1209–1224 (2001).

Hinshaw, J. Dynamin and its role in membrane fission 1. Ann. Rev. Cell Dev. Biol. 16, 483–519 (2000).

da Costa, S. R. et al. Impairing actin filament or syndapin functions promotes accumulation of clathrin-coated vesicles at the apical plasma membrane of acinar epithelial cells. Mol. Biol. Cell 14, 4397–4413 (2003).

Kessels, M. M. & Qualmann, B. Syndapins integrate N-WASP in receptor-mediated endocytosis. EMBO J. 21, 6083–6094 (2002).

Takei, K., Slepnev, V. I., Haucke, V. & De Camilli, P. Functional partnership between amphiphysin and dynamin in clathrin-mediated endocytosis. Nat. Cell Biol. 1, 33–39 (1999).

Soulet, F., Yarar, D., Leonard, M. & Schmid, S. L. SNX9 regulates dynamin assembly and is required for efficient clathrin-mediated endocytosis. Mol. Biol. Cell 16, 2058–2067 (2005).

Doyon, J. B. et al. Rapid and efficient clathrin-mediated endocytosis revealed in genome-edited mammalian cells. Nat. Cell Biol. 13, 331–337 (2011).

Zhang, X. et al. Development of a reversibly switchable fluorescent protein for super-resolution optical fluctuation imaging (SOFI). ACS Nano 9, 2659–2667 (2015).

Kner, P., Chhun, B. B., Griffis, E. R., Winoto, L. & Gustafsson, M. G. Super-resolution video microscopy of live cells by structured illumination. Nat. Methods 6, 339–342 (2009).

Taylor, M. J., Perrais, D. & Merrifield, C. J. A high precision survey of the molecular dynamics of mammalian clathrin-mediated endocytosis. PLoS Biol. 9, e1000604 (2011).

Kukulski, W., Schorb, M., Kaksonen, M. & Briggs, J. A. Plasma membrane reshaping during endocytosis is revealed by time-resolved electron tomography. Cell 150, 508–520 (2012).

Damke, H., Baba, T., Warnock, D. E. & Schmid, S. L. Induction of mutant dynamin specifically blocks endocytic coated vesicle formation. J. Cell Biol. 127, 915–934 (1994).

Miller, S. E. et al. CALM regulates clathrin-coated vesicle size and maturation by directly sensing and driving membrane curvature. Dev. Cell 33, 163–175 (2015).

Picco, A., Mund, M., Ries, J., Nedelec, F. & Kaksonen, M. Visualizing the functional architecture of the endocytic machinery. Elife 4, e04535 (2015).

Clarke, N. I. & Royle, S. J. FerriTag: a genetically-encoded inducible tag for correlative light-electron microscopy. Preprint at bioRxivhttp://dx.doi.org/10.1101/095208 (2016).

Loerke, D., Mettlen, M., Schmid, S. L. & Danuser, G. Measuring the hierarchy of molecular events during clathrin-mediated endocytosis. Traffic 12, 815–825 (2011).

Itoh, T. et al. Dynamin and the actin cytoskeleton cooperatively regulate plasma membrane invagination by BAR and F-BAR proteins. Dev. Cell 9, 791–804 (2005).

Ferguson, S. S., Downey III, W. E., Colapietro, A.-M. & Barak, L. S. Role of β-arrestin in mediating agonist-promoted G protein-coupled receptor internalization. Science 271, 363–366 (1996).

Diril, M. K., Wienisch, M., Jung, N., Klingauf, J. & Haucke, V. Stonin 2 is an AP-2-dependent endocytic sorting adaptor for synaptotagmin internalization and recycling. Dev. Cell 10, 233–244 (2006).

Maurer, M. E. & Cooper, J. A. The adaptor protein Dab2 sorts LDL receptors into coated pits independently of AP-2 and ARH. J. Cell Sci. 119, 4235–4246 (2006).

Cupers, P., Jadhav, A. P. & Kirchhausen, T. Assembly of clathrin coats disrupts the association between Eps15 and AP-2 adaptors. J. Biol. Chem. 273, 1847–1850 (1998).

Ford, M. G. et al. Curvature of clathrin-coated pits driven by epsin. Nature 419, 361–366 (2002).

Miller, S. E. et al. The molecular basis for the endocytosis of small R-SNAREs by the clathrin adaptor CALM. Cell 147, 1118–1131 (2011).

Dawson, J. C., Legg, J. A. & Machesky, L. M. Bar domain proteins: a role in tubulation, scission and actin assembly in clathrin-mediated endocytosis. Trends Cell Biol. 16, 493–498 (2006).

Bird, J. E. et al. Chaperone-enhanced purification of unconventional myosin 15, a molecular motor specialized for stereocilia protein trafficking. Proc. Natl Acad. Sci. USA 111, 12390–12395 (2014).

Sochacki, K. A. et al. Imaging the post-fusion release and capture of a vesicle membrane protein. Nat. Commun. 3, 1154 (2012).

Mastronarde, D. N. Automated electron microscope tomography using robust prediction of specimen movements. J. Struct. Biol. 152, 36–51 (2005).

Thompson, R. E., Larson, D. R. & Webb, W. W. Precise nanometer localization analysis for individual fluorescent probes. Biophys. J. 82, 2775–2783 (2002).

Kremer, J. R., Mastronarde, D. N. & McIntosh, J. R. Computer visualization of three-dimensional image data using IMOD. J. Struct. Biol. 116, 71–76 (1996).

Schindelin, J. et al. Fiji: an open-source platform for biological-image analysis. Nat. Methods 9, 676–682 (2012).
Acknowledgements
We thank the US National Heart Lung and Blood Institute (NHLBI) electron microscopy core, the NHLBI flow cytometry core, and the NHLBI light microscopy core for use of equipment; specifically, C. Bleck, E. Stempinski, and C. Keshavarz for help in the EM core, P. Dagur with help doing FACS, and X. Wu for help with TIRF-SIM; D. Drubin (University of California, Berkeley, USA) for the generous gift of the SK-MEL-2 hDNM2EN cell line; K. Neuman, J. Hinshaw and K. Swartz for helpful reading of the manuscript; A. Trexler, A. Somasundaram, T. Davenport and J. Ciemniecki for scientific discussion, H.-J. Yang for help in image processing, and E. Tyler of NIH Medical Arts for creating Fig. 4. J.W.T. is supported by the Intramural Research Program of the National Heart Lung and Blood Institute, National Institutes of Health.
Ethics declarations
Competing interests
The authors declare no competing financial interests.
Integrated supplementary information
Supplementary information
Supplementary Information (PDF 7937 kb)
Supplementary Information (XLSX 14 kb)
Supplementary Information (XLSX 10 kb)
About this article
Cite this article
Sochacki, K., Dickey, A., Strub, MP. et al. Endocytic proteins are partitioned at the edge of the clathrin lattice in mammalian cells. Nat Cell Biol 19, 352–361 (2017). https://doi.org/10.1038/ncb3498
Received:

Accepted:

Published:

Issue Date:

DOI: https://doi.org/10.1038/ncb3498