Abstract
Throughout development, tissues undergo complex morphological changes, resulting from cellular mechanics that evolve over time and in three-dimensional space. During Drosophila germ-band extension (GBE), cell intercalation is the key mechanism for tissue extension1, and the associated apical junction remodelling is driven by polarized myosin-II-dependent contraction2,3,4. However, the contribution of the basolateral cellular mechanics to GBE remains poorly understood. Here, we characterize how cells coordinate their shape from the apical to the basal side during rosette formation, a hallmark of cell intercalation. Basolateral rosette formation is driven by cells mostly located at the dorsal/ventral part of the rosette (D/V cells). These cells exhibit actin-rich wedge-shaped basolateral protrusions and migrate towards each other. Surprisingly, the formation of basolateral rosettes precedes that of the apical rosettes. Basolateral rosette formation is independent of apical contractility, but requires Rac1-dependent protrusive motility. Furthermore, we identified Src42A as a regulator of basolateral rosette formation. Our data show that in addition to apical contraction, active cell migration driven by basolateral protrusions plays a pivotal role in rosette formation and contributes to GBE.
Relevant articles
Open Access articles citing this article.
Sijia Zhou

,

Peng Li

…

Xiaobo Wang

Nature Communications Open Access 12 October 2022

Nabila Founounou

,

Reza Farhadifar

…

Marek Mlodzik

Nature Communications Open Access 30 November 2021

Pedro Gómez-Gálvez

,

Pablo Vicente-Munuera

…

Luis M. Escudero

Nature Communications Open Access 27 July 2018
Access options
Access Nature and 54 other Nature Portfolio journals
Get Nature+, our best-value online-access subscription
$29.99 / 30 days
cancel any time
Subscribe to this journal
Receive 12 print issues and online access
$209.00 per year
only $17.42 per issue
Rent or buy this article
Get just this article for as long as you need it
$39.95
Prices may be subject to local taxes which are calculated during checkout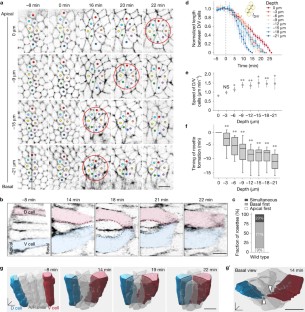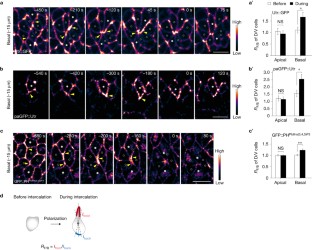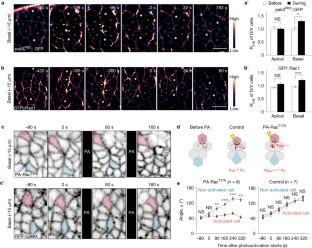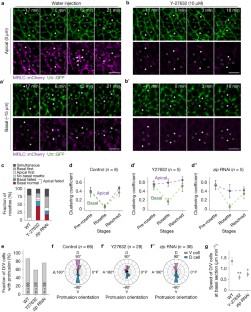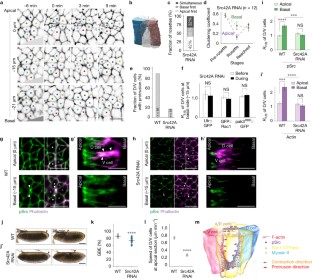 References
Irvine, K. D. & Wieschaus, E. Cell intercalation during Drosophila germband extension and its regulation by pair-rule segmentation genes. Development 120, 827–841 (1994).

Bertet, C., Sulak, L. & Lecuit, T. Myosin-dependent junction remodelling controls planar cell intercalation and axis elongation. Nature 429, 667–671 (2004).

Zallen, J. A. & Wieschaus, E. Patterned gene expression directs bipolar planar polarity in Drosophila. Dev. Cell 6, 343–355 (2004).

Blankenship, J. T., Backovic, S. T., Sanny, J. S., Weitz, O. & Zallen, J. A. Multicellular rosette formation links planar cell polarity to tissue morphogenesis. Dev. Cell 11, 459–470 (2006).

Collinet, C., Rauzi, M., Lenne, P.-F. & Lecuit, T. Local and tissue-scale forces drive oriented junction growth during tissue extension. Nat. Cell Biol. 17, 1247–1258 (2015).

Yu, J. C. & Fernandez-Gonzalez, R. Local mechanical forces promote polarized junctional assembly and axis elongation in Drosophila. eLife 5, e10757 (2016).

Simoes Sde, M. et al. Rho-kinase directs Bazooka/Par-3 planar polarity during Drosophila axis elongation. Dev. Cell 19, 377–388 (2010).

Rauzi, M., Lenne, P.-F. & Lecuit, T. Planar polarized actomyosin contractile flows control epithelial junction remodelling. Nature 468, 1110–1114 (2010).

Tamada, M., Farrell, D. L. & Zallen, J. A. Abl regulates planar polarized junctional dynamics through β-catenin tyrosine phosphorylation. Dev. Cell 22, 309–319 (2012).

Levayer, R. & Lecuit, T. Oscillation and polarity of E-cadherin asymmetries control actomyosin flow patterns during morphogenesis. Dev. Cell 26, 162–175 (2013).

De Matos Simões, S., Mainieri, A. & Zallen, J. A. Rho GTPase and Shroom direct planar polarized actomyosin contractility during convergent extension. J. Cell Biol. 204, 575–589 (2014).

Britton, J. S., Lockwood, W. K., Li, L., Cohen, S. M. & Edgar, B. A. Drosophila's insulin/PI3-kinase pathway coordinates cellular metabolism with nutritional conditions. Dev. Cell 2, 239–249 (2002).

Pickering, K., Alves-Silva, J., Goberdhan, D. & Millard, T. H. Par3/Bazooka and phosphoinositides regulate actin protrusion formation during Drosophila dorsal closure and wound healing. Development 140, 800–809 (2013).

Williams-Masson, E. M., Heid, P. J., Lavin, C. A. & Hardin, J. The cellular mechanism of epithelial rearrangement during morphogenesis of the Caenorhabditis elegans dorsal hypodermis. Dev. Biol. 204, 263–276 (1998).

Walck-Shannon, E., Reiner, D. & Hardin, J. Polarized Rac-dependent protrusions drive epithelial intercalation in the embryonic epidermis of C. elegans. Development 1, 3549–3560 (2015).

Walck-Shannon, E. et al. CDC-42 orients cell migration during epithelial intercalation in the Caenorhabditis elegans epidermis. PLoS Genet. 12, e1006415 (2016).

Munro, E. M. & Odell, G. M. Polarized basolateral cell motility underlies invagination and convergent extension of the ascidian notochord. Development 129, 13–24 (2002).

Shih, J. & Keller, R. Cell motility driving mediolateral intercalation in explants of Xenopus laevis. Development 116, 901–914 (1992).

Krause, M. & Gautreau, A. Steering cell migration: lamellipodium dynamics and the regulation of directional persistence. Nat. Rev. Mol. Cell Biol. 15, 577–590 (2014).

Abreu-Blanco, M. T., Verboon, J. M. & Parkhurst, S. M. Coordination of Rho family GTPase activities to orchestrate cytoskeleton responses during cell wound repair. Curr. Biol. 24, 144–155 (2014).

Wu, Y. I. et al. A genetically encoded photoactivatable Rac controls the motility of living cells. Nature 461, 104–108 (2009).

Wang, X., He, L., Wu, Y. I., Hahn, K. M. & Montell, D. J. Light-mediated activation reveals a key role for Rac in collective guidance of cell movement in vivo. Nat. Cell Biol. 12, 591–597 (2010).

Martin, A. C., Kaschube, M. & Wieschaus, E. F. Pulsed contractions of an actin-myosin network drive apical constriction. Nature 457, 495–499 (2009).

Fernandez-Gonzalez, R., Simoes Sde, M., Roper, J. C., Eaton, S. & Zallen, J. A. Myosin II dynamics are regulated by tension in intercalating cells. Dev. Cell 17, 736–743 (2009).

Karess, R. E. et al. The regulatory light chain of nonmuscle myosin is encoded by spaghetti-squash, a gene required for cytokinesis in Drosophila. Cell 65, 1177–1189 (1991).

Kiehart, D. P. Molecular genetic dissection of myosin heavy chain function. Cell 60, 347–350 (1990).

Chou, T. B. & Perrimon, N. Use of a yeast site-specific recombinase to produce female germline chimeras in Drosophila. Genetics 131, 643–653 (1992).

Takahashi, M., Takahashi, F., Ui-Tei, K., Kojima, T. & Saigo, K. Requirements of genetic interactions between Src42A, armadillo and shotgun, a gene encoding E-cadherin, for normal development in Drosophila. Development 132, 2547–2559 (2005).

Brunet, T. et al. Evolutionary conservation of early mesoderm specification by mechanotransduction in Bilateria. Nat. Commun. 4, 2821 (2013).

Shih, J. & Keller, R. Patterns of cell motility in the organizer and dorsal mesoderm of Xenopus laevis. Development 116, 915–930 (1992).

Jessen, J. R. et al. Zebrafish trilobite identifies new roles for Strabismus in gastrulation and neuronal movements. Nat. Cell Biol. 4, 610–615 (2002).

Keller, R. Shaping the vertebrate body plan by polarized embryonic cell movements. Science 298, 1950–1954 (2002).

Pare, A. C. et al. A positional toll receptor code directs convergent extension in Drosophila. Nature 515, 523–527 (2014).

Singh, J., Aaronson, S. A. & Mlodzik, M. Drosophila Abelson kinase mediates cell invasion and proliferation through two distinct MAPK pathways. Oncogene 29, 4033–4045 (2010).

Shindo, M. et al. Dual function of Src in the maintenance of adherens junctions during tracheal epithelial morphogenesis. Development 135, 1355–1364 (2008).

Förster, D. & Luschnig, S. Src42A-dependent polarized cell shape changes mediate epithelial tube elongation in Drosophila. Nat. Cell Biol. 14, 526–534 (2012).

Shindo, A. & Wallingford, J. B. PCP and septins compartmentalize cortical actomyosin to direct collective cell movement. Science 343, 649–652 (2014).

Williams, M., Yen, W., Lu, X. & Sutherland, A. Distinct apical and basolateral mechanisms drive planar cell polarity-dependent convergent extension of the mouse neural plate. Dev. Cell 29, 34–46 (2014).

Walck-Shannon, E. & Hardin, J. Cell intercalation from top to bottom. Nat. Rev. Mol. Cell Biol. 15, 34–48 (2014).

Shindo, A. Models of convergent extension during morphogenesis. WIREs Dev. Biol. 7, e293 (2018).

Foe, V. E., Field, C. M. & Odell, G. M. Microtubules and mitotic cycle phase modulate spatiotemporal distributions of F-actin and myosin II in Drosophila syncytial blastoderm embryos. Development 127, 1767–1787 (2000).

Schindelin, J. et al. Fiji: an open-source platform for biological-image analysis. Nat. Methods 9, 676–682 (2012).

Mayer, M. et al. Anisotropies in cortical tension reveal the physical basis of polarizing cortical flows. Nature 467, 617–621 (2010).

Doncheva, N. T., Assenov, Y., Domingues, F. S. & Albrecht, M. Topological analysis and interactive visualization of biological networks and protein structures. Nat. Protoc. 7, 670–685 (2012).
Acknowledgements
We thank T. Lecuit (Institut de Biologie du Développement de Marseille, France), and the Bloomington Stock Center for fly stocks. We acknowledge S. Hayashi (RIKEN Center for Developmental Biology, Japan) for the generous gift of pSrc antibody. We thank the Microscopy Core of Mechanobiology Institute for imaging. We also thank M. Sheetz, S. Yonemura, R. Zaidel-Bar and MBI Science Communication Core (S. Wolf, and A. Wong) for helpful discussions and critical reading of the manuscript. We thank H. T. Ong for help in image quantifications. T.E.S. was supported by the National Research Foundation Singapore under its NRF Fellowship (NRF2012NRF-NRFF001-094). This work was supported by Mechanobiology Institute and National University of Singapore Startup Grants (to Y.T.), Temasek Life Sciences Laboratory (to Y.T.), and a Singapore Ministry of Education Tier 2 grant (MOE2015-T2-1-116 to Y.T.).
Ethics declarations
Competing interests
The authors declare no competing financial interests.
Integrated supplementary information
Supplementary information
About this article
Cite this article
Sun, Z., Amourda, C., Shagirov, M. et al. Basolateral protrusion and apical contraction cooperatively drive Drosophila germ-band extension. Nat Cell Biol 19, 375–383 (2017). https://doi.org/10.1038/ncb3497
Received:

Accepted:

Published:

Issue Date:

DOI: https://doi.org/10.1038/ncb3497