Abstract
During embryonic development, mechanical forces are essential for cellular rearrangements driving tissue morphogenesis. Here, we show that in the early zebrafish embryo, friction forces are generated at the interface between anterior axial mesoderm (prechordal plate, ppl) progenitors migrating towards the animal pole and neurectoderm progenitors moving in the opposite direction towards the vegetal pole of the embryo. These friction forces lead to global rearrangement of cells within the neurectoderm and determine the position of the neural anlage. Using a combination of experiments and simulations, we show that this process depends on hydrodynamic coupling between neurectoderm and ppl as a result of E-cadherin-mediated adhesion between those tissues. Our data thus establish the emergence of friction forces at the interface between moving tissues as a critical force-generating process shaping the embryo.
Relevant articles
Open Access articles citing this article.
Diana Pinheiro

,

Roland Kardos

…

Carl-Philipp Heisenberg

Nature Physics Open Access 24 October 2022

Dipanjan Bhattacharya

,

Jun Zhong

…

Paul Matsudaira

Scientific Reports Open Access 29 September 2021

Danqing He

,

Fuliang Liu

…

Xiaoxing Kou

Stem Cell Research & Therapy Open Access 13 March 2020
Access options
Subscribe to Nature+
Get immediate online access to Nature and 55 other Nature journal
Subscribe to Journal
Get full journal access for 1 year
$99.00
only $8.25 per issue
All prices are NET prices.
VAT will be added later in the checkout.
Tax calculation will be finalised during checkout.
Buy article
Get time limited or full article access on ReadCube.
$32.00
All prices are NET prices.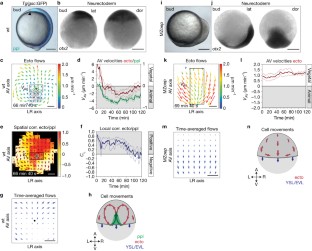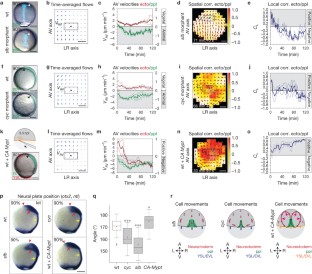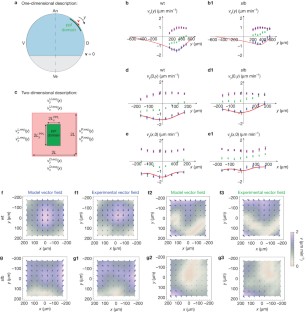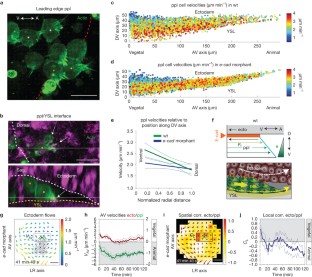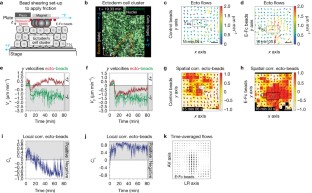 References
Lecuit, T., Lenne, P.-F. & Munro, E. Force generation, transmission, and integration during cell and tissue morphogenesis. Annu. Rev. Cell Dev. Biol. 27, 157–184 (2011).

Heisenberg, C.-P. & Bellaïche, Y. Forces in tissue morphogenesis and patterning. Cell 153, 948–962 (2013).

Solnica-Krezel, L. & Sepich, D. S. Gastrulation: making and shaping germ layers. Annu. Rev. Cell Dev. Biol. 28, 687–717 (2012).

Wilson, S. W. & Houart, C. Early steps in the development of the forebrain. Dev. Cell 6, 167–181 (2004).

Appel, B. Zebrafish neural induction and patterning. Dev. Dynam. 219, 155–168 (2000).

Woo, K. & Fraser, S. E. Order and coherence in the fate map of the zebrafish nervous system. Development 121, 2595–2609 (1995).

Araya, C. et al. Mesoderm is required for coordinated cell movements within zebrafish neural plate in vivo. Neural Dev. 9, 9 (2014).

Araya, C., Carmona-Fontaine, C. & Clarke, J. D. W. Extracellular matrix couples the convergence movements of mesoderm and neural plate during the early stages of neurulation. Dev. Dynam. 245, 580–589 (2016).

Gritsman, K. et al. The EGF-CFC protein one-eyed pinhead is essential for nodal signaling. Cell 97, 121–132 (1999).

Montero, J.-A. et al. Shield formation at the onset of zebrafish gastrulation. Development 132, 1187–1198 (2005).

Latimer, A. & Jessen, J. R. Extracellular matrix assembly and organization during zebrafish gastrulation. Matrix Biol. 29, 89–96 (2010).

Diz-Muñoz, A. et al. Control of directed cell migration in vivo by membrane-to-cortex attachment. PLoS Biol. 8, e1000544 (2010).

Dumortier, J. G., Martin, S., Meyer, D., Rosa, F. M. & David, N. B. Collective mesendoderm migration relies on an intrinsic directionality signal transmitted through cell contacts. Proc. Natl Acad. Sci. USA 109, 16945–16950 (2012).

Heisenberg, C. P. et al. Silberblick/Wnt11 mediates convergent extension movements during zebrafish gastrulation. Nature 405, 76–81 (2000).

Ulrich, F. et al. Slb/Wnt11 controls hypoblast cell migration and morphogenesis at the onset of zebrafish gastrulation. Development 130, 5375–5384 (2003).

Hatta, K., Kimmel, C. B., Ho, R. K. & Walker, C. The cyclops mutation blocks specification of the floor plate of the zebrafish central nervous system. Nature 350, 339–341 (1991).

Thisse, C., Thisse, B., Halpern, M. E. & Postlethwait, J. H. Goosecoid expression in neurectoderm and mesendoderm is disrupted in zebrafish cyclops gastrulas. Dev. Biol. 164, 420–429 (1994).

Behrndt, M. et al. Forces driving epithelial spreading in zebrafish gastrulation. Science 338, 257–260 (2012).

Krieg, M. et al. Tensile forces govern germ-layer organization in zebrafish. Nat. Cell Biol. 10, 429–436 (2008).

Weber, G. F., Bjerke, M. A. & DeSimone, D. W. A mechanoresponsive cadherin-keratin complex directs polarized protrusive behavior and collective cell migration. Dev. Cell 22, 104–115 (2012).

Morita, H. et al. The physical basis of coordinated tissue spreading in zebrafish gastrulation. Dev. Cell 40, 354–366.e4 (2017).

Babb, S. G. & Marrs, J. A. E-cadherin regulates cell movements and tissue formation in early zebrafish embryos. Dev. Dynam. 230, 263–277 (2004).

Kane, D. A., McFarland, K. N. & Warga, R. M. Mutations in half baked/E-cadherin block cell behaviors that are necessary for teleost epiboly. Development 132, 1105–1116 (2005).

Shimizu, T. et al. E-cadherin is required for gastrulation cell movements in zebrafish. Mech. Dev. 122, 747–763 (2005).

Wessely, O. & De Robertis, E. M. Neural plate patterning by secreted signals. Neuron 33, 489–491 (2002).

Cui, C., Yang, X., Chuai, M., Glazier, J. A. & Weijer, C. J. Analysis of tissue flow patterns during primitive streak formation in the chick embryo. Dev. Biol. 284, 37–47 (2005).

Fleury, V. Clarifying tetrapod embryogenesis by a dorso-ventral analysis of the tissue flows during early stages of chicken development. BioSystems 109, 460–474 (2012).

Rozbicki, E. et al. Myosin-II-mediated cell shape changes and cell intercalation contribute to primitive streak formation. Nat. Cell Biol. 17, 397–408 (2015).

Voiculescu, O., Bodenstein, L., Lau, I.-J. & Stern, C. D. Local cell interactions and self-amplifying individual cell ingression drive amniote gastrulation. eLife 3, e01817 (2014).

Tzima, E. et al. A mechanosensory complex that mediates the endothelial cell response to fluid shear stress. Nature 437, 426–431 (2005).

He, B., Doubrovinski, K., Polyakov, O. & Wieschaus, E. Apical constriction drives tissue-scale hydrodynamic flow to mediate cell elongation. Nature 508, 392–396 (2014).

Westerfield, M. The Zebrafish Book. A Guide for the Laboratory Use of Zebrafish (Danio Rerio) 4th edn (Univ. Oregon Press, 2000).

Kimmel, C. B., Ballard, W. W., Kimmel, S. R., Ullmann, B. & Schilling, T. F. Stages of embryonic development of the zebrafish. Dev. Dynam. 203, 253–310 (1995).

Ryu, S. L. et al. Regulation of dharma/bozozok by the Wnt pathway. Dev. Biol. 231, 397–409 (2001).

Doitsidou, M. et al. Guidance of primordial germ cell migration by the chemokine SDF-1. Cell 111, 647–659 (2002).

Compagnon, J. et al. The notochord breaks bilateral symmetry by controlling cell shapes in the zebrafish laterality organ. Dev. Cell 31, 774–783 (2014).

Rebagliati, M. R., Toyama, R., Haffter, P. & Dawid, I. B. cyclops encodes a nodal-related factor involved in midline signaling. Proc. Natl Acad. Sci. USA 95, 9932–9937 (1998).

Weiser, D. C., Row, R. H. & Kimelman, D. Rho-regulated myosin phosphatase establishes the level of protrusive activity required for cell movements during zebrafish gastrulation. Development 136, 2375–2384 (2009).

D'Amico, L. A. & Cooper, M. S. Morphogenetic domains in the yolk syncytial layer of axiating zebrafish embryos. Dev. Dynam. 222, 611–624 (2001).

Karlen, S. & Rebagliati, M. A morpholino phenocopy of the cyclops mutation. Genesis 30, 126–128 (2001).

Lele, Z., Bakkers, J. & Hammerschmidt, M. Morpholino phenocopies of the swirl, snailhouse, somitabun, minifin, silberblick, and pipetail mutations. Genesis 30, 190–194 (2001).

Blanchard, G. B. et al. Tissue tectonics: morphogenetic strain rates, cell shape change and intercalation. Nat. Methods 6, 458–464 (2009).

Vicsek, T. & Zafeiris, A. Collective motion. Phys. Rep. 517, 71–140 (2012).

Méhes, E. & Vicsek, T. Collective motion of cells: from experiments to models. Integr. Biol. 6, 831–854 (2014).

Szabó, B. et al. Phase transition in the collective migration of tissue cells: experiment and model. Phys. Rev. E. Stat. Nonlin. Soft. Matter Phys. 74, 061908 (2006).
Acknowledgements
We would like to thank R. Hauschild for technical assistance and the scientific service units at the IST Austria for continuous support. This work was supported by grants from the OMAA Ernst Mach Predoctoral Scholarship to Z.Á., Cancer Research UK to M.T., the Spanish Ministry of Economy and Competitiveness 'Centro de Excelencia Severo Ochoa 2013–2017' and CERCA Programme/Generalitat de Catalunya to V.R., the European Union's Seventh Framework Program/ERC Grant Agreement to B.H. (306589) and to T.V. (COLLMOT project; 227878), the Francis Crick Institute, which receives its core funding from Cancer Research UK (FC001317), the UK Medical Research Council (FC001317) and the Wellcome Trust (FC001317) to S.G. and G.S., and the Austrian Science Foundation (FWF): I930-B20 to C.-P.H.
Ethics declarations
Competing interests
The authors declare no competing financial interests.
Integrated supplementary information
Supplementary information
About this article
Cite this article
Smutny, M., Ákos, Z., Grigolon, S. et al. Friction forces position the neural anlage. Nat Cell Biol 19, 306–317 (2017). https://doi.org/10.1038/ncb3492
Received:

Accepted:

Published:

Issue Date:

DOI: https://doi.org/10.1038/ncb3492
This article is cited by
Diana Pinheiro
Roland Kardos
Carl-Philipp Heisenberg

Nature Physics (2022)

Dipanjan Bhattacharya
Jun Zhong
Paul Matsudaira

Scientific Reports (2021)

Danqing He
Fuliang Liu
Xiaoxing Kou

Stem Cell Research & Therapy (2020)