Abstract
Cytoplasmic streaming refers to a collective movement of cytoplasm observed in many cell types1,2,3,4,5,6,7. The mechanism of meiotic cytoplasmic streaming (MeiCS) in Caenorhabditis elegans zygotes is puzzling as the direction of the flow is not predefined by cell polarity and occasionally reverses6. Here, we demonstrate that the endoplasmic reticulum (ER) network structure is required for the collective flow. Using a combination of RNAi, microscopy and image processing of C. elegans zygotes, we devise a theoretical model, which reproduces and predicts the emergence and reversal of the flow. We propose a positive-feedback mechanism, where a local flow generated along a microtubule is transmitted to neighbouring regions through the ER. This, in turn, aligns microtubules over a broader area to self-organize the collective flow. The proposed model could be applicable to various cytoplasmic streaming phenomena in the absence of predefined polarity. The increased mobility of cortical granules by MeiCS correlates with the efficient exocytosis of the granules to protect the zygotes from osmotic and mechanical stresses.
Relevant articles
Open Access articles citing this article.
Delin Liu

,

Youshui Gao

…

Junjie Gao

Signal Transduction and Targeted Therapy Open Access 16 February 2021

Gaurav Luthria

,

Ran Li

…

Miles A. Miller

Nature Communications Open Access 14 July 2020
Access options
Access Nature and 54 other Nature Portfolio journals
Get Nature+, our best-value online-access subscription
$29.99 / 30 days
cancel any time
Subscribe to this journal
Receive 12 print issues and online access
$209.00 per year
only $17.42 per issue
Rent or buy this article
Get just this article for as long as you need it
$39.95
Prices may be subject to local taxes which are calculated during checkout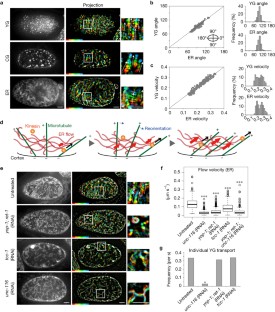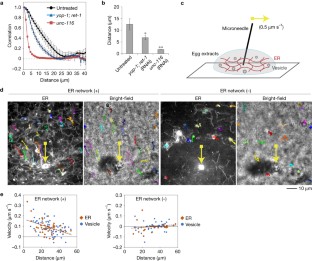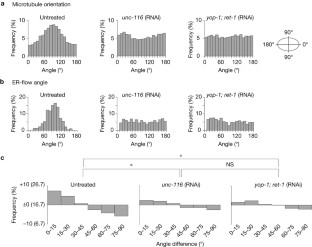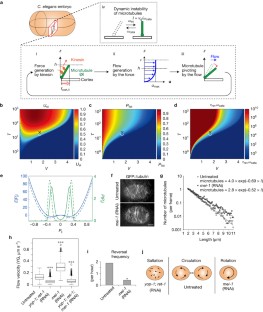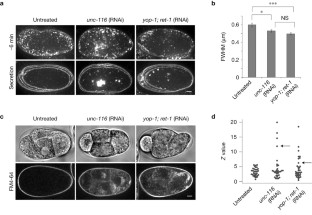 References
Bohrmann, J. & Biber, K. Cytoskeleton-dependent transport of cytoplasmic particles in previtellogenic to mid-vitellogenic ovarian follicles of Drosophila: time-lapse analysis using video-enhanced contrast microscopy. J. Cell Sci. 107, 849–858 (1994).

Ganguly, S., Williams, L. S., Palacios, I. M. & Goldstein, R. E. Cytoplasmic streaming in Drosophila oocytes varies with kinesin activity and correlates with the microtubule cytoskeleton architecture. Proc. Natl Acad. Sci. USA 109, 15109–15114 (2012).

Kamiya, N. Protoplasmic Streaming (Springer, 1959).

Munro, E., Nance, J. & Priess, J. R. Cortical flows powered by asymmetrical contraction transport PAR proteins to establish and maintain anterior-posterior polarity in the early C. elegans embryo. Dev. Cell 7, 413–424 (2004).

Wilson, E. B. The Cell in Development and Heredity 3rd edn (The Macmillan Company, 1925).

Yang, H. Y., McNally, K. & McNally, F. J. MEI-1/katanin is required for translocation of the meiosis I spindle to the oocyte cortex in C. elegans. Dev. Biol. 260, 245–259 (2003).

Yi, K. et al. Dynamic maintenance of asymmetric meiotic spindle position through Arp2/3-complex-driven cytoplasmic streaming in mouse oocytes. Nat. Cell Biol. 13, 1252–1258 (2011).

Parton, R. M. et al. A PAR-1-dependent orientation gradient of dynamic microtubules directs posterior cargo transport in the Drosophila oocyte. J. Cell Biol. 194, 121–135 (2011).

Shulman, J. M., Benton, R. & St Johnston, D. The Drosophila homolog of C. elegans PAR-1 organizes the oocyte cytoskeleton and directs oskar mRNA localization to the posterior pole. Cell 101, 377–388 (2000).

McCarter, J., Bartlett, B., Dang, T. & Schedl, T. On the control of oocyte meiotic maturation and ovulation in Caenorhabditis elegans. Dev. Biol. 205, 111–128 (1999).

Ward, S. & Carrel, J. S. Fertilization and sperm competition in the nematode Caenorhabditis elegans. Dev. Biol. 73, 304–321 (1979).

McNally, K. L., Martin, J. L., Ellefson, M. & McNally, F. J. Kinesin-dependent transport results in polarized migration of the nucleus in oocytes and inward movement of yolk granules in meiotic embryos. Dev. Biol. 339, 126–140 (2010).

Woodhouse, F. G. & Goldstein, R. E. Cytoplasmic streaming in plant cells emerges naturally by microfilament self-organization. Proc. Natl Acad. Sci. USA 110, 14132–14137 (2013).

Ueda, H. et al. Myosin-dependent endoplasmic reticulum motility and F-actin organization in plant cells. Proc. Natl Acad. Sci. USA 107, 6894–6899 (2010).

Audhya, A., Desai, A. & Oegema, K. A role for Rab5 in structuring the endoplasmic reticulum. J. Cell Biol. 178, 43–56 (2007).

Voeltz, G. K., Prinz, W. A., Shibata, Y., Rist, J. M. & Rapoport, T. A. A class of membrane proteins shaping the tubular endoplasmic reticulum. Cell 124, 573–586 (2006).

Van Kampen, N. G. Stochastic Processes in Physics and Chemistry 3rd edn (Elsevier, 2007).

Srayko, M., Buster, D. W., Bazirgan, O. A., McNally, F. J. & Mains, P. E. MEI-1/MEI-2 katanin-like microtubule severing activity is required for Caenorhabditis elegans meiosis. Genes Dev. 14, 1072–1084 (2000).

Mains, P. E., Kemphues, K. J., Sprunger, S. A., Sulston, I. A. & Wood, W. B. Mutations affecting the meiotic and mitotic divisions of the early Caenorhabditis elegans embryo. Genetics 126, 593–605 (1990).

Kimura, K. & Kimura, A. Rab6 is required for the exocytosis of cortical granules and the recruitment of separase to the granules during the oocyte-to-embryo transition in Caenorhabditis elegans. J. Cell Sci. 125, 5897–5905 (2012).

Sato, M., Grant, B. D., Harada, A. & Sato, K. Rab11 is required for synchronous secretion of chondroitin proteoglycans after fertilization in Caenorhabditis elegans. J. Cell Sci. 121, 3177–3186 (2008).

Wessel, G. M. et al. The biology of cortical granules. Int. Rev. Cytol. 209, 117–206 (2001).

Berends, C. W. et al. F-actin asymmetry and the endoplasmic reticulum-associated TCC-1 protein contribute to stereotypic spindle movements in the Caenorhabditis elegans embryo. Mol. Biol. Cell 24, 2201–2215 (2013).

Allen, N. S. & Allen, R. D. Cytoplasmic streaming in green plants. Annu. Rev. Biophys. Bioeng. 7, 497–526 (1978).

Kamiya, N. in Encyclopedia of Plant Physiology Vol. 17/2 (ed. Bünning, E.) 979–1035 (Springer, 1962).

Kamiya, N. & Kuroda, K. Velocity distribution of the protoplasmic streaming in Nitella cells. Bot. Mag. Tokyo 69, 544–554 (1956).

Gutzeit, H. O. & Koppa, R. Time-lapse film analysis of cytoplasmic streaming during late oogenesis of Drosophila. J. Embryol. Exp. Morphol. 67, 101–111 (1982).

Brenner, S. The genetics of Caenorhabditis elegans. Genetics 77, 71–94 (1974).

Frokjaer-Jensen, C. et al. Random and targeted transgene insertion in Caenorhabditis elegans using a modified Mos1 transposon. Nat. Methods 11, 529–534 (2014).

Krzic, U., Gunther, S., Saunders, T. E., Streichan, S. J. & Hufnagel, L. Multiview light-sheet microscope for rapid in toto imaging. Nat. Methods 9, 730–733 (2012).

Niwayama, R. et al. Bayesian inference of forces causing cytoplasmic streaming in Caenorhabditis elegans embryos and mouse oocytes. PLoS ONE 11, e0159917 (2016).

Desai, A., Murray, A., Mitchison, T. J. & Walczak, C. E. The use of Xenopus egg extracts to study mitotic spindle assembly and function in vitro. Methods Cell Biol. 61, 385–412 (1999).

Wang, S., Romano, F. B., Field, C. M., Mitchison, T. J. & Rapoport, T. A. Multiple mechanisms determine ER network morphology during the cell cycle in Xenopus egg extracts. J. Cell Biol. 203, 801–814 (2013).

Shimamoto, Y., Maeda, Y. T., Ishiwata, S., Libchaber, A. J. & Kapoor, T. M. Insights into the micromechanical properties of the metaphase spindle. Cell 145, 1062–1074 (2011).

Farnebäck, G. in Image Analysis Vol. 2749 (eds Bigun, J. & Gustavsson, T.) 363–370 (Springer, 2003).

Chiba, K., Shimada, Y., Kinjo, M., Suzuki, T. & Uchida, S. Simple and direct assembly of kymographs from movies using KYMOMAKER. Traffic 15, 1–11 (2014).

Applegate, K. T. et al. plusTipTracker: quantitative image analysis software for the measurement of microtubule dynamics. J. Struct. Biol. 176, 168–184 (2011).

Tindemans, S. H. & Mulder, B. M. Microtubule length distributions in the presence of protein-induced severing. Phys. Rev. E. 81, 031910 (2010).

Srayko, M., Kaya, A., Stamford, J. & Hyman, A. A. Identification and characterization of factors required for microtubule growth and nucleation in the early C. elegans embryo. Dev. Cell 9, 223–236 (2005).

Shubeita, G. T. Consequences of motor copy number on the intracellular transport of kinesin-1-driven lipid droplets. Cell 135, 1098–1107 (2008).
Acknowledgements
C. elegans strain WH327 was kindly provided by A. Spang (University of Basel, Switzerland). The other strains were from the Caenorhabditis Genetics Center. We thank T. Hiiragi (European Molecular Biology Laboratory), K. Nagai (Japan Advanced Institute of Science and Technology), Y. Sumino (Tokyo University of Science), Y. Okada (The University of Tokyo), and the members of the Cell Architecture Laboratory and the Office for Research Development (National Institute of Genetics) for their valuable comments and support. This project was supported by a SOKENDAI Young Faculty Overseas programme grant to A.K., a Japanese Society for the Promotion of Science (JSPS) summer research programme grant to A.M., JSPS Postdoctoral Fellowship to J.T., AMED-PRIME, AMED (JP15665739) to Y.S., and JSPS KAKENHI grant numbers JP26840072 (to K.K.), JP15610795, JP16748896 (to Y.S.), JP15KT0083, JP16H00816, JP16H05119 and JP16H06280 (to A.K.).
Ethics declarations
Competing interests
The authors declare no competing financial interests.
Integrated supplementary information
Supplementary information
About this article
Cite this article
Kimura, K., Mamane, A., Sasaki, T. et al. Endoplasmic-reticulum-mediated microtubule alignment governs cytoplasmic streaming. Nat Cell Biol 19, 399–406 (2017). https://doi.org/10.1038/ncb3490
Received:

Accepted:

Published:

Issue Date:

DOI: https://doi.org/10.1038/ncb3490
This article is cited by
Delin Liu
Youshui Gao
Junjie Gao

Signal Transduction and Targeted Therapy (2021)

Gaurav Luthria
Ran Li
Miles A. Miller

Nature Communications (2020)