Abstract
In 1893 August Weismann proposed that information about the environment could not pass from somatic cells to germ cells1, a hypothesis now known as the Weismann barrier. However, recent studies have indicated that parental exposure to environmental stress can modify progeny physiology2,3,4,5,6,7 and that parental stress can contribute to progeny disorders8. The mechanisms regulating these phenomena are poorly understood. We report that the nematode Caenorhabditis elegans can protect itself from osmotic stress by entering a state of arrested development and can protect its progeny from osmotic stress by increasing the expression of the glycerol biosynthetic enzyme GPDH-2 in progeny. Both of these protective mechanisms are regulated by insulin-like signalling: insulin-like signalling to the intestine regulates developmental arrest, while insulin-like signalling to the maternal germline regulates glycerol metabolism in progeny. Thus, there is a heritable link between insulin-like signalling to the maternal germline and progeny metabolism and gene expression. We speculate that analogous modulation of insulin-like signalling to the germline is responsible for effects of the maternal environment on human diseases that involve insulin signalling, such as obesity and type-2 diabetes8.
Access options
Subscribe to Journal
Get full journal access for 1 year
$59.00
only $4.92 per issue
All prices are NET prices.
VAT will be added later in the checkout.
Tax calculation will be finalised during checkout.
Rent or Buy article
Get time limited or full article access on ReadCube.
from$8.99
All prices are NET prices.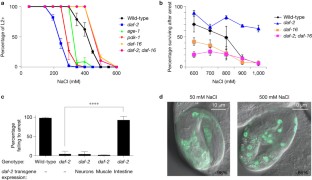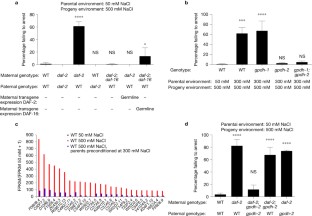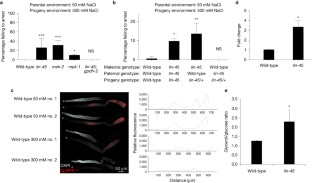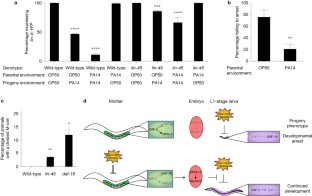 References
1

Weismann, A. The Germ-plasm: A Theory of Heredity (Charles Scribner's Sons, 1893).

2

Dantzer, B. et al. Density triggers maternal hormones that increase adaptive offspring growth in a wild mammal. Science 340, 1215–1217 (2013).

3

Radford, E. J. et al. In utero undernourishment perturbs the adult sperm methylome and intergenerational metabolism. Science 345, https://doi.org/10.1126/science.1255903 (2014).

4

Dias, B. G. & Ressler, K. J. Parental olfactory experience influences behavior and neural structure in subsequent generations. Nat. Neurosci. 17, 89–96 (2014).

5

Öst, A. et al. Paternal diet defines offspring chromatin state and intergenerational obesity. Cell 159, 1352–1364 (2014).

6

Carone, B. R. et al. Paternally induced transgenerational environmental reprogramming of metabolic gene expression in mammals. Cell 143, 1084–1096 (2010).

7

Huypens, P. et al. Epigenetic germline inheritance of diet-induced obesity and insulin resistance. Nat. Genet. 48, 497–499 (2016).

8

Gallo, L., Tran, M., Master, J., Moritz, K. & Wlodek, M. Maternal adaptations and inheritance in the transgenerational programming of adult disease. Cell Tissue Res. 349, 863–880 (2012).

9

Frazier III, H. N. & Roth, M. B. Adaptive sugar provisioning controls survival of C. elegans embryos in adverse environments. Curr. Biol. 19, 859–863 (2009).

10

Baugh, L. R. & Sternberg, P. W. DAF-16/FOXO regulates transcription of cki-1/Cip/Kip and repression of lin-4 during C. elegans L1 arrest. Curr. Biol. 16, 780–785 (2006).

11

Hu, P. J. Dauer 1–19 (WormBook, 2007); https://doi.org/10.1895/wormbook.1.144.1

12

Murphy, C. & Hu, P. J. Insulin/insulin-like Growth Factor Signaling in C. elegans (WormBook, 2013); https://doi.org/10.1895/wormbook.1.164.1

13

An, J. H. & Blackwell, T. K. SKN-1 links C. elegans mesendodermal specification to a conserved oxidative stress response. Genes Dev. 17, 1882–1893 (2003).

14

Kim, D. H. et al. A conserved p38 MAP kinase pathway in Caenorhabditis elegans innate immunity. Science 297, 623–626 (2002).

15

Chen, Y. & Baugh, L. R. ins-4 and daf-28 function redundantly to regulate C. elegans L1 arrest. Dev. Biol. 394, 314–326 (2014).

16

Lamitina, S. T., Morrison, R., Moeckel, G. W. & Strange, K. Adaptation of the nematode Caenorhabditis elegans to extreme osmotic stress. Am. J. Physiol. 286, C785–C791 (2004).

17

Lamitina, T., Huang, C. G. & Strange, K. Genome-wide RNAi screening identifies protein damage as a regulator of osmoprotective gene expression. Proc. Natl Acad. Sci. USA 103, 12173–12178 (2006).

18

Michaelson, D., Korta, D. Z., Capua, Y. & Hubbard, E. J. A. Insulin signaling promotes germline proliferation in C. elegans. Development 137, 671–680 (2010).

19

Lopez III, A. L. et al. DAF-2 and ERK couple nutrient availability to meiotic progression during Caenorhabditis elegans oogenesis. Dev. Cell 27, 227–240 (2013).

20

Sundaram, M. V. RTK/Ras/MAPK Signaling (WormBook, 2006); https://dx.doi.org/10.1895/wormbook.1.80.1

21

Favata, M. F. et al. Identification of a novel inhibitor of mitogen-activated protein kinase kinase. J. Biol. Chem. 273, 18623–18632 (1998).

22

Pilson, E. Q. M. An Introduction to the Chemistry of the Sea 2nd edn, 67 (Cambridge Univ. Press, 2013).

23

Prada, J. A. & Tsang, R. C. Biological mechanisms of environmentally induced causes of IUGR. Eur. J. Clin. Nutr. 52, S21-7-28 (1998).

24

Brenner, S. The genetics of Caenorhabditis elegans. Genetics 77, 71–94 (1974).

25

Arur, S. et al. MPK-1 ERK controls membrane organization in C. elegans oogenesis via a sex-determination module. Dev. Cell 20, 677–688 (2011).

26

Arur, S. et al. Multiple ERK substrates execute single biological processes in Caenorhabditis elegans germ-line development. Proc. Natl Acad. Sci. USA 106, 4776–4781 (2009).

27

Lee, M.-H. et al. Multiple functions and dynamic activation of MPK-1 extracellular signal-regulated kinase signalling in Caenorhabditis elegans germline development. Genetics 177, 2039–2062 (2007).

28

Quinlan, A. R. BEDTools: the Swiss-army tool for genome feature analysis. Curr. Protoc. Bioinformatics 47, 11.12.1–11.12.34 (2014).

29

Li, H. & Durbin, R. Fast and accurate short read alignment with Burrows-Wheeler transform. Bioinformatics 25, 1754–1760 (2009).

30

Li, B. & Dewey, C. N. RSEM: accurate transcript quantification from RNA-Seq data with or without a reference genome. BMC Bioinformatics 12, 323 (2011).

31

Karolchik, D. et al. The UCSC Table Browser data retrieval tool. Nucleic Acids Res. 32, D493–D496 (2004).

32

Anders, S. & Huber, W. Differential expression analysis for sequence count data. Genome Biol. 11, R106 (2010).

33

Birsoy, K. et al. An essential role of the mitochondrial electron transport chain in cell proliferation is to enable aspartate synthesis. Cell 162, 540–551 (2015).
Acknowledgements
We thank E. J. Hubbard, K. Ashrafi, S. Mitani and the Caenorhabditis Genetic Center, which is funded by the NIH National Center for Research Resources (NCRR), for providing strains; N. An for strain management; and K. Burkhart, S. Luo, A. Doi, N. Paquin and A. Corrionero for helpful discussions. H.R.H. and N.O.B. were supported by NIH grant GM024663 and NSF grant 1122374. T.F. and S.A. were supported by NIH grant GM98200 and ACS grant RSG014-044-DDC. L.R.B., A.K.W. and R.E.W.K. were supported by NIH grant GM117408. H.R.H. is an investigator of the Howard Hughes Medical Institute.
Ethics declarations
Competing interests
The authors declare no competing financial interests.
Integrated supplementary information
Supplementary information
About this article
Cite this article
Burton, N., Furuta, T., Webster, A. et al. Insulin-like signalling to the maternal germline controls progeny response to osmotic stress. Nat Cell Biol 19, 252–257 (2017). https://doi.org/10.1038/ncb3470
Received:

Accepted:

Published:

Issue Date: