Abstract
The cellular mechanisms governing non-muscle myosin II (NM2) filament assembly are largely unknown. Using EGFP-NM2A knock-in fibroblasts and multiple super-resolution imaging modalities, we characterized and quantified the sequential amplification of NM2 filaments within lamellae, wherein filaments emanating from single nucleation events continuously partition, forming filament clusters that populate large-scale actomyosin structures deeper in the cell. Individual partitioning events coincide spatially and temporally with the movements of diverging actin fibres, suppression of which inhibits partitioning. These and other data indicate that NM2A filaments are partitioned by the dynamic movements of actin fibres to which they are bound. Finally, we showed that partition frequency and filament growth rate in the lamella depend on MLCK, and that MLCK is competing with centrally active ROCK for a limiting pool of monomer with which to drive lamellar filament assembly. Together, our results provide new insights into the mechanism and spatio-temporal regulation of NM2 filament assembly in cells.
Access options
Subscribe to Journal
Get full journal access for 1 year
$209.00
only $17.42 per issue
All prices are NET prices.
VAT will be added later in the checkout.
Rent or Buy article
Get time limited or full article access on ReadCube.
from$8.99
All prices are NET prices.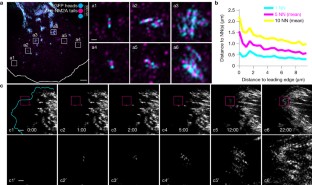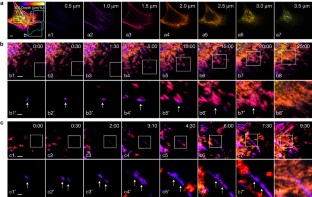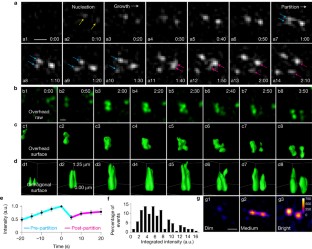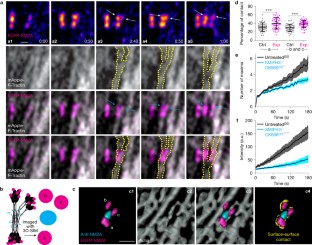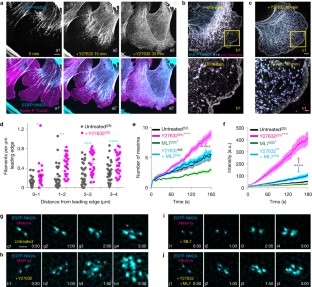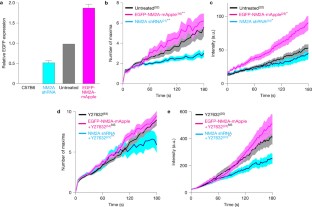 References
1

Heissler, S. M. & Manstein, D. J. Nonmuscle myosin-2: mix and match. Cell Mol. Life Sci. 70, 1–21 (2013).

2

Ma, X. & Adelstein, R. S. The role of vertebrate nonmuscle Myosin II in development and human disease. Bioarchitecture 4, 88–102 (2014).

3

Billington, N., Wang, A., Mao, J., Adelstein, R. S. & Sellers, J. R. Characterization of three full-length human nonmuscle myosin II paralogs. J. Biol. Chem. 288, 33398–33410 (2013).

4

Niederman, R. & Pollard, T. D. Human platelet myosin. II. In vitro assembly and structure of myosin filaments. J. Cell Biol. 67, 72–92 (1975).

5

Kendrick-Jones, J., Smith, R. C., Craig, R. & Citi, S. Polymerization of vertebrate non-muscle and smooth muscle myosins. J. Mol. Biol. 198, 241–252 (1987).

6

Pollard, T. D. Structure and polymerization of Acanthamoeba myosin-II filaments. J. Cell Biol. 95, 816–825 (1982).

7

Adelstein, R. S. & Conti, M. A. Phosphorylation of platelet myosin increases actin-activated myosin ATPase activity. Nature 256, 597–598 (1975).

8

Daniel, J. L. & Adelstein, R. S. Isolation and properties of platelet myosin light chain kinase. Biochemistry 15, 2370–2377 (1976).

9

Amano, M. et al. Phosphorylation and activation of myosin by Rho-associated kinase (Rho-kinase). J. Biol. Chem. 271, 20246–20249 (1996).

10

Craig, R., Smith, R. & Kendrick-Jones, J. Light-chain phosphorylation controls the conformation of vertebrate non-muscle and smooth muscle myosin molecules. Nature 302, 436–439 (1983).

11

Scholey, J. M., Taylor, K. A. & Kendrick-Jones, J. Regulation of non-muscle myosin assembly by calmodulin-dependent light chain kinase. Nature 287, 233–235 (1980).

12

Trybus, K. M., Huiatt, T. W. & Lowey, S. A bent monomeric conformation of myosin from smooth muscle. Proc. Natl Acad. Sci. USA 79, 6151–6155 (1982).

13

Suzuki, H., Onishi, H., Takahashi, K. & Watanabe, S. Structure and function of chicken gizzard myosin. J. Biochem. 84, 1529–1542 (1978).

14

Verkhovsky, A. B., Svitkina, T. M. & Borisy, G. G. Myosin II filament assemblies in the active lamella of fibroblasts: their morphogenesis and role in the formation of actin filament bundles. J. Cell Biol. 131, 989–1002 (1995).

15

Fenix, A. M. et al. Expansion and concatenation of non-muscle myosin IIA filaments drive cellular contractile system formation during interphase and mitosis. Mol. Biol. Cell 27, 1465–1478 (2016).

16

Shiqiong, H. et al. Long-range self-organization of cytoskeletal myosin II filament stacks. Nat. Cell Biol. http://dx.doi.org/10.1038/ncb3466 (2017).

17

Beach, J. R. et al. Nonmuscle myosin II isoforms coassemble in living cells. Curr. Biol. 24, 1160–1166 (2014).

18

Li, D. et al. Extended-resolution structured illumination imaging of endocytic and cytoskeletal dynamics. Science 349, aab3500 (2015).

19

Suarez, C. et al. Profilin regulates F-actin network homeostasis by favoring formin over Arp2/3 complex. Dev. Cell 32, 43–53 (2015).

20

Rotty, J. D. et al. Profilin-1 serves as a gatekeeper for actin assembly by Arp2/3-dependent and -independent pathways. Dev. Cell 32, 54–67 (2015).

21

Suarez, C. & Kovar, D. R. Internetwork competition for monomers governs actin cytoskeleton organization. Nat. Rev. Mol. Cell Biol. 17, 799–810 (2016).

22

Murugesan, S. et al. Formin-generated actomyosin arcs propel T cell receptor microcluster movement at the immune synapse. J. Cell Biol. 215, 383–399 (2016).

23

Zhang, Y. et al. Mouse models of MYH9-related disease: mutations in nonmuscle myosin II-A. Blood 119, 238–250 (2012).

24

Shutova, M. S., Spessott, W. A., Giraudo, C. G. & Svitkina, T. Endogenous species of mammalian nonmuscle myosin IIA and IIB include activated monomers and heteropolymers. Curr. Biol. 24, 1958–1968 (2014).

25

Guo, M. et al. Probing the stochastic, motor-driven properties of the cytoplasm using force spectrum microscopy. Cell 158, 822–832 (2014).

26

Comrie, W. A., Babich, A. & Burkhardt, J. K. F-actin flow drives affinity maturation and spatial organization of LFA-1 at the immunological synapse. J. Cell Biol. 208, 475–491 (2015).

27

Chew, T. L., Wolf, W. A., Gallagher, P. J., Matsumura, F. & Chisholm, R. L. A fluorescent resonant energy transfer-based biosensor reveals transient and regional myosin light chain kinase activation in lamella and cleavage furrows. J. Cell Biol. 156, 543–553 (2002).

28

Totsukawa, G. et al. Distinct roles of ROCK (Rho-kinase) and MLCK in spatial regulation of MLC phosphorylation for assembly of stress fibers and focal adhesions in 3T3 fibroblasts. J. Cell Biol. 150, 797–806 (2000).

29

Newell-Litwa, K. A. et al. ROCK1 and 2 differentially regulate actomyosin organization to drive cell and synaptic polarity. J. Cell Biol. 210, 225–242 (2015).

30

Decker, B. & Kellermayer, M. S. Periodically arranged interactions within the myosin filament backbone revealed by mechanical unzipping. J. Mol. Biol. 377, 307–310 (2008).

31

Sinard, J. H., Stafford, W. F. & Pollard, T. D. The mechanism of assembly of Acanthamoeba myosin-II minifilaments: minifilaments assemble by three successive dimerization steps. J. Cell Biol. 109, 1537–1547 (1989).

32

Sinard, J. H. & Pollard, T. D. Acanthamoeba myosin-II minifilaments assemble on a millisecond time scale with rate constants greater than those expected for a diffusion limited reaction. J. Biol. Chem. 265, 3654–3660 (1990).

33

Luo, T. et al. Understanding the cooperative interaction between myosin II and actin cross-linkers mediated by actin filaments during mechanosensation. Biophys. J. 102, 238–247 (2012).

34

Mahajan, R. K., Vaughan, K. T., Johns, J. A. & Pardee, J. D. Actin filaments mediate Dictyostelium myosin assembly in vitro. Proc. Natl Acad. Sci. USA 86, 6161–6165 (1989).

35

Applegate, D. & Pardee, J. D. Actin-facilitated assembly of smooth muscle myosin induces formation of actomyosin fibrils. J. Cell Biol. 117, 1223–1230 (1992).

36

Mahajan, R. K. & Pardee, J. D. Assembly mechanism of Dictyostelium myosin II: regulation by K+, Mg2+, and actin filaments. Biochemistry 35, 15504–15514 (1996).

37

Ren, Y. et al. Mechanosensing through cooperative interactions between myosin II and the actin crosslinker cortexillin I. Curr. Biol. 19, 1421–1428 (2009).

38

Bockholt, S. M. & Burridge, K. An examination of focal adhesion formation and tyrosine phosphorylation in fibroblasts isolated from src-, fyn-, and yes- mice. Cell Adhes. Commun. 3, 91–100 (1995).
Acknowledgements
The authors thank X. Wu, J. Sellers, S. Heissler, N. Billington, A. Pasapera, M. Baird, V. Swaminathan, L. Greene, E. Eisenberg, A. Doyle, T. Egelhoff, L. Lavis, M. Gastinger, the NHLBI Flow Cytometry Core, and GE Deltavision for reagents, help with data acquisition and analysis, critical reading of the manuscript, and helpful discussions.
Ethics declarations
Competing interests
The authors declare no competing financial interests.
Integrated supplementary information
Supplementary information
About this article
Cite this article
Beach, J., Bruun, K., Shao, L. et al. Actin dynamics and competition for myosin monomer govern the sequential amplification of myosin filaments. Nat Cell Biol 19, 85–93 (2017). https://doi.org/10.1038/ncb3463
Received:

Accepted:

Published:

Issue Date: