Abstract
Multicellularity in animals requires dynamic maintenance of cell–cell contacts. Intercellularly ligated cadherins recruit numerous proteins to form supramolecular complexes that connect with the actin cytoskeleton and support force transmission. However, the molecular organization within such structures remains unknown. Here we mapped protein organization in cadherin-based adhesions by super-resolution microscopy, revealing a multi-compartment nanoscale architecture, with the plasma-membrane-proximal cadherin–catenin compartment segregated from the actin cytoskeletal compartment, bridged by an interface zone containing vinculin. Vinculin position is determined by α-catenin, and following activation, vinculin can extend ∼30 nm to bridge the cadherin–catenin and actin compartments, while modulating the nanoscale positions of the actin regulators zyxin and VASP. Vinculin conformational activation requires tension and tyrosine phosphorylation, regulated by Abl kinase and PTP1B phosphatase. Such modular architecture provides a structural framework for mechanical and biochemical signal integration by vinculin, which may differentially engage cadherin–catenin complexes with the actomyosin machinery to regulate cell adhesions.
Relevant articles
Open Access articles citing this article.
K. Sri-Ranjan

,

J. L. Sanchez-Alonso

…

Vania M. M. Braga

Nature Communications Open Access 17 August 2022

Cheng Zhang

,

Hongyuan Zhu

…

Min Lin

Nature Communications Open Access 28 October 2021

Stephanie A. Maynard

,

Charles W. Winter

…

Molly M. Stevens

Regenerative Engineering and Translational Medicine Open Access 20 November 2020
Access options
Subscribe to Journal
Get full journal access for 1 year
$99.00
only $8.25 per issue
All prices are NET prices.
VAT will be added later in the checkout.
Tax calculation will be finalised during checkout.
Buy article
Get time limited or full article access on ReadCube.
$32.00
All prices are NET prices.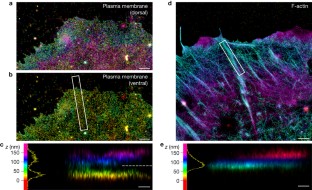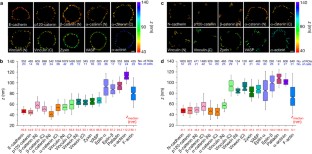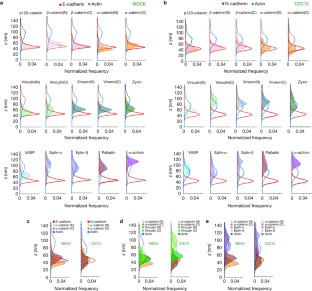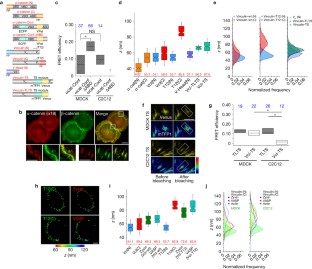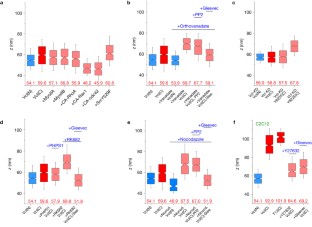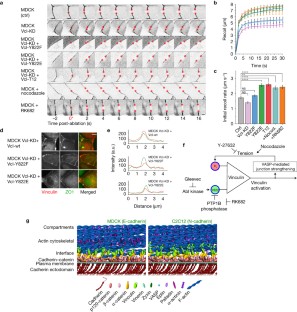 References
Heisenberg, C.-P. & Bellaïche, Y. Forces in tissue morphogenesis and patterning. Cell 153, 948–962 (2013).

Guillot, C. & Lecuit, T. Mechanics of epithelial tissue homeostasis and morphogenesis. Science 340, 1185–1189 (2013).

Lecuit, T. & Yap, A. S. E-cadherin junctions as active mechanical integrators in tissue dynamics. Nat. Cell Biol. 17, 533–539 (2015).

Takeichi, M. Dynamic contacts: rearranging adherens junctions to drive epithelial remodelling. Nat. Rev. Mol. Cell Biol. 15, 397–410 (2014).

Leerberg, J. M. et al. Tension-sensitive actin assembly supports contractility at the epithelial zonula adherens. Curr. Biol. 24, 1689–1699 (2014).

Leckband, D. & de Rooij, J. Cadherin adhesion and mechanotransduction. Annu. Rev. Cell Dev. Biol. 30, 291–315 (2014).

Niessen, C. M., Leckband, D. & Yap, A. S. Tissue organization by cadherin adhesion molecules: dynamic molecular and cellular mechanisms of morphogenetic regulation. Physiol. Rev. 91, 691–731 (2011).

Borghi, N. et al. E-cadherin is under constitutive actomyosin-generated tension that is increased at cell–cell contacts upon externally applied stretch. Proc. Natl Acad. Sci. USA 109, 12568–12573 (2012).

Kim, T. J. et al. Dynamic visualization of α-catenin reveals rapid, reversible conformation switching between tension states. Curr. Biol. 25, 218–224 (2015).

Bertocchi, C., Vaman Rao, M. & Zaidel-Bar, R. Regulation of adherens junction dynamics by phosphorylation switches. J. Signal Transduct. 2012, 125295 (2012).

Zaidel-Bar, R. Cadherin adhesome at a glance. J. Cell Sci. 126, 373–378 (2013).

Huang, B., Wang, W., Bates, M. & Zhuang, X. Three-dimensional super-resolution imaging by stochastic optical reconstruction microscopy. Science 319, 810–813 (2008).

Truong Quang, B. A., Mani, M., Markova, O., Lecuit, T. & Lenne, P. F. Principles of E-cadherin supramolecular organization in vivo. Curr. Biol. 23, 2197–2207 (2013).

Wu, Y., Kanchanawong, P. & Zaidel-Bar, R. Actin-delimited adhesion-independent clustering of e-cadherin forms the nanoscale building blocks of adherens junctions. Dev. Cell 32, 139–154 (2015).

Buckley, C. D. et al. Cell adhesion. The minimal cadherin-catenin complex binds to actin filaments under force. Science 346, 1254211 (2014).

Yonemura, S., Itoh, M., Nagafuchi, A. & Tsukita, S. Cell-to-cell adherens junction formation and actin filament organization: similarities and differences between non-polarized fibroblasts and polarized epithelial cells. J. Cell Sci. 108, 127–142 (1995).

Gavard, J. et al. Lamellipodium extension and cadherin adhesion: two cell responses to cadherin activation relying on distinct signalling pathways. J. Cell Sci. 117, 257–270 (2004).

Kanchanawong, P. et al. Nanoscale architecture of integrin-based cell adhesions. Nature 468, 580–584 (2010).

Shtengel, G. et al. Interferometric fluorescent super-resolution microscopy resolves 3D cellular ultrastructure. Proc. Natl Acad. Sci. USA 106, 3125–3130 (2009).

Ajo-Franklin, C. M., Ganesan, P. V. & Boxer, S. G. Variable incidence angle fluorescence interference contrast microscopy for z-imaging single objects. Biophys. J. 89, 2759–2769 (2005).

Paszek, M. J. et al. Scanning angle interference microscopy reveals cell dynamics at the nanoscale. Nat. Methods 9, 825–827 (2012).

Bertocchi, C., Goh, W. I., Zhang, Z. & Kanchanawong, P. Nanoscale imaging by superresolution fluorescence microscopy and its emerging applications in biomedical research. Crit. Rev. Biomed. Eng. 41, 281–308 (2013).

Yamada, S., Pokutta, S., Drees, F., Weis, W. I. & Nelson, W. J. Deconstructing the cadherin-catenin-actin complex. Cell 123, 889–901 (2005).

Kovacs, E. M., Goodwin, M., Ali, R. G., Paterson, A. D. & Yap, A. S. Cadherin-directed actin assembly: E-cadherin physically associates with the Arp2/3 complex to direct actin assembly in nascent adhesive contacts. Curr. Biol. 12, 379–382 (2002).

Strale, P.-O. et al. The formation of ordered nanoclusters controls cadherin anchoring to actin and cell–cell contact fluidity. J. Cell Biol. 210, 333–346 (2015).

Shim, S. H. et al. Super-resolution fluorescence imaging of organelles in live cells with photoswitchable membrane probes. Proc. Natl Acad. Sci. USA 109, 13978–13983 (2012).

Liu, J. et al. Talin determines the nanoscale architecture of focal adhesions. Proc. Natl Acad. Sci. USA 112, E4864–E4873 (2015).

Yonemura, S., Wada, Y., Watanabe, T., Nagafuchi, A. & Shibata, M. α-Catenin as a tension transducer that induces adherens junction development. Nat. Cell Biol. 12, 533–542 (2010).

Grashoff, C. et al. Measuring mechanical tension across vinculin reveals regulation of focal adhesion dynamics. Nature 466, 263–266 (2010).

Yao, M. et al. Force-dependent conformational switch of α-catenin controls vinculin binding. Nat. Commun. 5, 4525 (2014).

Peng, X., Nelson, E. S., Maiers, J. L. & DeMali, K. A. New insights into vinculin function and regulation. Int. Rev. Cell Mol. Biol. 287, 191–231 (2011).

Nagafuchi, A. & Tsukita, S. The loss of the expression of α catenin, the 102 kD cadherin associated protein, in central nervous tissues during development. Dev. Growth Differ. 36, 59–71 (1994).

Benjamin, J. M. et al. αE-catenin regulates actin dynamics independently of cadherin-mediated cell–cell adhesion. J. Cell Biol. 189, 339–352 (2010).

Sumida, G. M., Tomita, T. M., Shih, W. & Yamada, S. Myosin II activity dependent and independent vinculin recruitment to the sites of E-cadherin-mediated cell–cell adhesion. BMC Cell Biol. 12, 48 (2011).

Chen, H., Cohen, D. M., Choudhury, D. M., Kioka, N. & Craig, S. W. Spatial distribution and functional significance of activated vinculin in living cells. J. Cell Biol. 169, 459–470 (2005).

Cohen, D. M., Chen, H., Johnson, R. P., Choudhury, B. & Craig, S. W. Two distinct head-tail interfaces cooperate to suppress activation of vinculin by talin. J. Biol. Chem. 280, 17109–17117 (2005).

Milam, L. M. Electron microscopy of rotary shadowed vinculin and vinculin complexes. J. Mol. Biol. 184, 543–545 (1985).

Bays, J. L. et al. Vinculin phosphorylation differentially regulates mechanotransduction at cell–cell and cell–matrix adhesions. J. Cell Biol. 205, 251–263 (2014).

Nagar, B. et al. Crystal structures of the kinase domain of c-Abl in complex with the small molecule inhibitors PD173955 and imatinib (STI-571). Cancer Res. 62, 4236–4243 (2002).

Ukropec, J. A., Hollinger, M. K., Salva, S. M. & Woolkalis, M. J. SHP2 association with VE-cadherin complexes in human endothelial cells is regulated by thrombin. J. Biol. Chem. 275, 5983–5986 (2000).

Xu, G., Arregui, C., Lilien, J. & Balsamo, J. PTP1B modulates the association of β-catenin with N-cadherin through binding to an adjacent and partially overlapping target site. J. Biol. Chem. 277, 49989–49997 (2002).

Chang, Y.-C., Nalbant, P., Birkenfeld, J., Chang, Z.-F. & Bokoch, G. M. GEF-H1 couples nocodazole-induced microtubule disassembly to cell contractility via RhoA. Mol. Biol. Cell 19, 2147–2153 (2008).

Hara, Y., Shagirov, M. & Toyama, Y. Cell boundary elongation by non-autonomous contractility in cell oscillation. Curr. Biol. 26, 2388–2396 (2016).

Tsai, T. Y. et al. Robust, tunable biological oscillations from interlinked positive and negative feedback loops. Science 321, 126–129 (2008).

Peng, X., Maiers, J. L., Choudhury, D., Craig, S. W. & DeMali, K. A. α-Catenin uses a novel mechanism to activate vinculin. J. Biol. Chem. 287, 7728–7737 (2012).

Peng, X., Cuff, L. E., Lawton, C. D. & DeMali, K. A. Vinculin regulates cell-surface E-cadherin expression by binding to β-catenin. J. Cell Sci. 123, 567–577 (2010).

Critchley, D. R. Biochemical and structural properties of the integrin-associated cytoskeletal protein talin. Annu. Rev. Biophys. 38, 235–254 (2009).

Abe, K. & Takeichi, M. EPLIN mediates linkage of the cadherin catenin complex to F-actin and stabilizes the circumferential actin belt. Proc. Natl Acad. Sci. USA 105, 13–19 (2008).

Gingras, A. R. et al. Mapping and consensus sequence identification for multiple vinculin binding sites within the talin rod. J. Biol. Chem. 280, 37217–37224 (2005).

Engler, A. J., Sen, S., Sweeney, H. L. & Discher, D. E. Matrix elasticity directs stem cell lineage specification. Cell 126, 677–689 (2006).

Shtengel, G. et al. Imaging cellular ultrastructure by PALM, iPALM, and correlative iPALM-EM. Methods Cell Biol. 123, 273–294 (2014).

Thompson, R. E., Larson, D. R. & Webb, W. W. Precise nanometer localization analysis for individual fluorescent probes. Biophys. J. 82, 2775–2783 (2002).

Brown, T. A. et al. Superresolution fluorescence imaging of mitochondrial nucleoids reveals their spatial range, limits, and membrane interaction. Mol. Cell. Biol. 31, 4994–5010 (2011).

Betzig, E. et al. Imaging intracellular fluorescent proteins at nanometer resolution. Science 313, 1642–1645 (2006).

Thomas, W. A. et al. α-Catenin and vinculin cooperate to promote high E-cadherin-based adhesion strength. J. Biol. Chem. 288, 4957–4969 (2013).

Giannini, A. L., Vivanco, M. M. & Kypta, R. M. Analysis of β-catenin aggregation and localization using GFP fusion proteins: nuclear import of α-catenin by the β-catenin/Tcf complex. Exp. Cell Res. 255, 207–220 (2000).

Roczniak-Ferguson, A. & Reynolds, A. B. Regulation of p120-catenin nucleocytoplasmic shuttling activity. J. Cell Sci. 116, 4201–4212 (2003).

Ravasio, A. et al. Regulation of epithelial cell organization by tuning cell-substrate adhesion. Integr. Biol. 7, 1228–1241 (2015).

Hodgson, L., Nalbant, P., Shen, F. & Hahn, K. Imaging and photobleach correction of Mero-CBD, sensor of endogenous Cdc42 activation. Methods Enzymol 406, 140–156 (2006).

Jobin, C. M. et al. Receptor-regulated dynamic interaction between endothelial nitric oxide synthase and calmodulin revealed by fluorescence resonance energy transfer in living cells. Biochemistry 42, 11716–11725 (2003).

Hutson, M. S. et al. Forces for morphogenesis investigated with laser microsurgery and quantitative modeling. Science 300, 145–149 (2003).

Meijering, E., Dzyubachyk, O. & Smal, I. Methods for cell and particle tracking. Methods Enzymol. 504, 183–200 (2012).

Ravasio, A. et al. Gap geometry dictates epithelial closure efficiency. Nat. Commun. 6, 7683 (2015).
Acknowledgements
We thank C. Ajo-Franklin (Lawrence Berkeley National Laboratory), G. Shtengel and H. Hess (Howard Hughes Medical Institute, Janelia Research Campus) for generous help with super-resolution microscopy instrumentation and analysis. We thank H. Chen (Protein Expression Facility, Mechanobiology Institute, Singapore) for generation of mutant constructs, H. T. Ong and A. Sathe (Mechanobiology Institute) for assistance with FRET analysis, C. Zhang (Mechanobiology Institute) for assistance with 3D graphical model, and J. Yan (National University of Singapore) for critical reading of the manuscript. P.K., C.B., Y.Wang, A.R., T.S. and R.Z.-B. are supported by Singapore National Research Foundation Fellowship awarded to P.K. (NRF-NRFF-2011-04), R.Z.-B. (NRF-RF2009-RF001-074), and Competitive Research Programme (NRF2012NRF-CRP001-084) to P.K. and R.Z.-B. Y.T. is supported by Mechanobiology Institute and National University of Singapore Startup Grants, and a Singapore Ministry of Education Tier 2 grant (MOE2015-T2-1-116). B.L. is supported by the European Research Council under the European Union's Seventh Framework Programme (FP7/2007–2013/ERC grant agreement no. 617233), the Mechanobiology Institute, and the Institut Universitaire de France, and USPC-NUS funding. B.L. and R.-M.M. are also supported by CNRS, the Human Frontier Science Program (grant RGP0040/2012) and Agence Nationale de la Recherche (ANR 2010 Blan1515).
Ethics declarations
Competing interests
The authors declare no competing financial interests.
Integrated supplementary information
Supplementary information
About this article
Cite this article
Bertocchi, C., Wang, Y., Ravasio, A. et al. Nanoscale architecture of cadherin-based cell adhesions. Nat Cell Biol 19, 28–37 (2017). https://doi.org/10.1038/ncb3456
Received:

Accepted:

Published:

Issue Date:

DOI: https://doi.org/10.1038/ncb3456