Abstract
Chromosome missegregation into a micronucleus can cause complex and localized genomic rearrangements1,2 known as chromothripsis3, but the underlying mechanisms remain unresolved. Here we developed an inducible Y centromere-selective inactivation strategy by exploiting a CENP-A/histone H3 chimaera to directly examine the fate of missegregated chromosomes in otherwise diploid human cells. Using this approach, we identified a temporal cascade of events that are initiated following centromere inactivation involving chromosome missegregation, fragmentation, and re-ligation that span three consecutive cell cycles. Following centromere inactivation, a micronucleus harbouring the Y chromosome is formed in the first cell cycle. Chromosome shattering, producing up to 53 dispersed fragments from a single chromosome, is triggered by premature micronuclear condensation prior to or during mitotic entry of the second cycle. Lastly, canonical non-homologous end joining (NHEJ), but not homology-dependent repair, is shown to facilitate re-ligation of chromosomal fragments in the third cycle. Thus, initial errors in cell division can provoke further genomic instability through fragmentation of micronuclear DNAs coupled to NHEJ-mediated reassembly in the subsequent interphase.
Relevant articles
Open Access articles citing this article.
Maria Krivega

,

Jutta Zimmer

…

Thomas Strowitzki

Cell Death Discovery Open Access 23 May 2023

Yu-Fen Lin

,

Qing Hu

…

Peter Ly

Nature Open Access 10 May 2023

Stamatis Papathanasiou

,

Styliani Markoulaki

…

David Pellman

Nature Communications Open Access 06 October 2021
Access options
Subscribe to this journal
Receive 12 print issues and online access
$209.00 per year
only $17.42 per issue
Rent or buy this article
Get just this article for as long as you need it
$39.95
Prices may be subject to local taxes which are calculated during checkout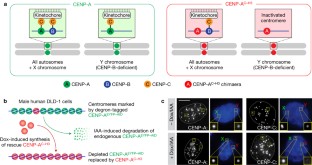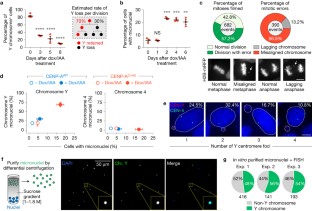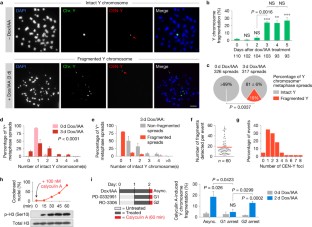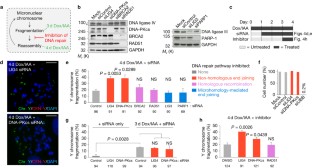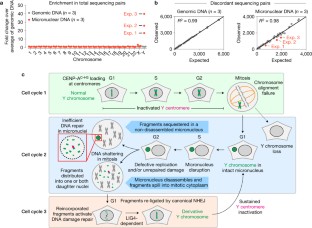 References
Tan, E. H. et al. Catastrophic chromosomal restructuring during genome elimination in plants. eLife 4, e06516 (2015).

Zhang, C.-Z. et al. Chromothripsis from DNA damage in micronuclei. Nature 522, 179–184 (2015).

Stephens, P. J. et al. Massive genomic rearrangement acquired in a single catastrophic event during cancer development. Cell 144, 27–40 (2011).

Janssen, A. et al. Chromosome segregation errors as a cause of DNA damage and structural chromosome aberrations. Science 333, 1895–1898 (2011).

Rausch, T. et al. Genome sequencing of pediatric medulloblastoma links catastrophic DNA rearrangements with TP53 mutations. Cell 148, 59–71 (2012).

Maciejowski, J., Li, Y., Bosco, N., Campbell, P. J. & de Lange, T. Chromothripsis and kataegis induced by telomere crisis. Cell 163, 1641–1654 (2015).

Mardin, B. R. et al. A cell-based model system links chromothripsis with hyperploidy. Mol. Syst. Biol. 11, 828–828 (2015).

Sabatinos, S. A., Ranatunga, N. S., Yuan, J.-P., Green, M. D. & Forsburg, S. L. Replication stress in early S phase generates apparent micronuclei and chromosome rearrangement in fission yeast. Mol. Biol. Cell 26, 3439–3450 (2015).

Crasta, K. et al. DNA breaks and chromosome pulverization from errors in mitosis. Nature 482, 53–58 (2012).

Holland, A. J. & Cleveland, D. W. Chromoanagenesis and cancer: mechanisms and consequences of localized, complex chromosomal rearrangements. Nat. Med. 18, 1630–1638 (2012).

Kato, H. & Sandberg, A. A. Chromosome pulverization in human cells with micronuclei. J. Natl Cancer Inst. 40, 165–179 (1968).

Orth, J. D., Loewer, A., Lahav, G. & Mitchison, T. J. Prolonged mitotic arrest triggers partial activation of apoptosis, resulting in DNA damage and p53 induction. Mol. Biol. Cell 23, 567–576 (2012).

Ganem, N. J. & Pellman, D. Linking abnormal mitosis to the acquisition of DNA damage. J. Cell Biol. 199, 871–881 (2012).

Dalton, W. B. et al. Human cancer cells commonly acquire DNA damage during mitotic arrest. Cancer Res. 67, 11487–11492 (2007).

Hayashi, M. T., Cesare, A. J., Fitzpatrick, J. A. J., Lazzerini-Denchi, E. & Karlseder, J. A telomere-dependent DNA damage checkpoint induced by prolonged mitotic arrest. Nat. Struct. Mol. Biol. 19, 387–394 (2012).

Klare, K. et al. CENP-C is a blueprint for constitutive centromere-associated network assembly within human kinetochores. J. Cell Biol. 210, 11–22 (2015).

Carroll, C. W., Milks, K. J. & Straight, A. F. Dual recognition of CENP-A nucleosomes is required for centromere assembly. J. Cell Biol. 189, 1143–1155 (2010).

Fachinetti, D. et al. DNA sequence-specific binding of CENP-B enhances the fidelity of human centromere function. Dev. Cell 33, 314–327 (2015).

Fachinetti, D. et al. A two-step mechanism for epigenetic specification of centromere identity and function. Nat. Cell Biol. 15, 1–13 (2013).

Logsdon, G. A. et al. Both tails and the centromere targeting domain of CENP-A are required for centromere establishment. J. Cell Biol. 208, 521–531 (2015).

Guse, A., Carroll, C. W., Moree, B., Fuller, C. J. & Straight, A. F. In vitro centromere and kinetochore assembly on defined chromatin templates. Nature 477, 354–358 (2011).

Masumoto, H., Masukata, H., Muro, Y., Nozaki, N. & Okazaki, T. A human centromere antigen (CENP-B) interacts with a short specific sequence in alphoid DNA, a human centromeric satellite. J. Cell Biol. 109, 1963–1973 (1989).

Earnshaw, W. C. et al. Molecular cloning of cDNA for CENP-B, the major human centromere autoantigen. J. Cell Biol. 104, 817–829 (1987).

Thompson, S. L. & Compton, D. A. Proliferation of aneuploid human cells is limited by a p53-dependent mechanism. J. Cell Biol. 188, 369–381 (2010).

Hinchcliffe, E. H. et al. Chromosome missegregation during anaphase triggers p53 cell cycle arrest through histone H3.3 Ser31 phosphorylation. Nat. Cell Biol. 18, 668–675 (2016).

Holland, A. J., Fachinetti, D., Han, J. S. & Cleveland, D. W. Inducible, reversible system for the rapid and complete degradation of proteins in mammalian cells. Proc. Natl Acad. Sci. USA 109, E3350–E3357 (2012).

Nishimura, K., Fukagawa, T., Takisawa, H., Kakimoto, T. & Kanemaki, M. An auxin-based degron system for the rapid depletion of proteins in nonplant cells. Nat. Methods 6, 917–922 (2009).

Jansen, L. E. T., Black, B. E., Foltz, D. R. & Cleveland, D. W. Propagation of centromeric chromatin requires exit from mitosis. J. Cell Biol. 176, 795–805 (2007).

Leach, N. T. & Jackson-Cook, C. Micronuclei with multiple copies of the X chromosome: do chromosomes replicate in micronuclei? Mutat. Res. 554, 89–94 (2004).

Shimizu, N., Kanda, T. & Wahl, G. M. Selective capture of acentric fragments by micronuclei provides a rapid method for purifying extrachromosomally amplified DNA. Nat. Genet. 12, 65–71 (1996).

Hatch, E. M., Fischer, A. H., Deerinck, T. J. & Hetzer, M. W. Catastrophic nuclear envelope collapse in cancer cell micronuclei. Cell 154, 47–60 (2013).

Terradas, M., Martín, M., Tusell, L. & Genescà, A. DNA lesions sequestered in micronuclei induce a local defective-damage response. DNA Rep. 8, 1225–1234 (2009).

Johnson, R. T. & Rao, P. N. Mammalian cell fusion: induction of premature chromosome condensation in interphase nuclei. Nature 226, 717–722 (1970).

Gavet, O., Gavet, O. & Pines, J. Activation of cyclin B1-Cdk1 synchronizes events in the nucleus and the cytoplasm at mitosis. J. Cell Biol. 189, 247–259 (2010).

Ceccaldi, R., Rondinelli, B. & D'Andrea, A. D. Repair pathway choices and consequences at the double-strand break. Trends Cell Biol. 26, 52–64 (2016).

Malhotra, A. et al. Breakpoint profiling of 64 cancer genomes reveals numerous complex rearrangements spawned by homology-independent mechanisms. Genome Res. 23, 762–776 (2013).

Kloosterman, W. P. et al. Constitutional chromothripsis rearrangements involve clustered double-stranded DNA breaks and nonhomologous repair mechanisms. Cell Rep. 1, 648–655 (2012).

Campbell, P. J. et al. Identification of somatically acquired rearrangements in cancer using genome-wide massively parallel paired-end sequencing. Nat. Genet. 40, 722–729 (2008).

Skaletsky, H. et al. The male-specific region of the human Y chromosome is a mosaic of discrete sequence classes. Nature 423, 825–837 (2003).

Ghezraoui, H. et al. Chromosomal translocations in human cells are generated by canonical nonhomologous end-joining. Mol. Cell 55, 829–842 (2014).

Martin, M. Cutadapt removes adapter sequences from high-throughput sequencing reads. EMBnet. J. 17, 10–12 (2011).

Langmead, B. & Salzberg, S. L. Fast gapped-read alignment with Bowtie 2. Nat. Methods 9, 357–359 (2012).

Li, H. et al. The Sequence Alignment/Map format and SAMtools. Bioinformatics 25, 2078–2079 (2009).
Acknowledgements
We thank K. Jepsen and the UC San Diego IGM Genomics Center (MCC P30 CA023100) for DNA library preparation and sequencing, A. Shiau, S. Dowdy, E. Hatch, M. Hetzer, X. Wu and T. Pyntikova (Whitehead Institute, USA) for providing reagents, D. Jenkins, I. Goyal and Y. Sun for technical assistance, and the UC San Diego School of Medicine Microscopy Core (NINDS P30 NS047101) for shared use of equipment. This work was funded by a grant from the NIH (GM029513) to D.W.C., who receives salary support from the Ludwig Institute for Cancer Research. D.C.P. is supported by the Howard Hughes Medical Institute and NIH (HG007852). P.L. was supported by a Cancer Cell Biology Training Grant from the NCI (5T32CA067754-18) and a Postdoctoral Fellowship from the Hope Funds for Cancer Research (HFCR-14-06-06).
Ethics declarations
Competing interests
The authors declare no competing financial interests.
Integrated supplementary information
Supplementary information
Supplementary Information (PDF 3075 kb)
Supplementary Information (XLSX 69 kb)
About this article
Cite this article
Ly, P., Teitz, L., Kim, D. et al. Selective Y centromere inactivation triggers chromosome shattering in micronuclei and repair by non-homologous end joining. Nat Cell Biol 19, 68–75 (2017). https://doi.org/10.1038/ncb3450
Received:

Accepted:

Published:

Issue Date:

DOI: https://doi.org/10.1038/ncb3450