Abstract
The asymmetric division of stem or progenitor cells generates daughters with distinct fates and regulates cell diversity during tissue morphogenesis. However, roles for asymmetric division in other more dynamic morphogenetic processes, such as cell migration, have not previously been described. Here we combine zebrafish in vivo experimental and computational approaches to reveal that heterogeneity introduced by asymmetric division generates multicellular polarity that drives coordinated collective cell migration in angiogenesis. We find that asymmetric positioning of the mitotic spindle during endothelial tip cell division generates daughters of distinct size with discrete 'tip' or 'stalk' thresholds of pro-migratory Vegfr signalling. Consequently, post-mitotic Vegfr asymmetry drives Dll4/Notch-independent self-organization of daughters into leading tip or trailing stalk cells, and disruption of asymmetry randomizes daughter tip/stalk selection. Thus, asymmetric division seamlessly integrates cell proliferation with collective migration, and, as such, may facilitate growth of other collectively migrating tissues during development, regeneration and cancer invasion.
Access options
Subscribe to Journal
Get full journal access for 1 year
$59.00
only $4.92 per issue
All prices are NET prices.
VAT will be added later in the checkout.
Tax calculation will be finalised during checkout.
Rent or Buy article
Get time limited or full article access on ReadCube.
from$8.99
All prices are NET prices.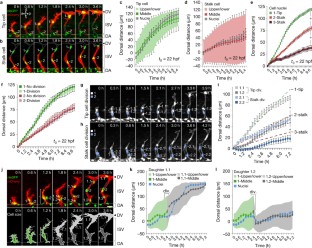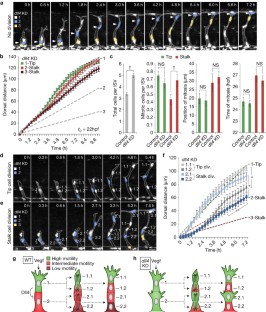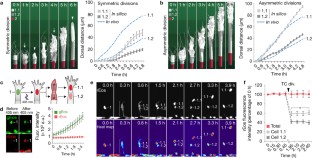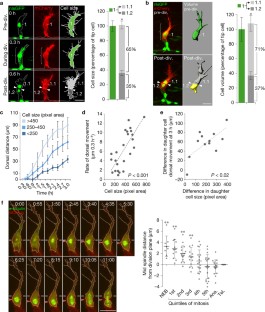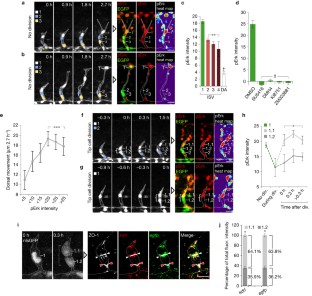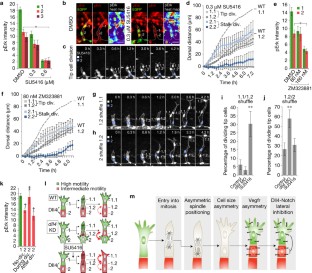 References
1

Carmeliet, P. & Jain, R. K. Molecular mechanisms and clinical applications of angiogenesis. Nature 473, 298–307 (2011).

2

Herbert, S. P. & Stainier, D. Y. R. Molecular control of endothelial cell behaviour during blood vessel morphogenesis. Nat. Rev. Mol. Cell Biol. 12, 551–564 (2011).

3

Gerhardt, H. et al. VEGF guides angiogenic sprouting utilizing endothelial tip cell filopodia. J. Cell Biol. 161, 1163–1177 (2003).

4

Ruhrberg, C. et al. Spatially restricted patterning cues provided by heparin-binding VEGF-A control blood vessel branching morphogenesis. Genes Dev. 16, 2684–2698 (2002).

5

Siekmann, A. F. & Lawson, N. D. Notch signalling limits angiogenic cell behaviour in developing zebrafish arteries. Nature 445, 781–784 (2007).

6

Hellström, M. et al. Dll4 signalling through Notch1 regulates formation of tip cells during angiogenesis. Nature 445, 776–780 (2007).

7

Benedito, R. et al. Notch-dependent VEGFR3 upregulation allows angiogenesis without VEGF-VEGFR2 signalling. Nature 484, 110–114 (2012).

8

Zarkada, G., Heinolainen, K., Makinen, T., Kubota, Y. & Alitalo, K. VEGFR3 does not sustain retinal angiogenesis without VEGFR2. Proc. Natl Acad. Sci. USA 112, 761–766 (2015).

9

Jakobsson, L. et al. Endothelial cells dynamically compete for the tip cell position during angiogenic sprouting. Nat. Cell Biol. 12, 943–953 (2010).

10

Arima, S. et al. Angiogenic morphogenesis driven by dynamic and heterogeneous collective endothelial cell movement. Development 138, 4763–4776 (2011).

11

Ausprunk, D. H. & Folkman, J. Migration and proliferation of endothelial cells in preformed and newly formed blood vessels during tumor angiogenesis. Microvasc. Res. 14, 53–65 (1977).

12

Schoors, S. et al. Fatty acid carbon is essential for dNTP synthesis in endothelial cells. Nature 520, 192–197 (2015).

13

Matsuda, M., Koga, M., Woltjen, K., Nishida, E. & Ebisuya, M. Synthetic lateral inhibition governs cell-type bifurcation with robust ratios. Nat. Commun. 6, 6195 (2015).

14

Bentley, K., Harrington, K. & Regan, E. Can active perception generate bistability? Heterogeneous collective dynamics and vascular patterning. ALIFE http://dx.doi.org/10.7551/978-0-262-32621-6-ch053 (2014).

15

Sauteur, L. et al. Cdh5/VE-cadherin promotes endothelial cell interface elongation via cortical actin polymerization during angiogenic sprouting. Cell Rep. 9, 504–513 (2014).

16

Zeng, G. et al. Orientation of endothelial cell division is regulated by VEGF signaling during blood vessel formation. Blood 109, 1345–1352 (2007).

17

Aydogan, V. et al. Endothelial cell division in angiogenic sprouts of differing cellular architecture. Biol. Open 4, 1259–1269 (2015).

18

Knoblich, J. A. Mechanisms of asymmetric stem cell division. Cell 132, 583–597 (2008).

19

Li, R. The art of choreographing asymmetric cell division. Dev. Cell 25, 439–450 (2013).

20

Bentley, K. et al. The role of differential VE-cadherin dynamics in cell rearrangement during angiogenesis. Nat. Cell Biol. 16, 309–321 (2014).

21

Villefranc, J. A. et al. A truncation allele in vascular endothelial growth factor c reveals distinct modes of signaling during lymphatic and vascular development. Development 140, 1497–1506 (2013).

22

Meissner, M. et al. Microtubule-targeted drugs inhibit VEGF receptor-2 expression by both transcriptional and post-transcriptional mechanisms. J. Invest. Dermatol. 128, 2084–2091 (2008).

23

Meissner, M. et al. Down-regulation of vascular endothelial growth factor receptor 2 is a major molecular determinant of proteasome inhibitor-mediated antiangiogenic action in endothelial cells. Cancer Res. 69, 1976–1984 (2009).

24

Murakami, M. et al. FGF-dependent regulation of VEGF receptor 2 expression in mice. J. Clin. Invest. 121, 2668–2678 (2011).

25

Mavria, G. et al. ERK-MAPK signaling opposes Rho-kinase to promote endothelial cell survival and sprouting during angiogenesis. Cancer Cell 9, 33–44 (2006).

26

Alavi, A., Hood, J. D., Frausto, R., Stupack, D. G. & Cheresh, D. A. Role of Raf in vascular protection from distinct apoptotic stimuli. Science 301, 94–96 (2003).

27

Shin, M. et al. Vegfa signals through ERK to promote angiogenesis, but not artery differentiation. Development 143, 3796–3805 (2016).

28

Shin, M. et al. Vegfc acts through ERK to induce sprouting and differentiation of trunk lymphatic progenitors. Development 143, 3785–3795 (2016).

29

Nagasawa-Masuda, A. & Terai, K. ERK activation in endothelial cells is a novel marker during neovasculogenesis. Genes Cells http://dx.doi.org/10.1111/gtc.12438 (2016).

30

Horowitz, A. & Seerapu, H. R. Regulation of VEGF signaling by membrane traffic. Cell. Signal. 24, 1810–1820 (2012).

31

Fielding, A. B., Willox, A. K., Okeke, E. & Royle, S. J. Clathrin-mediated endocytosis is inhibited during mitosis. Proc. Natl Acad. Sci. USA 109, 6572–6577 (2012).

32

Boucrot, E. & Kirchhausen, T. Endosomal recycling controls plasma membrane area during mitosis. Proc. Natl Acad. Sci. USA 104, 7939–7944 (2007).

33

Phng, L-K., Stanchi, F. & Gerhardt, H. Filopodia are dispensable for endothelial tip cell guidance. Development 140, 4031–4040 (2013).

34

Covassin, L. D., Villefranc, J. A., Kacergis, M. C., Weinstein, B. M. & Lawson, N. D. Distinct genetic interactions between multiple Vegf receptors are required for development of different blood vessel types in zebrafish. Proc. Natl Acad. Sci. USA 103, 6554–6559 (2006).

35

Bussmann, J., Lawson, N., Zon, L. & Schulte-Merker, S. Zebrafish Nomenclature Committee. Zebrafish VEGF receptors: a guideline to nomenclature. PLoS Genet. 4, e1000064 (2008).

36

Nicenboim, J. et al. Lymphatic vessels arise from specialized angioblasts within a venous niche. Nature 522, 56–61 (2015).

37

Koltowska, K. et al. Vegfc regulates bipotential precursor division and prox1 expression to promote lymphatic identity in zebrafish. Cell Rep. 13, 1828–1841 (2015).

38

Friedl, P. & Gilmour, D. Collective cell migration in morphogenesis, regeneration and cancer. Nat. Rev. Mol. Cell Biol. 10, 445–457 (2009).

39

Blum, Y. et al. Complex cell rearrangements during intersegmental vessel sprouting and vessel fusion in the zebrafish embryo. Dev. Biol. 316, 312–322 (2008).

40

Fukuhara, S. et al. Visualizing the cell-cycle progression of endothelial cells in zebrafish. Dev. Biol. 393, 10–23 (2014).

41

Jin, S. W. Cellular and molecular analyses of vascular tube and lumen formation in zebrafish. Development 132, 5199–5209 (2005).

42

Chi, N. C. et al. Foxn4 directly regulates tbx2b expression and atrioventricular canal formation. Genes Dev. 22, 734–739 (2008).

43

Herbert, S. P. et al. Arterial-venous segregation by selective cell sprouting: an alternative mode of blood vessel formation. Science 326, 294–298 (2009).

44

Herbert, S. P., Cheung, J. Y. M. & Stainier, D. Y. R. Determination of endothelial stalk versus tip cell potential during angiogenesis by H2.0-like Homeobox-1. Curr. Biol. 22, 1789–1794 (2012).

45

De Bock, K. et al. Role of PFKFB3-driven glycolysis in vessel sprouting. Cell 154, 651–663 (2013).

46

Steketee, M. B. & Tosney, K. W. Three functionally distinct adhesions in filopodia: shaft adhesions control lamellar extension. J. Neurosci. 22, 8071–8083 (2002).

47

Bentley, K., Gerhardt, H. & Bates, P. A. Agent-based simulation of notch-mediated tip cell selection in angiogenic sprout initialisation. J. Theor. Biol. 250, 25–36 (2008).

48

Le Guen, L. et al. Ccbe1 regulates Vegfc-mediated induction of Vegfr3 signaling during embryonic lymphangiogenesis. Development 141, 1239–1249 (2014).
Acknowledgements
We thank B. M. Hogan and N. D. Lawson for advice regarding the pErk staining protocol, and B. Plusa, M. Baron, K. Dorey, T. Millard and C. Thompson for critical reading of the manuscript. S.P.H. is a Wellcome Trust Research Career Development Fellow (Ref: 095718/Z/11/Z) and is funded by the BBSRC (Ref. BB/N013174/1) and BHF (PG/16/2/31863). K.B. is funded by BIDMC and NSF (Ref. 1517390). K.I.H. is supported by institutional training grant T32 HL07893 from the NHLBI of the NIH. S.C. is funded by NSF (Ref. 1517390).
Ethics declarations
Competing interests
The authors declare no competing financial interests.
Integrated supplementary information
Supplementary information
About this article
Cite this article
Costa, G., Harrington, K., Lovegrove, H. et al. Asymmetric division coordinates collective cell migration in angiogenesis. Nat Cell Biol 18, 1292–1301 (2016). https://doi.org/10.1038/ncb3443
Received:

Accepted:

Published:

Issue Date: