Despite being one of the most studied signalling pathways, precisely how phospholipid synthesis is regulated in the phosphoinositide signalling cascade remains unclear. The scaffold protein IQGAP1 is now shown to orchestrate the assembly of a multi-enzyme complex that streamlines PtdIns(3,4,5)P3 synthesis to facilitate Akt activation in response to extracellular stimuli.
Your institute does not have access to this article
Access options
Subscribe to Journal
Get full journal access for 1 year
$99.00
only $8.25 per issue
All prices are NET prices.
VAT will be added later in the checkout.
Tax calculation will be finalised during checkout.
Buy article
Get time limited or full article access on ReadCube.
$32.00
All prices are NET prices.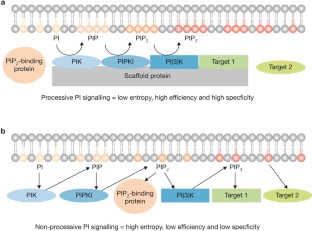 References
Mayer, B. J., Hirai, H. & Sakai, R. Curr. Biol. 5, 296–305 (1995).

Scott, M. P. & Miller, W. T. Biochemistry 39, 14531–14537 (2000).

Aoki, K., Takahashi, K., Kaizu, K. & Matsuda, M. Sci. Rep. 3, 1541 (2013).

Choi, S. et al. Nat. Cell Biol. 18, 1324–1335 (2016).

Kolay, S., Basu, U. & Raghu, P. Biochem. J. 473, 1681–1692 (2016).

Choi, S. et al. EMBO J. 32, 2617–2630 (2013).

Carpenter, C. L. et al. J. Biol. Chem. 265, 19704–19711 (1990).

Shisheva, A., Sbrissa, D. & Ikonomov, O. Bioessays 37, 267–277 (2015).

White, C. D., Erdemir, H. H. & Sacks, D. B. Cell. Signal. 24, 826–834 (2012).

Toker, A. & Rameh, L. Cancer Cell 28, 143–145 (2015).

Mandl, A., Sarkes, D., Carricaburu, V., Jung, V. & Rameh, L. Mol. Cell. Biol. 27, 8098–8112 (2007).

White, C. D., Brown, M. D. & Sacks, D. B. FEBS Lett. 583, 1817–1824 (2009).

Jameson, K. L. et al. Nat. Med. 19, 626–630 (2013).
Ethics declarations
Competing interests
The authors declare no competing financial interests.
About this article
Cite this article
Rameh, L., Mackey, A. IQGAP1 makes PI(3)K signalling as easy as PIP, PIP2, PIP3. Nat Cell Biol 18, 1263–1265 (2016). https://doi.org/10.1038/ncb3440
Published:

Issue Date:

DOI: https://doi.org/10.1038/ncb3440