Abstract
Transforming growth factor-β (TGF-β) induces the expression of Disabled-2 (Dab2), an endocytic adaptor and tumour suppressor, concomitant with the induction of an epithelial–mesenchymal transition (EMT) in mammary epithelial cells. Here we show that following TGF-β-mediated EMT, sustained TGF-β treatment leads to proteolytic degradation of Dab2 by cathepsin B (CTSB), loss of the mesenchymal phenotype and induction of autophagy. CTSB inhibition or expression of a CTSB-resistant Dab2 mutant maintains Dab2 expression and shifts long-term TGF-β-treated cells from autophagy to apoptosis. We further show that Dab2 interacts with Beclin-1 to promote casein-kinase-2-mediated phosphorylation of Beclin-1, preventing Beclin-1–Vps34 interaction and subsequent autophagosome assembly. Thus, CTSB-mediated degradation of Dab2 allows Beclin-1–Vps34 induction of autophagy, whereas sustained Dab2 expression prevents autophagy and promotes apoptosis by stabilizing the pro-apoptotic Bim protein. In vivo studies suggest that Dab2-mediated regulation of autophagy modulates chemotherapeutic resistance and tumour metastasis.
Access options
Subscribe to Journal
Get full journal access for 1 year
$225.00
only $18.75 per issue
All prices are NET prices.
VAT will be added later in the checkout.
Rent or Buy article
Get time limited or full article access on ReadCube.
from$8.99
All prices are NET prices.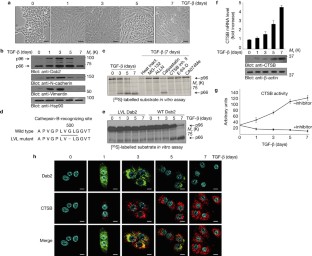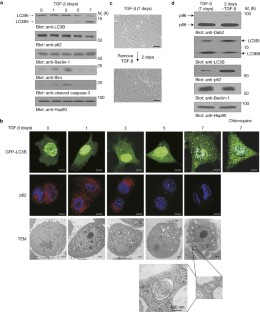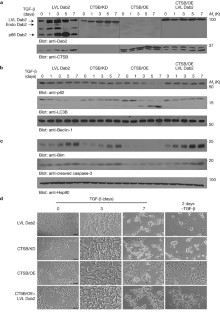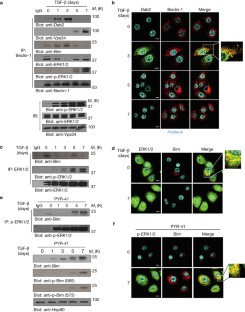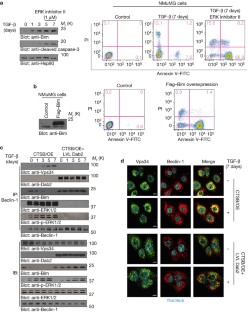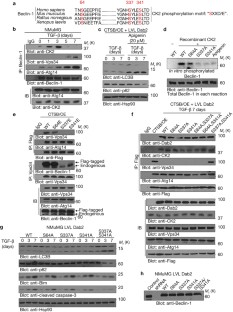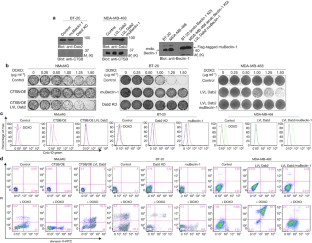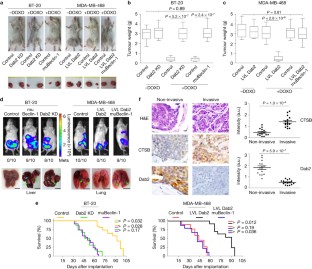 References
1

Massague, J. TGFβ in cancer. Cell 134, 215–230 (2008).

2

Fischer, K. R. et al. Epithelial-to-mesenchymal transition is not required for lung metastasis but contributes to chemoresistance. Nature 527, 472–476 (2015).

3

Zheng, X. et al. Epithelial-to-mesenchymal transition is dispensable for metastasis but induces chemoresistance in pancreatic cancer. Nature 527, 525–530 (2015).

4

Chaffer, C. L. & Weinberg, R. A. A perspective on cancer cell metastasis. Science 331, 1559–1564 (2011).

5

Suzuki, H. I., Kiyono, K. & Miyazono, K. Regulation of autophagy by transforming growth factor-β (TGF-β) signaling. Autophagy 6, 645–647 (2010).

6

Avalos, Y. et al. Tumor suppression and promotion by autophagy. BioMed Res. Int. 2014, 603980 (2014).

7

Gozuacik, D. & Kimchi, A. Autophagy as a cell death and tumor suppressor mechanism. Oncogene 23, 2891–2906 (2004).

8

Degenhardt, K. et al. Autophagy promotes tumor cell survival and restricts necrosis, inflammation, and tumorigenesis. Cancer Cell 10, 51–64 (2006).

9

Hannigan, A. et al. Epigenetic downregulation of human disabled homolog 2 switches TGF-β from a tumor suppressor to a tumor promoter. J. Clin. Invest. 120, 2842–2857 (2010).

10

Chaudhury, A. et al. TGF-β-mediated phosphorylation of hnRNP E1 induces EMT via transcript-selective translational induction of Dab2 and ILEI. Nat. Cell Biol. 12, 286–293 (2010).

11

O'Connor, L. et al. Bim: a novel member of the Bcl-2 family that promotes apoptosis. EMBO J. 17, 384–395 (1998).

12

Edinger, A. L. & Thompson, C. B. Death by design: apoptosis, necrosis and autophagy. Curr. Opin. Cell Biol. 16, 663–669 (2004).

13

Xu, X. X., Yang, W., Jackowski, S. & Rock, C. O. Cloning of a novel phosphoprotein regulated by colony-stimulating factor 1 shares a domain with the Drosophila disabled gene product. J. Biol. Chem. 270, 14184–14191 (1995).

14

Mizushima, N., Yoshimori, T. & Levine, B. Methods in mammalian autophagy research. Cell 140, 313–326 (2010).

15

Luciano, F. et al. Phosphorylation of Bim-EL by Erk1/2 on serine 69 promotes its degradation via the proteasome pathway and regulates its proapoptotic function. Oncogene 22, 6785–6793 (2003).

16

Jiang, Y., He, X. & Howe, P. H. Disabled-2 (Dab2) inhibits Wnt/β-catenin signalling by binding LRP6 and promoting its internalization through clathrin. EMBO J. 31, 2336–2349 (2012).

17

Pinna, L. A. Protein kinase CK2: a challenge to canons. J. Cell Sci. 115, 3873–3878 (2002).

18

Itakura, E., Kishi, C., Inoue, K. & Mizushima, N. Beclin 1 forms two distinct phosphatidylinositol 3-kinase complexes with mammalian Atg14 and UVRAG. Mol. Biol. Cell 19, 5360–5372 (2008).

19

Matsunaga, K. et al. Two Beclin 1-binding proteins, Atg14L and Rubicon, reciprocally regulate autophagy at different stages. Nat. Cell Biol. 11, 385–396 (2009).

20

Simonsen, A. & Tooze, S. A. Coordination of membrane events during autophagy by multiple class III PI3-kinase complexes. J. Cell Biol. 186, 773–782 (2009).

21

Kim, J. et al. Differential regulation of distinct Vps34 complexes by AMPK in nutrient stress and autophagy. Cell 152, 290–303 (2013).

22

Dote, H. et al. Aberrant promoter methylation in human DAB2 interactive protein (hDAB2IP) gene in breast cancer. Clin. Cancer Res. 10, 2082–2089 (2004).

23

Podgorski, I. & Sloane, B. F. Cathepsin B and its role(s) in cancer progression. Biochem. Soc. Symp. 70, 263–276 (2003).

24

Sinha, A. A., Jamuar, M. P., Wilson, M. J., Rozhin, J. & Sloane, B. F. Plasma membrane association of cathepsin B in human prostate cancer: biochemical and immunogold electron microscopic analysis. Prostate 49, 172–184 (2001).

25

Sloane, B. F. Cathepsin B and cystatins: evidence for a role in cancer progression. Semin. Cancer Biol. 1, 137–152 (1990).

26

Werle, B., Jülke, B., Lah, T., Spiess, E. & Ebert, W. Cathepsin B fraction active at physiological pH of 7.5 is of prognostic significance in squamous cell carcinoma of human lung. Br. J. Cancer 75, 1137–1143 (1997).

27

Linebaugh, B. E., Sameni, M., Day, N. A., Sloane, B. F. & Keppler, D. Exocytosis of active cathepsin B enzyme activity at pH 7.0, inhibition and molecular mass. Eur. J. Biochem. 264, 100–109 (1999).

28

Mort, J. S., Recklies, A. D. & Poole, A. R. Extracellular presence of the lysosomal proteinase cathepsin B in rheumatoid synovium and its activity at neutral pH. Arthritis Rheum. 27, 509–515 (1984).
Acknowledgements
We thank G. Hussey, B. Howley, T. Smith and other members of our laboratory for helpful comments and critical insights. We are very grateful to B. Levine (Center for Autophagy Research, University of Texas Southwestern Medical Center, USA) for providing us with Beclin-1 constructs. The work was supported in part by the Flow Cytometry & Cell Sorting, Molecular Imaging, Small Animal Imaging, and the Gene Targeting and Knockout Shared Resources, Hollings Cancer Center, Medical University of South Carolina (P30CA138313). Our study used the services of the MUSC Center for Oral Health Research (COHR), which is partially supported by the National Institute of General Medicine grant P30GM103331. This work was also supported by grants CA555536 and CA154664 from the National Cancer Institute to P.H.H.
Ethics declarations
Competing interests
The authors declare no competing financial interests.
Integrated supplementary information
Supplementary information
Supplementary Information (PDF 10805 kb)
Supplementary Information (XLSX 32 kb)
About this article
Cite this article
Jiang, Y., Woosley, A., Sivalingam, N. et al. Cathepsin-B-mediated cleavage of Disabled-2 regulates TGF-β-induced autophagy. Nat Cell Biol 18, 851–863 (2016). https://doi.org/10.1038/ncb3388
Received:

Accepted:

Published:

Issue Date: