Although known to induce cellular senescence, an important tumour suppressor mechanism, mutation of CDKN1A — the gene encoding p21 (also known as WAF1 or CIP1) — is rare in human cancers. Now, a study reports a previously unappreciated oncogenic effect of p21 overexpression that shapes cancer genome evolution through induction of replication stress.
This is a preview of subscription content
Access options
Subscribe to Journal
Get full journal access for 1 year
$99.00
only $8.25 per issue
All prices are NET prices.
VAT will be added later in the checkout.
Tax calculation will be finalised during checkout.
Buy article
Get time limited or full article access on ReadCube.
$32.00
All prices are NET prices.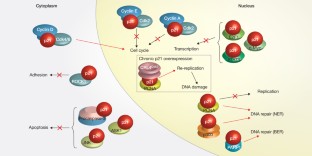 References
Warfel, N. A. & El-Deiry, W. S. Curr. Opin. Oncol. 25, 52–58 (2013).

Romanov, V. S., Pospelov, V. A. & Pospelova, T. V. Biochemistry (Mosc) 77, 575–584 (2012).

Li, T. et al. Cell 149, 1269–1283 (2012).

Viale, A. et al. Nature 457, 51–56 (2009).

Marhenke, S. et al. Gut 63, 1501–1512 (2014).

Abbas, T. & Dutta, A. Nat. Rev. Cancer 9, 400–414 (2009).

Galanos, P. et al. Nat. Cell Biol. 18, 777–789 (2016).

Mailand, N., Gibbs-Seymour, I. & Bekker-Jensen, S. Nat. Rev. Mol. Cell Biol. 14, 269–282 (2013).

Dutto, I., Tillhon, M., Cazzalini, O., Stivala, L. A. & Prosperi, E. Arch. Toxicol. 89, 155–178 (2015).

Burrell, R. A. et al. Nature 494, 492–496 (2013).

Alderton, F., Humphrey, P. P. & Sellers, L. A. Mol. Pharmacol. 59, 1119–1128 (2001).

Rudalska, R. et al. Nat. Med. 20, 1138–1146 (2014).

Choudhury, A. R. et al. Nat. Genet. 39, 99–105 (2007).

Jaiswal, S. et al. N. Engl. J. Med. 371, 2488–2498 (2014).

Martincorena, I. et al. Science 348, 880–886 (2015).
Ethics declarations
Competing interests
The authors declare no competing financial interests.
About this article
Cite this article
Romanov, V., Rudolph, K. p21 shapes cancer evolution. Nat Cell Biol 18, 722–724 (2016). https://doi.org/10.1038/ncb3382
Published:

Issue Date:

DOI: https://doi.org/10.1038/ncb3382
Further reading
Arindam Bandyopadhyay
Bishnupada Roy
Ansuman Chattopadhyay

The Nucleus (2020)

Martin Chevrier
Diwakar Bobbala
Subburaj Ilangumaran

BMC Cancer (2017)