Abstract
Maloriented chromosomes can evade the spindle assembly checkpoint and generate aneuploidy, a common feature of tumorigenesis1,2,3,4. But chromosome missegregation in non-transformed cells triggers a p53-dependent fail-safe mechanism that blocks proliferation of normal cells that inadvertently become aneuploid5,6. How this fail-safe is triggered is not known7,8. Here we identify a conserved feedback mechanism that monitors missegregating chromosomes during anaphase through the differential phosphorylation of histone H3.3 at Ser319. We do this by inducing transient chromosome missegregation in diploid cells10. During anaphase, H3.3 Ser31 is phosphorylated along the arms of lagging or misaligned chromosomes. Within minutes, Ser31 phosphorylation (Ser31P) spreads to all of the chromatids of both daughter cells, which persists into G1. Masking H3.3 Ser31P by antibody microinjection prevents nuclear p53 accumulation in the aneuploid daughters. Previous work demonstrated that prolonged prometaphase and DNA damage during abnormal mitosis can activate p5311,12,13,14,15. We show that p53 activation in response to chromosome missegregation can occur without prolonged mitosis or DNA damage. Our study provides insight into how aneuploidy caused by chromosome missegregation is normally monitored and suppressed.
Your institute does not have access to this article
Relevant articles
Open Access articles citing this article.
Daniel Jeffery

,

Alberto Gatto

…

Geneviève Almouzni

Communications Biology Open Access 26 March 2021

David Sitbon

,

Ekaterina Boyarchuk

…

Geneviève Almouzni

Nature Communications Open Access 09 March 2020

Samuel Rogers

,

Rachael A. McCloy

…

Andrew Burgess

Oncogene Open Access 10 May 2018
Access options
Subscribe to Journal
Get full journal access for 1 year
$99.00
only $8.25 per issue
All prices are NET prices.
VAT will be added later in the checkout.
Tax calculation will be finalised during checkout.
Buy article
Get time limited or full article access on ReadCube.
$32.00
All prices are NET prices.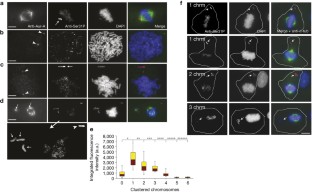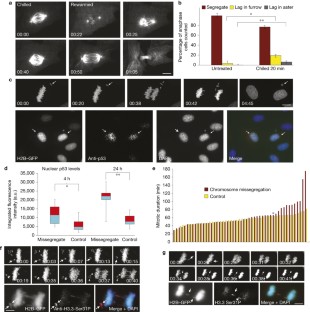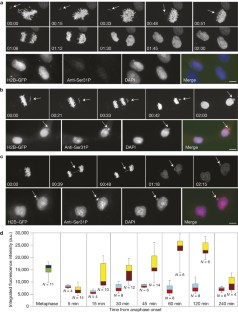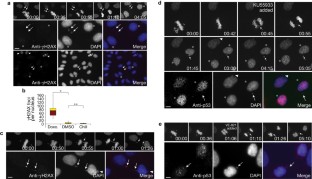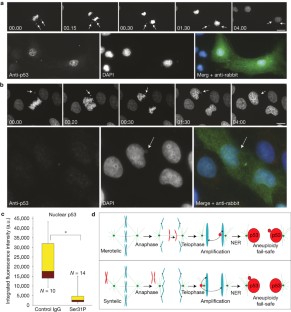 References
Dick, A. E. & Gerlich, D. W. Kinetic framework of spindle assembly checkpoint signalling. Nat. Cell Biol. 15, 1370–1377 (2013).

London, N. & Biggins, S. Signaling dynamics in the spindle checkpoint response. Nat. Rev. Cell Mol. Biol. 360, 553–568 (2014).

Bakhoum, S. F., Thompson, S. L., Manning, A. L. & Compton, D. A. Genome stability is ensured by temporal control of kinetochore–microtubule dynamics. Nat. Cell Biol. 11, 27–35 (2009).

Bakhoum, S. F. et al. The mitotic origin of chromosomal instability. Curr. Biol. 24, R148–R149 (2014).

Lanni, J. S. & Jacks, T. Characterization of the p53-dependent post-mitotic checkpoint following spindle disruption. Mol. Cell Biol. 18, 1055–1064 (1998).

Thompson, S. L. & Compton, D. A. Proliferation of aneuploid human cells is limited by a p53-dependent mechanism. J. Cell. Biol. 188, 369–381 (2010).

Ganem, N. J. & Pellman, D. Linking abnormal mitosis to the acquisition of DNA damage. J. Cell. Biol. 199, 871–881 (2012).

Hinchcliffe, E. H. Centrosomes and the art of mitotic spindle maintenance. Int. Rev. Cell Mol. Biol. 13, 179–218 (2014).

Hake, S. B. et al. Serine 31 phosphorylation of histone variant H3.3 is specific to regions bordering centromeres in metaphase chromosomes. Proc. Natl Acad. Sci. USA 102, 6344–6349 (2005).

Kasuboski, J. M. et al. Zwint-1 is a novel Aurora B substrate required for the assembly of a dynein-binding platform on kinetochores. Mol. Biol. Cell. 22, 3318–3330 (2011).

Rieder, C. L. & Maiato, H. Stuck in division or passing through: what happens when cells cannot satisfy the spindle assembly checkpoint. Dev. Cell 7, 637–651 (2004).

Uetake, Y. & Sluder, G. Prolonged prometaphase blocks daughter cell proliferation despite normal completion of mitosis. Curr. Biol. 20, 1666–1671 (2010).

Janssen, A., van der Burg, M., Szuhai, K., Kops, G. J. P. L. & Medema, R. H. Chromosome segregation errors as a cause of DNA damage and structural chromosome aberrations. Science 333, 1895–1898 (2011).

Hayashi, M. T., Cesare, A. J., Fitzpatrick, J. A., Lazzerini-Denchi, E. & Karlseder, J. A telomere-dependent DNA damage checkpoint induced by prolonged mitosis arrest. Nat. Struct. Mol. Biol. 19, 387–394 (2012).

Crasta, K. et al. DNA breaks and chromosome pulverization from errors in mitosis. Nature 482, 53–58 (2012).

Subramanian, R. & Kapoor, T. M. Slipping past the spindle assembly checkpoint. Nat. Cell Biol. 15, 1261–1263 (2013).

Lončarek, J. et al. The centromere geometry essential for keeping mitosis error free is controlled by spindle forces. Nature 450, 745–749 (2007).

Wang, F. et al. Haspin inhibitors reveal centromeric functions of Aurora B in chromosome segregation. J. Cell Biol. 199, 251–268 (2012).

Wang, F. et al. Histone H3 Thr-3 phosphorylation by haspin positions Aurora B at centromeres in mitosis. Science 330, 231–235 (2010).

Guse, A., Carroll, C. W., Moree, B., Fuller, C. J. & Straight, A. F. In vitro centromere and kinetochore assembly on defined chromatin templates. Nature 477, 354–358 (2011).

Fukagawa, T. & Earnshaw, W. C. The centromere: chromatin foundation for the kinetochore machinery. Dev. Cell. 30, 496–508 (2014).

Tagami, H., Ray-Gallet, D., Almouzni, G. & Nakatani, Y. Histone H3.1 and H3.3 complexes mediate nucleosome assembly pathways dependent or independent of DNA synthesis. Cell 116, 51–61 (2004).

Elsässer, S. J. et al. DAXX envelops an H3.3–H4 dimer for H3.3-specific recognition. Nature 491, 560–565 (2012).

Jang, C. W., Shibata, Y., Starmer, J., Yee, D. & Magnuson, T. Histone H3.3 maintains genome integrity during mammalian development. Genes Dev. 29, 1377–1392 (2015).

Pfau, S. J. & Amon, A. Chromosomal instability and aneuploidy in cancer: from yeast to man. EMBO Rep. 13, 515–527 (2012).

Rigaudy, P. & Eckhart, W. Nucleotide sequence of a cDNA encoding the monkey cellular phosphoprotein p53. Nucleic Acids Res. 17, 8375 (1989).

Hornick, J. E. et al. Amphiastral mitotic spindle assembly in vertebrate cells lacking centrosomes. Curr. Biol. 21, 598–605 (2011).

Chang, N.-S. et al. 17 β-estradiol upregulates and activates WOX1/WWOXv1 and WOX2/WWOXv2 in vitro: potential role in cancerous progression of breast and prostate to a premetastatic state in vivo. Oncogene 24, 714–723 (2005).

Durcan, T. et al. Tektin 2 is required for central spindle microtubule organization and the completion of cytokinesis. J. Cell. Biol. 181, 595–603 (2008).

Bode, A. M. & Dong, Z. Post-translational modification of p53 in tumorigenesis. Nat. Rev. Cancer 4, 793–805 (2004).

Thompson, S. L. & Compton, D. A. Chromosome missegregation in human cells arises through specific types of kinetochore–microtubule attachment errors. Proc. Natl Acad. Sci. USA 108, 17974–17978 (2011).

Vagnarelli, P. D. et al. Condensin and Repo-Man-PP1 co-operate in the regulation of chromosome architecture during mitosis. Nat. Cell Biol. 8, 1133–1142 (2006).

You, Z., Balis, J. M., Johnson, S. A., Dilworth, S. M. & Hunter, T. Rapid activation of ATM on DNA flanking double-strand breaks. Nat. Cell Biol. 9, 1311–1318 (2007).

Reaper, P. M. et al. Selective killing of ATM- or p53-deficient cancer cells through inhibition of ATR. Nat. Chem. Biol. 7, 428–430 (2011).

Maze, I., Noh, K. M., Soshnev, A. A. & Allis, C. D. Every amino acid matters: essential contributions of histone variants to mammalian development and disease. Nat. Rev. Genet. 15, 259–271 (2014).

Chang, F. T. et al. CHK1-driven histone H3.3 serine 31 phosphorylation is important for chromatin maintenance and cell survival in human ALT cancer cells. Nucleic Acids Res. 43, 2603–2614 (2015).

Simanshu, D. K. et al. Non-vesicular trafficking by a ceramide-1-phosphate transfer protein regulates eicosanoids. Nature 500, 463–468 (2013).

Hinchcliffe, E. H., Thompson, E. A., Miller, F. J., Yang, J. & Sluder, G. Nucleo-cytoplasmic interactions in control of nuclear envelope breakdown and entry into mitosis in the sea urchin zygote. J. Cell Sci. 112, 737–746 (1999).

Gorbsky, G. J., Chen, R.-H. & Murray, A. W. Microinjection of antibody to Mad2 protein into mammalian cell in mitosis induces premature anaphase. J. Cell Biol. 141, 1193–1205 (1998).
Acknowledgements
S.F. was supported by the Hormel Institute SURE programme. This work was supported by the Hormel Foundation, Austin 'Paint the Town Pink', US Department of Defense (CDMRP) grant CA130436 to E.H.H. and National Institutes of Health grant R01 CA166011 to Z.D.
Ethics declarations
Competing interests
The authors declare no competing financial interests.
Integrated supplementary information
Supplementary information
About this article
Cite this article
Hinchcliffe, E., Day, C., Karanjeet, K. et al. Chromosome missegregation during anaphase triggers p53 cell cycle arrest through histone H3.3 Ser31 phosphorylation. Nat Cell Biol 18, 668–675 (2016). https://doi.org/10.1038/ncb3348
Received:

Accepted:

Published:

Issue Date:

DOI: https://doi.org/10.1038/ncb3348