Contact sites between the endoplasmic reticulum and the plasma membrane mediate receptor signalling. How this function is controlled physically and functionally is poorly understood. Extended synaptotagmins are now shown to shuttle the lipid metabolite diacylglycerol from the plasma membrane to the endoplasmic reticulum in receptor-stimulated cells.
Access options
Subscribe to Journal
Get full journal access for 1 year
$99.00
only $8.25 per issue
All prices are NET prices.
VAT will be added later in the checkout.
Tax calculation will be finalised during checkout.
Buy article
Get time limited or full article access on ReadCube.
$32.00
All prices are NET prices.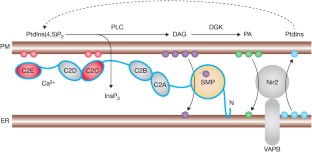 References
Hu, J., Prinz, W. A. & Rapoport, T. A. Cell 147, 1226–1231 (2011).

Vance, J. E. Traffic 16, 1–18 (2015).

Phillips, M. J. & Voeltz, G. K. Nat. Rev. Mol. Cell Biol. 17, 69–82 (2016).

Henne, W. M., Liou, J. & Emr, S. D. Curr. Opin. Cell Biol. 35, 123–130 (2015).

Carrasco, S. & Meyer, T. Annu. Rev. Biochem. 80, 973–1000 (2011).

Berridge, M. J. Biochim. Biophys. Acta 1793, 933–940 (2009).

Saheki, Y. et al. Nat. Cell Biol. 18, 504–515 (2016).

Giordano, F. et al. Cell 153, 1494–1509 (2013).

Sudhof, T. C. Neuron 80, 675–690 (2013).

Idevall-Hagren, O., Lu, A., Xie, B. & De Camilli, P. EMBO J. 34, 2291–2305 (2015).

Schauder, C. M. et al. Nature 510, 552–555 (2014).

Alva, V. & Lupas, A. N. Biochim Biophys Acta http://dx.doi.org/10.1016/j.bbalip.2016.01.016 (2016).

Kim, Y. J., Guzman-Hernandez, M. L., Wisniewski, E. & Balla, T. Dev. Cell 33, 549–561 (2015).

Manford, A. G., Stefan, C. J., Yuan, H. L., Macgurn, J. A. & Emr, S. D. Dev Cell 23, 1129–1140 (2012).
Ethics declarations
Competing interests
The authors declare no competing financial interests.
About this article
Cite this article
Krauβ, M., Haucke, V. Directing lipid transport at membrane contact sites. Nat Cell Biol 18, 461–463 (2016). https://doi.org/10.1038/ncb3345
Published:

Issue Date:

DOI: https://doi.org/10.1038/ncb3345