A powerful combination of two-colour imaging in vivo, Fourier-filtered kymography and simulations provides a high-resolution view of kinesin-2 transport dynamics in cilia. This study reveals heterotrimeric kinesin-II as an 'obstacle-course runner' and homodimeric OSM-3 (KIF17) as a 'long-distance runner', and elucidates the 'baton handoff' between these two kinesin-2 motors on the microtubule track.
This is a preview of subscription content
Access options
Subscribe to Journal
Get full journal access for 1 year
$99.00
only $8.25 per issue
All prices are NET prices.
VAT will be added later in the checkout.
Tax calculation will be finalised during checkout.
Buy article
Get time limited or full article access on ReadCube.
$32.00
All prices are NET prices.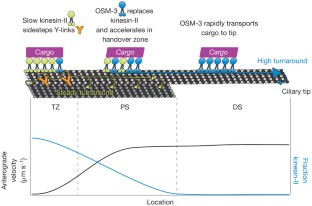 References
Rosenbaum, J. L. & Witman, G. B. Nat. Rev. Mol. Cell Biol. 3, 813–825 (2002).

Snow, J. J. et al. Nat. Cell Biol. 6, 1109–1113 (2004).

Prevo, B. et al. Nat. Cell Biol. 17, 1536–1545 (2015).

Mallik, R. et al. Trends Cell Biol. 23, 575–582 (2013).

Perkins, L. A., Hedgecock, E. M., Thomson, J. N. & Culotti, J. G. Dev. Biol. 117, 456–487 (1986).

Reiter, J. F., Blacque, O. E. & Leroux, M. R. EMBO Rep. 13, 608–618 (2012).

Hoeprich, G. J. et al. Biophys. J. 106, 1691–1700 (2014).

Burghoorn, J. et al. Proc. Natl Acad. Sci. USA 104, 7157–7162 (2007).

Liang, Y. et al. Dev. Cell 30, 585–597 (2014).

Williams, C. L. et al. Nat. Commun. 5, 5813 (2014).

O'Hagan, R. et al. Curr. Biol. 21, 1685–1694 (2011).

Ou, G. et al. Nature 436, 583–587 (2005).

Morsci, N. S. & Barr, M. M. Curr. Biol. 21, 1239–1244 (2011).

Jenkins, P. M. et al. Curr. Biol. 16, 1211–1216 (2006).

Jiang, L. et al. Faseb J. http://dx.doi.org/10.1096/fj.15-275677 (2015).

Niwa, S. Anat. Sci. Int. 90, 1–6 (2015).
Acknowledgements
The authors are supported by NJCSCR grant CSCR15IRG014 (R.O.) and NIH grants DK059418 and DK074746 (M.B.).
Ethics declarations
Competing interests
The authors declare no competing financial interests.
About this article
Cite this article
O'Hagan, R., Barr, M. A motor relay on ciliary tracks. Nat Cell Biol 17, 1517–1519 (2015). https://doi.org/10.1038/ncb3279
Published:

Issue Date:

DOI: https://doi.org/10.1038/ncb3279