Abstract
Cells test the rigidity of the extracellular matrix by applying forces to it through integrin adhesions. Recent measurements show that these forces are applied by local micrometre-scale contractions, but how contraction force is regulated by rigidity is unknown. Here we performed high temporal- and spatial-resolution tracking of contractile forces by plating cells on sub-micrometre elastomeric pillars. We found that actomyosin-based sarcomere-like contractile units (CUs) simultaneously moved opposing pillars in net steps of ∼2.5 nm, independent of rigidity. What correlated with rigidity was the number of steps taken to reach a force level that activated recruitment of α-actinin to the CUs. When we removed actomyosin restriction by depleting tropomyosin 2.1, we observed larger steps and higher forces that resulted in aberrant rigidity sensing and growth of non-transformed cells on soft matrices. Thus, we conclude that tropomyosin 2.1 acts as a suppressor of growth on soft matrices by supporting proper rigidity sensing.
Relevant articles
Open Access articles citing this article.
Matteo Chighizola

,

Tania Dini

…

Carsten Schulte

Journal of Nanobiotechnology Open Access 19 September 2022

Pamela Swiatlowska

&

Thomas Iskratsch

Biophysical Reviews Open Access 05 September 2021

Biophysical Reviews Open Access 27 August 2021
Access options
Subscribe to Journal
Get full journal access for 1 year
$99.00
only $8.25 per issue
All prices are NET prices.
VAT will be added later in the checkout.
Tax calculation will be finalised during checkout.
Buy article
Get time limited or full article access on ReadCube.
$32.00
All prices are NET prices.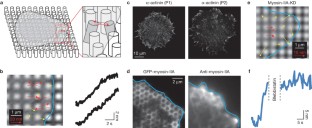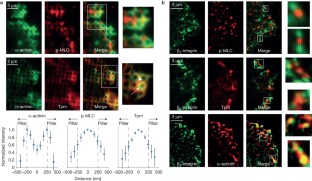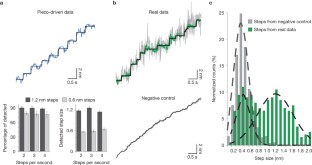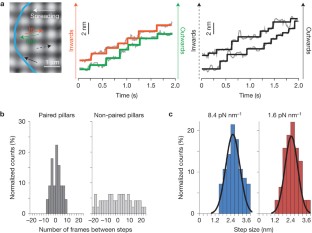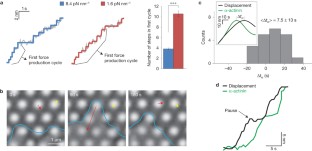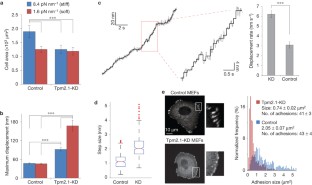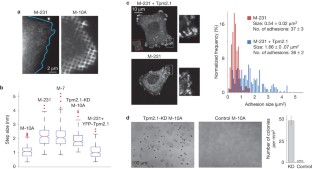 References
Wang, H. B., Dembo, M. & Wang, Y. L. Substrate flexibility regulates growth and apoptosis of normal but not transformed cells. Am. J. Physiol. Cell Physiol. 279, C1345–C1350 (2000).

Engler, A. J., Sen, S., Sweeney, H. L. & Discher, D. E. Matrix elasticity directs stem cell lineage specification. Cell 126, 677–689 (2006).

Ingber, D. E. Mechanobiology and diseases of mechanotransduction. Ann. Med. 35, 564–577 (2003).

Jaalouk, D. E. & Lammerding, J. Mechanotransduction gone awry. Nat. Rev. Mol. Cell Biol. 10, 63–73 (2009).

Freedman, V. H. & Shin, S. I. Cellular tumorigenicity in nude mice: correlation with cell growth in semi-solid medium. Cell 3, 355–359 (1974).

Stoker, M., O'Neill, C., Berryman, S. & Waxman, V. Anchorage and growth regulation in normal and virus-transformed cells. Int. J. Cancer 3, 683–693 (1968).

Vogel, V. & Sheetz, M. P. Cell fate regulation by coupling mechanical cycles to biochemical signaling pathways. Curr. Opin. Cell Biol. 21, 38–46 (2009).

Plotnikov, S. V., Pasapera, A. M., Sabass, B. & Waterman, C. M. Force fluctuations within focal adhesions mediate ECM-rigidity sensing to guide directed cell migration. Cell 151, 1513–1527 (2012).

Ghassemi, S. et al. Cells test substrate rigidity by local contractions on submicrometer pillars. Proc. Natl Acad. Sci. USA 109, 5328–5333 (2012).

Chan, C. E. & Odde, D. J. Traction dynamics of filopodia on compliant substrates. Science 322, 1687–1691 (2008).

Elosegui-Artola, A. et al. Rigidity sensing and adaptation through regulation of integrin types. Nat. Mater. 13, 631–637 (2014).

Choquet, D., Felsenfeld, D. P. & Sheetz, M. P. Extracellular matrix rigidity causes strengthening of integrin-cytoskeleton linkages. Cell 88, 39–48 (1997).

Jiang, G., Huang, A. H., Cai, Y., Tanase, M. & Sheetz, M. P. Rigidity sensing at the leading edge through αvβ3 integrins and RPTPα. Biophys. J. 90, 1804–1809 (2006).

Geeves, M. A., Hitchcock-DeGregori, S. E. & Gunning, P. W. A systematic nomenclature for mammalian tropomyosin isoforms. J. Muscle Res. Cell Motil. 36, 147–153 (2015).

Roca-Cusachs, P. et al. Integrin-dependent force transmission to the extracellular matrix by α-actinin triggers adhesion maturation. Proc. Natl Acad. Sci. USA 110, E1361–E1370 (2013).

Burkholder, T. J. & Lieber, R. L. Sarcomere length operating range of vertebrate muscles during movement. J. Exp. Biol. 204, 1529–1536 (2001).

Spudich, J. A., Huxley, H. E. & Finch, J. T. Regulation of skeletal muscle contraction. II. Structural studies of the interaction of the tropomyosin-troponin complex with actin. J. Mol. Biol. 72, 619–632 (1972).

Fischer, R. S., Fritz-Six, K. L. & Fowler, V. M. Pointed-end capping by tropomodulin3 negatively regulates endothelial cell motility. J. Cell Biol. 161, 371–380 (2003).

Giannone, G. et al. Periodic lamellipodial contractions correlate with rearward actin waves. Cell 116, 431–443 (2004).

Dubin-Thaler, B. J., Giannone, G., Dobereiner, H. G. & Sheetz, M. P. Nanometer analysis of cell spreading on matrix-coated surfaces reveals two distinct cell states and STEPs. Biophys. J. 86, 1794–1806 (2004).

Cai, Y. et al. Nonmuscle myosin IIA-dependent force inhibits cell spreading and drives F-actin flow. Biophys. J. 91, 3907–3920 (2006).

Niederman, R. & Pollard, T. D. Human platelet myosin. II. In vitro assembly and structure of myosin filaments. J. Cell Biol. 67, 72–92 (1975).

Schevzov, G., Whittaker, S. P., Fath, T., Lin, J. J. & Gunning, P. W. Tropomyosin isoforms and reagents. Bioarchitecture 1, 135–164 (2011).

Cox, S. et al. Bayesian localization microscopy reveals nanoscale podosome dynamics. Nat. Methods 9, 195–200 (2012).

Verkhovsky, A. B., Svitkina, T. M. & Borisy, G. G. Myosin II filament assemblies in the active lamella of fibroblasts: their morphogenesis and role in the formation of actin filament bundles. J. Cell Biol. 131, 989–1002 (1995).

Sweeney, H. L. & Houdusse, A. Structural and functional insights into the Myosin motor mechanism. Ann. Rev. Biophys. 39, 539–557 (2010).

Kaya, M. & Higuchi, H. Stiffness, working stroke, and force of single-myosin molecules in skeletal muscle: elucidation of these mechanical properties via nonlinear elasticity evaluation. Cell. Mol. Life Sci. 70, 4275–4292 (2013).

Gelles, J., Schnapp, B. J. & Sheetz, M. P. Tracking kinesin-driven movements with nanometre-scale precision. Nature 331, 450–453 (1988).

Little, M. A. et al. Steps and bumps: precision extraction of discrete states of molecular machines. Biophys. J. 101, 477–485 (2011).

Kuo, S. C., Gelles, J., Steuer, E. & Sheetz, M. P. A model for kinesin movement from nanometer-level movements of kinesin and cytoplasmic dynein and force measurements. J. Cell Sci. Suppl. 14, 135–138 (1991).

Svoboda, K., Schmidt, C. F., Schnapp, B. J. & Block, S. M. Direct observation of kinesin stepping by optical trapping interferometry. Nature 365, 721–727 (1993).

Kaya, M. & Higuchi, H. Nonlinear elasticity and an 8-nm working stroke of single myosin molecules in myofilaments. Science 329, 686–689 (2010).

Jiang, G., Giannone, G., Critchley, D. R., Fukumoto, E. & Sheetz, M. P. Two-piconewton slip bond between fibronectin and the cytoskeleton depends on talin. Nature 424, 334–337 (2003).

Perz-Edwards, R. J. et al. X-ray diffraction evidence for myosin-troponin connections and tropomyosin movement during stretch activation of insect flight muscle. Proc. Natl Acad. Sci. USA 108, 120–125 (2011).

Wu, S. et al. Electron tomography of cryofixed, isometrically contracting insect flight muscle reveals novel actin-myosin interactions. PLoS ONE 5, e12643 (2010).

Prager-Khoutorsky, M. et al. Fibroblast polarization is a matrix-rigidity-dependent process controlled by focal adhesion mechanosensing. Nat. Cell Biol. 13, 1457–1465 (2011).

Prasad, G. L., Fuldner, R. A. & Cooper, H. L. Expression of transduced tropomyosin 1 cDNA suppresses neoplastic growth of cells transformed by the ras oncogene. Proc. Natl Acad. Sci. USA 90, 7039–7043 (1993).

Raval, G. N. et al. Loss of expression of tropomyosin-1, a novel class II tumor suppressor that induces anoikis, in primary breast tumors. Oncogene 22, 6194–6203 (2003).

Bhattacharya, B., Prasad, G. L., Valverius, E. M., Salomon, D. S. & Cooper, H. L. Tropomyosins of human mammary epithelial cells: consistent defects of expression in mammary carcinoma cell lines. Cancer Res. 50, 2105–2112 (1990).

Piazzesi, G. et al. Skeletal muscle performance determined by modulation of number of myosin motors rather than motor force or stroke size. Cell 131, 784–795 (2007).

Kad, N. M., Kim, S., Warshaw, D. M., VanBuren, P. & Baker, J. E. Single-myosin crossbridge interactions with actin filaments regulated by troponin-tropomyosin. Proc. Natl Acad. Sci. USA 102, 16990–16995 (2005).

Liu, X. & Pollack, G. H. Stepwise sliding of single actin and myosin filaments. Biophys. J. 86, 353–358 (2004).

Debold, E. P., Patlak, J. B. & Warshaw, D. M. Slip sliding away: load-dependence of velocity generated by skeletal muscle myosin molecules in the laser trap. Biophys. J. 89, L34–L36 (2005).

Walcott, S., Fagnant, P. M., Trybus, K. M. & Warshaw, D. M. Smooth muscle heavy meromyosin phosphorylated on one of its two heads supports force and motion. J. Biol. Chem. 284, 18244–18251 (2009).

Fusi, L., Brunello, E., Reconditi, M., Piazzesi, G. & Lombardi, V. The non-linear elasticity of the muscle sarcomere and the compliance of myosin motors. J. Physiology 592, 1109–1118 (2014).

Luo, W. et al. Analysis of the local organization and dynamics of cellular actin networks. J. Cell Biol. 202, 1057–1073 (2013).

Erdmann, T. & Schwarz, U. S. Stochastic force generation by small ensembles of myosin II motors. Physical Rev. Lett. 108, 188101 (2012).

Kovacs, M., Thirumurugan, K., Knight, P. J. & Sellers, J. R. Load-dependent mechanism of nonmuscle myosin 2. Proc. Natl Acad. Sci. USA 104, 9994–9999 (2007).

Hai, C. M. & Murphy, R. A. Cross-bridge phosphorylation and regulation of latch state in smooth muscle. Am. J. Physiol. 254, C99–C106 (1988).

Hai, C. M. & Murphy, R. A. Regulation of shortening velocity by cross-bridge phosphorylation in smooth muscle. Am. J. Physiol. 255, C86–C94 (1988).

Galbraith, C. G., Yamada, K. M. & Sheetz, M. P. The relationship between force and focal complex development. J. Cell Biol. 159, 695–705 (2002).

Mahadev, K. et al. Suppression of the transformed phenotype of breast cancer by tropomyosin-1. Exp. Cell Res. 279, 40–51 (2002).

Wolfenson, H., Bershadsky, A., Henis, Y. I. & Geiger, B. Actomyosin-generated tension controls the molecular kinetics of focal adhesions. J. Cell Sci. 124, 1425–1432 (2011).

Lavelin, I. et al. Differential effect of actomyosin relaxation on the dynamic properties of focal adhesion proteins. PLoS ONE 8, e73549 (2013).

Moore, S. W., Roca-Cusachs, P. & Sheetz, M. P. Stretchy proteins on stretchy substrates: the important elements of integrin-mediated rigidity sensing. Dev. Cell 19, 194–206 (2010).

Su, J., Muranjan, M. & Sap, J. Receptor protein tyrosine phosphatase alpha activates Src-family kinases and controls integrin-mediated responses in fibroblasts. Curr. Biol. 9, 505–511 (1999).

Edelstein, A., Amodaj, N., Hoover, K., Vale, R. & Stuurman, N. Computer control of microscopes using microManager. Curr. Protoc. Mol. Biol. 92, 14.20.11–14.20.17 (2010).

Schnapp, B. J., Gelles, J. & Sheetz, M. P. Nanometer-scale measurements using video light microscopy. Cell Motil. Cytoskeleton 10, 47–53 (1988).

Savitzky, A. & Golay, M. J. E. Smoothing + differentiation of data by simplified least squares procedures. Analytical Chem. 36, 1627 (1964).

Cox, S. et al. Bayesian localization microscopy reveals nanoscale podosome dynamics. Nat. Methods 9, 195–200 (2012).
Acknowledgements
We thank all of the members of the Sheetz laboratory for their help, in particular to S. Moore and N. Biais for experimental support and helpful comments on the manuscript. We thank E. Rosten (University of Cambridge, Cambridge, UK) for the technical support during the 3B imaging analysis. We thank J. Fernandez (Columbia University) for helpful discussions about step detection. This work was financially supported by a National Institutes of Health (NIH) grant 'Analysis of 120 nm local contractions linked to rigidity sensing' (1 R01 GM100282-01), and by the NIH Common Fund Nanomedicine programme (PN2 EY016586). H.W. was supported by a Marie Curie International Outgoing Fellowship within the Seventh European Commission Framework Programme (PIOF-GA-2012-332045). T.I. was supported by a Postdoctoral Fellowship from the American Heart Association. M.P.S. was partially supported by the Mechanobiology Institute, National University of Singapore.
Ethics declarations
Competing interests
The authors declare no competing financial interests.
Integrated supplementary information
Supplementary information
About this article
Cite this article
Wolfenson, H., Meacci, G., Liu, S. et al. Tropomyosin controls sarcomere-like contractions for rigidity sensing and suppressing growth on soft matrices. Nat Cell Biol 18, 33–42 (2016). https://doi.org/10.1038/ncb3277
Received:

Accepted:

Published:

Issue Date:

DOI: https://doi.org/10.1038/ncb3277