Abstract
In contrast to planes, three-dimensional (3D) structures such as tubes are physically anisotropic. Tubular organs exhibit a striking orientation of landmarks according to the physical anisotropy of the 3D shape1,2,3,4, in addition to planar cell polarization5,6. However, the influence of 3D tissue topography on the constituting cells remains underexplored7,8,9. Here, we identify a regulatory network polarizing cellular biochemistry according to the physical anisotropy of the 3D tube geometry (tube cell polarization) by a genome-wide, tissue-specific RNAi screen. During Drosophila airway remodelling, each apical cellular junction is equipotent to establish perpendicular actomyosin cables, irrespective of the longitudinal or transverse tube axis. A dynamic transverse enrichment of atypical protein kinase C (aPKC) shifts the balance and transiently targets activated small GTPase RhoA, myosin phosphorylation and Rab11 vesicle trafficking to longitudinal junctions. We propose that the PAR complex translates tube physical anisotropy into longitudinal junctional anisotropy, where cell–cell communication aligns the contractile cytoskeleton of neighbouring cells.
Relevant articles
Open Access articles citing this article.
Matthias Behr

&

Dietmar Riedel

Scientific Reports Open Access 07 August 2020

Vasilios Tsarouhas

,

Dan Liu

…

Christos Samakovlis

Nature Communications Open Access 16 May 2019

Federico Sabbadin

,

Glyn R. Hemsworth

…

Simon J. McQueen-Mason

Nature Communications Open Access 22 February 2018
Access options
Subscribe to this journal
Receive 12 print issues and online access
$209.00 per year
only $17.42 per issue
Rent or buy this article
Get just this article for as long as you need it
$39.95
Prices may be subject to local taxes which are calculated during checkout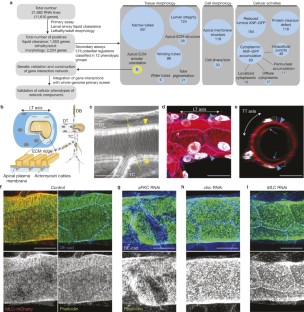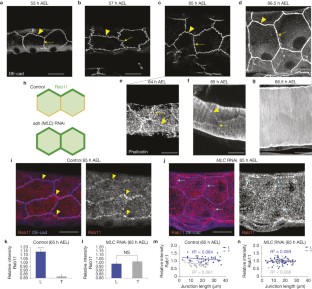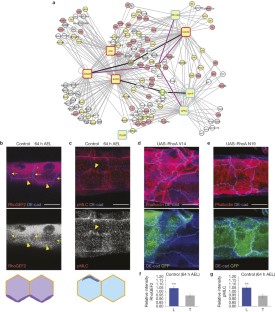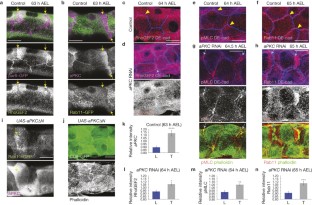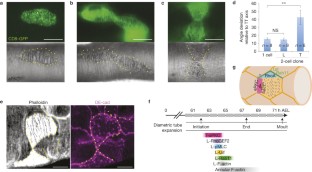 References
Matusek, T. et al. The Drosophila formin DAAM regulates the tracheal cuticle pattern through organizing the actin cytoskeleton. Development 133, 957–966 (2006).

Drenckhahn, D. & Wagner, J. Stress fibers in the splenic sinus endothelium in situ—molecular-structure, relationship to the extracellular-matrix, and contractility. J. Cell Biol. 102, 1738–1747 (1986).

Miller, L. A. et al. Role of Sonic hedgehog in patterning of tracheal-bronchial cartilage and the peripheral lung. Dev. Dyn. 231, 57–71 (2004).

Tang, N., Marshall, W. F., McMahon, M., Metzger, R. J. & Martin, G. R. Control of mitotic spindle angle by the RAS-regulated ERK1/2 pathway determines lung tube shape. Science 333, 342–345 (2011).

Vladar, E. K., Bayly, R. D., Sangoram, A. M., Scott, M. P. & Axelrod, J. D. Microtubules enable the planar cell polarity of airway cilia. Curr. Biol. 22, 2203–2212 (2012).

Goodrich, L. V. & Strutt, D. Principles of planar polarity in animal development. Development 138, 1877–1892 (2011).

Schwartz, M. A. & Chen, C. S. Deconstructing dimensionality. Science 339, 402–404 (2013).

Rangamani, P. et al. Decoding information in cell shape. Cell 154, 1356–1369 (2013).

Vogel, V. & Sheetz, M. Local force and geometry sensing regulate cell functions. Nat. Rev. Mol. Cell Biol. 7, 265–275 (2006).

Lubarsky, B. & Krasnow, M. A. Tube morphogenesis: making and shaping biological tubes. Cell 112, 19–28 (2003).

Krauss-Etschmann, S. et al. Of flies, mice and men: a systematic approach to understanding the early life origins of chronic lung disease. Thorax 68, 380–384 (2013).

Nelson, W. J. Remodeling epithelial cell organization: transitions between front-rear and apical-basal polarity. Cold Spring Harb. Perspect. Biol. 1 (2009) http://dx.doi.org/10.1101/cshperspect.a000513.

Heisenberg, C. P. & Bellaiche, Y. Forces in tissue morphogenesis and patterning. Cell 153, 948–962 (2013).

Shyer, A. E. et al. Villification: how the gut gets its Villi. Science 342, 212–218 (2013).

Samakovlis, C. et al. Development of the Drosophila tracheal system occurs by a series of morphologically distinct but genetically coupled branching events. Development 122, 1395–1407 (1996).

Tsarouhas, V. et al. Sequential pulses of apical epithelial secretion and endocytosis drive airway maturation in Drosophila. Dev. Cell 13, 214–225 (2007).

Matsuda, R., Hosono, C., Saigo, K. & Samakovlis, C. The intersection of the extrinsic hedgehog and WNT/wingless signals with the intrinsic Hox code underpins branching pattern and tube shape diversity in the Drosophila airways. PLoS Genet. 11, e1004929 (2015).

Shiga, Y., TanakaMatakatsu, M. & Hayashi, S. A nuclear GFP beta-galactosidase fusion protein as a marker for morphogenesis in living Drosophila. Dev. Growth Differ. 38, 99–106 (1996).

Mummery-Widmer, J. L. et al. Genome-wide analysis of Notch signalling in Drosophila by transgenic RNAi. Nature 458, 987–992 (2009).

Schnorrer, F. et al. Systematic genetic analysis of muscle morphogenesis and function in Drosophila. Nature 464, 287–291 (2010).

Beitel, G. J. & Krasnow, M. A. Genetic control of epithelial tube size in the Drosophila tracheal system. Development 127, 3271–3282 (2000).

Glasheen, B. M., Robbins, R. M., Piette, C., Beitel, G. J. & Page-McCaw, A. A matrix metalloproteinase mediates airway remodeling in Drosophila. Dev. Biol. 344, 772–783 (2010).

Leckband, D. Formin' cables under stress. Nat. Cell Biol. 15, 345–346 (2013).

Tepass, U. The apical polarity protein network in Drosophila epithelial cells: regulation of polarity, junctions, morphogenesis, cell growth, and survival. Annu. Rev. Cell Dev. Biol. 28, 655–685 (2012).

Simoes, S. D. et al. Rho-kinase directs bazooka/Par-3 planar polarity during Drosophila axis elongation. Dev. Cell 19, 377–388 (2010).

Lanzetti, L. Actin in membrane trafficking. Curr. Opin. Cell Biol. 19, 453–458 (2007).

Welz, T., Wellbourne-Wood, J. & Kerkhoff, E. Orchestration of cell surface proteins by Rab11. Trends Cell Biol. 24, 407–415 (2014).

Ridley, A. J. & Hall, A. The small GTP-binding protein rho regulates the assembly of focal adhesions and actin stress fibers in response to growth factors. Cell 70, 389–399 (1992).

Amano, M. et al. Formation of actin stress fibers and focal adhesions enhanced by Rho-kinase. Science 275, 1308–1311 (1997).

Levayer, R., Pelissier-Monier, A. & Lecuit, T. Spatial regulation of Dia and Myosin-II by RhoGEF2 controls initiation of E-cadherin endocytosis during epithelia morphogenesis. Nat. Cell Biol. 13, 734–734 (2011).

Warrington, S. J., Strutt, H. & Strutt, D. The Frizzled-dependent planar polarity pathway locally promotes E-cadherin turnover via recruitment of RhoGEF2. Development 140, 1045–1054 (2013).

Betschinger, J., Mechtler, K. & Knoblich, J. A. The Par complex directs asymmetric cell division by phosphorylating the cytoskeletal protein Lgl. Nature 422, 326–330 (2003).

Niewiadomska, P., Godt, D. & Tepass, U. DE-Cadherin is required for intercellular motility during Drosophila oogenesis. J. Cell Biol. 144, 533–547 (1999).

Zhang, L. & Ward, R. E. uninflatable encodes a novel ectodermal apical surface protein required for tracheal inflation in Drosophila. Dev. Biol. 336, 201–212 (2009).

St Johnston, D. & Ahringer, J. Cell polarity in eggs and epithelia: parallels and diversity. Cell 141, 757–774 (2010).

Djiane, A., Yogev, S. & Mlodzik, M. The apical determinants aPKC and dPatj regulate Frizzled-dependent planar cell polarity in the Drosophila eye. Cell 121, 621–631 (2005).

Roper, K. Anisotropy of crumbs and aPKC drives myosin cable assembly during tube formation. Dev. Cell 23, 939–953 (2012).

Nelson, K. S. et al. Drosophila Src regulates anisotropic apical surface growth to control epithelial tube size. Nat. Cell Biol. 14, 518–525 (2012).

Forster, D. & Luschnig, S. Src42A-dependent polarized cell shape changes mediate epithelial tube elongation in Drosophila. Nat. Cell Biol. 14, 526–534 (2012).

Lee, T. & Luo, L. Q. Mosaic analysis with a repressible cell marker for studies of gene function in neuronal morphogenesis. Neuron 22, 451–461 (1999).

Chou, T. B. & Perrimon, N. The autosomal FLP-DFS technique for generating germline mosaics in Drosophila melanogaster. Genetics 144, 1673–1679 (1996).

Jones, T. A. & Metzstein, M. M. A novel function for the PAR complex in subcellular morphogenesis of tracheal terminal cells in Drosophila melanogaster. Genetics 189, 153–164 (2011).
Acknowledgements
We thank the members of the fly community, who isolated, characterized or distributed fly strains or antibodies, especially B. Dickson, K. Keleman, R. Klug, T. Micheler and the VDRC team for primary screen support, S. Bogdan, C. Doe, J. Knoblich, G. Longmore, J. Mihály, BDSC, NIG, TRiP and DSHB for strains and antibodies. We thank Flybase for the Drosophila genomic resources and M. Yamazaki for advice on the virginizer strain and database construction. We thank IFSU and members of the Mannervik, Samakovlis and Åström laboratories for support, especially M. Björk for fly service and V. Tsarouhas for continuous support. Thanks to C. Betsholtz, L. Claesson-Welsh, M. Mannervik, V. Tsarouhas and S. Åström for comments on the manuscript. We apologize for many reference omissions due to space limitation. This work was supported by grants from the Swedish Research Council and the Swedish Cancer Society to C.S. B.A. is a Royal Society University Research Fellow.
Ethics declarations
Competing interests
The authors declare no competing financial interests.
Integrated supplementary information
Supplementary information
About this article
Cite this article
Hosono, C., Matsuda, R., Adryan, B. et al. Transient junction anisotropies orient annular cell polarization in the Drosophila airway tubes. Nat Cell Biol 17, 1569–1576 (2015). https://doi.org/10.1038/ncb3267
Received:

Accepted:

Published:

Issue Date:

DOI: https://doi.org/10.1038/ncb3267
This article is cited by
Matthias Behr
Dietmar Riedel

Scientific Reports (2020)

Vasilios Tsarouhas
Dan Liu
Christos Samakovlis

Nature Communications (2019)

Federico Sabbadin
Glyn R. Hemsworth
Simon J. McQueen-Mason

Nature Communications (2018)