Abstract
Endoplasmic reticulum (ER)-associated degradation (ERAD) represents a principle quality control mechanism to clear misfolded proteins in the ER; however, its physiological significance and the nature of endogenous ERAD substrates remain largely unexplored. Here we discover that IRE1α, the sensor of the unfolded protein response (UPR), is a bona fide substrate of the Sel1L–Hrd1 ERAD complex. ERAD-mediated IRE1α degradation occurs under basal conditions in a BiP-dependent manner, requires both the intramembrane hydrophilic residues of IRE1α and the lectin protein OS9, and is attenuated by ER stress. ERAD deficiency causes IRE1α protein stabilization, accumulation and mild activation both in vitro and in vivo. Although enterocyte-specific Sel1L-knockout mice (Sel1LΔIEC) are viable and seem normal, they are highly susceptible to experimental colitis and inflammation-associated dysbiosis, in an IRE1α-dependent but CHOP-independent manner. Hence, Sel1L–Hrd1 ERAD serves a distinct, essential function in restraint of IRE1α signalling in vivo by managing its protein turnover.
Relevant articles
Open Access articles citing this article.
Mohammed Samer Shaban

,

Christin Müller

…

Michael Kracht

Nature Communications Open Access 20 September 2021

Maria Valeria Giuli

,

Giulia Diluvio

…

Saula Checquolo

Oncogenesis Open Access 18 October 2020

Huimin Liu

,

Siqi Xie

…

Weihua Xiao

Cell Death & Disease Open Access 10 June 2020
Access options
Subscribe to this journal
Receive 12 print issues and online access
$209.00 per year
only $17.42 per issue
Rent or buy this article
Get just this article for as long as you need it
$39.95
Prices may be subject to local taxes which are calculated during checkout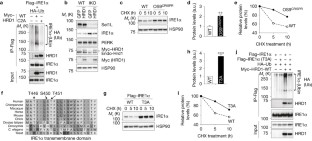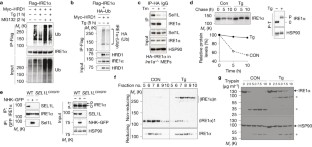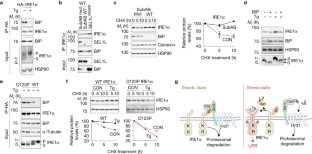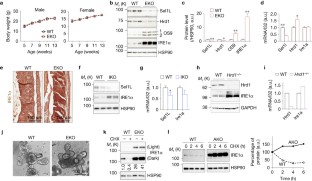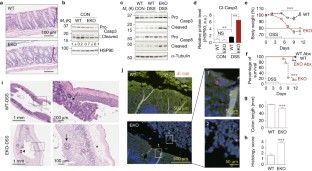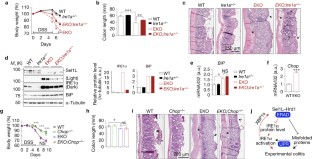 References
Guerriero, C. J. & Brodsky, J. L. The delicate balance between secreted protein folding and endoplasmic reticulum-associated degradation in human physiology. Physiol. Rev. 92, 537–576 (2012).

Olzmann, J. A., Kopito, R. R. & Christianson, J. C. The mammalian endoplasmic reticulum-associated degradation system. Cold Spring Harb. Perspect. Biol. 5, a013185 (2013).

Hampton, R. Y., Gardner, R. G. & Rine, J. Role of 26S proteasome and HRD genes in the degradation of 3-hydroxy-3-methylglutaryl-CoA reductase, an integral endoplasmic reticulum membrane protein. Mol. Biol. Cell 7, 2029–2044 (1996).

Christianson, J. C. et al. Defining human ERAD networks through an integrative mapping strategy. Nat. Cell Biol. 14, 93–105 (2012).

Mueller, B., Lilley, B. N. & Ploegh, H. L. SEL1L, the homologue of yeast Hrd3p, is involved in protein dislocation from the mammalian ER. J. Cell Biol. 175, 261–270 (2006).

Gardner, R. G. et al. Endoplasmic reticulum degradation requires lumen to cytosol signaling. Transmembrane control of Hrd1p by Hrd3p. J. Cell Biol. 151, 69–82 (2000).

Plemper, R. K. et al. Genetic interactions of Hrd3p and Der3p/Hrd1p with Sec61p suggest a retro-translocation complex mediating protein transport for ER degradation. J. Cell Sci. 112, 4123–4134 (1999).

Carvalho, P., Goder, V. & Rapoport, T. A. Distinct ubiquitin-ligase complexes define convergent pathways for the degradation of ER proteins. Cell 126, 361–373 (2006).

Mueller, B., Klemm, E. J., Spooner, E., Claessen, J. H. & Ploegh, H. L. SEL1L nucleates a protein complex required for dislocation of misfolded glycoproteins. Proc. Natl Acad. Sci. USA 105, 12325–12330 (2008).

Sun, S. et al. Sel1L is indispensable for mammalian endoplasmic reticulum-associated degradation, endoplasmic reticulum homeostasis, and survival. Proc. Natl Acad. Sci. USA 111, E582–E591 (2014).

Sha, H. et al. The ER-associated degradation adaptor protein Sel1L regulates LPL secretion and lipid metabolism. Cell Metab. 20, 458–470 (2014).

Bertolotti, A., Zhang, Y., Hendershot, L. M., Harding, H. P. & Ron, D. Dynamic interaction of BiP and ER stress transducers in the unfolded-protein response. Nat. Cell Biol. 2, 326–332 (2000).

Mori, K., Ma, W., Gething, M. J. & Sambrook, J. A transmembrane protein with a cdc2+/CDC28-related kinase activity is required for signaling from the ER to the nucleus. Cell 74, 743–756 (1993).

Cox, J. S., Shamu, C. E. & Walter, P. Transcriptional induction of genes encoding endoplasmic reticulum resident proteins requires a transmembrane protein kinase. Cell 73, 1197–1206 (1993).

Walter, P. & Ron, D. The unfolded protein response: from stress pathway to homeostatic regulation. Science 334, 1081–1086 (2011).

He, Y. et al. Emerging roles for XBP1, a sUPeR transcription factor. Gene Expr. 15, 13–25 (2010).

Kaser, A. et al. XBP1 links ER stress to intestinal inflammation and confers genetic risk for human inflammatory bowel disease. Cell 134, 743–756 (2008).

Adolph, T. E. et al. Paneth cells as a site of origin for intestinal inflammation. Nature 503, 272–276 (2013).

Kikkert, M. et al. Human HRD1 is an E3 ubiquitin ligase involved in degradation of proteins from the endoplasmic reticulum. J. Biol. Chem. 279, 3525–3534 (2004).

Kim, W., Spear, E. D. & Ng, D. T. Yos9p detects and targets misfolded glycoproteins for ER-associated degradation. Mol. Cell 19, 753–764 (2005).

Bhamidipati, A., Denic, V., Quan, E. M. & Weissman, J. S. Exploration of the topological requirements of ERAD identifies Yos9p as a lectin sensor of misfolded glycoproteins in the ER lumen. Mol. Cell 19, 741–751 (2005).

Sato, B. K., Schulz, D., Do, P. H. & Hampton, R. Y. Misfolded membrane proteins are specifically recognized by the transmembrane domain of the Hrd1p ubiquitin ligase. Mol. Cell 34, 212–222 (2009).

Gething, M. J. Role and regulation of the ER chaperone BiP. Semin. Cell Dev. Biol. 10, 465–472 (1999).

Paton, A. W. et al. AB5 subtilase cytotoxin inactivates the endoplasmic reticulum chaperone BiP. Nature 443, 548–552 (2006).

Zhou, J. et al. The crystal structure of human IRE1 luminal domain reveals a conserved dimerization interface required for activation of the unfolded protein response. Proc. Natl Acad. Sci. USA 103, 14343–14348 (2006).

Xue, Z. et al. A conserved structural determinant located at the interdomain region of mammalian inositol-requiring enzyme 1alpha. J. Biol. Chem. 286, 30859–30866 (2011).

Sha, H. et al. The IRE1α-XBP1 pathway of the unfolded protein response is required for adipogenesis. Cell Metab. 9, 556–564 (2009).

Qi, L., Yang, L. & Chen, H. Detecting and quantitating physiological endoplasmic reticulum stress. Methods Enzymol. 490, 137–146 (2011).

Yang, L. et al. A Phos-tag-based method reveals the extent of physiological endoplasmic reticulum stress. PLoS ONE 5, e11621 (2010).

Okayasu, I. et al. A novel method in the induction of reliable experimental acute and chronic ulcerative colitis in mice. Gastroenterology 98, 694–702 (1990).

Dogan, B. et al. Inflammation-associated adherent-invasive Escherichia coli are enriched in pathways for use of propanediol and iron and M-cell translocation. Inflamm. Bowel Dis. 20, 1919–1932 (2014).

Craven, M. et al. Inflammation drives dysbiosis and bacterial invasion in murine models of ileal Crohn's disease. PLoS ONE 7, e41594 (2012).

Redl, H. Cytokines in Severe Sepsis and Septic Shock (Birkhuser, 2013).

Goldstein, J. L. & Brown, M. S. Regulation of the mevalonate pathway. Nature 343, 425–430 (1990).

Ushioda, R., Hoseki, J. & Nagata, K. Glycosylation-independent ERAD pathway serves as a backup system under ER stress. Mol. Biol. Cell 24, 3155–3163 (2013).

Zhang, T. & Ye, Y. The final moments of misfolded proteins en route to the proteasome. DNA Cell Biol. 33, 477–483 (2014).

Plemper, R. K., Bohmler, S., Bordallo, J., Sommer, T. & Wolf, D. H. Mutant analysis links the translocon and BiP to retrograde protein transport for ER degradation. Nature 388, 891–895 (1997).

Brodsky, J. L. et al. The requirement for molecular chaperones during endoplasmic reticulum-associated protein degradation demonstrates that protein export and import are mechanistically distinct. J. Biol. Chem. 274, 3453–3460 (1999).

Okuda-Shimizu, Y. & Hendershot, L. M. Characterization of an ERAD pathway for nonglycosylated BiP substrates, which require Herp. Mol. Cell 28, 544–554 (2007).

Park, S. W. et al. The protein disulfide isomerase AGR2 is essential for production of intestinal mucus. Proc. Natl Acad. Sci. USA 106, 6950–6955 (2009).

Zhao, F. et al. Disruption of Paneth and goblet cell homeostasis and increased endoplasmic reticulum stress in Agr2-/- mice. Dev. Biol. 338, 270–279 (2010).

Wu, T. et al. Hrd1 suppresses Nrf2-mediated cellular protection during liver cirrhosis. Genes Dev. 28, 708–722 (2014).

Iwawaki, T., Akai, R., Yamanaka, S. & Kohno, K. Function of IRE1 alpha in the placenta is essential for placental development and embryonic viability. Proc. Natl Acad. Sci. USA 106, 16657–16662 (2009).

Yagishita, N. et al. Essential role of synoviolin in embryogenesis. J. Biol. Chem. 280, 7909–7916 (2005).

Bens, M. et al. Transimmortalized mouse intestinal cells (m-ICc12) that maintain a crypt phenotype. Am. J. Physiol. 270, C1666–C1674 (1996).

Sheng, Y. H. et al. The MUC13 cell-surface mucin protects against intestinal inflammation by inhibiting epithelial cell apoptosis. Gut 60, 1661–1670 (2011).

He, Y. et al. Non-muscle myosin IIB links cytoskeleton to IRE1α signaling during ER stress. Dev. Cell 23, 1141–1152 (2012).

Bennett, B. L. et al. SP600125, an anthrapyrazolone inhibitor of Jun N-terminal kinase. Proc. Natl Acad. Sci. USA 98, 13681–13686 (2001).

Qiu, Y. et al. A crucial role for RACK1 in the regulation of glucose-stimulated IRE1alpha activation in pancreatic beta cells. Sci. Signal. 3, ra7 (2010).

Wirtz, S., Neufert, C., Weigmann, B. & Neurath, M. F. Chemically induced mouse models of intestinal inflammation. Nat. Protoc. 2, 541–546 (2007).

Ji, Y. et al. Diet-induced alterations in gut microflora contribute to lethal pulmonary damage in TLR2/TLR4-deficient mice. Cell Rep. 8, 137–149 (2014).

Xia, S. et al. Gr-1+ CD11b+ myeloid-derived suppressor cells suppress inflammation and promote insulin sensitivity in obesity. J. Biol. Chem. 286, 23591–23599 (2011).

Sato, T. et al. Single Lgr5 stem cells build crypt-villus structures in vitro without a mesenchymal niche. Nature 459, 262–265 (2009).

Sun, S., Xia, S., Ji, Y., Kersten, S. & Qi, L. The ATP-P2X7 signaling axis is dispensable for obesity-associated inflammasome activation in adipose tissue. Diabetes 61, 1471–1478 (2012).
Acknowledgements
We thank K.-L. Tung for help with the organoid culture; and other members of the Qi laboratory for comments and technical assistance. S.S. is an International Student Research Fellow of the Howard Hughes Medical Institute (59107338). L.Q. is the recipient of the Junior Faculty and Career Development Awards from American Diabetes Association (ADA). This work was supported by R21AI085332 (G.E.D.), 1R03AI114344 (H.W.), Chinese National Natural Science Foundation Grant 31371391 (Q.L.), National Heart, Lung, and Blood Institute Proteomics Center Award HHSN268201000035C, R01 MH067880 and 8P41GM103533-17 (J.R.Y. III), NIH R01DK105393, R01GM113188, UL1TR000457 of the Clinical and Translation Science Center at Weill Cornell Medical College, ADA 1-12-CD-04 and Cornell VERG seed grant (L.Q.).
Ethics declarations
Competing interests
The authors declare no competing financial interests.
Integrated supplementary information
Supplementary information
About this article
Cite this article
Sun, S., Shi, G., Sha, H. et al. IRE1α is an endogenous substrate of endoplasmic-reticulum-associated degradation. Nat Cell Biol 17, 1546–1555 (2015). https://doi.org/10.1038/ncb3266
Received:

Accepted:

Published:

Issue Date:

DOI: https://doi.org/10.1038/ncb3266