Abstract
Animal cell cytokinesis results from patterned activation of the small GTPase Rho, which directs assembly of actomyosin in the equatorial cortex. Cytokinesis is restricted to a portion of the cell cycle following anaphase onset in which the cortex is responsive to signals from the spindle. We show that shortly after anaphase onset oocytes and embryonic cells of frogs and echinoderms exhibit cortical waves of Rho activity and F-actin polymerization. The waves are modulated by cyclin-dependent kinase 1 (Cdk1) activity and require the Rho GEF (guanine nucleotide exchange factor), Ect2. Surprisingly, during wave propagation, although Rho activity elicits F-actin assembly, F-actin subsequently inactivates Rho. Experimental and modelling results show that waves represent excitable dynamics of a reaction–diffusion system with Rho as the activator and F-actin the inhibitor. We propose that cortical excitability explains fundamental features of cytokinesis including its cell cycle regulation.
Relevant articles
Open Access articles citing this article.
Victoria Tianjing Yan

,

Arjun Narayanan

…

Stephan W. Grill

Nature Open Access 17 August 2022

Siarhei Hladyshau

,

Mary Kho

…

Denis Tsygankov

Scientific Reports Open Access 30 September 2021

Daniel S. Seara

,

Benjamin B. Machta

&

Michael P. Murrell

Nature Communications Open Access 15 January 2021
Access options
Subscribe to Journal
Get full journal access for 1 year
$99.00
only $8.25 per issue
All prices are NET prices.
VAT will be added later in the checkout.
Tax calculation will be finalised during checkout.
Buy article
Get time limited or full article access on ReadCube.
$32.00
All prices are NET prices.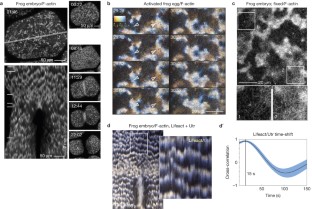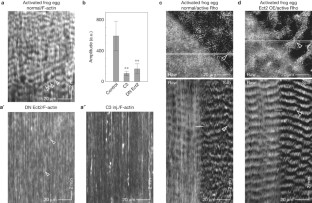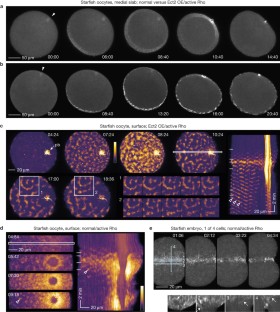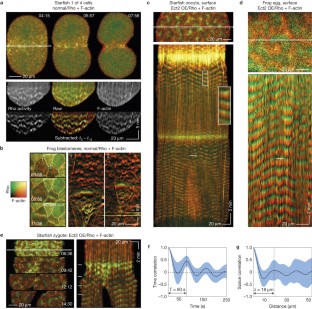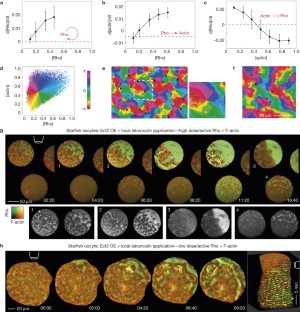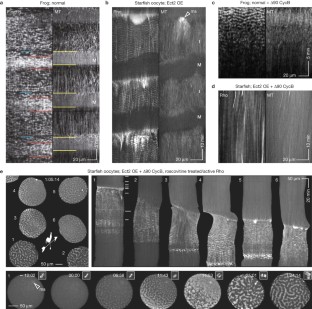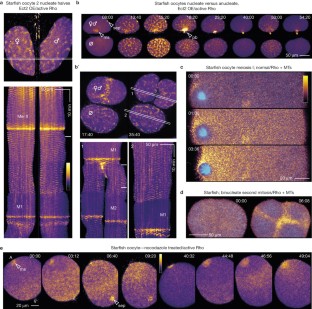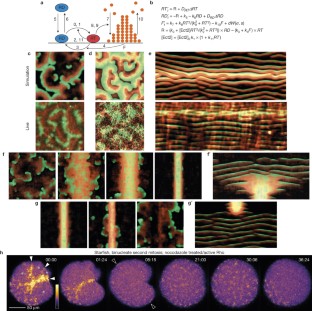 References
Bement, W. M., Miller, A. L. & von Dassow, G. Rho GTPase activity zones and transient contractile arrays. Bioessays 28, 983–993 (2006).

Su, K.-C., Bement, W. M., Petronczki, M. & von Dassow, G. An astral simulacrum of the central spindle accounts for normal, spindle-less, and anucleate cytokinesis in echinoderm embryos. Mol. Biol. Cell 25, 4049–4062 (2014).

Green, R. A., Paluch, E. & Oegema, K. Cytokinesis in animal cells. Annu. Rev. Cell Dev. Biol. 28, 29–58 (2012).

Rappaport, R. Cytokinesis in Animal Cells (Cambridge Univ. Press, 1996).

Shuster, C. B. & Burgess, D. R. Transitions regulating the timing of cytokinesis in embryonic cells. Curr. Biol. 12, 854–858 (2002).

Canman, J. C., Hoffman, D. B. & Salmon, E. D. The role of pre- and post-anaphase microtubules in the cytokinesis phase of the cell cycle. Curr. Biol. 10, 611–614 (2000).

Miller, A. L. & Bement, W. M. Regulation of cytokinesis by Rho GTPase flux. Nat. Cell Biol. 11, 71–77 (2009).

Weiner, O. D., Marganski, W. A., Wu, L. F., Altschuler, S. J. & Kirschner, M. W. An actin-based wave generator organizes cell motility. PLoS Biol. 5, e221 (2007).

Burkel, B. M., von Dassow, G. & Bement, W. M. Versatile fluorescent probes for actin filaments based on the actin-binding domain of utrophin. Cell Motil. Cytoskeleton 64, 822–832 (2007).

Riedl, J. et al. Lifeact: a versatile marker to visualize F-actin. Nat. Methods 5, 605–607 (2008).

Yoo, S. K. et al. Differential regulation of protrusion and polarity by PI3K during neutrophil motility in live zebrafish. Dev. Cell 18, 226–236 (2010).

Straight, A. F. et al. Dissecting temporal and spatial control of cytokinesis with a myosin II inhibitor. Science 299, 1743–1747 (2003).

Su, K.-C., Takaki, T. & Petronczki, M. Targeting of the RhoGEF Ect2 to the equatorial membrane controls cleavage furrow formation during cytokinesis. Dev. Cell 21, 1104–1115 (2011).

Benink, H. A. & Bement, W. M. Concentric zones of active RhoA and Cdc42 around single cell wounds. J. Cell Biol. 168, 429–439 (2005).

Piekny, A. J. & Maddox, A. S. The myriad roles of Anillin during cytokinesis. Semin. Cell Dev. Biol. 21, 881–891 (2010).

Lechleiter, J., Girard, S., Peralta, E. & Clapham, D. Spiral calcium wave propagation and annihilation in Xenopus laevis oocytes. Science 252, 123–126 (1991).

Shibata, T., Nishikawa, M., Matsuoka, S. & Ueda, M. Modeling the self-organized phosphatidylinositol lipid signaling system in chemotactic cells using quantitative image analysis. J. Cell Sci. 125, 5138–5150 (2012).

Arai, Y. et al. Self-organization of the phosphatidylinositol lipids signaling system for random cell migration. Proc. Natl Acad. Sci. USA 107, 12399–12404 (2010).

Allard, J. & Mogilner, A. Traveling waves in actin dynamics and cell motility. Curr. Opin. Cell Biol. 25, 107–115 (2013).

Goryachev, A. B. & Pokhilko, A. V. Dynamics of Cdc42 network embodies a Turing-type mechanism of yeast cell polarity. FEBS Lett. 582, 1437–1443 (2008).

Taniguchi, D. et al. Phase geometries of two-dimensional excitable waves govern self-organized morphodynamics of amoeboid cells. Proc. Natl Acad. Sci. USA 110, 5016–5021 (2013).

Winfree, A. T. Electrical turbulence in three-dimensional heart muscle. Science 266, 1003–1006 (1994).

Von Dassow, G., Verbrugghe, K. J., Miller, A. L., Sider, J. R. & Bement, W. M. Action at a distance during cytokinesis. J. Cell Biol. 187, 831–845 (2009).

Murray, A. W. & Kirschner, M. W. Cyclin synthesis drives the early embryonic cell cycle. Nature 339, 275–280 (1989).

Gray, N., Détivaud, L., Doerig, C. & Meijer, L. ATP-site directed inhibitors of cyclin-dependent kinases. Curr. Med. Chem. 6, 859–875 (1999).

Bement, W. M., Benink, H. A. & von Dassow, G. A microtubule-dependent zone of active RhoA during cleavage plane specification. J. Cell Biol. 170, 91–101 (2005).

Rappaport, R. & Ebstein, R. P. Duration of stimulus and latent periods preceeding furrow formation in sand dollar eggs. J. Exp. Zool. 158, 373–382 (1965).

Rankin, S. & Kirschner, M. W. The surface contraction waves of Xenopus eggs reflect the metachronous cell-cycle state of the cytoplasm. Curr. Biol. 7, 451–454 (1997).

Lim, D. et al. The M-phase-promoting factor modulates the sensitivity of the Ca2+ stores to inositol 1,4,5-trisphosphate via the actin cytoskeleton. J. Biol. Chem. 278, 42505–42514 (2003).

Chang, J. B. & Ferrell, J. E. Mitotic trigger waves and the spatial coordination of the Xenopus cell cycle. Nature 500, 603–607 (2013).

Pérez-Mongiovi, D., Chang, P. & Houliston, E. A propagated wave of MPF activation accompanies surface contraction waves at first mitosis in Xenopus. J. Cell Sci. 111, 385–393 (1998).

Burkel, B. M., Benink, H. A., Vaughan, E. M., von Dassow, G. & Bement, W. M. A Rho GTPase signal treadmill backs a contractile array. Dev. Cell 23, 384–396 (2012).

Charras, G. T., Hu, C.-K., Coughlin, M. & Mitchison, T. J. Reassembly of contractile actin cortex in cell blebs. J. Cell Biol. 175, 477–490 (2006).

Berndt, J. D., Clay, M. R., Langenberg, T. & Halloran, M. C. Rho-kinase and myosin II affect dynamic neural crest cell behaviors during epithelial to mesenchymal transition in vivo. Dev. Biol. 324, 236–244 (2008).

Clay, M. R. & Halloran, M. C. Rho activation is apically restricted by Arhgap1 in neural crest cells and drives epithelial-to-mesenchymal transition. Development 140, 3198–3209 (2013).

Holmes, W. R., Carlsson, A. E. & Edelstein-Keshet, L. Regimes of wave type patterning driven by refractory actin feedback: transition from static polarization to dynamic wave behaviour. Phys. Biol. 9, 046005 (2012).

Ryan, G. L., Petroccia, H. M., Watanabe, N. & Vavylonis, D. Excitable actin dynamics in lamellipodial protrusion and retraction. Biophys. J. 102, 1493–1502 (2012).

Woolner, S., Miller, A. L. & Bement, W. M. Imaging the cytoskeleton in live Xenopus laevis embryos. Methods Mol. Biol. 586, 23–39 (2009).

Reyes, C. C. et al. Anillin regulates cell-cell junction integrity by organizing junctional accumulation of Rho-GTP and actomyosin. Curr. Biol. 24, 1263–1270 (2014).

Futatsumori-Sugai, M. et al. Utilization of Arg-elution method for FLAG-tag based chromatography. Protein Expr. Purif. 67, 148–155 (2009).
Acknowledgements
Many thanks to S. Maslakova for laboratory space and to B. Dlouhy-Massengale and S. Yang for technical assistance. This work was supported by the National Institutes of Health (GM52932 to W.M.B.) and the National Science Foundation (NSF MCB-0917887 and MCB-1041200 to G.v.D.) and by NIH instrumentation grant 1S10RR026729-01 (K. Eliceiri PI).
Ethics declarations
Competing interests
The authors declare no competing financial interests.
Integrated supplementary information
Supplementary information
About this article
Cite this article
Bement, W., Leda, M., Moe, A. et al. Activator–inhibitor coupling between Rho signalling and actin assembly makes the cell cortex an excitable medium. Nat Cell Biol 17, 1471–1483 (2015). https://doi.org/10.1038/ncb3251
Received:

Accepted:

Published:

Issue Date:

DOI: https://doi.org/10.1038/ncb3251