Abstract
Mammalian embryos initiate morphogenesis with compaction, which is essential for specifying the first lineages of the blastocyst. The 8-cell-stage mouse embryo compacts by enlarging its cell–cell contacts in a Cdh1-dependent manner. It was therefore proposed that Cdh1 adhesion molecules generate the forces driving compaction. Using micropipette aspiration to map all tensions in a developing embryo, we show that compaction is primarily driven by a twofold increase in tension at the cell–medium interface. We show that the principal force generator of compaction is the actomyosin cortex, which gives rise to pulsed contractions starting at the 8-cell stage. Remarkably, contractions emerge as periodic cortical waves when cells are disengaged from adhesive contacts. In line with this, tension mapping of mzCdh1−/− embryos suggests that Cdh1 acts by redirecting contractility away from cell–cell contacts. Our study provides a framework to understand early mammalian embryogenesis and original perspectives on evolutionary conserved pulsed contractions.
Relevant articles
Open Access articles citing this article.
Robin M. Skory

,

Adam A. Moverley

…

Nicolas Plachta

Nature Communications Open Access 29 May 2023

Haoqing Wang

,

Fang Zhou

…

Lining Arnold Ju

European Biophysics Journal Open Access 16 February 2022

Pierre-François Lenne

&

Vikas Trivedi

Nature Communications Open Access 03 February 2022
Access options
Subscribe to this journal
Receive 12 print issues and online access
$209.00 per year
only $17.42 per issue
Rent or buy this article
Prices vary by article type
from$1.95
to$39.95
Prices may be subject to local taxes which are calculated during checkout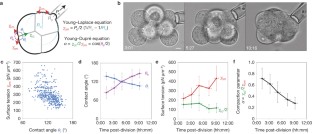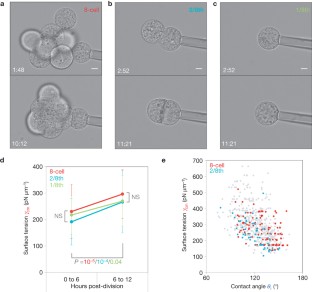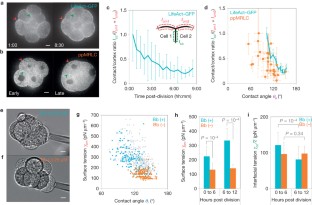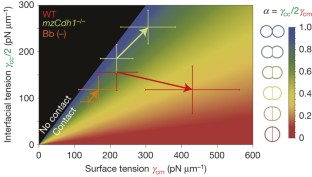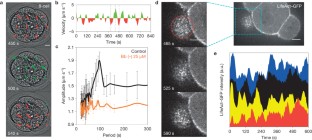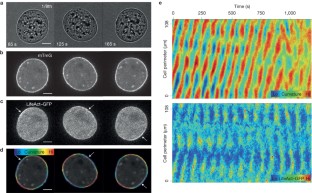 References
Wolpert, L. Principles of Development (Oxford Univ. Press, 2011).

Stephenson, R. O., Yamanaka, Y. & Rossant, J. Disorganized epithelial polarity and excess trophectoderm cell fate in preimplantation embryos lacking E-cadherin. Development 137, 3383–3391 (2010).

Johnson, M. H., Chakraborty, J., Handyside, A. H., Willison, K. & Stern, P. The effect of prolonged decompaction on the development of the preimplantation mouse embryo. J. Embryol. Exp. Morphol. 54, 241–261 (1979).

Larue, L., Ohsugi, M., Hirchenhain, J. & Kemler, R. E-cadherin null mutant embryos fail to form a trophectoderm epithelium. Proc. Natl Acad. Sci. USA 91, 8263–8267 (1994).

Ducibella, T., Ukena, T., Karnovsky, M. & Anderson, E. Changes in cell surface and cortical cytoplasmic organization during early embryogenesis in the preimplantation mouse embryo. J. Cell Biol. 74, 153–167 (1977).

Goel, N. S., Doggenweiler, C. F. & Thompson, R. L. Simulation of cellular compaction and internalization in mammalian embryo development as driven by minimization of surface energy. Bull. Math. Biol. 48, 167–187 (1986).

Kemler, R., Babinet, C., Eisen, H. & Jacob, F. Surface antigen in early differentiation. Proc. Natl Acad. Sci. USA 74, 4449–4452 (1977).

Shirayoshi, Y., Okada, T. S. & Takeichi, M. The calcium-dependent cell–cell adhesion system regulates inner cell mass formation and cell surface polarization in early mouse development. Cell 35, 631–638 (1983).

Hyafil, F., Morello, D., Babinet, C. & Jacob, F. A cell surface glycoprotein involved in the compaction of embryonal carcinoma cells and cleavage stage embryos. Cell 21, 927–934 (1980).

Foty, R. & Steinberg, M. The differential adhesion hypothesis: a direct evaluation. Dev. Biol. 278, 255–263 (2005).

Steinberg, M. S. & Takeichi, M. Experimental specification of cell sorting, tissue spreading, and specific spatial patterning by quantitative differences in cadherin expression. Proc. Natl Acad. Sci. USA 91, 206–209 (1994).

Maître, J-L. & Heisenberg, C-P. Three functions of cadherins in cell adhesion. Curr. Biol. 23, R626–33 (2013).

Krieg, M. et al. Tensile forces govern germ-layer organization in zebrafish. Nat. Cell Biol. 10, 429–436 (2008).

Maître, J-L. et al. Adhesion functions in cell sorting by mechanically coupling the cortices of adhering cells. Science 338, 253–256 (2012).

Stirbat, T. V. et al. Fine tuning of tissues' viscosity and surface tension through contractility suggests a new role for α-catenin. PLoS ONE 8, e52554 (2013).

Yamada, S. & Nelson, W. J. Localized zones of Rho and Rac activities drive initiation and expansion of epithelial cell–cell adhesion. J. Cell Biol. 178, 517–527 (2007).

Tinevez, J-Y. et al. Role of cortical tension in bleb growth. Proc. Natl Acad. Sci. USA 106, 18581–18586 (2009).

Yeung, A. & Evans, E. Cortical shell-liquid core model for passive flow of liquid-like spherical cells into micropipets. Biophys. J. 56, 139–149 (1989).

Mitchison, J. M. & Swann, M. M. The mechanical properties of the cell surface I. The cell elastimeter. J. Exp. Biol. 31, 443–460 (1954).

Fierro-González, J. C., White, M. D., Silva, J. C. & Plachta, N. Cadherin-dependent filopodia control preimplantation embryo compaction. Nat. Cell Biol. 15, 1–10 (2013).

Clark, A. G., Wartlick, O., Salbreux, G. & Paluch, E. K. Stresses at the cell surface during animal cell review morphogenesis. Curr. Biol. 24, R484–R494 (2014).

Dai, J., Ting-Beall, H., Hochmuth, R., Sheetz, M. & Titus, M. Myosin I contributes to the generation of resting cortical tension. Biophys. J. 77, 1168–1176 (1999).

Sobel, J. S. Localization of myosin in the preimplantation mouse embryo. Dev. Biol. 95, 227–231 (1983).

Martin, A., Kaschube, M. & Wieschaus, E. Pulsed contractions of an actin-myosin network drive apical constriction. Nature 457, 495–499 (2009).

Roh-Johnson, M. et al. Triggering a cell shape change by exploiting preexisting actomyosin contractions. Science 335, 1232–1235 (2012).

Solon, J., Kaya-Copur, A., Colombelli, J. & Brunner, D. Pulsed forces timed by a ratchet-like mechanism drive directed tissue movement during dorsal closure. Cell 137, 1331–1342 (2009).

Bertet, C., Sulak, L. & Lecuit, T. Myosin-dependent junction remodelling controls planar cell intercalation and axis elongation. Nature 429, 667–671 (2004).

Winkel, G. K., Ferguson, J. E., Takeichi, M. & Nuccitelli, R. Activation of protein kinase C triggers premature compaction in the four-cell stage mouse embryo. Dev. Biol. 138, 1–15 (1990).

Kawai, Y., Yamaguchi, T., Yoden, T., Hanada, M. & Miyake, M. Effect of protein phosphatase inhibitors on the development of mouse embryos: protein phosphorylation is involved in the E-cadherin distribution in mouse two-cell embryos. Biol. Pharm. Bull. 25, 179–183 (2002).

Ohsugi, M., Butz, S. & Kemler, R. β-catenin is a major tyrosine-phosphorylated protein during mouse oocyte maturation and preimplantation development. Dev. Dyn. 216, 168–176 (1999).

Riedl, J. et al. Lifeact mice for studying F-actin dynamics. Nat. Methods 7, 168–169 (2010).

Muzumdar, M. D., Tasic, B., Miyamichi, K., Li, L. & Luo, L. A global double-fluorescent Cre reporter mouse. Genesis 45, 593–605 (2007).

Boussadia, O., Kutsch, S., Hierholzer, A., Delmas, V. & Kemler, R. E-cadherin is a survival factor for the lactating mouse mammary gland. Mech. Dev. 115, 53–62 (2002).

de Vries, W. N. et al. Expression of Cre recombinase in mouse oocytes: a means to study maternal effect genes. Genesis 26, 110–112 (2000).

Tsunoda, Y., Yasui, T., Nakamura, K., Uchida, T. & Sugie, T. Effect of cutting the zona pellucida on the pronuclear transplantation in the mouse. J. Exp. Zool. 240, 119–125 (1986).

Biggers, J. D., McGinnis, L. K. & Raffin, M. Amino acids and preimplantation development of the mouse in protein-free potassium simplex optimized medium. Biol. Reprod. 63, 281–293 (2000).

Schindelin, J. et al. Fiji: an open-source platform for biological-image analysis. Nat. Methods 9, 676–682 (2012).

Thielicke, W. & Stamhuis, E. J. PIV Lab—Time-Resolved Digital Particle Image Velocimetry Tool for MATLAB (version: 1.35) (2010).

Driscoll, M. K. et al. Cell shape dynamics: from waves to migration. PLoS Comput. Biol. 8, e1002392 (2012).

Sommer, C., Strähle, C., Köthe, U. & Hamprecht, F. A. Proc. 8th IEEE Int. Symp. Biomed. Imaging 230–233 (2011).

Turlier, H., Audoly, B., Prost, J. & Joanny, J-F. Furrow constriction in animal cell cytokinesis. Biophys. J. 106, 114–123 (2014).
Acknowledgements
We are grateful to all members of the Hiiragi laboratory and EMBL animal facility for their support. We thank J. E. Dietrich for providing images used for volume measurement. We thank A. G. Clark, A. Aulehla and C-P. Heisenberg for comments on an earlier version of the manuscript. J-L.M. is supported by EMBO (ALTF1195-2012), R.N. by HumboldtStiftung (JAN-1149654-STP-2), H.T. by EIPOD, and the Hiiragi group by VolkswagenStiftung.
Ethics declarations
Competing interests
The authors declare no competing financial interests.
Integrated supplementary information
Supplementary information
About this article
Cite this article
Maître, JL., Niwayama, R., Turlier, H. et al. Pulsatile cell-autonomous contractility drives compaction in the mouse embryo. Nat Cell Biol 17, 849–855 (2015). https://doi.org/10.1038/ncb3185
Received:

Accepted:

Published:

Issue Date:

DOI: https://doi.org/10.1038/ncb3185