Abstract
Epithelial organs develop through tightly coordinated events of cell proliferation and differentiation in which endocytosis plays a major role. Despite recent advances, how endocytosis regulates the development of vertebrate organs is still unknown. Here we describe a mechanism that facilitates the apical availability of endosomal SNARE receptors for epithelial morphogenesis through the developmental upregulation of plasmolipin (pllp) in a highly endocytic segment of the zebrafish posterior midgut. The protein PLLP (Pllp in fish) recruits the clathrin adaptor EpsinR to sort the SNARE machinery of the endolysosomal pathway into the subapical compartment, which is a switch for polarized endocytosis. Furthermore, PLLP expression induces apical Crumbs internalization and the activation of the Notch signalling pathway, both crucial steps in the acquisition of cell polarity and differentiation of epithelial cells. We thus postulate that differential apical endosomal SNARE sorting is a mechanism that regulates epithelial patterning.
Access options
Subscribe to Journal
Get full journal access for 1 year
$59.00
only $4.92 per issue
All prices are NET prices.
VAT will be added later in the checkout.
Tax calculation will be finalised during checkout.
Rent or Buy article
Get time limited or full article access on ReadCube.
from$8.99
All prices are NET prices.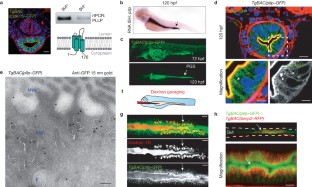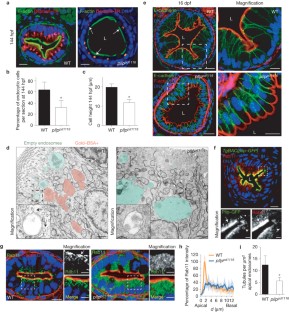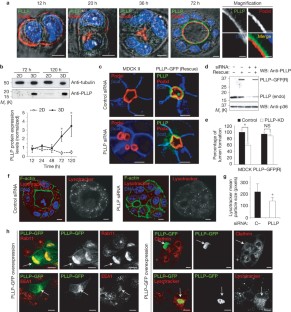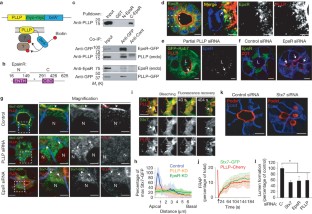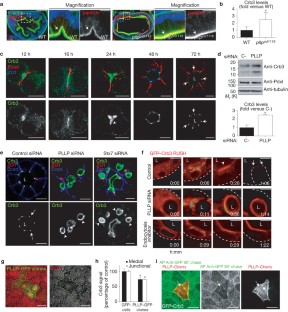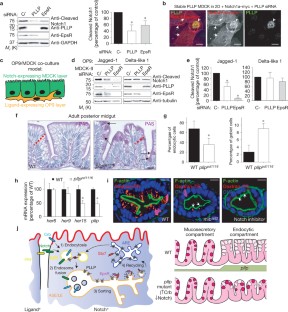 References
1

Rodriguez-Boulan, E. & Macara, I. G. Organization and execution of the epithelial polarity programme. Nat. Rev. Mol. Cell Biol. 15, 225–242 (2014)

2

Eaton, S. & Martin-Belmonte, F. Cargo sorting in the endocytic pathway: a key regulator of cell polarity and tissue dynamics. Cold Spring Harb. Perspect. Biol. 6 (2014).

3

Fabrowski, P. et al. Tubular endocytosis drives remodelling of the apical surface during epithelial morphogenesis in Drosophila. Nat. Commun. 4, 2244 (2013)

4

Richardson, E. C. & Pichaud, F. Crumbs is required to achieve proper organ size control during Drosophila head development. Development 137, 641–650 (2010).

5

Lu, H. & Bilder, D. Endocytic control of epithelial polarity and proliferation in Drosophila. Nat. Cell Biol. 7, 1232–1239 (2005)

6

Bokel, C. & Brand, M. Endocytosis and signaling during development. Cold Spring Harb. Perspect. Biol. 6 (2014).

7

Bagnat, M., Cheung, I. D., Mostov, K. E. & Stainier, D. Y. Genetic control of single lumen formation in the zebrafish gut. Nat. Cell Biol. 9, 954–960 (2007)

8

Alvers, A. L., Ryan, S., Scherz, P. J., Huisken, J. & Bagnat, M. Single continuous lumen formation in the zebrafish gut is mediated by smoothened-dependent tissue remodeling. Development 141, 1110–1119 (2014).

9

Sanchez-Pulido, L., Martin-Belmonte, F., Valencia, A. & Alonso, M. A. MARVEL: a conserved domain involved in membrane apposition events. Trends Biochem. Sci. 27, 599–601 (2002).

10

Navis, A., Marjoram, L. & Bagnat, M. Cftr controls lumen expansion and function of Kupffer's vesicle in zebrafish. Development 140, 1703–1712 (2013).

11

Cocchiaro, J. L. & Rawls, J. F. Microgavage of zebrafish larvae. J. Visualized Experiments: JoVE e4434 (2013)

12

Cermak, T. et al. Efficient design and assembly of custom TALEN and other TAL effector-based constructs for DNA targeting. Nucleic Acids Res. 39, e82 (2011)

13

Golachowska, M. R., Hoekstra, D. & van, I. S. C. Recycling endosomes in apical plasma membrane domain formation and epithelial cell polarity. Trends Cell Biol. 20, 618–626 (2010).

14

Galvez-Santisteban, M. et al. Synaptotagmin-like proteins control the formation of a single apical membrane domain in epithelial cells. Nat. Cell Biol. 14, 838–849 (2012).

15

Saint-Pol, A. et al. Clathrin adaptor epsinR is required for retrograde sorting on early endosomal membranes. Dev. Cell 6, 525–538 (2004).

16

Mills, I. G. et al. EpsinR: an AP1/clathrin interacting protein involved in vesicle trafficking. J. Cell Biol. 160, 213–222 (2003).

17

Hirst, J., Motley, A., Harasaki, K., Peak Chew, S. Y. & Robinson, M. S. EpsinR: an ENTH domain-containing protein that interacts with AP-1. Mol. Biol. Cell 14, 625–641 (2003).

18

Miller, S. E., Collins, B. M., McCoy, A. J., Robinson, M. S. & Owen, D. J. A SNARE-adaptor interaction is a new mode of cargo recognition in clathrin-coated vesicles. Nature 450, 570–574 (2007).

19

Chidambaram, S., Zimmermann, J. & von Mollard, G. F. ENTH domain proteins are cargo adaptors for multiple SNARE proteins at the TGN endosome. J. Cell Sci. 121, 329–338 (2008).

20

Chidambaram, S., Mullers, N., Wiederhold, K., Haucke, V. & von Mollard, G. F. Specific interaction between SNAREs and epsin N-terminal homology (ENTH) domains of epsin-related proteins in trans-Golgi network to endosome transport. J. Biol. Chem. 279, 4175–4179 (2004).

21

Leventis, P. A. et al. Liquid facets-related (lqfR) is required for egg chamber morphogenesis during Drosophila oogenesis. PloS ONE 6, e25466 (2011)

22

Lee, J. H., Overstreet, E., Fitch, E., Fleenor, S. & Fischer, J. A. Drosophila liquid facets-Related encodes Golgi epsin and is an essential gene required for cell proliferation, growth and patterning. Dev. Biol. 331, 1–13 (2009).

23

Leuchowius, K. J., Weibrecht, I. & Soderberg, O. In situ proximity ligation assay for microscopy and flow cytometry. in Current Protocols in Cytometry (eds Robinson, J. P. et al.) Ch. 9 (Wiley, 2011)

24

Thompson, B. J., Pichaud, F. & Roper, K. Sticking together the Crumbs—an unexpected function for an old friend. Nat. Rev. Mol. Cell Biol. 14, 307–314 (2013).

25

Fre, S., Bardin, A., Robine, S. & Louvard, D. Notch signaling in intestinal homeostasis across species: the cases of Drosophila, Zebrafish and the mouse. Exp. Cell Res. 317, 2740–2747 (2011).

26

Harder, J. L., Whiteman, E. L., Pieczynski, J. N., Liu, C. J. & Margolis, B. Snail destabilizes cell surface Crumbs3a. Traffic 13, 1170–1185 (2012).

27

Boncompain, G. et al. Synchronization of secretory protein traffic in populations of cells. Nat. Methods 9, 493–498 (2012).

28

VanDussen, K. L. et al. Notch signaling modulates proliferation and differentiation of intestinal crypt base columnar stem cells. Development 139, 488–497 (2012).

29

Van Es, J. H. et al. Notch/gamma-secretase inhibition turns proliferative cells in intestinal crypts and adenomas into goblet cells. Nature 435, 959–963 (2005).

30

Vaccari, T., Lu, H., Kanwar, R., Fortini, M. E. & Bilder, D. Endosomal entry regulates Notch receptor activation in Drosophila melanogaster. J. Cell Biol. 180, 755–762 (2008).

31

Wang, W. & Struhl, G. Distinct roles for Mind bomb, Neuralized and Epsin in mediating DSL endocytosis and signaling in Drosophila. Development 132, 2883–2894 (2005).

32

Wang, W. & Struhl, G. Drosophila Epsin mediates a select endocytic pathway that DSL ligands must enter to activate Notch. Development 131, 5367–5380 (2004).

33

Crosnier, C. et al. Delta-Notch signalling controls commitment to a secretory fate in the zebrafish intestine. Development 132, 1093–1104 (2005).

34

Martin-Belmonte, F. & Perez-Moreno, M. Epithelial cell polarity, stem cells and cancer. Nat. Rev. Cancer 12, 23–38 (2012).

35

Yamamoto, M. et al. Mib-Jag1-Notch signalling regulates patterning and structural roles of the notochord by controlling cell-fate decisions. Development 137, 2527–2537 (2010).

36

Wibowo, I., Pinto-Teixeira, F., Satou, C., Higashijima, S. & Lopez-Schier, H. Compartmentalized Notch signaling sustains epithelial mirror symmetry. Development 138, 1143–1152 (2011).

37

Liu, Y., Pathak, N., Kramer-Zucker, A. & Drummond, I. A. Notch signaling controls the differentiation of transporting epithelia and multiciliated cells in the zebrafish pronephros. Development 134, 1111–1122 (2007).

38

Bosse, F., Hasse, B., Pippirs, U., Greiner-Petter, R. & Muller, H. W. Proteolipid plasmolipin: localization in polarized cells, regulated expression and lipid raft association in CNS and PNS myelin. J. Neurochem. 86, 508–518 (2003).

39

Schier, A. F. et al. Mutations affecting the development of the embryonic zebrafish brain. Development 123, 165–178 (1996).

40

Doyle, E. L. et al. TAL Effector-Nucleotide Targeter (TALE-NT) 2.0: tools for TAL effector design and target prediction. Nucleic Acids Res. 40, W117–W122 (2012).

41

Rodriguez-Fraticelli, A. E. et al. The Cdc42 GEF Intersectin 2 controls mitotic spindle orientation to form the lumen during epithelial morphogenesis. J. Cell Biol. 189, 725–738 (2010).

42

Roux, K. J., Kim, D. I., Raida, M. & Burke, B. A promiscuous biotin ligase fusion protein identifies proximal and interacting proteins in mammalian cells. J. Cell Biol. 196, 801–810 (2012).
Acknowledgements
We thank C. M. Ruiz-Jarabo for her comments on the manuscript and members of the Martin-Belmonte laboratory and Bagnat laboratories for helpful discussions. We thank A. Alvers (Duke University, North Carolina, USA) for helping in the isolation of gut cells, J. Cocchiaro and L. Marjoram (Duke University, North Carolina, USA) for help in gavaging experiments, B. Margolis (University of Michigan, Michigan, USA) for the Crb3/panCrb antibody, R. Jahn (Max Planck Institute for Biophysical Chemistry, Germany) for Stx7 plasmids, M. Robinson (University of Cambridge, UK) for EpsR plasmids, and R. Kopan and J. L. de la Pompa (CNIC, Spain) for Notch plasmids and mib1ta52b embryos. We also thank M. Guerra at the EM Unit for skillful technical assistance. This work was supported by grants from the MINECO (BFU2011-22622) and CONSOLIDER (CSD2009-00016) to F.M-B, by grant SAF2013-44857-R to M.L.T. by NIH innovator grant 1DP2OD006486 to M.B., and by grant AGL2013-48998-C2-2-R to G.A. A.E.R-F was supported by a CSIC JAE PhD fellowship. M.B-F. is a recipient of a Fundación Obra Social 'La Caixa' PhD fellowship. G.A. was supported by the Amarouto Program for senior researchers from the Comunidad Autónoma de Madrid.
Ethics declarations
Competing interests
The authors declare no competing financial interests.
Integrated supplementary information
Supplementary information
About this article
Cite this article
Rodríguez-Fraticelli, A., Bagwell, J., Bosch-Fortea, M. et al. Developmental regulation of apical endocytosis controls epithelial patterning in vertebrate tubular organs. Nat Cell Biol 17, 241–250 (2015). https://doi.org/10.1038/ncb3106
Received:

Accepted:

Published:

Issue Date: