Abstract
Animal development fundamentally relies on the precise control, in space and time, of genome expression. Whereas we have a wealth of information about spatial patterning, the mechanisms underlying temporal control remain poorly understood. Here we show that Pri peptides, encoded by small open reading frames, are direct mediators of the steroid hormone ecdysone for the timing of developmental programs in Drosophila. We identify a previously uncharacterized enzyme of ecdysone biosynthesis, GstE14, and find that ecdysone triggers pri expression to define the onset of epidermal trichome development, through post-translational control of the Shavenbaby transcription factor. We show that manipulating pri expression is sufficient to either put on hold or induce premature differentiation of trichomes. Furthermore, we find that ecdysone-dependent regulation of pri is not restricted to epidermis and occurs over various tissues and times. Together, these findings provide a molecular framework to explain how systemic hormonal control coordinates specific programs of differentiation with developmental timing.
Access options
Subscribe to Journal
Get full journal access for 1 year
$209.00
only $17.42 per issue
All prices are NET prices.
VAT will be added later in the checkout.
Rent or Buy article
Get time limited or full article access on ReadCube.
from$8.99
All prices are NET prices.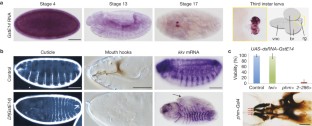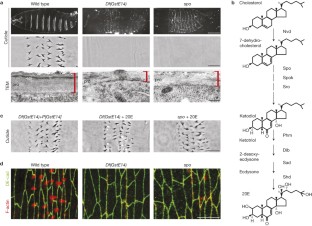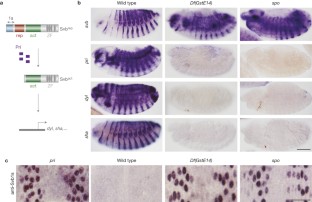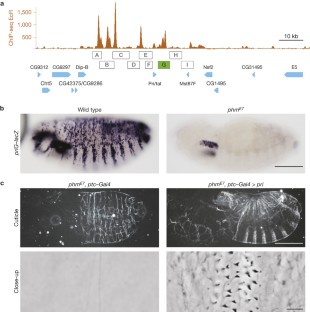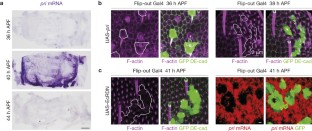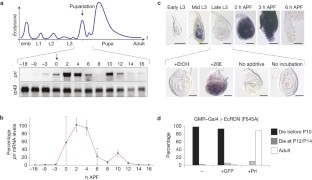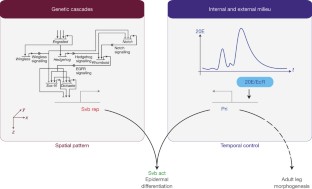 References
1

Pauli, A., Rinn, J. L. & Schier, A. F. Non-coding RNAs as regulators of embryogenesis. Nat. Rev. Genet. 12, 136–149 (2011).

2

Ulitsky, I. & Bartel, D. P. lincRNAs: genomics, evolution, and mechanisms. Cell 154, 26–46 (2013).

3

Aspden, J. L. et al. Extensive translation of small ORFs revealed by Poly-Ribo-Seq. eLife e03528 (2014).

4

Ingolia, N. T., Lareau, L. F. & Weissman, J. S. Ribosome profiling of mouse embryonic stem cells reveals the complexity and dynamics of mammalian proteomes. Cell 147, 789–802 (2011).

5

Hanada, K. et al. Small open reading frames associated with morphogenesis are hidden in plant genomes. Proc. Natl Acad. Sci. USA 110, 2395–2400 (2013).

6

Magny, E. G. et al. Conserved regulation of cardiac calcium uptake by peptides encoded in small open reading frames. Science 341, 1116–1120 (2013).

7

Slavoff, S. A. et al. Peptidomic discovery of short open reading frame-encoded peptides in human cells. Nat. Chem. Biol. 9, 59–64 (2013).

8

Savard, J., Marques-Souza, H., Aranda, M. & Tautz, D. A segmentation gene in tribolium produces a polycistronic mRNA that codes for multiple conserved peptides. Cell 126, 559–569 (2006).

9

Galindo, M. I., Pueyo, J. I., Fouix, S., Bishop, S. A. & Couso, J. P. Peptides encoded by short ORFs control development and define a new eukaryotic gene family. PLoS Biol. 5, e106 (2007).

10

Pueyo, J. I. & Couso, J. P. The 11-aminoacid long Tarsal-less peptides trigger a cell signal in Drosophila leg development. Dev. Biol. 324, 192–201 (2008).

11

Kondo, T. et al. Small peptide regulators of actin-based cell morphogenesis encoded by a polycistronic mRNA. Nat. Cell Biol. 9, 660–665 (2007).

12

Chanut-Delalande, H., Ferrer, P., Payre, F. & Plaza, S. Effectors of tridimensional cell morphogenesis and their evolution. Semin. Cell Dev. Biol. 23, 341–349 (2012).

13

Payre, F., Vincent, A. & Carreno, S. ovo/svb integrates Wingless and DER pathways to control epidermis differentiation. Nature 400, 271–275 (1999).

14

Sucena, E., Delon, I., Jones, I., Payre, F. & Stern, D. L. Regulatory evolution of shavenbaby/ovo underlies multiple cases of morphological parallelism. Nature 424, 935–938 (2003).

15

Delon, I. & Payre, F. Evolution of larval morphology in flies: get in shape with shavenbaby. Trends Genet. 20, 305–313 (2004).

16

McGregor, A. P. et al. Morphological evolution through multiple cis-regulatory mutations at a single gene. Nature 448, 587–590 (2007).

17

Frankel, N. et al. Morphological evolution caused by many subtle-effect substitutions in regulatory DNA. Nature 474, 598–603 (2011).

18

Menoret, D. et al. Genome-wide analyses of Shavenbaby target genes reveals distinct features of enhancer organization. Gen. Biol. 14, R86 (2013).

19

Chanut-Delalande, H., Fernandes, I., Roch, F., Payre, F. & Plaza, S. Shavenbaby couples patterning to epidermal cell shape control. PLoS Biol. 4, e290 (2006).

20

Andrew, D. J. & Baker, B. S. Expression of the Drosophila secreted cuticle protein 73 (dsc73) requires Shavenbaby. Dev. Dyn. 237, 1198–1206 (2008).

21

Fernandes, I. et al. Zona pellucida domain proteins remodel the apical compartment for localized cell shape changes. Dev. Cell 18, 64–76 (2010).

22

Kondo, T. et al. Small peptides switch the transcriptional activity of Shavenbaby during Drosophila embryogenesis. Science 329, 336–339 (2010).

23

Thummel, C. S. Molecular mechanisms of developmental timing in C. elegans and Drosophila. Dev. Cell 1, 453–465 (2001).

24

Yamanaka, N., Rewitz, K. F. & O'Connor, M. B. Ecdysone control of developmental transitions: lessons from Drosophila research. Annu. Rev. Entomol. 58, 497–516 (2013).

25

Delanoue, R., Slaidina, M. & Leopold, P. The steroid hormone ecdysone controls systemic growth by repressing dMyc function in Drosophila fat cells. Dev. Cell 18, 1012–1021 (2010).

26

Colombani, J. et al. Antagonistic actions of ecdysone and insulins determine final size in Drosophila. Science 310, 667–670 (2005).

27

Andersen, D. S., Colombani, J. & Leopold, P. Coordination of organ growth: principles and outstanding questions from the world of insects. Trends Cell Biol. 23, 336–344 (2013).

28

Yamanaka, N. et al. Neuroendocrine control of Drosophila larval light preference. Science 341, 1113–1116 (2013).

29

Saisawang, C., Wongsantichon, J. & Ketterman, A. J. A preliminary characterization of the cytosolic glutathione transferase proteome from Drosophila melanogaster. Biochem. J. 442, 181–190 (2012).

30

Board, P. G. & Menon, D. Glutathione transferases, regulators of cellular metabolism and physiology. Biochim. Biophys. Acta 1830, 3267–3288 (2013).

31

Yoshiyama, T., Namiki, T., Mita, K., Kataoka, H. & Niwa, R. Neverland is an evolutionally conserved Rieske-domain protein that is essential for ecdysone synthesis and insect growth. Development 133, 2565–2574 (2006).

32

Yoshiyama-Yanagawa, T. et al. The conserved Rieske oxygenase DAF-36/Neverland is a novel cholesterol-metabolizing enzyme. J. Biol. Chem. 286, 25756–25762 (2011).

33

Ono, H. et al. Spook and Spookier code for stage-specific components of the ecdysone biosynthetic pathway in Diptera. Dev. Biol. 298, 555–570 (2006).

34

Niwa, R. et al. Non-molting glossy/shroud encodes a short-chain dehydrogenase/reductase that functions in the 'Black Box' of the ecdysteroid biosynthesis pathway. Development 137, 1991–1999 (2010).

35

Warren, J. T. et al. Phantom encodes the 25-hydroxylase of Drosophila melanogaster and Bombyx mori: A P450 enzyme critical in ecdysone biosynthesis. Insect Biochem. Mol. Biol. 34, 991–1010 (2004).

36

Chavez, V. M. et al. The Drosophila disembodied gene controls late embryonic morphogenesis and codes for a cytochrome P450 enzyme that regulates embryonic ecdysone levels. Development 127, 4115–4126 (2000).

37

Petryk, A. et al. Shade is the Drosophila P450 enzyme that mediates the hydroxylation of ecdysone to the steroid insect molting hormone 20-hydroxyecdysone. Proc. Natl Acad. Sci. USA 100, 13773–13778 (2003).

38

Huang, X., Warren, J. T. & Gilbert, L. I. New players in the regulation of ecdysone biosynthesis. J. Genet. Genomics 35, 1–10 (2008).

39

Nusslein-Volhard, C., Wieschaus, E. & Kluding, H. Mutations affecting the pattern of larval cuticle in Drosophila Melanogaster. I. zygotic loci on the seconde chromosome. Roux Arch. Dev. Biol. 193, 267–282 (1984).

40

Rewitz, K. F., O'Connor, M. B. & Gilbert, L. I. Molecular evolution of the insect Halloween family of cytochrome P450s: phylogeny, gene organization and functional conservation. Insect Biochem. Mol. Biol. 37, 741–753 (2007).

41

Warren, J. T. et al. Molecular and biochemical characterization of two P450 enzymes in the ecdysteroidogenic pathway of Drosophila melanogaster. Proc. Natl Acad. Sci. USA 99, 11043–11048 (2002).

42

Talamillo, A. et al. Scavenger receptors mediate the role of SUMO and Ftz-f1 in Drosophila steroidogenesis. PLoS Genet. 9, e1003473 (2013).

43

Chavoshi, T. M., Moussian, B. & Uv, A. Tissue-autonomous EcR functions are required for concurrent organ morphogenesis in the Drosophila embryo. Mech. Dev. 127, 308–319 (2010).

44

Moussian, B. Recent advances in understanding mechanisms of insect cuticle differentiation. Insect Biochem. Mol. Biol. 40, 363–375 (2010).

45

Payre, F. Genetic control of epidermis differentiation in Drosophila. Int. J. Dev. Biol. 48, 207–215 (2004).

46

Frankel, N. et al. Phenotypic robustness conferred by apparently redundant transcriptional enhancers. Nature 466, 490–493 (2010).

47

Koelle, M. R. et al. The Drosophila EcR gene encodes an ecdysone receptor, a new member of the steroid receptor superfamily. Cell 67, 59–77 (1991).

48

Yao, T. P. et al. Functional ecdysone receptor is the product of EcR and Ultraspiracle genes. Nature 366, 476–479 (1993).

49

Ruaud, A. F., Lam, G. & Thummel, C. S. The Drosophila nuclear receptors DHR3 and βFTZ-F1 control overlapping developmental responses in late embryos. Development 137, 123–131 (2010).

50

Carney, G. E. & Bender, M. The Drosophila ecdysone receptor (EcR) gene is required maternally for normal oogenesis. Genetics 154, 1203–1211 (2000).

51

Cherbas, L., Hu, X., Zhimulev, I., Belyaeva, E. & Cherbas, P. EcR isoforms in Drosophila: testing tissue-specific requirements by targeted blockade and rescue. Development 130, 271–284 (2003).

52

Kamimura, M. et al. Fungal ecdysteroid-22-oxidase, a new tool for manipulating ecdysteroid signaling and insect development. J. Biol. Chem. 287, 16488–16498 (2012).

53

Shlyueva, D. et al. Hormone-responsive enhancer-activity maps reveal predictive motifs, indirect repression, and targeting of closed chromatin. Mol. Cell 54, 180–192 (2014).

54

Kozlova, T. & Thummel, C. S. Essential roles for ecdysone signaling during Drosophila mid-embryonic development. Science 301, 1911–1914 (2003).

55

Riddiford, L. M. in The Development of Drosophila Melanogaster (ed Martinez-Arias, M. B.a.A.) 899–939 (Cold Spring Harbor Laboratory Press, 1993).

56

Fluegel, M. L., Parker, T. J. & Pallanck, L. J. Mutations of a Drosophila NPC1 gene confer sterol and ecdysone metabolic defects. Genetics 172, 185–196 (2006).

57

Horner, M. A. et al. The Drosophila DHR96 nuclear receptor binds cholesterol and regulates cholesterol homeostasis. Genes Dev. 23, 2711–2716 (2009).

58

Enya, S. et al. A Halloween gene noppera-bo encodes a glutathione S-transferase essential for ecdysteroid biosynthesis via regulating the behaviour of cholesterol in Drosophila. Sci. Rep. 4, 6586 (2014).

59

Poodry, C. A. & Schneiderman, H. A. The ultrastructure of the developing leg of Drosophila melanogaster. Roux Arch. Dev. Biol. 166, 1–44 (1970).

60

McLean, P. F. & Cooley, L. Protein equilibration through somatic ring canals in Drosophila. Science 340, 1445–1447 (2013).

61

Pueyo, J. I. & Couso, J. P. Tarsal-less peptides control Notch signalling through the Shavenbaby transcription factor. Dev. Biol. 355, 183–193 (2011).

62

Pi, H. et al. Identification of 11-amino acid peptides that disrupt Notch-mediated processes in Drosophila. J. Biomed. Sci. 18, 42 (2011).

63

Delon, I., Chanut-Delalande, H. & Payre, F. The Ovo/Shavenbaby transcription factor specifies actin remodelling during epidermal differentiation in Drosophila. Mech. Dev. 120, 747–758 (2003).

64

Andres, A. J. & Thummel, C. S. Methods for quantitative analysis of transcription in larvae and prepupae. Methods Cell Biol. 44, 565–573 (1994).

65

Founounou, N., Loyer, N. & Le Borgne, R. Septins regulate the contractility of the actomyosin ring to enable adherens junction remodeling during cytokinesis of epithelial cells. Dev. Cell 24, 242–255 (2013).

66

Dunne, J. C., Kondylis, V. & Rabouille, C. Ecdysone triggers the expression of Golgi genes in Drosophila imaginal discs via broad-complex. Dev. Biol. 245, 172–186 (2002).
Acknowledgements
We are grateful to FlyBase and the Bloomington, Vienna and Kyoto stock centres, as well as R. Niwa, M. Kamimura and J. Colombani for providing flies, and H. Bellen for bacterial artificial chromosome constructs. We thank B. Ronsin (Toulouse RIO Imaging) for help with microscopy and O. Bohner for technical assistance. We also thank A. Khila, A. Vincent, P. Leopold and E. France for critical reading of the manuscript, and are indebted to R. Niwa for sharing unpublished results. This work was supported by ANR (smORFpeptides and Chrononet), Association pour la Recherche sur le Cancer (12011669), Azm & Saade Association, JST PRESTO program, MEXT KAKENHI (21115007) and Fondation RITC.
Ethics declarations
Competing interests
The authors declare no competing financial interests.
Integrated supplementary information
Supplementary information
About this article
Cite this article
Chanut-Delalande, H., Hashimoto, Y., Pelissier-Monier, A. et al. Pri peptides are mediators of ecdysone for the temporal control of development. Nat Cell Biol 16, 1035–1044 (2014). https://doi.org/10.1038/ncb3052
Received:

Accepted:

Published:

Issue Date: