Abstract
Rho-family GTPases govern distinct types of cell migration on different extracellular matrix proteins in tissue culture or three-dimensional (3D) matrices1,2,3. We searched for mechanisms selectively regulating 3D cell migration in different matrix environments4,5 and discovered a form of Cdc42–RhoA crosstalk governing cell migration through a specific pair of GTPase activator and inhibitor molecules. We first identified βPix, a guanine nucleotide exchange factor (GEF), as a specific regulator of migration in 3D collagen using an affinity-precipitation-based GEF screen. Knockdown of βPix specifically blocks cell migration in fibrillar collagen microenvironments, leading to hyperactive cellular protrusion accompanied by increased collagen matrix contraction. Live FRET imaging and RNAi knockdown linked this βPix knockdown phenotype to loss of polarized Cdc42 but not Rac1 activity, accompanied by enhanced, de-localized RhoA activity. Mechanistically, collagen phospho-regulates βPix, leading to its association with srGAP1, a GTPase-activating protein (GAP), needed to suppress RhoA activity. Our results reveal a matrix-specific pathway controlling migration involving a GEF–GAP interaction of βPix with srGAP1 that is critical for maintaining suppressive crosstalk between Cdc42 and RhoA during 3D collagen migration.
Relevant articles
Open Access articles citing this article.
Jun Matsuda

,

Dina Greenberg

…

Tomoko Takano

Scientific Reports Open Access 04 November 2022

Yukie Yamahashi

,

You-Hsin Lin

…

Kozo Kaibuchi

Molecular Psychiatry Open Access 03 June 2022

Jake D. Howden

,

Magdalene Michael

…

Maddy Parsons

BMC Biology Open Access 23 June 2021
Access options
Subscribe to this journal
Receive 12 print issues and online access
$209.00 per year
only $17.42 per issue
Rent or buy this article
Prices vary by article type
from$1.95
to$39.95
Prices may be subject to local taxes which are calculated during checkout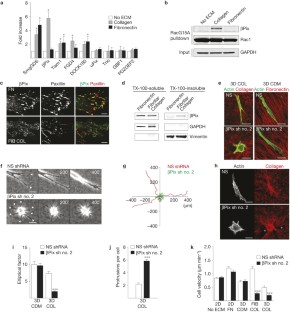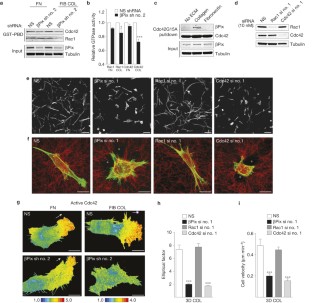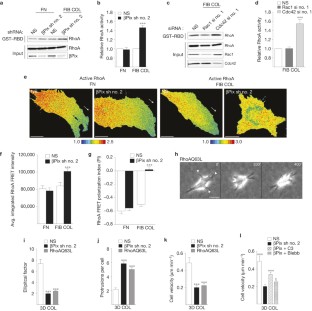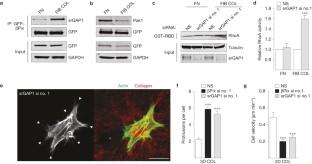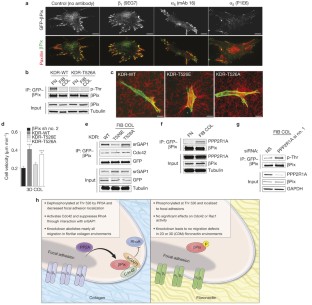 References
Friedl, P. & Wolf, K. Plasticity of cell migration: a multiscale tuning model. J. Cell Biol. 188, 11–19 (2010).

Arthur, W. T., Noren, N. K. & Burridge, K. Regulation of Rho family GTPases by cell–cell and cell–matrix adhesion. Biol. Res. 35, 239–246 (2002).

Petrie, R. J. & Yamada, K. M. At the leading edge of three-dimensional cell migration. J. Cell Sci. 125, 5917–5926 (2012).

Guilluy, C., Garcia-Mata, R. & Burridge, K. Rho protein crosstalk: another social network? Trends Cell Biol. 21, 718–726 (2011).

Doyle, A. D., Petrie, R. J., Kutys, M. L. & Yamada, K. M. Dimensions in cell migration. Curr. Opin. Cell Biol. 25, 642–649 (2013).

Frantz, C., Stewart, K. M. & Weaver, V. M. The extracellular matrix at a glance. J. Cell Sci. 123, 4195–4200 (2010).

Provenzano, P. P. et al. Collagen reorganization at the tumor-stromal interface facilitates local invasion. BMC Med. 4, 38 (2006).

Daley, W. P. & Yamada, K. M. ECM-modulated cellular dynamics as a driving force for tissue morphogenesis. Curr. Opin. Genet. Dev. 23, 408–414 (2013).

Petrie, R. J., Gavara, N., Chadwick, R. S. & Yamada, K. M. Nonpolarized signaling reveals two distinct modes of 3D cell migration. J. Cell Biol. 197, 439–455 (2012).

Huttenlocher, A. & Horwitz, A. R. Integrins in cell migration. Cold Spring Harb. Perspect. Biol. 3, a005074 (2011).

Petrie, R. J., Doyle, A. D. & Yamada, K. M. Random versus directionally persistent cell migration. Nat. Rev. Mol. Cell Biol. 10, 538–549 (2009).

Raftopoulou, M. & Hall, A. Cell migration: Rho GTPases lead the way. Dev. Biol. 265, 23–32 (2004).

Bos, J. L., Rehmann, H. & Wittinghofer, A. GEFs and GAPs: critical elements in the control of small G proteins. Cell 129, 865–877 (2007).

Garcia-Mata, R. et al. Analysis of activated GAPs and GEFs in cell lysates. Methods Enzymol. 406, 425–437 (2006).

Dubash, A. D. et al. A novel role for Lsc/p115 RhoGEF and LARG in regulating RhoA activity downstream of adhesion to fibronectin. J. Cell Sci. 120, 3989–3998 (2007).

Pankov, R. et al. A Rac switch regulates random versus directionally persistent cell migration. J. Cell Biol. 170, 793–802 (2005).

Kuo, J. C., Han, X., Hsiao, C. T., Yates, J. R. 3rd & Waterman, C. M. Analysis of the myosin-II-responsive focal adhesion proteome reveals a role for β-Pix in negative regulation of focal adhesion maturation. Nat. Cell Biol. 13, 383–393 (2011).

Liu, F. et al. Cadherins and Pak1 control contact inhibition of proliferation by Pak1-βPIX-GIT complex-dependent regulation of cell-matrix signaling. Mol. Cell. Biol. 30, 1971–1983 (2010).

Cau, J. & Hall, A. Cdc42 controls the polarity of the actin and microtubule cytoskeletons through two distinct signal transduction pathways. J. Cell Sci. 118, 2579–2587 (2005).

Kutys, M. L., Doyle, A. D. & Yamada, K. M. Regulation of cell adhesion and migration by cell-derived matrices. Exp. Cell Res. 319, 2434–2439 (2013).

Manser, E. et al. PAK kinases are directly coupled to the PIX family of nucleotide exchange factors. Mol. Cell. 1, 183–192 (1998).

Lammermann, T. et al. Cdc42-dependent leading edge coordination is essential for interstitial dendritic cell migration. Blood 113, 5703–5710 (2009).

Komatsu, N. et al. Development of an optimized backbone of FRET biosensors for kinases and GTPases. Mol. Biol. Cell. 22, 4647–4656 (2011).

Yoshizaki, H. et al. Activity of Rho-family GTPases during cell division as visualized with FRET-based probes. J. Cell Biol. 162, 223–232 (2003).

Ohta, Y., Hartwig, J. H. & Stossel, T. P. FilGAP, a Rho- and ROCK-regulated GAP for Rac binds filamin A to control actin remodelling. Nat. Cell Biol. 8, 803–814 (2006).

Bustos, R. I., Forget, M. A., Settleman, J. E. & Hansen, S. H. Coordination of Rho and Rac GTPase function via p190B RhoGAP. Curr. Biol. 18, 1606–1611 (2008).

Wong, K. et al. Signal transduction in neuronal migration: roles of GTPase activating proteins and the small GTPase Cdc42 in the Slit-Robo pathway. Cell 107, 209–221 (2001).

Coutinho-Budd, J., Ghukasyan, V., Zylka, M. J. & Polleux, F. The F-BAR domains from srGAP1, srGAP2 and srGAP3 regulate membrane deformation differently. J. Cell Sci. 125, 3390–3401 (2012).

Miyamoto, S. et al. Integrin function: molecular hierarchies of cytoskeletal and signaling molecules. J. Cell Biol. 131, 791–805 (1995).

Mayhew, M. W. et al. Identification of phosphorylation sites in βPIX and PAK1. J. Cell Sci. 120, 3911–3918 (2007).

Shin, E. Y. et al. Basic fibroblast growth factor stimulates activation of Rac1 through a p85 βPIX phosphorylation-dependent pathway. J. Biol. Chem. 279, 1994–2004 (2004).

Chahdi, A., Miller, B. & Sorokin, A. Endothelin 1 induces β1Pix translocation and Cdc42 activation via protein kinase A-dependent pathway. J. Biol. Chem. 280, 578–584 (2005).

Ivaska, J. et al. Integrin α2 β1 promotes activation of protein phosphatase 2A and dephosphorylation of Akt and glycogen synthase kinase 3 β. Mol. Cell. Biol. 22, 1352–1359 (2002).

Koh, C. G., Manser, E., Zhao, Z. S., Ng, C. P. & Lim, L. β1PIX, the PAK-interacting exchange factor, requires localization via a coiled-coil region to promote microvillus-like structures and membrane ruffles. J. Cell Sci. 114, 4239–4251 (2001).

Engler, A. J., Sen, S., Sweeney, H. L. & Discher, D. E. Matrix elasticity directs stem cell lineage specification. Cell 126, 677–689 (2006).

Provenzano, P. P. et al. Collagen density promotes mammary tumor initiation and progression. BMC Med. 6, 11 (2008).

Daley, W. P. et al. ROCK1-directed basement membrane positioning coordinates epithelial tissue polarity. Development 139, 411–422 (2012).

Levental, K. R. et al. Matrix crosslinking forces tumor progression by enhancing integrin signaling. Cell 139, 891–906 (2009).

Cai, L., Marshall, T. W., Uetrecht, A. C., Schafer, D. A. & Bear, J. E. Coronin 1B coordinates Arp2/3 complex and cofilin activities at the leading edge. Cell 128, 915–929 (2007).

Hodgson, L., Shen, F. & Hahn, K. Biosensors for characterizing the dynamics of rho family GTPases in living cells. Curr. Protoc. Cell Biol. 46, 14.11.1–14.11.26 (2010).
Acknowledgements
The authors would like to thank W. Daley, R. Petrie and D. Tran for critical reading of the manuscript. This study was supported by the Intramural Research Program of the National Institute of Dental and Craniofacial Research, NIH.
Ethics declarations
Competing interests
The authors declare no competing financial interests.
Integrated supplementary information
Supplementary information
About this article
Cite this article
Kutys, M., Yamada, K. An extracellular-matrix-specific GEF–GAP interaction regulates Rho GTPase crosstalk for 3D collagen migration. Nat Cell Biol 16, 909–917 (2014). https://doi.org/10.1038/ncb3026
Received:

Accepted:

Published:

Issue Date:

DOI: https://doi.org/10.1038/ncb3026