Abstract
Metastasis remains the most common cause of death in most cancers, with limited therapies for combating disseminated disease. While the primary tumour microenvironment is an important regulator of cancer progression, it is less well understood how different tissue environments influence metastasis. We analysed tumour–stroma interactions that modulate organ tropism of brain, bone and lung metastasis in xenograft models. We identified a number of potential modulators of site-specific metastasis, including cathepsin S as a regulator of breast-to-brain metastasis. High cathepsin S expression at the primary site correlated with decreased brain metastasis-free survival in breast cancer patients. Both macrophages and tumour cells produce cathepsin S, and only the combined depletion significantly reduced brain metastasis in vivo. Cathepsin S specifically mediates blood–brain barrier transmigration through proteolytic processing of the junctional adhesion molecule, JAM-B. Pharmacological inhibition of cathepsin S significantly reduced experimental brain metastasis, supporting its consideration as a therapeutic target for this disease.
Relevant articles
Open Access articles citing this article.
Maria M. Caffarel

&

Mounia S. Braza

Journal of Experimental & Clinical Cancer Research Open Access 21 November 2022

Daan G. J. Linders

,

Okker D. Bijlstra

…

Peter J. K. Kuppen

Molecular Imaging and Biology Open Access 24 August 2022

Asad Ur Rehman

,

Parvez Khan

…

Mohd Wasim Nasser

Molecular Cancer Open Access 10 May 2022
Access options
Subscribe to Journal
Get full journal access for 1 year
$99.00
only $8.25 per issue
All prices are NET prices.
VAT will be added later in the checkout.
Tax calculation will be finalised during checkout.
Buy article
Get time limited or full article access on ReadCube.
$32.00
All prices are NET prices.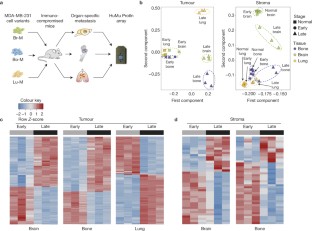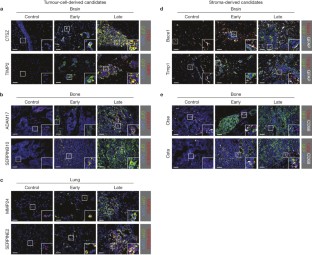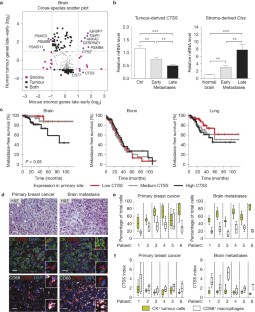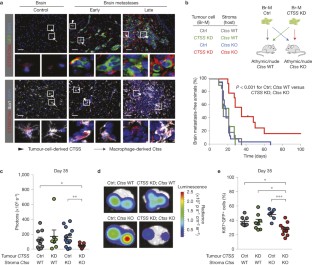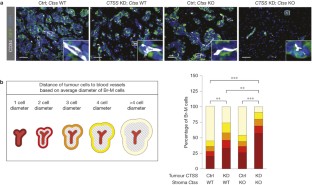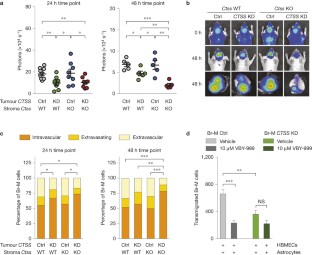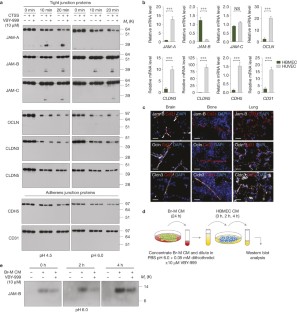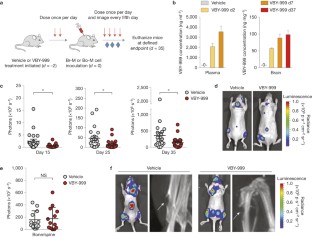 References
Quail, D. F. & Joyce, J. A. Microenvironmental regulation of tumor progression and metastasis. Nat. Med. 19, 1423–1437 (2013).

Nguyen, D. X., Bos, P. D. & Massague, J. Metastasis: from dissemination to organ-specific colonization. Nat. Rev. Cancer 9, 274–284 (2009).

Goss, P. E. & Chambers, A. F. Does tumour dormancy offer a therapeutic target? Nat. Rev. Cancer 10, 871–877 (2010).

Affara, N. I., Andreu, P. & Coussens, L. M. Delineating protease functions during cancer development. Methods Mol. Biol. 539, 1–32 (2009).

Mason, S. D. & Joyce, J. A. Proteolytic networks in cancer. Trends Cell Biol. 21, 228–237 (2011).

Gocheva, V. et al. Distinct roles for cysteine cathepsin genes in multistage tumorigenesis. Genes Dev. 20, 543–556 (2006).

Murphy, G. The ADAMs: signalling scissors in the tumour microenvironment. Nat. Rev. Cancer 8, 929–941 (2008).

Butler, G. S. & Overall, C. M. Proteomic identification of multitasking proteins in unexpected locations complicates drug targeting. Nat. Rev. Drug Discov. 8, 935–948 (2009).

Lopez-Otin, C. & Hunter, T. The regulatory crosstalk between kinases and proteases in cancer. Nat. Rev. Cancer 10, 278–292 (2010).

Kessenbrock, K., Plaks, V. & Werb, Z. Matrix metalloproteinases: regulators of the tumor microenvironment. Cell 141, 52–67 (2010).

Allinen, M. et al. Molecular characterization of the tumor microenvironment in breast cancer. Cancer Cell 6, 17–32 (2004).

Finak, G. et al. Stromal gene expression predicts clinical outcome in breast cancer. Nat. Med. 14, 518–527 (2008).

Erez, N., Truitt, M., Olson, P., Arron, S. T. & Hanahan, D. Cancer-associated fibroblasts are activated in incipient neoplasia to orchestrate tumor-promoting inflammation in an NF-κB-dependent manner. Cancer Cell 17, 135–147 (2010).

Katz, A. M. et al. Astrocyte-specific expression patterns associated with the PDGF-induced glioma microenvironment. PLoS ONE 7, e32453 (2012).

Seaman, S. et al. Genes that distinguish physiological and pathological angiogenesis. Cancer Cell 11, 539–554 (2007).

Ojalvo, L. S., Whittaker, C. A., Condeelis, J. S. & Pollard, J. W. Gene expression analysis of macrophages that facilitate tumor invasion supports a role for Wnt-signaling in mediating their activity in primary mammary tumors. J. Immunol. 184, 702–712 (2010).

Paget, S. The distribution of secondary growths in cancer of the breast. 1889. Cancer Metastasis Rev. 8, 98–101 (1989).

Disibio, G. & French, S. W. Metastatic patterns of cancers: results from a large autopsy study. Arch. Pathol. Lab. Med. 132, 931–939 (2008).

Lee, Y. T. Breast carcinoma: pattern of metastasis at autopsy. J. Surg. Oncol. 23, 175–180 (1983).

Bos, P. D. et al. Genes that mediate breast cancer metastasis to the brain. Nature 459, 1005–1009 (2009).

Kang, Y. et al. A multigenic program mediating breast cancer metastasis to bone. Cancer Cell 3, 537–549 (2003).

Minn, A. J. et al. Genes that mediate breast cancer metastasis to lung. Nature 436, 518–524 (2005).

Schwartz, D. R. et al. Hu/Mu ProtIn oligonucleotide microarray: dual-species array for profiling protease and protease inhibitor gene expression in tumors and their microenvironment. Mol. Cancer Res. 5, 443–454 (2007).

Ponomarev, V. et al. A novel triple-modality reporter gene for whole-body fluorescent, bioluminescent, and nuclear noninvasive imaging. Eur. J. Nucl. Med. Mol. Imaging 31, 740–751 (2004).

Shi, G. P. et al. Cathepsin S required for normal MHC class II peptide loading and germinal center development. Immunity 10, 197–206 (1999).

Lorger, M. & Felding-Habermann, B. Capturing changes in the brain microenvironment during initial steps of breast cancer brain metastasis. Am. J. Pathol. 176, 2958–2971 (2010).

Small, D. M. et al. Cathepsin S from both tumor and tumor-associated cells promote cancer growth and neovascularization. Int. J. Cancer 133, 2102–2112 (2013).

Abbott, N. J., Ronnback, L. & Hansson, E. Astrocyte-endothelial interactions at the blood–brain barrier. Nat. Rev. Neurosci. 7, 41–53 (2006).

Eugenin, E. A. & Berman, J. W. Chemokine-dependent mechanisms of leukocyte trafficking across a model of the blood-brain barrier. Methods 29, 351–361 (2003).

Jia, W., Martin, T. A., Zhang, G. & Jiang, W. G. Junctional adhesion molecules in cerebral endothelial tight junction and brain metastasis. Anticancer Res. 33, 2353–2359 (2013).

Liu, W. Y., Wang, Z. B., Zhang, L. C., Wei, X. & Li, L. Tight junction in blood-brain barrier: an overview of structure, regulation, and regulator substances. CNS Neurosci. Ther. 18, 609–615 (2012).

Gallagher, F. A. et al. Magnetic resonance imaging of pH in vivo using hyperpolarized 13C-labelled bicarbonate. Nature 453, 940–943 (2008).

Kirschke, H., Wiederanders, B., Bromme, D. & Rinne, A. Cathepsin S from bovine spleen. Purification, distribution, intracellular localization and action on proteins. Biochem. J. 264, 467–473 (1989).

Nolan, D. J. et al. Molecular signatures of tissue-specific microvascular endothelial cell heterogeneity in organ maintenance and regeneration. Dev. Cell 26, 204–219 (2013).

Choe, Y. et al. Substrate profiling of cysteine proteases using a combinatorial peptide library identifies functionally unique specificities. J. Biol. Chem. 281, 12824–12832 (2006).

Oliveira, M. et al. Improvement of cathepsin S detection using a designed FRET peptide based on putative natural substrates. Peptides 31, 562–567 (2010).

Biniossek, M. L., Nagler, D. K., Becker-Pauly, C. & Schilling, O. Proteomic identification of protease cleavage sites characterizes prime and non-prime specificity of cysteine cathepsins B, L, and S. J. Proteome Res. 10, 5363–5373 (2011).

Oskarsson, T. et al. Breast cancer cells produce tenascin C as a metastatic niche component to colonize the lungs. Nat. Med. 17, 867–874 (2011).

Chapman, H. A. Endosomal proteases in antigen presentation. Curr. Opin. Immunol. 18, 78–84 (2006).

Gupta, S., Singh, R. K., Dastidar, S. & Ray, A. Cysteine cathepsin S as an immunomodulatory target: present and future trends. Expert Opin. Ther. Targets 12, 291–299 (2008).

Madsen, C. D. & Sahai, E. Cancer dissemination–lessons from leukocytes. Dev. Cell 19, 13–26 (2010).

Steeg, P. S., Camphausen, K. A. & Smith, Q. R. Brain metastases as preventive and therapeutic targets. Nat. Rev. Cancer 11, 352–363 (2011).

Eichler, A. F. et al. The biology of brain metastases-translation to new therapies. Nat. Rev. Clin. Oncol. 8, 344–356 (2011).

Park, E. S. et al. Cross-species hybridization of microarrays for studying tumor transcriptome of brain metastasis. Proc. Natl Acad. Sci. USA 108, 17456–17461 (2011).

Turk, B. Targeting proteases: successes, failures and future prospects. Nat. Rev. Drug Discov. 5, 785–799 (2006).

Palermo, C. & Joyce, J. A. Cysteine cathepsin proteases as pharmacological targets in cancer. Trends Pharmacol. Sci. 29, 22–28 (2008).

Drag, M. & Salvesen, G. S. Emerging principles in protease-based drug discovery. Nat. Rev. Drug Discov. 9, 690–701 (2010).

Fingleton, B. Matrix metalloproteinases as valid clinical targets. Curr. Pharm. Des. 13, 333–346 (2007).

Seidah, N. G. & Prat, A. The biology and therapeutic targeting of the proprotein convertases. Nat. Rev. Drug Discov. 11, 367–383 (2012).

Guy, C. T., Cardiff, R. D. & Muller, W. J. Induction of mammary tumors by expression of polyomavirus middle T oncogene: a transgenic mouse model for metastatic disease. Mol. Cell. Biol. 12, 954–961 (1992).

Shree, T. et al. Macrophages and cathepsin proteases blunt chemotherapeutic response in breast cancer. Genes Dev. 25, 2465–2479 (2011).

Gentleman, R. C. et al. Bioconductor: open software development for computational biology and bioinformatics. Genome Biol. 5, R80 (2004).

Gautier, L., Cope, L., Bolstad, B. M. & Irizarry, R. A. Affy–analysis of Affymetrix GeneChip data at the probe level. Bioinformatics 20, 307–315 (2004).

Smyth, G. K. in Bioinformatics and Computational Biology Solutions Using R and Bioconductor (eds Gentleman, R., Carey, V., Dudoit, S., Irizarry, R. A. & Huber, W.) 397–420 (Springer, 2005).

Therneau, T. A Package for Survival Analysis in S. R package version 2.37-7, (2014); http://cran.r-project.org/package=survival

Gocheva, V. et al. IL-4 induces cathepsin protease activity in tumor-associated macrophages to promote cancer growth and invasion. Genes Dev. 24, 241–255 (2010).
Acknowledgements
We thank K. Simpson and X. Chen for excellent technical support, and members of the J.A.J. laboratory for insightful discussion. We thank L. Akkari, O. Olson and D. Yan for reading the manuscript. We are grateful to P. Bos for advice on the BBB assays and experimental brain metastasis model. We thank the MSKCC Core Facilities of Genomics, Molecular Cytology, Small Animal Imaging and Monoclonal Antibody Production for technical assistance. We thank H. Chapman (UCSF) for providing cathepsin S KO mice. This research was supported by the following: US National Cancer Institute program grants of the Integrative Cancer Biology Program (CA148967; J.A.J., C.S.L.) and Tumour Microenvironment Network (CA126518; J.A.J., J.M.), the Health Research Science Board of New York, and the Alan and Sandra Gerry Metastasis Research Initiative (J.A.J.), Deutsche Forschungsgemeinschaft (SE2234/1-1; L.S.), US National Cancer Institute F31 fellowship CA167863 and Gerstner Sloan Kettering graduate program (R.L.B.), US National Cancer Institute F32 fellowship CA130329 (S.D.M.), and Canadian Institutes of Health Research (D.F.Q.).
Ethics declarations
Competing interests
The authors declare no competing financial interests.
Integrated supplementary information
Supplementary information
About this article
Cite this article
Sevenich, L., Bowman, R., Mason, S. et al. Analysis of tumour- and stroma-supplied proteolytic networks reveals a brain-metastasis-promoting role for cathepsin S. Nat Cell Biol 16, 876–888 (2014). https://doi.org/10.1038/ncb3011
Received:

Accepted:

Published:

Issue Date:

DOI: https://doi.org/10.1038/ncb3011