Abstract
The YAP and TAZ mediators of the Hippo pathway (hereafter called YAP/TAZ) promote tissue proliferation and organ growth. However, how their biological properties intersect with cellular metabolism remains unexplained. Here, we show that YAP/TAZ activity is controlled by the SREBP/mevalonate pathway. Inhibition of the rate-limiting enzyme of this pathway (HMG-CoA reductase) by statins opposes YAP/TAZ nuclear localization and transcriptional responses. Mechanistically, the geranylgeranyl pyrophosphate produced by the mevalonate cascade is required for activation of Rho GTPases that, in turn, activate YAP/TAZ by inhibiting their phosphorylation and promoting their nuclear accumulation. The mevalonate–YAP/TAZ axis is required for proliferation and self-renewal of breast cancer cells. In Drosophila melanogaster, inhibition of mevalonate biosynthesis and geranylgeranylation blunts the eye overgrowth induced by Yorkie, the YAP/TAZ orthologue. In tumour cells, YAP/TAZ activation is promoted by increased levels of mevalonic acid produced by SREBP transcriptional activity, which is induced by its oncogenic cofactor mutant p53. These findings reveal an additional layer of YAP/TAZ regulation by metabolic cues.
Access options
Subscribe to Journal
Get full journal access for 1 year
$59.00
only $4.92 per issue
All prices are NET prices.
VAT will be added later in the checkout.
Tax calculation will be finalised during checkout.
Rent or Buy article
Get time limited or full article access on ReadCube.
from$8.99
All prices are NET prices.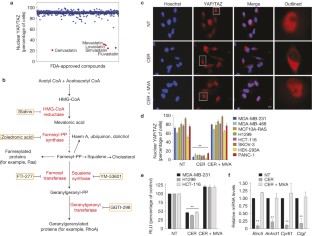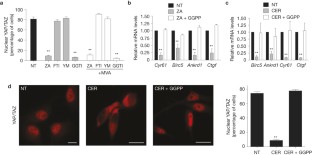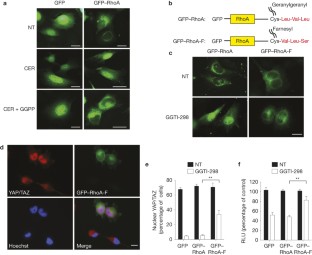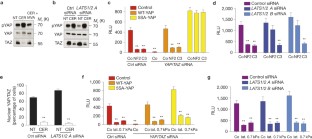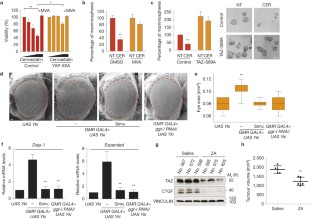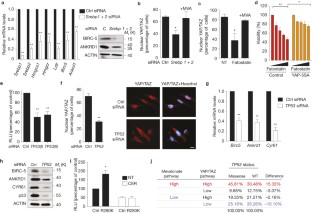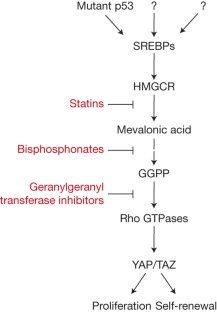 References
1

Stanger, B. Z. Organ size determination and the limits of regulation. Cell Cycle 7, 318–324 (2008).

2

Pan, D. The hippo signaling pathway in development and cancer. Dev. Cell 19, 491–505 (2010).

3

Zhao, B. et al. TEAD mediates YAP-dependent gene induction and growth control. Genes Dev. 22, 1962–1971 (2008).

4

Cordenonsi, M. et al. The Hippo transducer TAZ confers cancer stem cell-related traits on breast cancer cells. Cell 147, 759–772 (2011).

5

Chen, D. et al. LIFR is a breast cancer metastasis suppressor upstream of the Hippo-YAP pathway and a prognostic marker. Nature Med. 18, 1511–1517 (2012).

6

Sudol, M. Newcomers to the WW domain-mediated network of the Hippo tumor suppressor pathway. Genes Cancer 1, 1115–1118 (2010).

7

Piccolo, S., Cordenonsi, M. & Dupont, S. Molecular pathways: YAP and TAZ take center stage in organ growth and tumorigenesis. Clin. Cancer Res. 19, 4925–4930 (2013).

8

Zhao, B. et al. Inactivation of YAP oncoprotein by the Hippo pathway is involved in cell contact inhibition and tissue growth control. Genes Dev. 21, 2747–2761 (2007).

9

Yu, F. X. et al. Regulation of the Hippo-YAP pathway by G-protein-coupled receptor signaling. Cell 150, 780–791 (2012).

10

Demierre, M. F., Higgins, P. D., Gruber, S. B., Hawk, E. & Lippman, S. M. Statins and cancer prevention. Nature Rev. Cancer 5, 930–942 (2005).

11

Larsson, O. HMG-CoA reductase inhibitors: role in normal and malignant cells. Crit. Rev. Oncol. Hematol. 22, 197–212 (1996).

12

Clendening, J. W. & Penn, L. Z. Targeting tumor cell metabolism with statins. Oncogene 31, 4967–4978 (2012).

13

Dupont, S. et al. Role of YAP/TAZ in mechanotransduction. Nature 474, 179–183 (2011).

14

Goldstein, J. L. & Brown, M. S. Regulation of the mevalonate pathway. Nature 343, 425–430 (1990).

15

Wada, K., Itoga, K., Okano, T., Yonemura, S. & Sasaki, H. Hippo pathway regulation by cell morphology and stress fibers. Development 138, 3907–3914 (2011).

16

Sansores-Garcia, L. et al. Modulating F-actin organization induces organ growth by affecting the Hippo pathway. EMBO J. 30, 2325–2335 (2011).

17

Casey, P. J. & Seabra, M. C. Protein prenyltransferases. J. Biol. Chem. 271, 5289–5292 (1996).

18

Keller, P. J., Fiordalisi, J. J., Berzat, A. C. & Cox, A. D. Visual monitoring of post-translational lipid modifications using EGFP-GTPase probes in live cells. Methods 37, 131–137 (2005).

19

Zhao, B., Li, L., Lei, Q. & Guan, K. L. The Hippo-YAP pathway in organ size control and tumorigenesis: an updated version. Genes Dev. 24, 862–874 (2010).

20

Aragona, M. et al. A mechanical checkpoint controls multicellular growth through YAP/TAZ regulation by actin-processing factors. Cell 154, 1047–1059 (2013).

21

Freed-Pastor, W. A. et al. Mutant p53 disrupts mammary tissue architecture via the mevalonate pathway. Cell 148, 244–258 (2012).

22

Nielsen, S. F., Nordestgaard, B. G. & Bojesen, S. E. Statin use and reduced cancer-related mortality. N. Engl. J. Med. 368, 576–577 (2013).

23

Lei, Q. Y. et al. TAZ promotes cell proliferation and epithelial-mesenchymal transition and is inhibited by the hippo pathway. Mol. Cell Biol. 28, 2426–2436 (2008).

24

Ren, F., Zhang, L. & Jiang, J. Hippo signaling regulates Yorkie nuclear localization and activity through 14-3-3 dependent and independent mechanisms. Dev. Biol. 337, 303–312 (2010).

25

Horton, J. D., Goldstein, J. L. & Brown, M. S. SREBPs: Activators of the complete program of cholesterol and fatty acid synthesis in the liver. J. Clin. Invest. 109, 1125–1131 (2002).

26

Brown, M. S. & Goldstein, J. L. The SREBP pathway: Regulation of cholesterol metabolism by proteolysis of a membrane-bound transcription factor. Cell 89, 331–340 (1997).

27

Parsons, R. B. et al. Statins inhibit the dimerization of β-secretase via both isoprenoid- and cholesterol-mediated mechanisms. Biochem. J. 399, 205–214 (2006).

28

Kamisuki, S. et al. A small molecule that blocks fat synthesis by inhibiting the activation of SREBP. Chem. Biol. 16, 882–892 ( 2009).

29

Cerami, E. et al. The cBio cancer genomics portal: An open platform for exploring multidimensional cancer genomics data. Cancer Discov. 2, 401–404 (2012).

30

Zhang, H. et al. TEAD transcription factors mediate the function of TAZ in cell growth and epithelial-mesenchymal transition. J. Biol. Chem. 284, 13355–13362 (2009).

31

Girardini, J. E. et al. A Pin1/mutant p53 axis promotes aggressiveness in breast cancer. Cancer Cell 20, 79–91 (2011).

32

Wang, Z. et al. Interplay of mevalonate and Hippo pathways regulates RHAMM transcription via YAP to modulate breast cancer cell motility. Proc. Natl Acad. Sci. USA 111, E89-9 (2014).

33

Clendening, J. W. et al. Dysregulation of the mevalonate pathway promotes transformation. Proc. Natl Acad. Sci. USA 107, 15051–15056 (2010).

34

Rustighi, A. et al. Prolyl-isomerase Pin1 controls normal and cancer stem cells of the breast. EMBO Mol. Med. 6, 99–119 (2014).
Acknowledgements
We thank A. Comel, F. Mantovani, A. Rustighi and D. Walerich for helpful discussion and reading the manuscript and A. Testa for discussions and proofreading the manuscript. This work was supported by grants from the Associazione Italiana per la Ricerca sul Cancro (AIRC) and AIRC Special Program Molecular Clinical Oncology '5 per mille' to S.P., A.R. and G.D.S. and the Italian Ministry of Education, University and Research (COFIN, FIRB-accordi di programma 2010 cod.RBAP10XKNC_003) to G.D.S. M.M. is supported by the FIRB RBAP11Z4Z9 project from the Italian Ministry of Education, University and Research. V.S. is supported by grant FIRB no. RBFR10V8K6 from the Italian Ministry of Education, University and Research. G.S. is a fellow of the Fondazione Italiana per la Ricerca sul Cancro (FIRC). We acknowledge G. Pastore for technical support and F. Vita for technical support with electron microscopy. The results published here are in part based on data generated by The Cancer TCGA Genome Atlas pilot project established by the NCI and NHGRI. Information about TCGA and the investigators and institutions who constitute the TCGA research network can be found at http://cancergenome.nih.gov.
Ethics declarations
Competing interests
The authors declare no competing financial interests.
Integrated supplementary information
Supplementary information
About this article
Cite this article
Sorrentino, G., Ruggeri, N., Specchia, V. et al. Metabolic control of YAP and TAZ by the mevalonate pathway. Nat Cell Biol 16, 357–366 (2014). https://doi.org/10.1038/ncb2936
Received:

Accepted:

Published:

Issue Date: