Abstract
Endothelial cells show surprising cell rearrangement behaviour during angiogenic sprouting; however, the underlying mechanisms and functional importance remain unclear. By combining computational modelling with experimentation, we identify that Notch/VEGFR-regulated differential dynamics of VE-cadherin junctions drive functional endothelial cell rearrangements during sprouting. We propose that continual flux in Notch signalling levels in individual cells results in differential VE-cadherin turnover and junctional-cortex protrusions, which powers differential cell movement. In cultured endothelial cells, Notch signalling quantitatively reduced junctional VE-cadherin mobility. In simulations, only differential adhesion dynamics generated long-range position changes, required for tip cell competition and stalk cell intercalation. Simulation and quantitative image analysis on VE-cadherin junctional patterning in vivo identified that differential VE-cadherin mobility is lost under pathological high VEGF conditions, in retinopathy and tumour vessels. Our results provide a mechanistic concept for how cells rearrange during normal sprouting and how rearrangement switches to generate abnormal vessels in pathologies.
Access options
Subscribe to Journal
Get full journal access for 1 year
$59.00
only $4.92 per issue
All prices are NET prices.
VAT will be added later in the checkout.
Tax calculation will be finalised during checkout.
Rent or Buy article
Get time limited or full article access on ReadCube.
from$8.99
All prices are NET prices.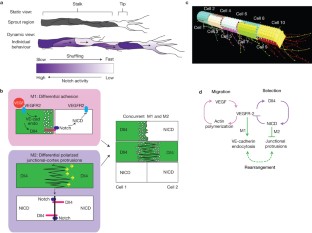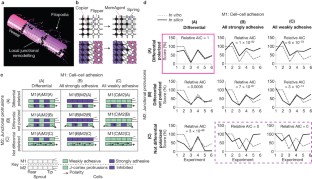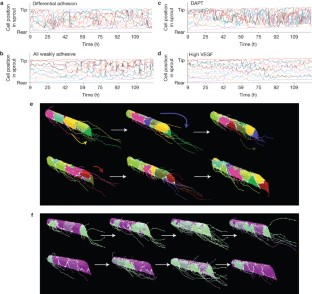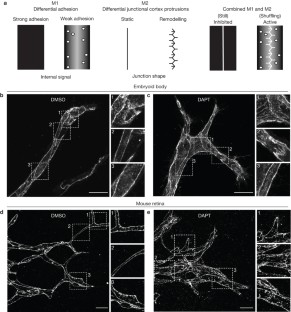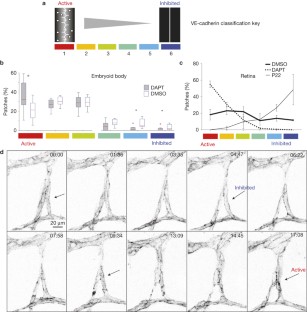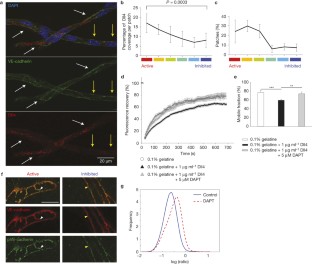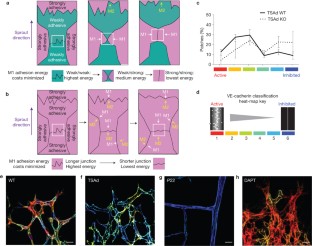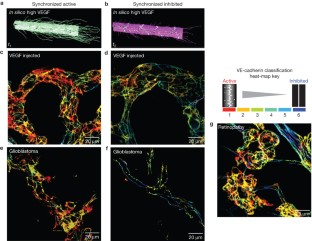 References
1

Potente, M., Gerhardt, H. & Carmeliet, P. Basic and therapeutic aspects of angiogenesis. Cell 146, 873–887 (2011).

2

Jakobsson, L. et al. Endothelial cells dynamically compete for the tip cell position during angiogenic sprouting. Nat. Cell Biol. 12, 943–953 (2010).

3

Arima, S. et al. Angiogenic morphogenesis driven by dynamic and heterogeneous collective endothelial cell movement. Development 138, 4763–4776 (2011).

4

Suchting, S. et al. The Notch ligand Delta-like 4 negatively regulates endothelial tip cell formation and vessel branching. Proc. Natl Acad. Sci. USA 104, 3225–3230 (2007).

5

Siekmann, A. F. & Lawson, N. D. Notch signalling limits angiogenic cell behaviour in developing zebrafish arteries. Nature 445, 781–784 (2007).

6

Lobov, I. B. et al. Delta-like ligand 4 (Dll4 is induced by VEGF as a negative regulator of angiogenic sprouting. Proc. Natl Acad. Sci. USA 104, 3219–3224 (2007).

7

Hellstrom, M. et al. Dll4 signalling through Notch1 regulates formation of tip cells during angiogenesis. Nature 445, 776–780 (2007).

8

Gerhardt, H. et al. VEGF guides angiogenic sprouting utilizing endothelial tip cell filopodia. J. Cell Biol. 161, 1163–1177 (2003).

9

Bentley, K., Mariggi, G., Gerhardt, H. & Bates, P. A. Tipping the balance: Robustness of tip cell selection, migration and fusion in angiogenesis. PLoS Comput. Biol. 5, e1000549 (2009).

10

Pilot, F. & Lecuit, T. Compartmentalized morphogenesis in epithelia: From cell to tissue shape. Dev. Dyn. 232, 685–694 (2005).

11

Zallen, J. A. & Blankenship, J. T. Multicellular dynamics during epithelial elongation. Semin. Cell Dev. Biol. 19, 263–270 (2008).

12

Keller, R. Shaping the vertebrate body plan by polarized embryonic cell movements. Science 298, 1950–1954 (2002).

13

Jung, A. C., Denholm, B., Skaer, H. & Affolter, M. Renal tubule development in Drosophila: A closer look at the cellular level. J. Am. Soc. Nephrol. 16, 322–328 (2005).

14

Neumann, M. & Affolter, M. Remodelling epithelial tubes through cell rearrangements: From cells to molecules. EMBO Rep. 7, 36–40 (2006).

15

Blum, Y. et al. Complex cell rearrangements during intersegmental vessel sprouting and vessel fusion in the zebrafish embryo. Dev. Biol. 316, 312–322 (2008).

16

Lenard, A. et al. In vivo analysis reveals a highly stereotypic morphogenetic pathway of vascular anastomosis. Dev. Cell 25, 492–506 (2013).

17

Perryn, E. D., Czirok, A. & Little, C. D. Vascular sprout formation entails tissue deformations and VE-cadherin-dependent cell-autonomous motility. Dev. Biol. 313, 545–555 (2008).

18

Vitorino, P. & Meyer, T. Modular control of endothelial sheet migration. Genes Dev. 22, 3268–3281 (2008).

19

Steinberg, M. S. Differential adhesion in morphogenesis: a modern view. Curr. Opin. Genet. Dev. 17, 281–286 (2007).

20

Foty, R. A. & Steinberg, M. S. The differential adhesion hypothesis: A direct evaluation. Dev. Biol. 278, 255–263 (2005).

21

Gavard, J. & Gutkind, J. S. VEGF controls endothelial-cell permeability by promoting the beta-arrestin-dependent endocytosis of VE-cadherin. Nat. Cell Biol. 8, 1223–1234 (2006).

22

Bertet, C., Sulak, L. & Lecuit, T. Myosin-dependent junction remodelling controls planar cell intercalation and axis elongation. Nature 429, 667–671 (2004).

23

Bentley, K., Gerhardt, H. & Bates, P. A. Agent-based simulation of notch-mediated tip cell selection in angiogenic sprout initialisation. J. Theor. Biol. 250, 25–36 (2008).

24

Graner, F. & Glazier, J. A. Simulation of biological cell sorting using a two-dimensional extended Potts model. Phys. Rev. Lett. 69, 2013–2016 (1992).

25

Merks, R. M. & Glazier, J. A. A cell-centered approach to developmental biology. Physics A 352, 113–130 (2005).

26

Kametani, Y. & Takeichi, M. Basal-to-apical cadherin flow at cell junctions. Nat. Cell Biol. 9, 92–98 (2007).

27

Huveneers, S. et al. Vinculin associates with endothelial VE-cadherin junctions to control force-dependent remodeling. J. Cell Biol. 196, 641–652 (2012).

28

Ngok, S. P. et al. VEGF and Angiopoietin-1 exert opposing effects on cell junctions by regulating the Rho GEF Syx. J. Cell Biol. 199, 1103–1115 (2012).

29

Saharinen, P. & Alitalo, K. The yin, the yang, and the angiopoietin-1. J. Clin. Invest. 121, 2157–2159 (2011).

30

Orsenigo, F. et al. Phosphorylation of VE-cadherin is modulated by haemodynamic forces and contributes to the regulation of vascular permeability in vivo. Nature Commun. 3, 1208 (2012).

31

Matsumoto, T. et al. VEGF receptor-2 Y951 signaling and a role for the adapter molecule TSAd in tumor angiogenesis. EMBO J. 24, 2342–2353 (2005).

32

Sun, Z. et al. VEGFR2 induces c-Src signaling and vascular permeability in vivo via the adaptor protein TSAd. J. Exp. Med. 209, 1363–1377 (2012).

33

Smith, L. E. et al. Oxygen-induced retinopathy in the mouse. Invest. Ophthal. Visual Sci. 35, 101–111 (1994).

34

Goddard, L. M. & Iruela-Arispe, M. L. Cellular and molecular regulation of vascular permeability. Thrombos. Haemo. 109, 407–415 (2013).

35

Amack, J. D. & Manning, M. L. Knowing the boundaries: Extending the differential adhesion hypothesis in embryonic cell sorting. Science 338, 212–215 (2012).

36

Levayer, R., Pelissier-Monier, A. & Lecuit, T. Spatial regulation of Dia and Myosin-II by RhoGEF2 controls initiation of E-cadherin endocytosis during epithelial morphogenesis. Nat. Cell Biol. 13, 529–540 (2011).

37

Nelson, C. M., Pirone, D. M., Tan, J. L. & Chen, C. S. Vascular endothelial-cadherin regulates cytoskeletal tension, cell spreading, and focal adhesions by stimulating RhoA. Mol. Biol. Cell 15, 2943–2953 (2004).

38

Kouklis, P., Konstantoulaki, M. & Malik, A. B. VE-cadherin-induced Cdc42 signaling regulates formation of membrane protrusions in endothelial cells. J. Biol. Chem. 278, 16230–16236 (2003).

39

Podgorski, G. J., Bansal, M. & Flann, N. S. Regular mosaic pattern development: A study of the interplay between lateral inhibition, apoptosis and differential adhesion. Theor. Biol. Med. Model. 4, 43 (2007).

40

Goodwin, B. C., Kauffman, S. & Murray, J. D. Is morphogenesis an intrinsically robust process? J. Theor. Biol. 163, 135–144 (1993).

41

Bauer, A. L., Jackson, T. L., Jiang, Y. & Rohlf, T. Receptor cross-talk in angiogenesis: Mapping environmental cues to cell phenotype using a stochastic, Boolean signaling network model. J. Theor. Biol. 264, 838–846 (2010).

42

Sandersius, S. A. & Newman, T. J. Modeling cell rheology with the Subcellular Element Model. Phys. Biol. 5, 015002 (2008).

43

Van Oss, C., Panfilov, A. V., Hogeweg, P., Siegert, F. & Weijer, C. J. Spatial pattern formation during aggregation of the slime mould Dictyostelium discoideum. J. Theor. Biol. 181, 203–213 (1996).

44

Mao, Y. et al. Planar polarization of the atypical myosin Dachs orients cell divisions in Drosophila. Genes Dev. 25, 131–136 (2011).

45

Meineke, F. A., Potten, C. S. & Loeffler, M. Cell migration and organization in the intestinal crypt using a lattice-free model. Cell Prolif. 34, 253–266 (2001).

46

Tozluoglu, M. et al. Matrix geometry determines optimal cancer cell migration strategy and modulates response to interventions. Nat. Cell Biol. 15, 751–762 (2013).

47

Mac Gabhann, F. & Popel, A. S. Model of competitive binding of vascular endothelial growth factor and placental growth factor to VEGF receptors on endothelial cells. American J. Phys. Heart Circul. Phys. 286, H153–H164 (2004).

48

Bartha, K. & Rieger, H. Vascular network remodeling via vessel cooption, regression and growth in tumors. J. Theor. Biol. 241, 903–918 (2006).

49

Murtaugh, L. C., Stanger, B. Z., Kwan, K. M. & Melton, D. A. Notch signaling controls multiple steps of pancreatic differentiation. Proc. Natl Acad. Sci. USA 100, 14920–14925 (2003).

50

Claxton, S. et al. Efficient, inducible Cre-recombinase activation in vascular endothelium. Genesis 46, 74–80 (2008).

51

Muzumdar, M. D., Tasic, B., Miyamichi, K., Li, L. & Luo, L. A global double-fluorescent Cre reporter mouse. Genesis 45, 593–605 (2007).

52

Rajagopal, K. et al. RIBP, a novel Rlk/Txk- and itk-binding adaptor protein that regulates T cell activation. J. Exp. Med. 190, 1657–1668 (1999).

53

Franco, C. A. et al. SRF selectively controls tip cell invasive behavior in angiogenesis. Development 140, 2321–2333 (2013).

54

Broermann, A. et al. Dissociation of VE-PTP from VE-cadherin is required for leukocyte extravasation and for VEGF-induced vascular permeability in vivo. J. Exp. Med. 208, 2393–2401 (2011).

55

Shaw, S. K., Bamba, P. S., Perkins, B. N. & Luscinskas, F. W. Real-time imaging of vascular endothelial-cadherin during leukocyte transmigration across endothelium. J. Immunol. 167, 2323–2330 (2001).

56

Winderlich, M. et al. VE-PTP controls blood vessel development by balancing Tie-2 activity. J. Cell Biol. 185, 657–671 (2009).

57

Hayashi, M. et al. VE-PTP regulates VEGFR2 activity in stalk cells to establish endothelial cell polarity and lumen formation. Nat. Commun. 4, 1672 (2013).

58

Seyfried, T. N., el-Abbadi, M. & Roy, M. L. Ganglioside distribution in murine neural tumors. Mol. Chem. Neuropathol. 17, 147–167 (1992).

59

Subach, O. M. et al. Conversion of red fluorescent protein into a bright blue probe. Chem. Biol. 15, 1116–1124 (2008).

60

Holtmaat, A. et al. Long-term, high-resolution imaging in the mouse neocortex through a chronic cranial window. Nat. Protoc. 4, 1128–1144 (2009).
Acknowledgements
This work was supported by Cancer Research UK, the Lister Institute of Preventive Medicine, the Leducq transatlantic Network ARTEMIS and the ERC starting grant REshape (311719). C.F. is supported by a Marie Curie FP7 people initiative Fellowship. R.B. is supported by a HFSP fellowship. AP was financially supported by EPSRC grant EP/I031758/1. G.C. and D.V. were supported by funds from the Deutsche Forschungsgemeinschaft (SFB629) and the Max-Planck-Society. L.C.W. and S.W. are supported by grants from the Knut and Alice Wallenberg Foundation and from the Association for International Cancer Research. We thank B. Cruys (KU Leuven) and C. Lewis (MIT) for comments on the manuscript. We thank R. Chaleil for his support and maintenance of the high-performance computing system.
Ethics declarations
Competing interests
The authors declare no competing financial interests.
Integrated supplementary information
Supplementary information
About this article
Cite this article
Bentley, K., Franco, C., Philippides, A. et al. The role of differential VE-cadherin dynamics in cell rearrangement during angiogenesis. Nat Cell Biol 16, 309–321 (2014). https://doi.org/10.1038/ncb2926
Received:

Accepted:

Published:

Issue Date: