Abstract
Ca2+ signals control cell migration by regulating forward movement and cell adhesion. However, it is not well understood how Ca2+-regulatory proteins and second messengers are spatially organized in migrating cells. Here we show that receptor tyrosine kinase and phospholipase C signalling are restricted to the front of migrating endothelial leader cells, triggering local Ca2+ pulses, local depletion of Ca2+ in the endoplasmic reticulum and local activation of STIM1, supporting pulsatile front retraction and adhesion. At the same time, the mediator of store-operated Ca2+ influx, STIM1, is transported by microtubule plus ends to the front. Furthermore, higher Ca2+ pump rates in the front relative to the back of the plasma membrane enable effective local Ca2+ signalling by locally decreasing basal Ca2+. Finally, polarized phospholipase C signalling generates a diacylglycerol gradient towards the front that promotes persistent forward migration. Thus, cells employ an integrated Ca2+ control system with polarized Ca2+ signalling proteins and second messengers to synergistically promote directed cell migration.
Access options
Subscribe to Journal
Get full journal access for 1 year
$209.00
only $17.42 per issue
All prices are NET prices.
VAT will be added later in the checkout.
Rent or Buy article
Get time limited or full article access on ReadCube.
from$8.99
All prices are NET prices.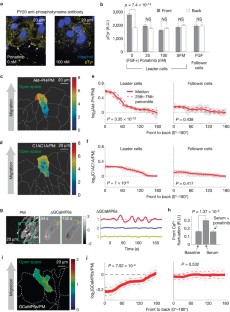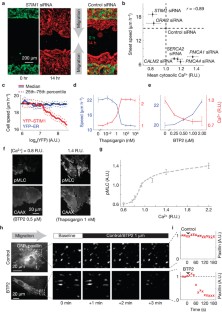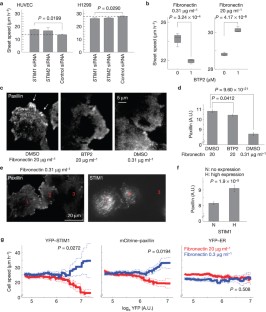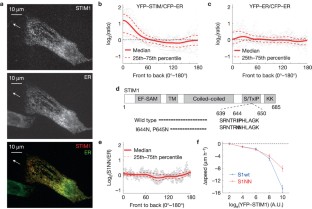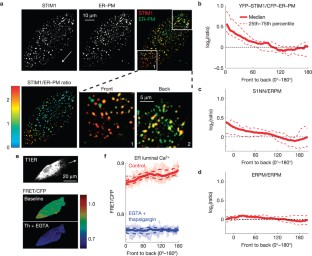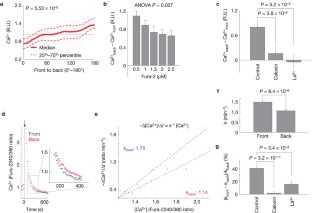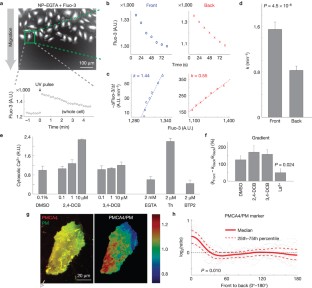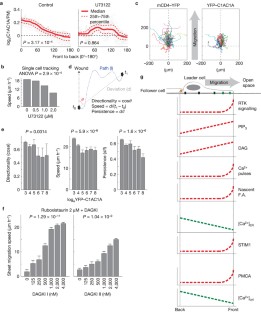 References
1

Vorotnikov, A. V. Chemotaxis: movement, direction, control. Biochem. Mosc. 76, 1528–1555 (2011).

2

Li, S., Huang, N. F. & Hsu, S. Mechanotransduction in endothelial cell migration. J. Cell. Biochem. 96, 1110–1126 (2005).

3

Friedl, P. & Gilmour, D. Collective cell migration in morphogenesis, regeneration and cancer. Nat. Rev. Mol. Cell Biol. 10, 445–457 (2009).

4

Vitorino, P., Hammer, M., Kim, J. & Meyer, T. A steering model of endothelial sheet migration recapitulates monolayer integrity and directed collective migration. Mol. Cell. Biol. 31, 342–350 (2011).

5

Giannone, G. et al. Periodic lamellipodial contractions correlate with rearward actin waves. Cell 116, 431–443 (2004).

6

Giannone, G. et al. Lamellipodial actin mechanically links myosin activity with adhesion-site formation. Cell 128, 561–575 (2007).

7

Burnette, D. T. et al. A role for actin arcs in the leading-edge advance of migrating cells. Nat. Cell Biol. 13, 371–381 (2011).

8

Machacek, M. et al. Coordination of Rho GTPase activities during cell protrusion. Nature 461, 99–103 (2009).

9

Tkachenko, E. et al. Protein kinase A governs a RhoA-RhoGDI protrusion-retraction pacemaker in migrating cells. Nat. Cell. Biol. 13, 660–667 (2011).

10

Evans, J. H. & Falke, J. J. Ca2+ influx is an essential component of the positive-feedback loop that maintains leading-edge structure and activity in macrophages. Proc. Natl Acad. Sci. USA 104, 16176–16181 (2007).

11

Wei, C. et al. Calcium flickers steer cell migration. Nature 457, 901–905 (2009).

12

Tsai, F-C. & Meyer, T. Ca2+ pulses control local cycles of lamellipodia retraction and adhesion along the front of migrating cells. Curr. Biol. 22, 837–842 (2012).

13

Franco, S. J. et al. Calpain-mediated proteolysis of talin regulates adhesion dynamics. Nat. Cell Biol. 6, 977–983 (2004).

14

Brundage, R. A., Fogarty, K. E., Tuft, R. A. & Fay, F. S. Calcium gradients underlying polarization and chemotaxis of eosinophils. Science 254, 703–706 (1991).

15

Gilbert, S. H., Perry, K. & Fay, F. S. Mediation of chemoattractant-induced changes in [Ca2+]i and cell shape, polarity, and locomotion by InsP3, DAG, and protein kinase C in newt eosinophils. J. Cell. Biol. 127, 489–503 (1994).

16

Clapham, D. E. Calcium signaling. Cell 131, 1047–1058 (2007).

17

Liou, J. et al. STIM is a Ca2+ sensor essential for Ca2+-store-depletion-triggered Ca2+ influx. Curr. Biol. 15, 1235–1241 (2005).

18

Brandman, O., Liou, J., Park, W. S. & Meyer, T. STIM2 is a feedback regulator that stabilizes basal cytosolic and endoplasmic reticulum Ca2+ levels. Cell 131, 1327–1339 (2007).

19

Vitorino, P. & Meyer, T. Modular control of endothelial sheet migration. Genes Dev. 22, 3268–3281 (2008).

20

Gozgit, J. M. et al. Ponatinib (AP24534), a multitargeted pan-FGFR inhibitor with activity in multiple FGFR-amplified or mutated cancer models. Mol. Cancer Ther. 11, 690–699 (2012).

21

Lamalice, L., Boeuf, F. L. & Huot, J. Endothelial cell migration during angiogenesis. Circ. Res. 100, 782–794 (2007).

22

Chen, T-W. et al. Ultrasensitive fluorescent proteins for imaging neuronal activity. Nature 499, 295–300 (2013).

23

Zitt, C. et al. Potent inhibition of Ca2+ release-activated Ca2+ channels and T-lymphocyte activation by the pyrazole derivative BTP2. J. Biol. Chem. 279, 12427–12437 (2004).

24

Kasturi, R., Vasulka, C. & Johnson, J. D. Ca2+, caldesmon, and myosin light chain kinase exchange with calmodulin. J. Biol. Chem. 268, 7958–7964 (1993).

25

Chen, Y-F. et al. Calcium store sensor stromal-interaction molecule 1-dependent signaling plays an important role in cervical cancer growth, migration, and angiogenesis. Proc. Natl Acad. Sci. 108, 15225–15230 (2011).

26

Yang, S., Zhang, J. J. & Huang, X-Y. Orai1 and STIM1 are critical for breast tumor cell migration and metastasis. Cancer Cell 15, 124–134 (2009).

27

Potier, M. et al. Evidence for STIM1- and Orai1-dependent store-operated calcium influx through ICRAC in vascular smooth muscle cells: role in proliferation and migration. FASEB J. 23, 2425–2437 (2009).

28

Bisaillon, J. M. et al. Essential role for STIM1/Orai1-mediated calcium influx in PDGF-induced smooth muscle migration. Am. J. Physiol., Cell Physiol. 298, C993–C1005 (2010).

29

Schafer, C., Rymarczyk, G., Ding, L., Kirber, M. T. & Bolotina, V. M. Role of molecular determinants of store-operated Ca2+ entry (Orai1, phospholipase A2 group 6 and STIM1) in focal adhesion formation and cell migration. J. Biol. Chem. 287, 40745–40757 (2012).

30

Ridley, A. J. et al. Cell migration: integrating signals from front to back. Science 302, 1704–1709 (2003).

31

Grigoriev, I. et al. STIM1 is a MT-plus-end-tracking protein involved in remodeling of the ER. Curr. Biol. 18, 177–182 (2008).

32

Honnappa, S. et al. An EB1-binding motif acts as a microtubule tip localization signal. Cell 138, 366–376 (2009).

33

Abell, E., Ahrends, R., Bandara, S., Park, B. O. & Teruel, M. N. Parallel adaptive feedback enhances reliability of the Ca2+ signaling system. Proc. Natl Acad. Sci. USA 108, 14485–14490 (2011).

34

Bandara, S., Malmersjö, S. & Meyer, T. Regulators of calcium homeostasis identified by inference of kinetic model parameters from live single cells perturbed by siRNA. Sci. Signal. 6, ra56 (2013).

35

Thastrup, O., Cullen, P. J., Drøbak, B. K., Hanley, M. R. & Dawson, A. P. Thapsigargin, a tumor promoter, discharges intracellular Ca2+ stores by specific inhibition of the endoplasmic reticulum Ca2(+)-ATPase. Proc. Natl Acad. Sci. USA 87, 2466–2470 (1990).

36

Smallwood, J. I., Gügi, B. & Rasmussen, H. Regulation of erythrocyte Ca2+ pump activity by protein kinase C. J. Biol. Chem. 263, 2195–2202 (1988).

37

Pérez-Gordones, M. C., Lugo, M. R., Winkler, M., Cervino, V. & Benaim, G. Diacylglycerol regulates the plasma membrane calcium pump from human erythrocytes by direct interaction. Arch. Biochem. Biophys. 489, 55–61 (2009).

38

James, P. et al. Modulation of erythrocyte Ca2+-ATPase by selective calpain cleavage of the calmodulin-binding domain. J. Biol. Chem. 264, 8289–8296 (1989).

39

Chicka, M. C. & Strehler, E. E. Alternative splicing of the first intracellular loop of plasma membrane Ca2+-ATPase isoform 2 alters its membrane targeting. J. Biol. Chem. 278, 18464–18470 (2003).

40

De Chaffoy de Courcelles, D. C., Roevens, P. & Van Belle, H. R 59 022, a diacylglycerol kinase inhibitor. Its effect on diacylglycerol and thrombin-induced C kinase activation in the intact platelet. J. Biol. Chem. 260, 15762–15770 (1985).

41

Larsson, C. Protein kinase C and the regulation of the actin cytoskeleton. Cell. Signal. 18, 276–284 (2006).

42

Smith, G. & MacQuaide, N. Cytoplasmic versus Intra-SR: the Battle of the Ca2+ diffusion coefficients in cardiac muscle. Biophys. J. 95, 1005–1006 (2008).

43

Turner, N. & Grose, R. Fibroblast growth factor signalling: from development to cancer. Nat. Rev. Cancer 10, 116–129 (2010).

44

Arisz, S. A., Testerink, C. & Munnik, T. Plant PA signaling via diacylglycerol kinase. Biochim. Biophys. Acta 1791, 869–875 (2009).

45

Almena, M. & Mérida, I. Shaping up the membrane: diacylglycerol coordinates spatial orientation of signaling. Trends Biochem. Sci. 36, 593–603 (2011).

46

Carrasco, S. & Merida, I. Diacylglycerol-dependent binding recruits PKCtheta and RasGRP1 C1 domains to specific subcellular localizations in living T lymphocytes. Mol. Biol. Cell 15, 2932–2942 (2004).

47

Spitaler, M., Emslie, E., Wood, C. D. & Cantrell, D. Diacylglycerol and protein kinase D localization during T lymphocyte activation. Immunity 24, 535–546 (2006).

48

Quann, E. J., Merino, E., Furuta, T. & Huse, M. Localized diacylglycerol drives the polarization of the microtubule-organizing center in T cells. Nat. Immunol. 10, 627–635 (2009).

49

May, R. C. & Machesky, L. M. Phagocytosis and the actin cytoskeleton. J. Cell. Sci. 114, 1061–1077 (2001).

50

Stephens, L., Ellson, C. & Hawkins, P. Roles of PI3Ks in leukocyte chemotaxis and phagocytosis. Curr. Opin. Cell Biol. 14, 203–213 (2002).

51

Scott, C. C. et al. Phosphatidylinositol-4,5-bisphosphate hydrolysis directs actin remodeling during phagocytosis. J. Cell. Biol. 169, 139–149 (2005).

52

Botelho, R. J. et al. Localized biphasic changes in phosphatidylinositol-4,5-bisphosphate at sites of phagocytosis. J. Cell. Biol. 151, 1353–1368 (2000).

53

De Jong, A. P. H. & Verhage, M. Presynaptic signal transduction pathways that modulate synaptic transmission. Curr. Opin. Neurobiol. 19, 245–253 (2009).

54

Kim, K., Yang, J. & Kim, E. Diacylglycerol kinases in the regulation of dendritic spines. J. Neurochem. 112, 577–587 (2010).

55

Carrasco, S. & Mérida, I. Diacylglycerol, when simplicity becomes complex. Trends Biochem. Sci. 32, 27–36 (2007).

56

Rosse, C. et al. PKC and the control of localized signal dynamics. Nat. Rev. Mol. Cell Biol. 11, 103–112 (2010).

57

Ludowyke, R. I. et al. Phosphorylation of nonmuscle myosin heavy chain IIA on Ser1917 is mediated by protein kinase C η II and coincides with the onset of stimulated degranulation of RBL-2H3 mast cells. J. Immunol. 177, 1492–1499 (2006).

58

Woods, A. & Couchman, J. R. Protein kinase C involvement in focal adhesion formation. J. Cell. Sci. 101, 277–290 (1992).

59

Hillman, R. T. et al. Neuropilins are positive regulators of Hedgehog signal transduction. Genes Dev. 25, 2333–2346 (2011).

60

Stauffer, T. P., Ahn, S. & Meyer, T. Receptor-induced transient reduction in plasma membrane PtdIns(4,5)P2 concentration monitored in living cells. Curr. Biol. 8, 343–346 (1998).

61

Inoue, T., Heo, W. D., Grimley, J. S., Wandless, T. J. & Meyer, T. An inducible translocation strategy to rapidly activate and inhibit small GTPase signaling pathways. Nat. Methods 2, 415–418 (2005).

62

Liou, J., Fivaz, M., Inoue, T. & Meyer, T. Live-cell imaging reveals sequential oligomerization and local plasma membrane targeting of stromal interaction molecule 1 after Ca2+ store depletion. Proc. Natl Acad. Sci. USA 104, 9301–9306 (2007).

63

Groden, D. L., Guan, Z. & Stokes, B. T. Determination of Fura-2 dissociation constants following adjustment of the apparent Ca-EGTA association constant for temperature and ionic strength. Cell Calcium 12, 279–287 (1991).

64

Petr, M. J. & Wurster, R. D. Determination of in situ dissociation constant for Fura-2 and quantitation of background fluorescence in astrocyte cell line U373-MG. Cell Calcium 21, 233–240 (1997).

65

Fluorescent Calcium Indicators - 154.pdf. http://probes.invitrogen.com/media/publications/154.pdf

66

Grynkiewicz, G., Poenie, M. & Tsien, R. Y. A new generation of Ca2+ indicators with greatly improved fluorescence properties. J. Biol. Chem. 260, 3440–3450 (1985).

67

Huang, A. J. et al. Endothelial cell cytosolic free calcium regulates neutrophil migration across monolayers of endothelial cells. J. Cell. Biol. 120, 1371–1380 (1993).

68

Ikeda, M. et al. Separate analysis of nuclear and cytosolic Ca2+ concentrations in human umbilical vein endothelial cells. J. Cell. Biochem. 63, 23–36 (1996).

69

Edelstein, A., Amodaj, N., Hoover, K., Vale, R. & Stuurman, N. Computer control of microscopes using μ Manager. Curr. Protoc. Mol. Biol. 92 (2010) 14.20.1–14.20.17

70

Otsu, N. A Threshold Selection Method from Gray-Level Histograms. IEEE Trans. Syst., Man Cybernet. 9, 62–66 (1979).
Acknowledgements
We thank S. R. Collins, M. Galic and R. Wollman for technical support and discussions, S. Bandara for the modified T1ER construct, N. Borghi for the paxillin construct, X. Ge for the CD4 construct, C. J. Lin for H1299 cells, E. E. Strehler for the PMCA constructs and A. Winans for critical reading of the manuscript. The research was supported by a Stanford Graduate Fellowship (F-C.T.) and the NIGMS (T.M.)
Ethics declarations
Competing interests
The authors declare no competing financial interests.
Integrated supplementary information
Supplementary information
About this article
Cite this article
Tsai, F., Seki, A., Yang, H. et al. A polarized Ca2+, diacylglycerol and STIM1 signalling system regulates directed cell migration. Nat Cell Biol 16, 133–144 (2014). https://doi.org/10.1038/ncb2906
Received:

Accepted:

Published:

Issue Date: