Abstract
With the prevalence of end-stage renal disease rising 8% per annum globally1, there is an urgent need for renal regenerative strategies. The kidney is a mesodermal organ that differentiates from the intermediate mesoderm (IM) through the formation of a ureteric bud (UB) and the interaction between this bud and the adjacent IM-derived metanephric mesenchyme2 (MM). The nephrons arise from a nephron progenitor population derived from the MM (ref. 3). The IM itself is derived from the posterior primitive streak4. Although the developmental origin of the kidney is well understood2, nephron formation in the human kidney is completed before birth5. Hence, there is no postnatal stem cell able to replace lost nephrons. In this study, we have successfully directed the differentiation of human embryonic stem cells (hESCs) through posterior primitive streak and IM under fully chemically defined monolayer culture conditions using growth factors used during normal embryogenesis. This differentiation protocol results in the synchronous induction of UB and MM that forms a self-organizing structure, including nephron formation, in vitro. Such hESC-derived components show broad renal potential ex vivo, illustrating the potential for pluripotent-stem-cell-based renal regeneration.
Access options
Subscribe to Journal
Get full journal access for 1 year
$99.00
only $8.25 per issue
All prices are NET prices.
VAT will be added later in the checkout.
Tax calculation will be finalised during checkout.
Rent or Buy article
Get time limited or full article access on ReadCube.
from$8.99
All prices are NET prices.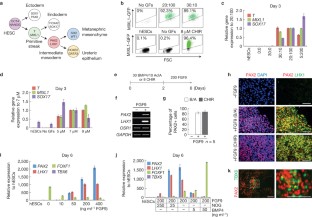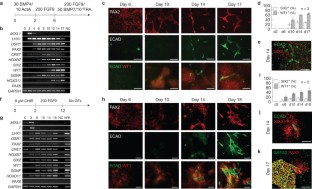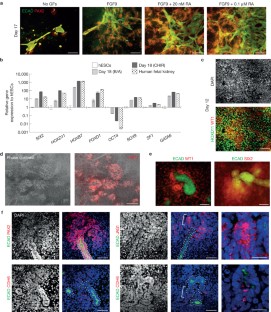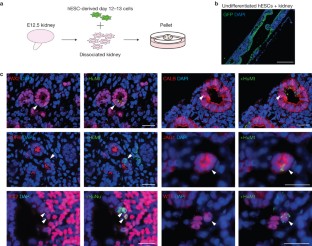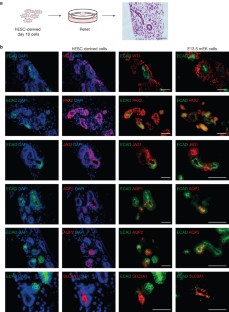 References
1

Little, M. H. & McMahon, A. P. Mammalian kidney development: principles, progress, and projections. Cold Spring Harb. Perspect. Biol. 4 (5) (2012).

2

Tam, P. P. & Loebel, D. A. Gene function in mouse embryogenesis: get set for gastrulation. Nat. Rev. Genet. 8, 368–381 (2007).

3

Kobayashi, A. et al. Six2 defines and regulates a multipotent self-renewing nephron progenitor population throughout mammalian kidney development. Cell Stem Cell 3, 169–181 (2008).

4

Rumballe, B. A. et al. Nephron formation adopts a novel spatial topology at cessation of nephrogenesis. Dev. Biol. 360, 110–122 (2011).

5

Lusis, M., Li, J., Ineson, J. & Little, M. H. Isolation of clonogenic, long-term self-renewing renal stem cells. Stem Cell Res. 5, 23–39 (2010).

6

Takasato, M., Maier, B. & Little, M. H. Recreating kidney progenitors from pluripotent cells. Pediatr. Nephrol.http://dx.doi.org/10.1007/s00467-013-2592-7 (2013).

7

Gadue, P., Huber, T. L., Paddison, P. J. & Keller, G. M. Wnt and TGF-beta signaling are required for the induction of an in vitro model of primitive streak formation using embryonic stem cells. Proc. Natl Acad. Sci. USA 103, 16806–16811 (2006).

8

Soares, M. L. et al. Functional studies of signaling pathways in peri-implantation development of the mouse embryo by RNAi. BMC Dev. Biol. 5, 28 (2005).

9

Lu, C. C. & Robertson, E. J. Multiple roles for Nodal in the epiblast of the mouse embryo in the establishment of anterior–posterior patterning. Dev. Biol. 273, 149–159 (2004).

10

Sumi, T., Tsuneyoshi, N., Nakatsuji, N. & Suemori, H. Defining early lineage specification of human embryonic stem cells by the orchestrated balance of canonical Wnt/beta-catenin, Activin/Nodal and BMP signaling. Development 135, 2969–2979 (2008).

11

Davis, R. P. et al. Targeting a GFP reporter gene to the MIXL1 locus of human embryonic stem cells identifies human primitive streak-like cells and enables isolation of primitive hematopoietic precursors. Blood 111, 1876–1884 (2008).

12

Ng, E. S., Davis, R., Stanley, E. G. & Elefanty, A. G. A protocol describing the use of a recombinant protein-based, animal product-free medium (APEL) for human embryonic stem cell differentiation as spin embryoid bodies. Nat. Protoc. 3, 768–776 (2008).

13

Mae, S. et al. Monitoring and robust induction of nephrogenic intermediate mesoderm from human pluripotent stem cells. Nat. Commun. 4, 1367 (2013).

14

James, R. G. et al. Odd-skipped related 1 is required for development of the metanephric kidney and regulates formation and differentiation of kidney precursor cells. Development 133, 2995–3004 (2006).

15

Tsang, T. E. et al. Lim1 activity is required for intermediate mesoderm differentiation in the mouse embryo. Dev. Biol. 223, 77–90 (2000).

16

Torres, M., Gómez-Pardo, E., Dressler, G. R. & Gruss, P. Pax-2 controls multiple steps of urogenital development. Development 121, 4057–4065 (1995).

17

Crossley, P. H. & Martin, G. R. The mouse Fgf8 gene encodes a family of polypeptides and is expressed in regions that direct outgrowth and patterning in the developing embryo. Development 121, 439–451 (1995).

18

Colvin, J. S. et al. Genomic organization and embryonic expression of the mouse fibroblast growth factor 9 gene. Dev. Dynam. 216, 72–88 (1999).

19

Dudley, A. T., Godin, R. E. & Robertson, E. J. Interaction between FGF and BMP signaling pathways regulates development of metanephric mesenchyme. Genes Dev. 13, 1601–1613 (1999).

20

Barak, H. et al. FGF9 and FGF20 maintain the stemness of nephron progenitors in mice and man. Dev. Cell 22, 1191–1207 (2012).

21

James, R. G. & Schultheiss, T. M. Bmp signaling promotes intermediate mesoderm gene expression in a dose-dependent, cell-autonomous and translation-dependent manner. Dev. Biol. 288, 113–125 (2005).

22

Rosselot, C. et al. Non-cell-autonomous retinoid signaling is crucial for renal development. Development 137, 283–292 (2010).

23

Kim, D. & Dressler, G. R. Nephrogenic factors promote differentiation of mouse embryonic stem cells into renal epithelia. J Am. Soc. Nephrol. 16, 3527–3534 (2005).

24

Mugford, J. W. et al. Hoxd11 specifies a program of metanephric kidney development within the intermediate mesoderm of the mouse embryo. Dev. Biol. 319, 396–405 (2008).

25

Pachnis, V., Mankoo, B. & Costantini, F. Expression of the c-ret proto-oncogene during mouse embryogenesis. Development 119, 1005–1017 (1993).

26

Srinivas, S. et al. Expression of green fluorescent protein in the ureteric bud of transgenic mice: a new tool for the analysis of ureteric bud morphogenesis. Dev. Genet. 24, 241–251 (1999).

27

Mendelsohn, C. et al. Stromal cells mediate retinoid-dependent functions essential for renal development. Development 126, 1139–1148 (1999).

28

Davies, J. A. et al. Dissociation of embryonic kidney followed by re-aggregation as a method for chimeric analysis. Methods Mol. Biol. 886, 135–146 (2012).

29

Hendry, C. E. & Vanslambrouck, J. M. et al. Direct transcriptional reprogramming of adult cells to embryonic nephron progenitors. J. Am. Soc. Nephrol. 24, 1424–1434 (2013).

30

Trinkaus, J. P. & Groves, P. W. Differentiation in culture of mixed aggregates of dissociated tissue cells. Proc. Natl Acad. Sci. USA 41, 787–795 (1955).

31

Suga, H. et al. Self-formation of functional adenohypophysis in three-dimensional culture. Nature 480, 57–62 (2011).

32

Eiraku, M. et al. Self-organizing optic-cup morphogenesis in three-dimensional culture. Nature 472, 51–56 (2011).

33

Spence, J. R. et al. Directed differentiation of human pluripotent stem cells into intestinal tissue in vitro. Nature 470, 105–108 (2011).

34

Narayanan, K. et al. Human embryonic stem cells differentiate into functional renal proximal tubular-like cells. Kidney Int. 83, 593–603 (2013).

35

Song, B. et al. The directed differentiation of human iPS cells into kidney podocytes. PLoS ONE 7, e46453 (2012).

36

Brenner-Anantharam, A. et al. Tailbud-derived mesenchyme promotes urinary tract segmentation via BMP4 signaling. Development 134, 1967–1975 (2007).

37

Guillaume, R., Bressan, M. & Herzlinger, D. Paraxial mesoderm contributes stromal cells to the developing kidney. Dev. Biol. 329, 169–175 (2009).

38

Uchiyama, Y. et al. Kif26b, a kinesin family gene, regulates adhesion of the embryonic kidney mesenchyme. Proc. Natl Acad. Sci. USA 107, 9240–9245 (2010).

39

Linton, J. M., Martin, G. R. & Reichardt, L. F. The ECM protein nephronectin promotes kidney development via integrin alpha8beta1-mediated stimulation of Gdnf expression. Development 134, 2501–2509 (2007).
Acknowledgements
We are grateful to E. Wolvetang for providing an iPSC line and D. Titmarsh, A. Hidalgo-Gonzalez and J. Cooper-White for supportive comments. This work was supported by the Queensland State Government through a National/International Research Alliance Project, the Australian Research Council as part of the Stem Cells Australia Strategic Research Initiative (SRI110001002) and the National Health and Medical Research Council of Australia (APP1041277). M.H.L. is a Senior Principal Research Fellow of the NHMRC.
Ethics declarations
Competing interests
M.H.L. consults for Organovo Inc.
Integrated supplementary information
Supplementary information
Supplementary Information (PDF 1827 kb)
Supplementary Information (XLSX 58 kb)
Supplementary Information (XLSX 46 kb)
About this article
Cite this article
Takasato, M., Er, P., Becroft, M. et al. Directing human embryonic stem cell differentiation towards a renal lineage generates a self-organizing kidney. Nat Cell Biol 16, 118–126 (2014). https://doi.org/10.1038/ncb2894
Received:

Accepted:

Published:

Issue Date: