Abstract
Bacterial cytokinesis is commonly initiated by the Z-ring, a cytoskeletal structure that assembles at the site of division. Its primary component is FtsZ, a tubulin superfamily GTPase, which is recruited to the membrane by the actin-related protein FtsA. Both proteins are required for the formation of the Z-ring, but if and how they influence each other's assembly dynamics is not known. Here, we reconstituted FtsA-dependent recruitment of FtsZ polymers to supported membranes, where both proteins self-organize into complex patterns, such as fast-moving filament bundles and chirally rotating rings. Using fluorescence microscopy and biochemical perturbations, we found that these large-scale rearrangements of FtsZ emerge from its polymerization dynamics and a dual, antagonistic role of FtsA: recruitment of FtsZ filaments to the membrane and negative regulation of FtsZ organization. Our findings provide a model for the initial steps of bacterial cell division and illustrate how dynamic polymers can self-organize into large-scale structures.
Access options
Subscribe to this journal
Receive 12 print issues and online access
$209.00 per year
only $17.42 per issue
Rent or buy this article
Prices vary by article type
from$1.95
to$39.95
Prices may be subject to local taxes which are calculated during checkout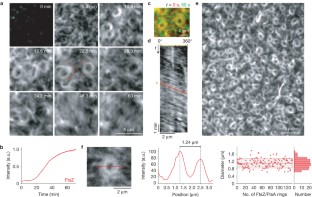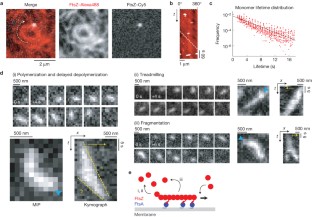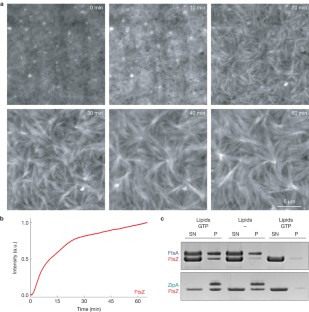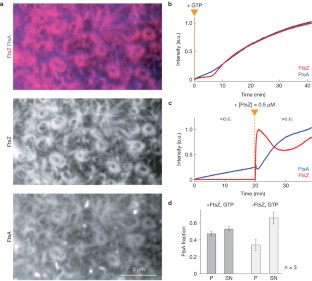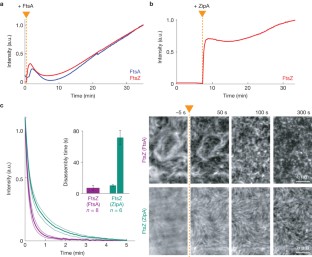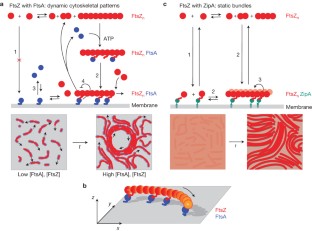 Similar content being viewed by others
References
Cabeen, M. T. & Jacobs-Wagner, C. The bacterial cytoskeleton. Annu. Rev. Genet. 44, 365–392 (2010).

Ingerson-Mahar, M. & Gitai, Z. A growing family: the expanding universe of the bacterial cytoskeleton. FEMS Microbiol. Rev. 36, 256–266 (2012).

Margolin, W. FtsZ and the division of prokaryotic cells and organelles. Nat. Rev. Mol. Cell Biol. 6, 862–871 (2005).

Adams, D. W. & Errington, J. Bacterial cell division: assembly, maintenance and disassembly of the Z ring. Nat. Rev. Microbiol. 7, 642–653 (2009).

Erickson, H. P., Taylor, D. W., Taylor, K. A. & Bramhill, D. Bacterial cell division protein FtsZ assembles into protofilament sheets and minirings, structural homologs of tubulin polymers. Proc. Natl Acad. Sci. USA 93, 519–523 (1996).

Lu, C., Reedy, M. & Erickson, H. Straight and curved conformations of FtsZ Are regulated by GTP hydrolysis. J. Bacteriol. 182, 164–170 (2000).

Oliva, M. A., Trambaiolo, D. & Löwe, J. Structural insights into the conformational variability of FtsZ. J. Mol. Biol. 373, 1229–1242 (2007).

Hsin, J., Gopinathan, A. & Huang, K. C. Nucleotide-dependent conformations of FtsZ dimers and force generation observed through molecular dynamics simulations. Proc. Natl Acad. Sci. USA 109, 9432–9437 (2012).

Pichoff, S. & Lutkenhaus, J. Unique and overlapping roles for ZipA and FtsA in septal ring assembly in Escherichia coli. EMBO J. 21, 685–693 (2002).

Pichoff, S. & Lutkenhaus, J. Tethering the Z ring to the membrane through a conserved membrane targeting sequence in FtsA. Mol. Microbiol. 55, 1722–1734 (2005).

Beuria, T. K. et al. Adenine nucleotide-dependent regulation of assembly of bacterial tubulin-like FtsZ by a hypermorph of bacterial actin-like FtsA. J. Biol. Chem. 284, 14079–14086 (2009).

Szwedziak, P., Wang, Q., Freund, S. M. & Löwe, J. FtsA forms actin-like protofilaments. EMBO J. 31, 2249–2260 (2012).

Hale, C. A. & de Boer, P. A. J. Direct binding of FtsZ to ZipA, an essential component of the septal ring structure that mediates cell division in E. coli. Cell 88, 175–185 (1997).

Liu, Z., Mukherjee, A. & Lutkenhaus, J. Recruitment of ZipA to the division site by interaction with FtsZ. Mol. Microbiol. 31, 1853–1861 (1999).

Mosyak, L. et al. The bacterial cell-division protein ZipA and its interaction with an FtsZ fragment revealed by X-ray crystallography. EMBO J. 19, 3179–3191 (2000).

Ma, X. & Margolin, W. Genetic and functional analyses of the conserved C-terminal core domain of Escherichia coli FtsZ. J. Bacteriol. 181, 7531–7544 (1999).

Haney, S. A. et al. Genetic analysis of the Escherichia coli FtsZ.ZipA interaction in the yeast two-hybrid system. Characterization of FtsZ residues essential for the interactions with ZipA and with FtsA. J. Biol. Chem. 276, 11980–11987 (2001).

Erickson, H. P. & Osawa, M. Cell division without FtsZ—a variety of redundant mechanisms. Mol. Microbiol. 78, 267–270 (2010).

Kirkpatrick, C. L. & Viollier, P. H. New(s) to the (Z-)ring. Curr. Opin. Microbiol. 14, 691–697 (2011).

Lutkenhaus, J., Pichoff, S. & Du, S. Bacterial cytokinesis: from Z ring to divisome. Cytoskeleton (Hoboken) 69, 778–790 (2012).

Osawa, M., Anderson, D. E. & Erickson, H. P. Reconstitution of contractile FtsZ rings in liposomes. Science 320, 792–794 (2008).

Osawa, M., Anderson, D. E. & Erickson, H. P. Curved FtsZ protofilaments generate bending forces on liposome membranes. EMBO J. 28, 3476–3484 (2009).

Arumugam, S. et al. Surface topology engineering of membranes for the mechanical investigation of the tubulin homologue FtsZ. Angew. Chem. Int. Ed. Engl. 51, 11858–11862 (2012).

Osawa, M. & Erickson, H. P. Liposome division by a simple bacterial division machinery. Proc. Natl Acad. Sci. USA 110, 11000–11004 (2013).

Uehara, T., Parzych, K. R., Dinh, T. & Bernhardt, T. G. Daughter cell separation is controlled by cytokinetic ring-activated cell wall hydrolysis. EMBO J. 29, 1412–1422 (2010).

Rueda, S., Vicente, M. & Mingorance, J. Concentration and assembly of the division ring proteins FtsZ, FtsA, and ZipA during the Escherichia coli cell cycle. J. Bacteriol. 185, 3344–3351 (2003).

Moran, U., Phillips, R. & Milo, R. SnapShot: key numbers in biology. Cell 141, 1262.e1 (2010).

Thanedar, S. & Margolin, W. FtsZ exhibits rapid movement and oscillation waves in helix-like patterns in Escherichia coli. Curr. Biol. 14, 1167–1173 (2004).

Ben-Yehuda, S. & Losick, R. Asymmetric cell division in B. subtilis involves a spiral-like intermediate of the cytokinetic protein FtsZ. Cell 109, 257–266 (2002).

Martos, A. et al. Isolation, characterization and lipid-binding properties of the recalcitrant FtsA division protein from Escherichia coli. PLoS ONE 7, e39829 (2012).

Pichoff, S. & Lutkenhaus, J. Identification of a region of FtsA required for interaction with FtsZ. Mol. Microbiol. 64, 1129–1138 (2007).

Pichoff, S., Shen, B., Sullivan, B. & Lutkenhaus, J. FtsA mutants impaired for self-interaction bypass ZipA suggesting a model in which FtsA's self-interaction competes with its ability to recruit downstream division proteins. Mol. Microbiol. 83, 151–167 (2011).

Li, Z., Trimble, M. J., Brun, Y. V. & Jensen, G. J. The structure of FtsZ filaments in vivo suggests a force-generating role in cell division. EMBO J. 26, 4694–4708 (2007).

Niu, L. & Yu, J. Investigating intracellular dynamics of FtsZ cytoskeleton with photoactivation single-molecule tracking. Biophys. J. 95, 2009–2016 (2008).

Lan, G., Daniels, B. R., Dobrowsky, T. M., Wirtz, D. & Sun, S. X. Condensation of FtsZ filaments can drive bacterial cell division. Proc. Natl Acad. Sci. USA 106, 121–126 (2009).

Needleman, D. J. et al. Fast microtubule dynamics in meiotic spindles measured by single molecule imaging: evidence that the spindle environment does not stabilize microtubules. Mol. Biol. Cell 21, 323–333 (2010).

Chen, Y. & Erickson, H. P. Rapid in vitro assembly dynamics and subunit turnover of FtsZ demonstrated by fluorescence resonance energy transfer. J. Biol. Chem. 280, 22549–22554 (2005).

Mingorance, J. et al. Visualization of single Escherichia coli FtsZ filament dynamics with atomic force microscopy. J. Biol. Chem. 280, 20909–20914 (2005).

Mateos-Gil, P. et al. Depolymerization dynamics of individual filaments of bacterial cytoskeletal protein FtsZ. Proc. Natl Acad. Sci. USA 109, 8133–8138 (2012).

Hale, C. A., Rhee, A. C. & de Boer, P. A. ZipA-induced bundling of FtsZ polymers mediated by an interaction between C-terminal domains. J. Bacteriol. 182, 5153–5166 (2000).

Hernandez-Rocamora, V. M. et al. Dynamic interaction of the Escherichia coli cell division ZipA and FtsZ proteins evidenced in nanodiscs. J. Biol. Chem. 287, 30097–30104 (2012).

Mateos-Gil, P. et al. FtsZ polymers bound to lipid bilayers through ZipA form dynamic two dimensional networks. Biochim. Biophys. Acta 1818, 806–813 (2012).

Martos, A. et al. Characterization of self-association and heteroassociation of bacterial cell division proteins FtsZ and ZipA in solution by composition gradient-static light scattering. Biochemistry 49, 10780–10787 (2010).

Tyson, J. J., Chen, K. C. & Novák, B. Sniffers, buzzers, toggles and blinkers: dynamics of regulatory and signaling pathways in the cell. Curr. Opinion Cell Biol. 15, 221–231 (2003).

Alon, U. Network motifs: theory and experimental approaches. Nat. Rev. Genet. 8, 450–461 (2007).

Novák, B. & Tyson, J. J. Design principles of biochemical oscillators. Nat. Rev. Mol. Cell Biol. 9, 981–991 (2008).

Lange, G., Mandelkow, E. M., Jagla, A. & Mandelkow, E. Tubulin oligomers and microtubule oscillations. Antagonistic role of microtubule stabilizers and destabilizers. Eur. J. Biochem. 178, 61–69 (1988).

Henley, C. L. Possible origins of macroscopic left-right asymmetry in organisms. J. Stat. Phys. 148, 740–774 (2012).

Nédélec, F. J., Surrey, T., Maggs, A. C. & Leibler, S. Self-organization of microtubules and motors. Nature 389, 305–308 (1997).

Schaller, V., Weber, C., Semmrich, C., Frey, E. & Bausch, A. R. Polar patterns of driven filaments. Nature 467, 73–77 (2010).

Sumino, Y. et al. Large-scale vortex lattice emerging from collectively moving microtubules. Nature 483, 448–452 (2012).

Sanchez, T., Chen, D. T. N., DeCamp, S. J., Heymann, M. & Dogic, Z. Spontaneous motion in hierarchically assembled active matter. Nature 491, 431–434 (2012).

Hitt, A. L., Cross, A. R. & Williams, R. C. Microtubule solutions display nematic liquid crystalline structure. J. Biol. Chem. 265, 1639–1647 (1990).

Käs, J. et al. F-actin, a model polymer for semiflexible chains in dilute, semidilute, and liquid crystalline solutions. Biophys. J. 70, 609–625 (1996).

Wang, S., Furchtgott, L., Huang, K. C. & Shaevitz, J. W. Helical insertion of peptidoglycan produces chiral ordering of the bacterial cell wall. Proc. Natl Acad. Sci. USA 109, E595–E604 (2012).

Garner, E. C. et al. Coupled, circumferential motions of the cell wallsynthesis machinery and MreB filaments in B. subtilis. Science 333, 222–225 (2011).

Domı´nguez-Escobar, J. et al. Processive movement of MreB-associated cell wall biosynthetic complexes in bacteria. Science 333, 225–228 (2011).

Popp, M. W., Antos, J. M., Grotenbreg, G. M., Spooner, E. & Ploegh, H. L. Sortagging: a versatile method for protein labeling. Nat. Chem. Biol. 3, 707–708 (2007).

Popp, M. W-L., Antos, J. M. & Ploegh, H. L. Site-specific protein labeling via sortase-mediated transpeptidation. Curr. Protoc. Protein Sci. 56, 15.3.1.–15.3.9. (2009).

Mossessova, E. & Lima, C. D. Ulp1-SUMO crystal structure and genetic analysis reveal conserved interactions and a regulatory element essential for cell growth in yeast. Mol. Cell 5, 865–876 (2000).

Loose, M., Fischer-Friedrich, E., Herold, C., Kruse, K. & Schwille, P. Min protein patterns emerge from rapid rebinding and membrane interaction of MinE. Nat. Struct. Mol. Biol. 18, 577–584 (2011).
Acknowledgements
We thank the members of the laboratories of T.J.M., T. Bernhardt and T. Rapoport for discussions and support; J. Werbin (Harvard Medical School, USA) for the plasmid for sortase expression; H. Erickson (Duke University, USA) for the plasmid for FtsZ–YFP–mts expression; J. Brugues for valuable discussions and advice; and E. Garner, K. Kruse and S. Grill for discussions and comments on the manuscript. We would also like to thank the Nikon Imaging Center at Harvard Medical School for their excellent service. M.L. is supported by fellowships from EMBO (ALTF 394-2011) and HFSP (LT000466/2012). Cytoskeleton dynamics research in the T.J.M. group is supported by NIH-GM39565.
Ethics declarations
Competing interests
The authors declare no competing financial interests.
Integrated supplementary information
Supplementary information
About this article
Cite this article
Loose, M., Mitchison, T. The bacterial cell division proteins FtsA and FtsZ self-organize into dynamic cytoskeletal patterns. Nat Cell Biol 16, 38–46 (2014). https://doi.org/10.1038/ncb2885
Received:

Accepted:

Published:

Issue Date:

DOI: https://doi.org/10.1038/ncb2885