Abstract
Compaction of the preimplantation embryo is the earliest morphogenetic process essential for mammalian development, yet it remains unclear how round cells elongate to form a compacted embryo. Here, using live mouse embryo imaging, we demonstrate that cells extend long E-cadherin-dependent filopodia on to neighbouring cells, which control the cell shape changes necessary for compaction. We found that filopodia extension is tightly coordinated with cell elongation, whereas retraction occurs before cells become round again before dividing. Laser-based ablations revealed that filopodia are required to maintain elongated cell shapes. Moreover, molecular disruption of the filopodia components E-cadherin, α- and β-catenin, F-actin and myosin-X prevents cells from elongating and compacting the embryo. Finally, we show that early filopodia formation triggered by overexpressing myosin-X is sufficient to induce premature compaction. Our findings establish a role for filopodia during preimplantation embryonic development and provide an in vivo context to investigate the biological functions of filopodia in mammals.
Access options
Subscribe to Journal
Get full journal access for 1 year
$225.00
only $18.75 per issue
All prices are NET prices.
VAT will be added later in the checkout.
Rent or Buy article
Get time limited or full article access on ReadCube.
from$8.99
All prices are NET prices.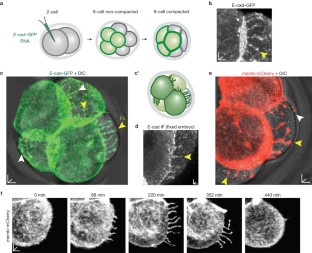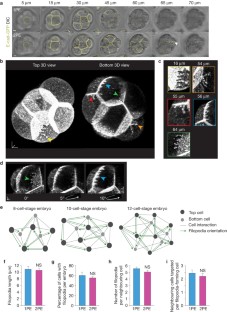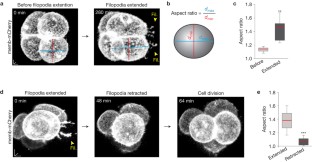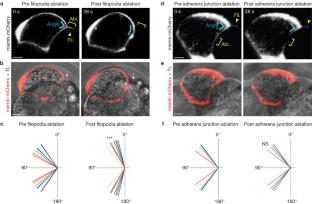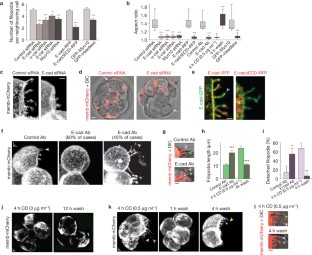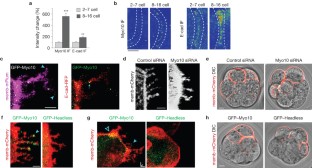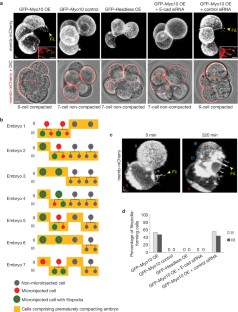 References
1

Johnson, M. H., Maro, B. & Takeichi, M. The role of cell adhesion in the synchronization and orientation of polarization in 8-cell mouse blastomeres. J. Embryol. Exp. Morphol. 93, 239–255 (1986).

2

Johnson, M. H. & Ziomek, C. A. Induction of polarity in mouse 8-cell blastomeres: specificity, geometry, and stability. J. Cell Biol. 91, 303–308 (1981).

3

Landry, D. W., Zucker, H. A., Sauer, M. V., Reznik, M. & Wiebe, L. Hypocellularity and absence of compaction as criteria for embryonic death. Regen. Med. 1, 367–371 (2006).

4

Le Cruguel, S. et al. Early compaction at day 3 may be a useful additional criterion for embryo transfer. J. Assist. Reprod. Genet. 30, 683–690 (2013).

5

Skiadas, C. C., Jackson, K. V. & Racowsky, C. Early compaction on day 3 may be associated with increased implantation potential. Fertil. Steril. 86, 1386–1391 (2006).

6

Rossant, J. & Tam, P. P. Blastocyst lineage formation, early embryonic asymmetries and axis patterning in the mouse. Development 136, 701–713 (2009).

7

Zernicka-Goetz, M., Morris, S. A. & Bruce, A. W. Making a firm decision: multifaceted regulation of cell fate in the early mouse embryo. Nat. Rev. Genet. 10, 467–477 (2009).

8

Larue, L., Ohsugi, M., Hirchenhain, J. & Kemler, R. E-cadherin null mutant embryos fail to form a trophectoderm epithelium. Proc. Natl Acad. Sci. USA 91, 8263–8267 (1994).

9

Stephenson, R. O., Yamanaka, Y. & Rossant, J. Disorganized epithelial polarity and excess trophectoderm cell fate in preimplantation embryos lacking E-cadherin. Development 137, 3383–3391 (2010).

10

Dietrich, J. E. & Hiiragi, T. Stochastic patterning in the mouse pre-implantation embryo. Development 134, 4219–4231 (2007).

11

Michael, M. & Yap, A. S. The regulation and functional impact of actin assembly at cadherin cell–cell adhesions. Semin. Cell Dev. Biol. 24, 298–307 (2013).

12

Cavey, M. & Lecuit, T. Molecular bases of cell–cell junctions stability and dynamics. Cold Spring Harb. Persp. Biol. 1, a002998 (2009).

13

Gupton, S. L. & Gertler, F. B. Filopodia: the fingers that do the walking. Sci. STKE 2007, re5 (2007).

14

Mattila, P. K. & Lappalainen, P. Filopodia: molecular architecture and cellular functions. Nat. Rev. Mol. Cell Biol. 9, 446–454 (2008).

15

Riedl, J. et al. Lifeact: a versatile marker to visualize F-actin. Nat. Methods 5, 605–607 (2008).

16

Kaur, G. et al. Probing transcription factor diffusion dynamics in the living mammalian embryo with photoactivatable fluorescence correlation spectroscopy. Nat. Commun. 4, 1637 (2013).

17

Morris, S. A. et al. Origin and formation of the first two distinct cell types of the inner cell mass in the mouse embryo. Proc. Natl Acad. Sci. USA 107, 6364–6369 (2010).

18

Plachta, N., Bollenbach, T., Pease, S., Fraser, S. E. & Pantazis, P. Oct4 kinetics predict cell lineage patterning in the early mammalian embryo. Nat. Cell Biol. 13, 117–123 (2011).

19

Ratheesh, A. & Yap, A. S. A bigger picture: classical cadherins and the dynamic actin cytoskeleton. Nat. Rev. Mol. Cell Biol. 13, 673–679 (2012).

20

Nieman, M. T., Prudoff, R. S., Johnson, K. R. & Wheelock, M. J. N-cadherin promotes motility in human breast cancer cells regardless of their E-cadherin expression. J. Cell Biol. 147, 631–644 (1999).

21

Kobayashi, N., Ikesue, A., Majumdar, S. & Siahaan, T. J. Inhibition of E-cadherin-mediated homotypic adhesion of Caco-2 cells: a novel evaluation assay for peptide activities in modulating cell–cell adhesion. J. Pharmacol. Exp. Ther. 317, 309–316 (2006).

22

Johnson, M. H. & Maro, B. The distribution of cytoplasmic actin in mouse 8-cell blastomeres. J. Embryol. Exp. Morphol. 82, 97–117 (1984).

23

Sutherland, A. E. & Calarco-Gillam, P. G. Analysis of compaction in the preimplantation mouse embryo. Dev. Biol. 100, 328–338 (1983).

24

Maro, B. & Pickering, S. J. Microtubules influence compaction in preimplantation mouse embryos. J. Embryol. Exp. Morphol. 84, 217–232 (1984).

25

Kerber, M. L. & Cheney, R. E. Myosin-X: a MyTH-FERM myosin at the tips of filopodia. J. Cell Sci. 124, 3733–3741 (2011).

26

Berg, J. S., Derfler, B. H., Pennisi, C. M., Corey, D. P. & Cheney, R. E. Myosin-X, a novel myosin with pleckstrin homology domains, associates with regions of dynamic actin. J. Cell Sci. 113, 3439–3451 (2000).

27

Sousa, A. D., Berg, J. S., Robertson, B. W., Meeker, R. B. & Cheney, R. E. Myo10 in brain: developmental regulation, identification of a headless isoform and dynamics in neurons. J. Cell Sci. 119, 184–194 (2006).

28

Bohil, A. B., Robertson, B. W. & Cheney, R. E. Myosin-X is a molecular motor that functions in filopodia formation. Proc. Natl Acad. Sci. USA 103, 12411–12416 (2006).

29

Ducibella, T., Ukena, T., Karnovsky, M. & Anderson, E. Changes in cell surface and cortical cytoplasmic organization during early embryogenesis in the preimplantation mouse embryo. J. Cell Biol. 74, 153–167 (1977).

30

Calarco, P. G. & Epstein, C. J. Cell surface changes during preimplantation development in the mouse. Dev. Biol. 32, 208–213 (1973).

31

Roy, S., Hsiung, F. & Kornberg, T. B. Specificity of Drosophila cytonemes for distinct signaling pathways. Science 332, 354–358 (2011).

32

Wennekamp, S., Mesecke, S., Nedelec, F. & Hiiragi, T. A self-organization framework for symmetry breaking in the mammalian embryo. Nat. Rev. Mol. Cell Biol. 14, 454–461 (2013).

33

Sanders, T. A., Llagostera, E. & Barna, M. Specialized filopodia direct long-range transport of SHH during vertebrate tissue patterning. Nature 497, 628–632 (2013).
Acknowledgements
We thank A. Yap, E. Jesudason, A. Fouras and J. Polo for comments on the manuscript; T. Bell for advice on laser ablations; S. Firth and I. Harper for help with imaging experiments; and R. Cheney, A. Yap and B. Henderson for sharing DNA constructs. N.P. is supported by ARC DP120104594 and DE120100794, NHMRC APP1052171 and Monash University Strategic and Interdisciplinary grants, and J.C.F-G. by Wenner-Gren Foundations and Swedish Society for Medical Research Postdoctoral Fellowships.
Ethics declarations
Competing interests
The authors declare no competing financial interests.
Integrated supplementary information
Supplementary information
About this article
Cite this article
Fierro-González, J., White, M., Silva, J. et al. Cadherin-dependent filopodia control preimplantation embryo compaction. Nat Cell Biol 15, 1424–1433 (2013). https://doi.org/10.1038/ncb2875
Received:

Accepted:

Published:

Issue Date: