Abstract
The pharyngeal arch arteries (PAAs) are transient embryonic blood vessels that make indispensable contributions to the carotid arteries and great vessels of the heart, including the aorta and pulmonary arteries1,2. During embryogenesis, the PAAs appear in a craniocaudal sequence to connect pre-existing segments of the primitive circulation after de novo vasculogenic assembly from angioblast precursors3,4. Despite the unique spatiotemporal characteristics of PAA development, the embryonic origins of PAA angioblasts and the genetic factors regulating their emergence remain unknown. Here, we identify the embryonic source of PAA endothelium as nkx2.5+ progenitors in lateral plate mesoderm long considered to adopt cell fates within the heart exclusively5,6. Further, we report that PAA endothelial differentiation relies on Nkx2.5, a canonical cardiac transcription factor not previously implicated in blood vessel formation. Together, these studies reveal the heart field origin of PAA endothelium and attribute a new vasculogenic function to the cardiac transcription factor Nkx2.5 during great vessel precursor development.
Access options
Subscribe to Journal
Get full journal access for 1 year
$209.00
only $17.42 per issue
All prices are NET prices.
VAT will be added later in the checkout.
Rent or Buy article
Get time limited or full article access on ReadCube.
from$8.99
All prices are NET prices.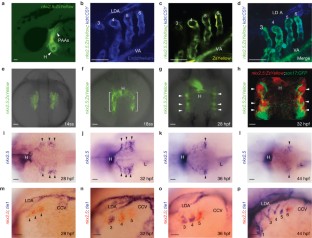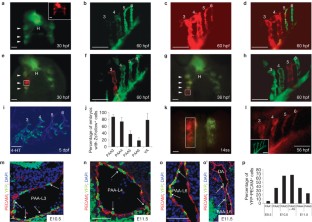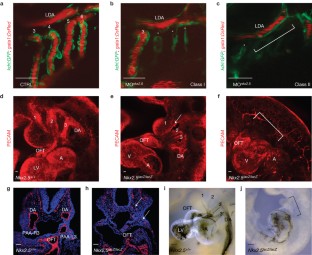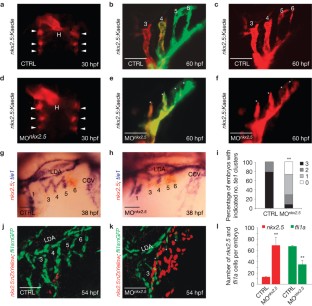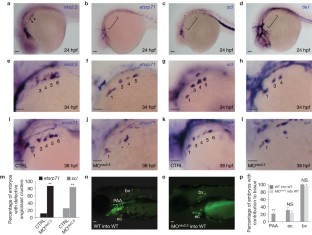 References
1

Congdon, E. D. Transformation of the aortic arch system during the development of the human embryo. Contrib. Embryol. 68, 49–110 (1922).

2

Moore, K. L. & Persaud, T. V. N. The Developing Human: Clinically Oriented Embryology 5th edn (Saunders, 1993).

3

Anderson, M. J., Pham, V. N., Vogel, A. M., Weinstein, B. M. & Roman, B. L. Loss of unc45a precipitates arteriovenous shunting in the aortic arches. Dev. Biol. 318, 258–267 (2008).

4

Li, P., Pashmforoush, M. & Sucov, H. M. Mesodermal retinoic acid signaling regulates endothelial cell coalescence in caudal pharyngeal arch artery vasculogenesis. Dev. Biol. 361, 116–124 (2012).

5

Ma, Q., Zhou, B. & Pu, W. T. Reassessment of Isl1 and Nkx2-5 cardiac fate maps using a Gata4-based reporter of Cre activity. Dev. Biol. 323, 98–104 (2008).

6

Schoenebeck, J. J., Keegan, B. R. & Yelon, D. Vessel and blood specification override cardiac potential in anterior mesoderm. Dev. Cell 13, 254–267 (2007).

7

Zhou, Y. et al. Latent TGF-beta binding protein 3 identifies a second heart field in zebrafish. Nature 474, 645–648 (2011).

8

Serbedzija, G. N., Chen, J. N. & Fishman, M. C. Regulation in the heart field of zebrafish. Development 125, 1095–1101 (1998).

9

Guner-Ataman, B. et al. Zebrafish second heart field development relies on progenitor specification in anterior lateral plate mesoderm and nkx2.5 function. Development 140, 1353–1363 (2013).

10

Hami, D., Grimes, A. C., Tsai, H. J. & Kirby, M. L. Zebrafish cardiac development requires a conserved secondary heart field. Development 138, 2389–2398 (2011).

11

Mosimann, C. et al. Ubiquitous transgene expression and Cre-based recombination driven by the ubiquitin promoter in zebrafish. Development 138, 169–177 (2011).

12

Hiruma, T., Nakajima, Y. & Nakamura, H. Development of pharyngeal arch arteries in early mouse embryo. J. Anat. 201, 15–29 (2002).

13

Isogai, S., Horiguchi, M. & Weinstein, B. M. The vascular anatomy of the developing zebrafish: an atlas of embryonic and early larval development. Dev. Biol. 230, 278–301 (2001).

14

Stanley, E. G. et al. Efficient Cre-mediated deletion in cardiac progenitor cells conferred by a 3'UTR-ires-Cre allele of the homeobox gene Nkx2-5. Int. J. Dev. Biol. 46, 431–439 (2002).

15

Novak, A., Guo, C., Yang, W., Nagy, A. & Lobe, C. G. Z/EG, a double reporter mouse line that expresses enhanced green fluorescent protein upon Cre-mediated excision. Genesis 28, 147–155 (2000).

16

Srinivas, S. et al. Cre reporter strains produced by targeted insertion of EYFP and ECFP into the ROSA26 locus. BMC Dev. Biol. 1, 1478 (2001).

17

Kaufman, M. H. & Bard, J. B. L. The Anatomical Basis of Mouse Development 1st edn (Academic, 1999).

18

Targoff, K. L., Schell, T. & Yelon, D. Nkx genes regulate heart tube extension and exert differential effects on ventricular and atrial cell number. Dev. Biol. 322, 314–321 (2008).

19

Westerfield, M. The Zebrafish Book. A Guide for the Laboratory Use of Zebrafish (Danio rerio) 4th edn (Univ. Oregon Press, 2000).

20

Nicoli, S. et al. MicroRNA-mediated integration of haemodynamics and Vegf signalling during angiogenesis. Nature 464, 1196–1200 (2010).

21

Sumanas, S. & Lin, S. Ets1-related protein is a key regulator of vasculogenesis in zebrafish. PLoS Biol. 4, 483–494 (2006).

22

Schilling, T. F. & Kimmel, C. B. Segment and cell type lineage restrictions during pharyngeal arch development in the zebrafish embryo. Development 120, 483–494 (1994).

23

Simoes, F. C., Peterkin, T. & Patient, R. Fgf differentially controls cross-antagonism between cardiac and haemangioblast regulators. Development 138, 3235–3245 (2011).

24

He, A., Kong, S. W., Ma, Q. & Pu, W. T. Co-occupancy by multiple cardiac transcription factors identifies transcriptional enhancers active in heart. Proc. Natl Acad. Sci. USA 108, 5632–5637 (2011).

25

Ferdous, A. et al. Nkx2-5 transactivates the Ets-related protein 71 gene and specifies an endothelial/endocardial fate in the developing embryo. Proc. Natl Acad. Sci. USA 106, 814–819 (2009).

26

Harris, I. S. & Black, B. L. Development of the endocardium. Pediatr. Cardiol. 31, 391–399 (2010).

27

Milgrom-Hoffman, M. et al. The heart endocardium is derivedfrom vascular endothelial progenitors. Development 138, 4777–4787 (2011).

28

McElhinney, D. B., Geiger, E., Blinder, J., Benson, D. W. & Goldmuntz, E. NKX2.5 mutations in patients with congenital heart disease. J. Am. College Cardiol. 42, 1650–1655 (2003).

29

Stoller, J. Z. & Epstein, J. A. Cardiac neural crest. Semin. Cell Dev. Biol. 16, 704–715 (2005).

30

Kikuchi, Y. et al. The zebrafish bonnie and clyde gene encodes a Mix family homeodomain protein that regulates the generation of endodermal precursors. Genes Dev. 14, 1279–1289 (2000).

31

Mizoguchi, T., Verkade, H., Heath, J. K., Kuroiwa, A. & Kikuchi, Y. Sdf1/Cxcr4 signaling controls the dorsal migration of endodermal cells during zebrafish gastrulation. Development 135, 2521–2529 (2008).

32

Jin, S. W., Beis, D., Mitchell, T., Chen, J. N. & Stainier, D. Y. Cellular and molecular analyses of vascular tube and lumen formation in zebrafish. Development 132, 5199–5209 (2005).

33

Traver, D. et al. Transplantation and in vivo imaging of multilineage engraftment in zebrafish bloodless mutants. Nat. Immunol. 4, 1238–1246 (2003).

34

Yaniv, K. et al. Live imaging of lymphatic development in the zebrafish. Nat. Med. 12, 711–716 (2006).

35

Staal, J., Abramoff, M. D., Niemeijer, M., Viergever, M. A. & van Ginneken, B. Ridge-based vessel segmentation in color images of the retina. IEEE Trans. Med. Imag. 23, 501–509 (2004).

36

Burns, C. G. et al. High-throughput assay for small molecules that modulate zebrafish embryonic heart rate. Nat. Chem. Biol. 1, 263–264 (2005).

37

Long, S. & Rebagliati, M. Sensitive two-color whole-mount in situ hybridizations using digoxygenin- and dinitrophenol-labeled RNA probes. BioTechniques 32, 494 (2002) 496, 498 passim.

38

Thisse, C. & Thisse, B. High-resolution in situ hybridization to whole-mount zebrafish embryos. Nat. Protocol. 3, 59–69 (2008).

39

Feng, H. et al. T-lymphoblastic lymphoma cells express high levels of BCL2, S1P1, and ICAM1, leading to a blockade of tumor cell intravasation. Cancer Cell 18, 353–366 (2010).

40

Marques, S. R., Lee, Y., Poss, K. D. & Yelon, D. Reiterative roles for FGF signaling in the establishment of size and proportion of the zebrafish heart. Dev. Biol. 321, 397–406 (2008).

41

Brand, M. G. & Nüsslein-Volhard, C. Keeping and Raising Zebrafish (Oxford Univ. Press, 2002).

42

Prall, O. W. et al. An Nkx2-5/Bmp2/Smad1 negative feedback loop controls heart progenitor specification and proliferation. Cell 128, 947–959 (2007).

43

Chapnik, E., Sasson, V., Blelloch, R. & Hornstein, E. Dgcr8 controls neural crest cells survival in cardiovascular development. Dev. Biol. 362, 50–56 (2012).

44

Lorandeau, C. G., Hakkinen, L. A. & Moore, C. S. Cardiovascular development and survival during gestation in the Ts65Dn mouse model for Down syndrome. Anat. Rec. 294, 93–101 (2011).
Acknowledgements
We are grateful to S. Paskaradevan and I. Scott (University of Toronto, USA) for their training in blastula transplantation. We thank C. Kinney for creating Supplementary Fig. 1; P. Obregon and T. Cashman for technical assistance in generating the Tg(nkx2.5:kaede) and Tg(nkx2.5:nZsYellow) transgenic lines, respectively; W. Goessling (Harvard Medical School, USA) for providing Tg(sox17:GFP) fish; T. North, and L. Zon (Harvard Medical School, USA) for providing Tg(kdrl:GFP) fish; I. Drummond (Massachusetts General Hospital, USA) for providing bonm425 fish; B. Barut (Harvard Medical School, USA) and L. Zon for providing bacterial artificial chromosomes; T. Evans (Weill Cornell Medical College, USA) for providing nkx2.5 plasmid for probe generation; G. Wilkinson (Medical College of Wisconsin, USA) and S. Sumanas (Cincinnati Children's Hospital Medical Center, USA) for providing etsrp71 plasmid for probe generation; and the MGH Nephrology Division for access to their confocal microscopy facilities. We thank A. Vasilyev for assistance with confocal microscopy. N.P.L was supported by the Harvard Stem Cell Institute Training Grant (5HL087735) and a National Research Service Award (1F32HL 112579) from the National Heart, Lung and Blood Institute (NHLBI). B.G-A. was financially supported by an American Heart Association (AHA) Post-Doctoral Fellowship (10POST4170037). K.R.N. is financially supported by a National Research Service Award (5F32HL110627) from the National Heart, Lung and Blood Institute (NHLBI). R.P.H. is supported by grants from the National Health and Medical Research Council of Australia (NHMRC; 573732, 573703), Atlantic Philanthropies (19131) and National Heart Foundation of Australia (G08S3718). R.P.H. holds an NHMRC Australia Fellowship (573705). This work was financially supported by awards from the National Heart Lung and Blood Institute (5R01HL096816), American Heart Association (Grant in Aid no. 10GRNT4270021), and Harvard Stem Cell Institute (Seed Grant) to C.G.B. and the National Heart Lung and Blood Institute (5R01HL111179), the March of Dimes Foundation (FY12-467), and the Harvard Stem Cell Institute (Seed Grant and Young Investigator Award) to C.E.B. R.P.H. dedicates this work to Irene Myrtle Harvey, 1923–2013, from whom scholarship and inspiration were drawn.
Ethics declarations
Competing interests
The authors declare no competing financial interests.
Integrated supplementary information
Supplementary information
About this article
Cite this article
Paffett-Lugassy, N., Singh, R., Nevis, K. et al. Heart field origin of great vessel precursors relies on nkx2.5-mediated vasculogenesis. Nat Cell Biol 15, 1362–1369 (2013). https://doi.org/10.1038/ncb2862
Received:

Accepted:

Published:

Issue Date: