Abstract
Hedgehog (Hh) signalling is important in development, stem cell biology and disease. In a variety of tissues, Hh acts as a morphogen to regulate growth and cell fate specification. Several hypotheses have been proposed to explain morphogen movement, one of which is transport along filopodia-like protrusions called cytonemes. Here, we analyse the mechanism underlying Hh movement in the wing disc and the abdominal epidermis of Drosophila melanogaster. We show that, in both epithelia, cells generate cytonemes in regions of Hh signalling. These protrusions are actin-based and span several cell diameters. Various Hh signalling components localize to cytonemes, as well as to punctate structures that move along cytonemes and are probably exovesicles. Using in vivo imaging, we show that cytonemes are dynamic structures and that Hh gradient establishment correlates with cytoneme formation in space and time. Indeed, mutant conditions that affect cytoneme formation reduce both cytoneme length and Hh gradient length. Our results suggest that cytoneme-mediated Hh transport is the mechanistic basis for Hh gradient formation.
Access options
Subscribe to this journal
Receive 12 print issues and online access
$209.00 per year
only $17.42 per issue
Rent or buy this article
Prices vary by article type
from$1.95
to$39.95
Prices may be subject to local taxes which are calculated during checkout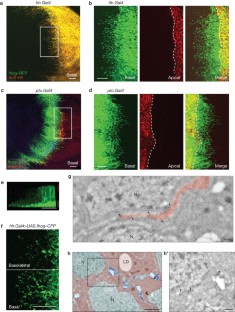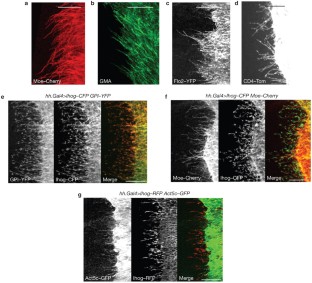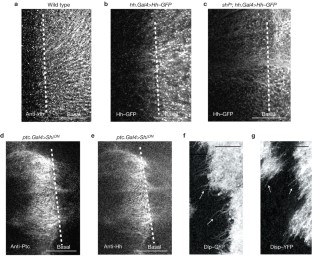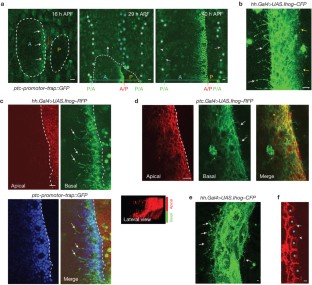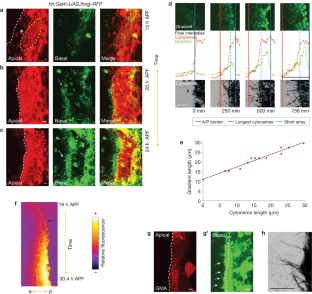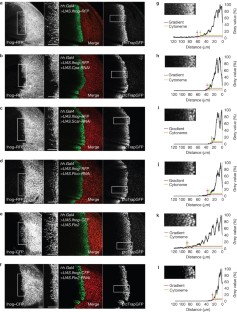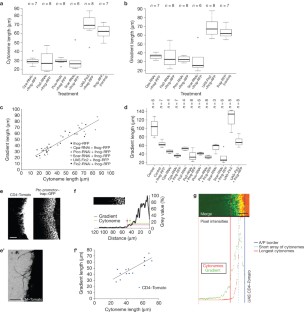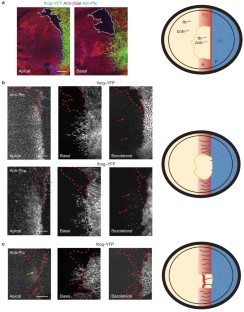 Similar content being viewed by others
References
Lawrence, P. A. Morphogens: how big is the big picture? Nat. Cell Biol. 3, E151–E154 (2001).

Gradilla, A. C. & Guerrero, I. Hedgehog on the move: a precise spatial control of Hedgehog dispersion shapes the gradient. Curr. Opin. Genet. Dev. 23, 363–373 (2013).

Crick, F. Diffusion in embryogenesis. Nature 225, 420–422 (1970).

Entchev, E. V., Schwabedissen, A. & Gonzalez-Gaitan, M. Gradient formation of the TGF-beta homolog Dpp. Cell 103, 981–991 (2000).

Gross, J. C., Chaudhary, V., Bartscherer, K. & Boutros, M. Active Wnt proteins are secreted on exosomes. Nat. Cell Biol. 14, 1036–1045 (2012).

Greco, V., Hannus, M. & Eaton, S. Argosomes: a potential vehicle for the spread of morphogens through epithelia. Cell 106, 633–645 (2001).

Panakova, D., Sprong, H., Marois, E., Thiele, C. & Eaton, S. Lipoprotein particles are required for Hedgehog and Wingless signalling. Nature 435, 58–65 (2005).

Ramirez-Weber, F. A. & Kornberg, T. B. Cytonemes: cellular processes that project to the principal signaling center in Drosophila imaginal discs. Cell 97, 599–607 (1999).

Roy, S., Hsiung, F. & Kornberg, T. B. Specificity of Drosophila cytonemes for distinct signaling pathways. Science 332, 354–358 (2011).

Ingham, P. W., Nakano, Y. & Seger, C. Mechanisms and functions of Hedgehog signalling across the metazoa. Nat. Rev. Genet. 12, 393–406 (2011).

Porter, J. A., Young, K. E. & Beachy, P. A. Cholesterol modification of hedgehog signaling proteins in animal development. Science 274, 255–259 (1996).

Pepinsky, R. B. et al. Identification of a palmitic acid-modified form of human Sonic hedgehog. J. Biol. Chem. 273, 14037–14045 (1998).

Strigini, M. & Cohen, S. M. A Hedgehog activity gradient contributes to AP axial patterning of the Drosophila wing. Development 124, 4697–4705 (1997).

Mullor, J. L., Calleja, M., Capdevila, J. & Guerrero, I. Hedgehog activity, independent of decapentaplegic, participates in wing disc patterning. Development 124, 1227–1237 (1997).

Garcia-Bellido, A., Ripoll, P. & Morata, G. Developmental compartmentalisation of the wing disk of Drosophila. Nat. New Biol. 245, 251–253 (1973).

Tabata, T. & Kornberg, T. B. Hedgehog is a signaling protein with a key role in patterning Drosophila imaginal discs. Cell 76, 89–102 (1994).

Porter, J. A. et al. The product of hedgehog autoproteolytic cleavage active in local and long-range signalling. Nature 374, 363–366 (1995).

Capdevila, J., Estrada, M. P., Sanchez-Herrero, E. & Guerrero, I. The Drosophila segment polarity gene patched interacts with decapentaplegic in wing development. EMBO J. 13, 71–82 (1994).

Chen, Y. & Struhl, G. Dual roles for patched in sequestering and transducing Hedgehog. Cell 87, 553–563 (1996).

Struhl, G., Barbash, D. A. & Lawrence, P. A. Hedgehog organises the pattern and polarity of epidermal cells in the Drosophila abdomen. Development 124, 2143–2154 (1997).

Kopp, A., Muskavitch, M. A. & Duncan, I. The roles of hedgehog and engrailed in patterning adult abdominal segments of Drosophila. Development 124, 3703–3714 (1997).

Kopp, A. & Duncan, I. Anteroposterior patterning in adult abdominal segments of Drosophila. Dev. Biol. 242, 15–30 (2002).

Madhavan, M. M. & Madhavan, K. Morphogenesis of the epidermis of adult abdomen of Drosophila. J. Embryol. Exp. Morphol. 60, 1–31 (1980).

Zheng, X., Mann, R. K., Sever, N. & Beachy, P. A. Genetic and biochemical definition of the Hedgehog receptor. Genes. Dev. 24, 57–71 (2010).

Yao, S., Lum, L. & Beachy, P. The ihog cell-surface proteins bind Hedgehog and mediate pathway activation. Cell 125, 343–357 (2006).

Yan, D. et al. The cell-surface proteins Dally-like and Ihog differentially regulate Hedgehog signaling strength and range during development. Development 137, 2033–2044 (2010).

Kim, M. S., Saunders, A. M., Hamaoka, B. Y., Beachy, P. A. & Leahy, D. J. Structure of the protein core of the glypican Dally-like and localization of a region important for hedgehog signaling. Proc. Natl Acad. Sci. USA 108, 13112–13117 (2011).

Callejo, A. et al. Dispatched mediates Hedgehog basolateral release to form the long-range morphogenetic gradient in the Drosophila wing disk epithelium. Proc. Natl Acad. Sci. USA 108, 12591–12598 (2011).

Bloor, J. W. & Kiehart, D. P. zipper nonmuscle myosin-II functions downstream of PS2 integrin in Drosophila myogenesis and is necessary for myofibril formation. Dev. Biol. 239, 215–228 (2001).

Langhorst, M. F., Reuter, A. & Stuermer, C. A. Scaffolding microdomains and beyond: the function of reggie/flotillin proteins. Cell Mol. Life Sci. 62, 2228–2240 (2005).

Han, C., Jan, L. Y. & Jan, Y. N. Enhancer-driven membrane markers for analysis of nonautonomous mechanisms reveal neuron-glia interactions in Drosophila. Proc. Natl Acad. Sci. USA 108, 9673–9678 (2011).

Bilioni, A. et al. Balancing Hedgehog, a retention and release equilibrium given by Dally, Ihog, Boi and shifted/DmWif. Dev. Biol. 376, 198–212 (2013).

Torroja, C., Gorfinkiel, N. & Guerrero, I. Patched controls the Hedgehog gradient by endocytosis in a dynamin-dependent manner, but this internalization does not play a major role in signal transduction. Development 131, 2395–2408 (2004).

Burke, R. et al. Dispatched, a novel sterol-sensing domain protein dedicated to the release of cholesterol-modified hedgehog from signaling cells. Cell 99, 803–815 (1999).

Lum, L. et al. Identification of Hedgehog pathway components by RNAi in Drosophila cultured cells. Science 299, 2039–2045 (2003).

Rauzi, M., Lenne, P. F. & Lecuit, T. Planar polarized actomyosin contractile flows control epithelial junction remodelling. Nature 468, 1110–1114 (2010).

Mallavarapu, A. & Mitchison, T. Regulated actin cytoskeleton assembly at filopodium tips controls their extension and retraction. J. Cell Biol. 146, 1097–1106 (1999).

Lee, K., Gallop, J. L., Rambani, K. & Kirschner, M. W. Self-assembly of filopodia-like structures on supported lipid bilayers. Science 329, 1341–1345 (2010).

Mavrakis, M., Rikhy, R. & Lippincott-Schwartz, J. Plasma membrane polarity and compartmentalization are established before cellularization in the fly embryo. Dev. Cell 16, 93–104 (2009).

Cooper, J. A. & Sept, D. New insights into mechanism and regulation of actin capping protein. Int. Rev. Cell Mol. Biol. 267, 183–206 (2008).

Delalle, I., Pfleger, C. M., Buff, E., Lueras, P. & Hariharan, I. K. Mutations in the Drosophila orthologs of the F-actin capping protein α- and β-subunits cause actin accumulation and subsequent retinal degeneration. Genetics 171, 1757–1765 (2005).

Uruno, T., Remmert, K. & Hammer, J. A. 3rd CARMIL is a potent capping protein antagonist: identification of a conserved CARMIL domain that inhibits the activity of capping protein and uncaps capped actin filaments. J. Biol. Chem. 281, 10635–10650 (2006).

Chhabra, E. S. & Higgs, H. N. The many faces of actin: matching assembly factors with cellular structures. Nat. Cell Biol. 9, 1110–1121 (2007).

Kunda, P., Craig, G., Dominguez, V. & Baum, B. Abi, Sra1, and Kette control the stability and localization of SCAR/WAVE to regulate the formation of actin-based protrusions. Curr. Biol. 13, 1867–1875 (2003).

Rogers, S. L., Wiedemann, U., Stuurman, N. & Vale, R. D. Molecular requirements for actin-based lamella formation in Drosophila S2 cells. J. Cell Biol. 162, 1079–1088 (2003).

Georgiou, M. & Baum, B. Polarity proteins and Rho GTPases cooperate to spatially organise epithelial actin-based protrusions. J. Cell Sci. 123, 1089–1098 (2010).

Lyulcheva, E. et al. Drosophila pico and its mammalian ortholog lamellipodin activate serum response factor and promote cell proliferation. Dev. Cell 15, 680–690 (2008).

Neumann-Giesen, C. et al. Membrane and raft association of reggie-1/flotillin-2: role of myristoylation, palmitoylation and oligomerization and induction of filopodia by overexpression. Biochem. J. 378, 509–518 (2004).

Katanaev, V. L. et al. Reggie-1/flotillin-2 promotes secretion of the long-range signalling forms of Wingless and Hedgehog in Drosophila. EMBO J. 27, 509–521 (2008).

Raposo, G. & Stoorvogel, W. Extracellular vesicles: exosomes, microvesicles, and friends. J. Cell Biol. 200, 373–383 (2013).

Rusten, T. E., Vaccari, T. & Stenmark, H. Shaping development with ESCRTs. Nat. Cell Biol. 14, 38–45 (2012).

Bellaiche, Y., The, I. & Perrimon, N. Tout-velu is a Drosophila homologue of the putative tumour suppressor EXT-1 and is needed for Hh diffusion. Nature 394, 85–88 (1998).

Takei, Y., Ozawa, Y., Sato, M., Watanabe, A. & Tabata, T. Three Drosophila EXT genes shape morphogen gradients through synthesis of heparan sulfate proteoglycans. Development 131, 73–82 (2004).

Tanaka, Y., Okada, Y. & Hirokawa, N. FGF-induced vesicular release of Sonic hedgehog and retinoic acid in leftward nodal flow is critical for left–right determination. Nature 435, 172–177 (2005).

Sanders, T.A., Llagostera, E. & Barna, M. Specialized filopodia direct long-range transport of SHH during vertebrate tissue patterning. Nature 497, 628–632 (2013).

Cohen, M., Georgiou, M., Stevenson, N. L., Miodownik, M. & Baum, B. Dynamic filopodia transmit intermittent Delta-Notch signaling to drive pattern refinement during lateral inhibition. Dev. Cell 19, 78–89 (2010).

Zeng, X. et al. A freely diffusible form of Sonic hedgehog mediates long-range signalling. Nature 411, 716–720 (2001).

Lander, A. D., Nie, Q. & Wan, F. Y. Do morphogen gradients arise by diffusion? Dev. Cell 2, 785–796 (2002).

Saha, K. & Schaffer, D. V. Signal dynamics in Sonic hedgehog tissue patterning. Development 133, 889–900 (2006).

Hsiung, F., Ramirez-Weber, F. A., Iwaki, D. D. & Kornberg, T. B. Dependence of Drosophila wing imaginal disc cytonemes on Decapentaplegic. Nature 437, 560–563 (2005).

Sato, M. & Kornberg, T. B. FGF is an essential mitogen and chemoattractant for the air sacs of the Drosophila tracheal system. Dev. Cell 3, 195–207 (2002).

De Joussineau, C. et al. Delta-promoted filopodia mediate long-range lateral inhibition in Drosophila. Nature 426, 555–559 (2003).

Peng, Y., Han, C. & Axelrod, J. D. Planar polarized protrusions break the symmetry of EGFR signaling during Drosophila bract cell fate induction. Dev. Cell 23, 507–518.10.1016/j.devcel.2012.07.016

Rojas-Rios, P., Guerrero, I. & Gonzalez-Reyes, A. Cytoneme-mediated delivery of hedgehog regulates the expression of bone morphogenetic proteins to maintain germline stem cells in Drosophila. PLoS Biol. 10, e1001298 (2012).

Grigliatti, T. A., Hall, L., Rosenbluth, R. & Suzuki, D. T. Temperature-sensitive mutations in Drosophila melanogaster. XIV. A selection of immobile adults. Mol. Gen. Genet. 120, 107–114 (1973).

Brand, A. H. & Perrimon, N. Targeted gene expression as a means of alteringcell fates and generating dominant phenotypes. Development 118, 401–415 (1993).

Han, C., Belenkaya, T. Y., Wang, B. & Lin, X. Drosophila glypicans control the cell-to-cell movement of Hedgehog by a dynamin-independent process. Development 131, 601–611 (2004).

Moline, M. M., Southern, C. & Bejsovec, A. Directionality of wingless protein transport influences epidermal patterning in the Drosophila embryo. Development 126, 4375–4384 (1999).

Millard, T. H. & Martin, P. Dynamic analysis of filopodial interactions duringthe zippering phase of Drosophila dorsal closure. Development 135, 621–626 (2008).

Roper, K., Mao, Y. & Brown, N. H. Contribution of sequence variation in Drosophila actins to their incorporation into actin-based structures in vivo. J. Cell Sci. 118, 3937–3948 (2005).

Pignoni, F. & Zipursky, S. L. Induction of Drosophila eye development by decapentaplegic. Development 124, 271–278 (1997).

Bischoff, M. & Cseresnyes, Z. Cell rearrangements, cell divisions and cell death in a migrating epithelial sheet in the abdomen of Drosophila. Development 136, 2403–2411 (2009).

R Development Core Team, R: A language and environment for statistical computing. R Foundation for Statistical Computing, Vienna, Austria (2011).
Acknowledgements
We are grateful to P. Lawrence in whose laboratory the abdomen work was done. We also thank T. Kornberg for helpful insights, V. Dietrich-Bischoff, P. Lawrence and C. Delidakis for helpful comments on the manuscript, T. Tabata for anti-Hh antibody, X. Lin for Dlp–GFP flies, BDSC and VDRC for stocks, R. Wilson for assisting with statistical analysis, C. Ibañez and V. Sánchez for helping with the RNAi screening, and A. Callejo, E. Mollica and A. Bilioni for initial observations. We also thank M. Guerra at the EM Unit and the confocal microscopy service of the Centro de Biologı´a Molecular 'Severo Ochoa,' as well as the confocal facility of the Department of Zoology—which is funded by the Wellcome Trust and the Isaac Newton Trust—for skillful technical assistance. Work was supported by grant BFU2011-25987 and Consolider Program CDS 2007-00008 from the Spanish MICINN, by Marie Curie FP7 (ITN 238186) and by an institutional grant from the Fundación Areces to the CBMSO. I.S. was supported by a FPI fellowship from the Spanish MICINN, A-C.G. by a Marie Curie ITN FP7 contract, G.A. by the Amarouto Program for senior researchers from the Comunidad Autónoma de Madrid and grant BFU2009-08085 from the Spanish MICINN, and M.B. by Project Grant WG086986 and Senior Investigator Award WT096645MA by the Wellcome Trust to P. Lawrence.
Ethics declarations
Competing interests
The authors declare no competing financial interests.
Integrated supplementary information
Supplementary information
About this article
Cite this article
Bischoff, M., Gradilla, AC., Seijo, I. et al. Cytonemes are required for the establishment of a normal Hedgehog morphogen gradient in Drosophila epithelia. Nat Cell Biol 15, 1269–1281 (2013). https://doi.org/10.1038/ncb2856
Received:

Accepted:

Published:

Issue Date:

DOI: https://doi.org/10.1038/ncb2856