Abstract
The size of a typical eukaryotic cell is of the order of ∼10 μm. However, some cell types grow to very large sizes, including oocytes (immature eggs) of organisms from humans to starfish. For example, oocytes of the frog Xenopus laevis grow to a diameter ≥1 mm. They have a correspondingly large nucleus (germinal vesicle) of ∼450 μm in diameter, which is similar to smaller somatic nuclei, but contains a significantly higher concentration of actin. The form and structure of this nuclear actin remain controversial, and its potential mechanical role within these large nuclei is unknown. Here, we use a microrheology and quantitative imaging approach to show that germinal vesicles contain an elastic F-actin scaffold that mechanically stabilizes these large nuclei against gravitational forces, which are usually considered negligible within cells. We find that on actin disruption, ribonucleoprotein droplets, including nucleoli and histone locus bodies, undergo gravitational sedimentation and fusion. We develop a model that reveals how gravity becomes an increasingly potent force as cells and their nuclei grow larger than ∼10 μm, explaining the requirement for a stabilizing nuclear F-actin scaffold in large Xenopus oocytes. All life forms are subject to gravity, and our results may have broad implications for cell growth and size control.
Your institute does not have access to this article
Relevant articles
Open Access articles citing this article.
Tomoko Takagi

,

Masako Osumi

&

Akira Shinohara

Communications Biology Open Access 25 August 2021

Nicholas Treen

,

Shunsuke F. Shimobayashi

…

Michael Levine

Nature Communications Open Access 10 March 2021

Julia Perea Paizal

,

Sam H. Au

&

Chris Bakal

British Journal of Cancer Open Access 01 December 2020
Access options
Subscribe to Journal
Get full journal access for 1 year
$99.00
only $8.25 per issue
All prices are NET prices.
VAT will be added later in the checkout.
Tax calculation will be finalised during checkout.
Buy article
Get time limited or full article access on ReadCube.
$32.00
All prices are NET prices.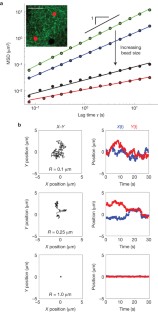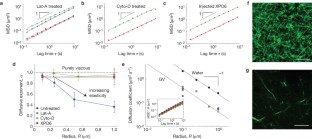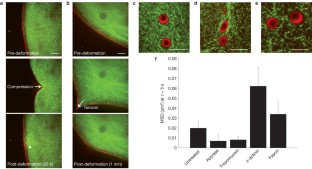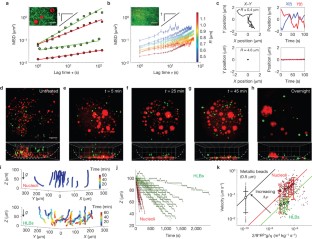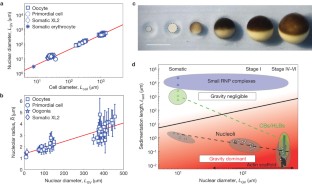 References
Dahl, K. N., Ribeiro, A. J. & Lammerding, J. Nuclear shape, mechanics, and mechanotransduction. Circ. Res. 102, 1307–1318 (2008).

Lammerding, J., Dahl, K. N., Discher, D. E. & Kamm, R. D. in Methods in Cell Biology Vol. 83 (eds Yu-Li, W. & Discher Dennis, E.) 269–294 (Academic, 2007).

Ye, J., Zhao, J., Hoffmann-Rohrer, U. & Grummt, I. Nuclear myosin I acts in concert with polymeric actin to drive RNA polymerase I transcription. Gene Dev. 22, 322–330 (2008).

Hofmann, W. A. & de Lanerolle, P. Nuclear actin: to polymerize or not to polymerize. J. Cell Biol. 172, 495–496 (2006).

Rando, O. J., Zhao, K. & Crabtree, G. R. Searching for a function for nuclear actin. Trends Cell Biol. 10, 92–97 (2000).

Belin, B. J., Cimini, B. A., Blackburn, E. H. & Mullins, R. D. Visualization of actin filaments and monomers in somatic cell nuclei. Mol. Biol. Cell 24, 982–994 (2013).

Stuven, T., Hartmann, E. & Gorlich, D. Exportin 6: a novel nuclear export receptor that is specific for profilin.actin complexes. EMBO J. 22, 5928–5940 (2003).

Bohnsack, M. T., Stuven, T., Kuhn, C., Cordes, V. C. & Gorlich, D. A selective block of nuclear actin export stabilizes the giant nuclei of Xenopus oocytes. Nat. Cell Biol. 8, 257–263 (2006).

Clark, T. G. & Merriam, R. W. Diffusible and bound actin in nuclei of Xenopus laevis oocytes. Cell 12, 883–891 (1977).

Hofmann, W. et al. Cofactor requirements for nuclear export of rev response element (Rre) and constitutive transport element (Cte) containing retroviral rnas: an unexpected role for actin. J. Cell Biol. 152, 895–910 (2001).

Gall, J. G. Exporting actin. Nat. Cell Biol. 8, 205–207 (2006).

Brangwynne, C. P., Koenderink, G. H., MacKintosh, F. C. & Weitz, D. A. Cytoplasmic diffusion: molecular motors mix it up. J. Cell Biol. 183, 583–587 (2008).

Wong, I. Y. et al. Anomalous diffusion probes microstructure dynamics of entangled F-actin networks. Phys. Rev. Lett. 92, 178101 (2004).

Spector, I., Shochet, N. R., Kashman, Y. & Groweiss, A. Latrunculins: novel marine toxins that disrupt microfilament organization in cultured cells. Science 219, 493–495 (1983).

Riedl, J. et al. Lifeact: a versatile marker to visualize F-actin. Nat. Methods 5, 605–607 (2008).

Baarlink, C., Wang, H. & Grosse, R. Nuclear actin network assembly by formins regulates the SRF coactivator MAL. Science 340, 864–867 (2013).

Aebi, U., Cohn, J., Buhle, L. & Gerace, L. The nuclear lamina is a meshwork of intermediate-type filaments. Nature 323, 560–564 (1986).

Dahl, K. N., Kahn, S. M., Wilson, K. L. & Discher, D. E. The nuclear envelope lamina network has elasticity and a compressibility limit suggestive of a molecular shock absorber. J. Cell Sci. 117, 4779–4786 (2004).

Jockusch, B. M., Schoenenberger, C-A., Stetefeld, J. r. & Aebi, U. Tracking down the different forms of nuclear actin. Trends Cell Biol. 16, 391–396 (2006).

Nizami, Z., Deryusheva, S. & Gall, J. G. The cajal body and histone locus body. Csh Perspect Biol. 2, a000653 (2010).

Wu, Z. & Gall, J. G. 'Micronucleoli' in the Xenopus germinal vesicle. Chromosoma 105, 438–443 (1997).

Maslova, A. & Krasikova, A. Nuclear actin depolymerization in transcriptionally active avian and amphibian oocytes leads to collapse of intranuclear structures. Nucleus 3, 300–311 (2012).

Brangwynne, C. P., Mitchison, T. J. & Hyman, A. A. Active liquid-like behavior of nucleoli determines their size and shape in Xenopus laevis oocytes. Proc. Natl Acad. Sci. USA 108, 4334–4339 (2011).

Brangwynne, C. P. et al. Germline P granules are liquid droplets that localize by controlled dissolution/condensation. Science 324, 1729–1732 (2009).

Weber, S. C. & Brangwynne, C. P. Getting RNA and protein in phase. Cell 149, 1188–1191 (2012).

Berg, H. C. Random Walks in Biology (Princeton Univ. Press, 1983).

Handwerger, K. E., Cordero, J. A. & Gall, J. G. Cajal bodies, nucleoli, and speckles in the Xenopus oocyte nucleus have a low-density, sponge-like structure. Mol. Biol. Cell 16, 202–211 (2005).

Chan, Y. H. M. & Marshall, W. F. How cells know the size of their organelles. Science 337, 1186–1189 (2012).

Dumont, J. N. Oogenesis in Xenopus laevis (Daudin). I. Stages of oocyte development in laboratory maintained animals. J. Morphol. 136, 153–179 (1972).

Schulz, H. N. & Jorgensen, B. B. Big bacteria. Annu. Rev. Microbiol. 55, 105–137 (2001).

Marshall, W. F. et al. What determines cell size? BMC Biol. 10, 101–123 (2012).

Daniels, B. R., Masi, B. C. & Wirtz, D. Probing single-cell micromechanics in vivo: the microrheology of C. elegans developing embryos. Biophys. J. 90, 4712–4719 (2006).

Valentine, M. T. et al. Colloid surface chemistry critically affects multiple particle tracking measurements of biomaterials. Biophys. J. 86, 4004–4014 (2004).

Gall, J. G. & Wu, Z. Examining the contents of isolated Xenopus germinal vesicles. Methods 51, 45–51 (2010).

Kiseleva, E. et al. Actin- and protein-4.1-containing filaments link nuclear pore complexes to subnuclear organelles in Xenopus oocyte nuclei. J. Cell Sci. 117, 2481–2490 (2004).

Crocker, J. C. G. & David, G. Methods of digital video microscopy for colloidal studies. J. Colloid Inter. Sci. 179, 298–310 (1996).

Taylor, J. R. An Introduction to Error Analysis (Univ. Science Books, 1997).
Acknowledgements
We thank T. Mitchison, S. Weber, E. Wieschaus, C. Broedersz and C. Sosa for discussions and suggestions, D. Mullins (UC-San Francisco, USA) for providing the utrophin constructs, D. Görlich (MPI-Biophysical Chemistry, Goettingen, Germany) for the XPO6 protein, J. Gall (Carnegie Institution, USA) for the GFP::coilin construct and G. Koenderink (AMOLF, Netherlands) for fascin. We are grateful to A. Pozniakovsky for help with cloning and D. Wang for help with frog surgeries, oocyte preparation and some experiments. This work was supported by a Searle Scholar Award (C.P.B.), and an NIH New Innovator Award, 1DP2GM105437-01 (C.P.B.).
Ethics declarations
Competing interests
The authors declare no competing financial interests.
Integrated supplementary information
Supplementary information
About this article
Cite this article
Feric, M., Brangwynne, C. A nuclear F-actin scaffold stabilizes ribonucleoprotein droplets against gravity in large cells. Nat Cell Biol 15, 1253–1259 (2013). https://doi.org/10.1038/ncb2830
Received:

Accepted:

Published:

Issue Date:

DOI: https://doi.org/10.1038/ncb2830